By Journalist Seaman Heather Weaver, U.S. Fleet Forces Command Public Affairs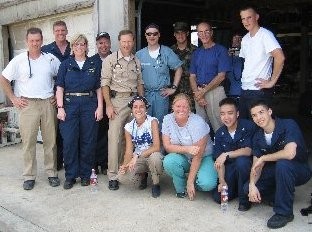 Picture of Hurricane Katrina Volunteers who assisted in the building of a clinic in Biloxi. Included among the volunteers is Dr. Jeffrey Harris, Current Member of the ACP Board of Regents, who is pictured on the top row, second from the right.
BILOXI, Miss. (NNS) -- Sailors and Project HOPE volunteers from USNS Comfort (T-AH 20) reconstructed a Hurricane Katrina-damaged garage here and made it into a fully operational primary care clinic Sept. 17.
The group used donated supplies as well as scattered debris to rebuild the roof and walls of the facility and then separated the room into sections to promote patient privacy.
"We came to the area because we learned there was a great need for medical care here," said Lt. Cmdr. Kevin Dorrance, Comfort's assistant H-1 division head. "We were lucky enough to locate this garage and literally rebuild it to fit our needs."
After locating the facility behind a church Sept. 16, the group went to work on the rebuilding project the next morning.
"The majority of us saw the site for the first time Saturday morning, and it was a little discouraging because of how devastated the area was," said Hospitalman Apprentice Ryan Junkin, who volunteered to help at the clinic. "The first day was so hard, because we had to work on building a facility and see patients at the same time...but after seeing what we were able to accomplish - that we had completely revamped the garage and made a working medical facility - the feeling was exhilarating."
Although Comfort staff will not be able to stay at the clinic very long, there will undoubtedly be a lasting affect on the area.
"The real good part about what we've done here is we're leaving the local physicians with something to work with," Dorrance said. "As far as having a long-term effect here, we will, because we are leaving behind this facility as well as all of the donated medical supplies.
"Most importantly, we got something started here. They will have somewhere they can go to receive medical treatment so they can feel better and start rebuilding their lives."
Comfort is docked at Bayou Cassotte Pier in Pascagoula, Miss., and has been providing medical and hotel service to Katrina relief workers and area civilians who have been affected by Hurricane Katrina.
Comfort and its more than 700-person crew have seen more than 1,200 patients aboard and nearly 400 patients in their community outreach clinics ashore since arriving in the Pascagoula area Sept. 10.
For the latest Navy news on Hurricane Katrina relief efforts, visit www.news.navy.mil/local/hurricane/.