---
---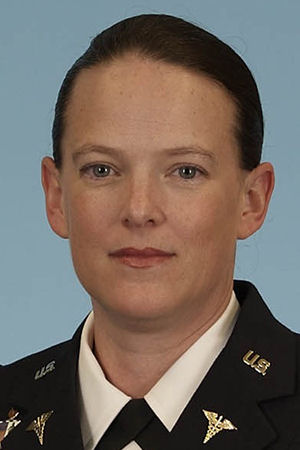 LTC Cristin A. Mount, MD, FACP, ACP Governor
---
Social Media
Hello US Army ACP Chapter Members!
I usually try to limit Newsletters to twice annually – updates from the Chapter Meeting and updates from the National ACP – but The Governor's Council has vacancies and new opportunities that I didn't want to wait to put out to Chapter membership.
First – we are actively soliciting volunteers to build a new Communications and Social Media Committee. I am willing to own up to the fact that my personal social media presence is fairly limited to posts about my kids on Facebook and what a recent physician noted as "Twittermittent" tweeting. However, a recent experience at another national meeting clarified, for me, how a strategic social media presence can enhance the experience of our members and our peers across military medicine. Let's just say that a group of PharmDs leveled a Twitter challenge at one of our members, and, true to form, the Army medicine attendees responded robustly enough to put at least four of us on the Twitter Leader Board.
So – I am seeking a cohort of US Army ACP Chapter members who are interested in forming a Communications and Social Media committee to enhance the experience of all of our members. First, we need a volunteer to chair and organize this effort, and second, we need social media savvy members to work together on a strategic communications plan to augment the amazing work already done by our committees and councils.
If you are interested in developing and proliferating social media output to our Chapter members, please contact me at cristin.a.mount.mil@mail.mil #olddognewtricks (see! I sort of get it…)
---
Council of Resident and Fellow Members (CRFM)
ATTENTION RESIDENT AND FELLOW MEMBERS!
This is a special call for interested Resident and Fellow Members! The US Army Chapter is currently forming a Council of Resident and Fellow Members to assist the Governors' Council with programming for this extremely important demographic.
We are actively seeking Resident and Fellow Members to join a Council of Resident and Fellow Members (CRFM). The CRFM has direct representation on the Governors' Council and will be charged with advising the annual meeting chairs on resident and fellow-specific programming. They will also work on non-meeting related outreach and advocacy on behalf of, literally, the future of Army Medicine.
As a member of the Army CRFM, you will represent your peers in Army Chapter ACP matters, advocate for Army ACP resident and fellow members, and find ways to maximize the benefit of the College to resident and fellow members in our chapter. Responsibilities will include attending 3 in-person or teleconference meetings (including one in-person meeting at the Annual Army ACP Meeting), as well as supporting the Governor on issues pertaining to residents and fellows. The council will also communicate with the National CRFM about our ideas and needs.
We will select 2 resident representatives from each Army Internal Medicine residency as well as 2 fellow representatives from both Walter Reed and San Antonio.
If you are interested, please respond by 01Apr2020 with your CV, a letter of recommendation, and a personal statement (maximum length: 1 page, double spaced) on what you would bring to the Council.
Those who are selected will be notified in May2020.
Packets should be submitted to CPT Zachary Junga
---
Governors' Council
In addition to developing a social media presence, the US Army Chapter is looking for volunteers to serve in the following Governor's Council positions:
Assistant Treasurer: Work with the Henry Jackson Foundation and current Treasurer, COL Jess Edison, to manage Chapter funds with the National ACP, set the Chapter budget and look for opportunities to build our strategic reserves.
Small Hospital/MEDDAC: The Chapter is very interested in ensuring that we offer content, programs and assistance to Internists assigned to small hospitals/MEDDACs. The position of Small Hospital/MEDDAC representative will come open in the summer of 2020.
Student Representative: We are interested in growing our Student member programming. We are looking for a Medical Student Representative (HPSP or USUHS) to serve a two-year term and work with the conference planning committee on student programming.
Membership Chair: The Membership Chair is an important position on the Governor's Council. Very often, opportunities arise to grow our membership. Growth in membership ensures that we're giving Army Internists and IM Subspecialists the opportunity to remain connected with the Army community and benefit from resources available through ACP membership. The Membership Chair will work directly with the Governor on outreach and retention efforts and will work with the Credentials Chair on identifying members for FACP, MACP and National ACP Awards.
If you are interested in any of the vacant positions noted above, or THINK you might be interested, please contact me
---
National ACP Meeting
The National ACP Meeting is in Anaheim, CA from 23 to 25, April and I am looking forward to a fantastic Army Chapter presence. For the first time, the US Army Chapter is sponsoring four medical students as Chapter representatives to the National Abstract Competition! Additionally, I am looking forward to watching the Doctors' Dilemma team from Eisenhower Army Medical Center take on the best Doctors' Dilemma teams from around the country and from the ACP's International Chapters.
We will have our annual reception with the Air Force, Navy and Ohio Chapters where we'll have an opportunity to learn about advancement to Fellowship within the College and mingle with our sister services and civilian colleagues.
Please stay tuned for more information via direct email about events and opportunities at the national meeting, and if you are advancing to Fellowship, please consider joining me at Convocation – it gets lonely sitting with the AF and Navy Governors!
---
Call for Awards Nominations and Laureate Nominations
Call for Chapter Awards Nominations:
The Army Chapter is currently soliciting nominations for our annual Chapter Awards:
The Master Teacher Award
The Moser Award for an Outstanding General Internist
The Crosby Superiority in Research Award
The Excellence in Operational Medicine Award
The MTF Teacher of the Year Award
And new, this year:
The Lisa L. Zacher Award for Mentorship of Women in Internal Medicine
Details about each award and packet requirements (generally, a letter of nomination detailing how the nominee meets criteria for the award, a current CV and at least two letters of support from current members) can be found on the Chapter Website.
Awards packets are due to the Awards Committee Chair, CPT Andrew Anderson by 30 April 2020.
Call for Laureate Award Nominations
The Army Chapter ACP Laureate Award is designed to honor a senior physician who is a retired Army
Medical Corps Officer. The award honors a Fellow or Master of the ACP with a long-term record of excellence in clinical, academic, research, and administrative roles in the Army Internal Medicine community, as well as demonstrated contributions to the Army Chapter of the ACP. It was first awarded by the chapter in 1994. A list of prior Laureate Award winners is available on the Chapter Website.
The Army Chapter is currently soliciting nominations for the Laureate Award to be presented at the upcoming Army/Air Force ACP Chapter Meeting to be held at Lackland AFB, TX from 10-12 September 2020.
Nominating packets for a retired Army Medical Corps Officer should include the following:
Current CV of the nominee
Two letters of recommendation emphasizing the nominee's role and accomplishments in support of military medicine and the American College of Physicians.
Laureate Award winners will be selected by a committee consisting of former Laureate award recipients
Notifications will sent out on or about 15 June 2020
Please email letters of recommendation and current CV to:
Michael J. Morris, MD by 30 May 2020.
---
Tri-Service Meeting
Did you hear? We've finally managed to join the three military chapters to host a Tri-Service meeting this fall. We're still in San Antonio, and we're assured that the Riverwalk will suffice as enough of a water source to get the Navy Chapter there.
We are heavy into planning an amazing program, once again offering MOC and CME for attendees. Plenty of opportunity to see the best research that each MTF has to present, amazing clinical vignettes, meaningful QI/PS and the always-competitive Doctors' Dilemma competition (I can answer about 3 questions per game).
This year, we are very excited to host Dr. Alex Schafir, MD (?) co-host of the National Thieves' Market. If you haven't attended a Thieves' Market session at National ACP, you are missing out! The session works the audience through clinical vignette mysteries, where you are urged (and compelled) to participate until a final diagnosis is reached. At the National Thieves' Market, you're encouraged to scream out the diagnosis when you think you have it (and you win a prize if you're correct). Hesitation at screaming "SYPHILLIS" at the top of my lungs, in a room full of hundreds of physicians last year, cost me the prize, so I'm coming at this session fully ready to win!
The dates are 10 – 12 September in San Antonio, at Lackland AFB with a pre-course aimed at knocking out some ICTLs. Look for upcoming announcements, abstract calls and registration information.
I hope to see you there!