---
---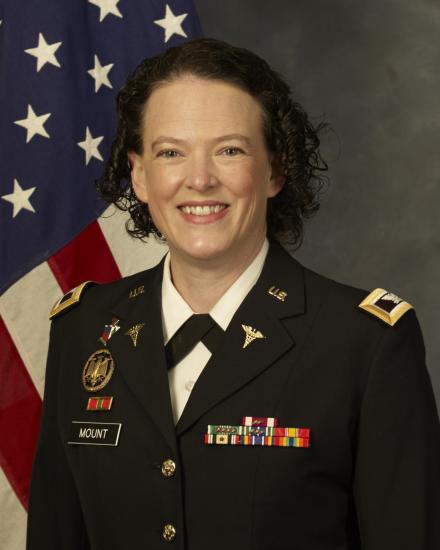 COL Cristin A. Mount, MD, FACP, ACP Governor
Army Chapter Members! It has been a few months since our last newsletter and I wanted to let you know about some upcoming events, and opportunities to be involved in the Chapter.
---
Internal Medicine Meeting 2021
The Internal Medicine Meeting 2021: "Mastering Medicine Together" will be held virtually from April 29 to May 1. There is an opportunity to earn 75 CME credits with access to content for 30 days following the meeting, or extended access for three years with up to 100 CME credits. Our Army Chapter Abstract competition winners will compete in a virtual format, as will our Doctors' Dilemma team.
For more information about the meeting, please follow here
On May 14 - 15, 2021, ACP will hold a virtual event specifically for Medical Student and Resident/Fellow Members titled, ACP Future IM Meeting. More will be posted on the ACP website in the near future, but I did want to start soliciting/spreading the word about the story slam happening during the event.
10 participants are needed to speak on the theme: "Lessons learned from the pandemic as a trainee"
Medical students and residents/fellows must be ACP members. Your 5-minute story will be pre-recorded and then edited together with other selected stories to "air" on the 15th of May. Log into your ACP account and then access the submission form by cutting and pasting the link
Deadline to apply is Friday, March 19, 2021.
With all of the talent that we have in our Medical Student, Resident and Fellow members, I'm sure that many of you have meaningful experiences of the last year of pandemic medicine to share!
I will have a recap of our Chapter's participation in the national meeting, to include the abstract competition, Doctors' Dilemma competition and Convocation for Fellows, Masters and Awards Winners after the meeting.
---
DEI Position on Governor's Council
Diversity, Equity, Inclusion Representative
At the suggestion of one of our members, and with unanimous support from the Governor's Council, I am pleased to announce the creation of a Diversity, Equity, Inclusion (DEI) Representative to the Governor's Council.
We are looking for a Chapter Member to serve in the following capacity:
Assist with DEI-specific planning for the annual Triservice meeting
Revise and maintain responsibility for updating our Chapter Diversity Policy
Work with the Governor on DEI-specific programming as linked to our National Day of Service, National Grand Rounds, etc.
Advise the Awards Committee on ensuring our processes for soliciting and selecting award winners are attentive to DEI
Advise the Governor on outreach efforts to recruit and retain members of diverse backgrounds, and to work toward equity in advancement to FACP and MACP
The DEI rep will sit on the Governor's Council and represent the Army Chapter in activities sponsored by the National ACP where a Chapter representative is requested.
If you are interested, please submit a letter of intent and your CV to me For house-staff, please also include a letter of support from your Program Director authorizing you to commit to the position.
Packets are due by 15 March, 2021 so that the Council may make a selection and the DEI Representative can join the Triservice Chapter Meeting Planning Committee by early April.
---
Triservice Chapter Meeting
Due to continued variability in all things COVID – DoD travel rules, TDY rules, capacity for indoor meetings and the many, many COVID support missions we've all been engaged with, the Governors of the military chapters and the Governors-Elect of the Army and Air Force Chapters have decided to host the Triservice Meeting in a virtual format this fall.
First, thank you all for the amazing feedback you provided on our first foray into a large virtual event. We will be taking all of that into consideration as we plan for this year's meeting.
The dates are Sept 8 – 10 with about five to 6 hours of meeting time scheduled. We are also working on offering a half-day of pre-courses on the 7th, followed by some additional activities that may include the Doctors' Dilemma Military Bowl, as a way to kick off the meeting.
What I need right now is a second planning co-chair! The great thing about the virtual meeting is that much of the hard foundational work was done last year by MAJ Kelly Chohonis and Maj Matthew Bezzant. We have additional partners this year in the Navy Chapter, so the work will be spread more evenly among all three Chapters to facilitate planning. This is a great opportunity to plan a massive training event that impacts military readiness!
If you don't think you can commit time to be a planning co-chair, we are also interested in volunteers to serve as:
Abstract Competition Coordinators
Breakout Session Coordinators
Doctors' Dilemma Coordinators
Plenary Speaker Coordinator
Likewise, if you have a topic that you're really interested in seeing at this year's meeting, please email me
Look for continued announcements and emails about the meeting as we move through the spring, into summer!
---
National Grand Rounds
Thanks to the Council of Resident and Fellow Members, the Chapter has sponsored two National Grand Rounds talks from incredible Internists: Dr. Erica Johnson on Structural Competency and Dr. Susan Hingle on Wellness Through Inclusivity.
I'm pleased to announce that our next speaker is COL Kevin Chung, Chair, Department of Medicine, USU. COL Chung will speak on the impact of military medicine on medical innovation on 10 March at 1200 EST over Zoom. Please see this flyer for more details.
We are looking to continue this National Grand Rounds series – if you have an idea for a speaker, or know someone who would be interested, please contact me
---
Something Fun
Normally, I try to add some pictures to these newsletters to break up the monotony of lines and lines of printed words. However, I have none related to the Chapter, as we've entered a lull in organized events! I could include pictures of my kids, the recent snow we had up here in the Pacific Northwest, some of the beautiful sunrises we get behind Mt. Rainier, or the first blooms that are showing up in my garden, but as my office mate recently said "No one but you is interested in that!". So true. But, everyone is interested in science…right?
My six year old has been very excited – as have I – about the Mars Perseverance Rover landing just a few days ago. If you want to listen to an amazing podcast, "13 Minutes to the Moon" from BBC radio details the build-up to the moon landing in a very scientific, yet accessible way. There are some great Nat Geo documentaries about previous attempts at landing spacecraft on Mars, particularly the story of the engineering challenges associated with landing the Spirit Rover in 2004. If you don't have time for podcasts or documentaries, then visit NASA's Mars Photo Booth . There are 8 different backgrounds to choose from, including Martian landscapes and NASA labs. If you want, send one to me and I'll include it in a future newsletter! See…it looks like a Space Force recruiting poster!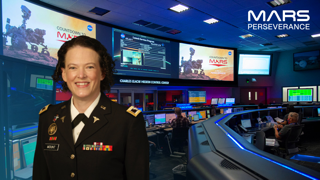 I hope everyone is doing well, staying safe and considering getting the COVID-19 vaccine when it's your turn. I want to say "Thank you" for continuing to be part of our Army Internal Medicine Community!
Cristin Mount, COL, MC, USA
US Army Chapter Governor