---
---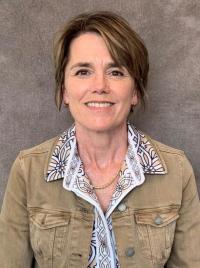 Ann M. Maguire, MD, MPH, FACP, ACP Governor
---
Governor's Welcome
Dear ACP Colleagues
I am writing to you in early November, as we are all anticipating the Thanksgiving holiday. I know that Thanksgiving means many things; however for our family it has included a chance to pause and reflect on the past year, and what each of us has to be thankful for. When with a large group, the pause before dinner to say thanks often included some funny moments when the kids were young, but we now often find ourselves thanking those present for something they did that made a difference in our lives. This year, as a new Governor, I have much to be thankful for and many people to thank.
2022 has been a year of growth and change for ACP Wisconsin. Last Spring, I had the privilege to become Chapter Governor and am deeply thankful to all of you for providing me with this opportunity. The last six months has been busy, and I still have a lot to learn, but I am very thankful for the support of our immediate past-Governor, Dr. Noel Deep, and our Chapter Executive and Staff, Jenni Kilpatrick and Veronica DeMore. Without Noel, Jenni and Veronica, I know that I would have been totally lost.
In September we held our Annual Chapter Meeting. I am most thankful to our Scientific Program Chairs, Dr. Tom Shiffler and Dr. Pinky Jha, who planned an excellent program. Our meeting featured almost 200 abstract submissions from our students and residents. I am thankful to Dr. Farah Kaiksow and the other committee chairs, Council Members and other Member volunteers who attended the resident and student portion of the program, judged the abstracts, and spent time interacting with our students and residents. During our meeting we hosted Dr. Ryan Mire, ACP President. He was a wonderful guest and graciously took the time to meet with our residents and students on Saturday, an experience that was truly inspirational for many.
I am also thankful for the exceptional leadership and creativity of our ACP Wisconsin Governor's Council Members and Committee Chairs. During the pandemic, these dedicated leaders have kept our Chapter active and engaging. In 2022 we have seen a flurry of activity in multiple areas which will be highlighted in this newsletter including the establishment of three new Chapter Committees, JEDI – Justice, Equity, Diversity, and Inclusion, Wellness and Wellbeing, and Resolutions. Our Chapter has a revitalized Council of Student Members and Council of Resident and Fellow Members. I want to say a special word of thanks to Dr. David Bleidorn who has transitioned his role on the Council from Chapter Secretary to Membership Committee Chair. Our new Chapter Secretary is Dr. Bipin Thapa. We will continue to use the Governor's Newsletter and Badger Beat messages to highlight Chapter and Committee activities throughout the year. The leadership of all our chapter committees and councils can be found later in this newsletter. Each Committee and Council is currently welcoming new members and we will all be thankful if you would like to join in our Chapter's activities.
As I look forward to the coming year, I remain thankful to all of you for the professionalism, clinical excellence, and compassion you bring to our profession. You are doing important work every day and I know your patients and colleagues are grateful for that service.
I hope you all have a wonderful Thanksgiving season.
Ann Maguire, MD, FACP
---
2022 Annual Scientific Meeting Highlights
The 2022 Annual Scientific Meeting was an incredible success with over 230 attendees and 188 abstract submissions! Thank you to all who attended, presented, and exhibited. Our program co-chairs, Dr. Thomas Shiffler, MD, FACP and Dr. Pinky Jha, MD, FACP, put together an interesting, educational, and expansive program with speakers from across the state. We are incredibly honored that ACP President, Dr. Ryan Mire, MD, FACP, joined us as well, and took the time to chat with medical students and residents. This year, six individuals and one organization were honored with awards during the meeting. Please read the next section for more awardee information.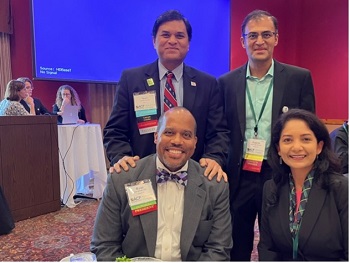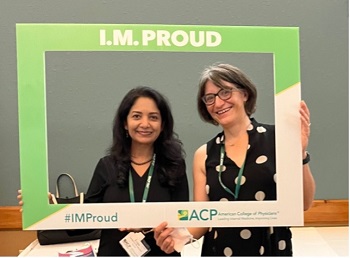 2022 Abstract Competition Winners
Clinical Posters
1st Place: WHY SO BLUE? A CASE OF SEVERE METHEMOGLOBINEMIA AND CONCURRENT METHYLENE BLUE ALLERGY - Molly Cole, MD, Resident at UW
2nd Place: UNIQUE CASE OF LUNG CARCINOID TUMOR PRESENTING AS POST- OBSTRUCTIVE PNEUMONIA - Julia Novotny Dumitrescu, Medical Student at MCW
3rd Place TIE: SYMPTOMATIC HYPERCALCEMIA NEARLY A DECADE AFTER LUNG TRANSPLANT - Alex Carlson, MD, Resident at UW
3rd Place TIE: THE OTHER NIESSERIA: A CASE OF NEISSERIA ELONGATA BACTEREMIA AND AORTIC VALVE ENDOCARDITIS - Julia Loosen, Medical Student at UW
Research Posters
1st Place TIE: BONE HEALTH SCREENING TO IDENTIFY TOTAL KNEE ARTHROPLASTY PATIENTS FOR PREOPERATIVE DXA: A BONE HEALTH OPTIMIZATION EFFORT - Elliot Chang, Medical Student at UW
1st Place TIE: IDENTIFYING BLEMISHES IN SKIN OF COLOR EDUCATION: USING CRITICAL CARE REFLECTION TO INVESTIGATE MEDICAL STUDENT ATTITUDES TOWARD SKIN TONE IN THEIR PRE-CLINICAL YEARS - Molly Thapar, Medical Student at MCW
2nd Place: OPERATION CONVERSATION: USING PEER-LED ROLEPLAY MODEL TO HELP PRE-CLINICAL MEDICAL STUDENTS IMPROVE INTERPERSONAL SKILLS AND NAVIGATE DIFFICULT PATIENT CONVERSATIONS - Molly Thapar, Medical Student at MCW
3rd Place: INSTITUTIONAL STRATEGIES TO COMBAT HOSPITALIST BURNOUT AND IMPROVE WELLNESS - Marie Luebke, Medical Student at MCW
Clinical Orals
Winner: A MYSTERIOUS SOURCE OF MELENA, Jennifer Woodard, MD, Resident at MCW
Runner Up: COULD IT BE BOTULISM?, Keshvi Chauhan, MD, Resident at UW
Research Orals
Winner: REAL WORLD APPLICATION OF THROMBOPROPHYLAXIS IN PATIENTS WITH MALIGNANCY, Garrett Weber, MD, Resident at Gundersen Health System
Runner Up: ADDRESSING COVID-19 VACCINE HESITANCY THROUGH PHYSICIAN DIRECTED "INFORMED COUNSELING, Rinki Pandya, MD, Resident at Marshfield Clinic
2022 ACP-WI Chapter Awards
Please congratulate the following 2022 awardees! To read the 2022 Awards Brochure, visit here.
LAUREATE AWARD – Noel N. Deep, MD, FACP
ADDIS COSTELLO INTERNIST OF THE YEAR AWARD – Brian Hilgeman, MD
COMMUNITY-BASED PHYSICIAN AND MENTOR AWARD – Guirish Agni, MD
DISTINGUISHED INTERNIST OF THE YEAR AWARD – Laura Zakowski, MD, FACP
EARLY CAREER INTERNIST OF THE YEAR AWARD – Christine Kolehmainen, MD, MS, FACP
HELEN DICKIE AWARD FOR OUTSTANDING WOMAN PHYSICIAN – Heidi Twedt, MD
SHARON HAASE ADVANCEMENT OF WOMEN'S HEALTH AWARD – Sojourner Family Peace Center
Dr. Richard Dart, MD, MACP PAC Distinguished Service Award
During the 2022 Leadership Day Meeting, Dr. Richard Dart was honored with the PAC Distinguished Service Award! This award is given to individuals who've made significant contributions to the advancement of IM's national health care agenda through participation in ACP Services PAC.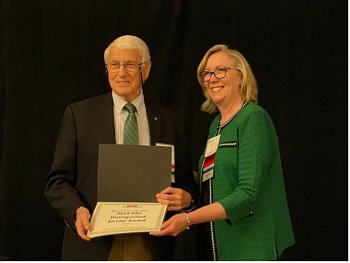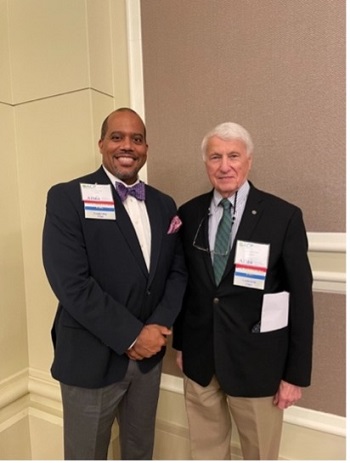 Dr. Noel Deep, MD, MACP Chapter Laureate and Master
Congratulations to Dr. Noel Deep, MD, MACP for receiving the 2022 ACP-WI Laureate Award and becoming a Master of the College!
Mastership is given to Fellows who demonstrate "integrity, positions of honor, impact in practice or in medical research, or other attainments in science or in the art of medicine. Masters must be highly accomplished persons demonstrating impact in practice, leadership, or in medical research." ACP Wisconsin is proud to have this distinguished honor awarded to one of our Members.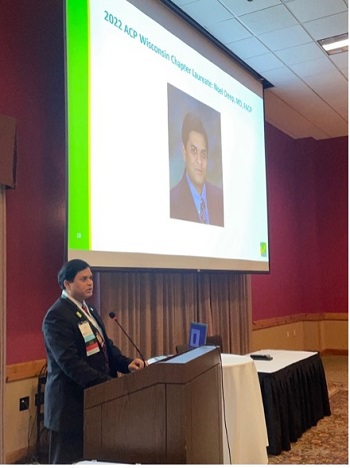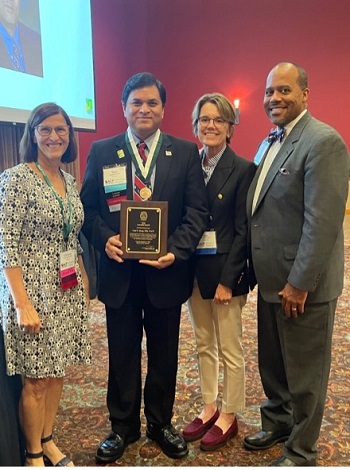 ---
Chapter Committees
ACP Wisconsin welcomes any Member to join one of our Chapter Committees. Please see the current list of Committee Chairs and Vice Chairs below.
If you are interested in joining a Chapter Committee or have questions about a committee activity, please send a statement of interest to info@acpwi.org he email.
Scientific Program: Pinky Jha, MD, FACP, Co-Chair; Thomas Shiffler, MD, FACP, Co-Chair
Awards Committee: Christine Seibert, MD, MACP, Chair
Justice, Equity, Diversity and Inclusion Committee: Ridhwi Mukerji, MD, FACP, Chair
Early Career Physicians Committee: Brian Quinn, MD, Chair
Finance Committee: Rupesh Prasad, MD, FACP, Chair
Health and Public Policy Committee: Richard Dart, MD, MACP, Chair; Sophie Kramer, MD, FACP, Vice Chair
Hospitalist Committee: Sanjay Bhandari, MD, Chair
International Medical Graduate Committee: Binod Khadka, MD, FACP, Chair
Local Nominations Committee: Noel Deep, MD, MACP, Chair
Membership Committee: David Bleidorn, MD, FACP, Chair
Resident and Fellow Committee: Farah Kaiksow, MD, Chair; Katie Reimer, MD, FACP, Vice Chair
Council of Resident Fellow Members: Blair Golden, MD, Liaison; Amalia Lyons, MD, FACP, Liaison
Resolutions Committee: Sophie Kramer, MD, FACP, Chair
Council of Student Members: Harini Shah, Chair; Eric Hess, Vice Chair
Medical Student Committee: Hari Paudel, MD, Chair; Prabhav Kenkre, MD, Vice Chair;
Wellness Committee: Margaret Paulson, DO, FACP, Chair
Women's Committee: Abigail Bales, MD, FACP Chair
Historian: Ken Gold, MD, Advisory
---
Fellowship Outreach
The ACP Wisconsin Membership Committee, lead by Dr. David Bleidorn, has been working with Members of the Governor's Council to reach out to Chapter Members who meet the criteria for Fellowship in the College. To date, we have successfully nominated 10 Members through the Invited Fellowship Pathway. These candidates will receive their Fellowship in the coming months and will be announced in the next newsletter. Fellowship in the American College of Physicians is an honor that recognizes excellence in our profession. If you are interested in learning more about Fellowship in ACP, please send an email to info@acpwi.org
New Fellows from June 2022 – November 2022
David L. Hamel, MD, FACP – July 2022
Binod Khadka, MD, FACP – July 2022
Punit Kumar, MD, FACP – July 2022
Megan Mirkes, MD, FACP – September 2022
Safa Shiari, MD, FACP – September 2022
Rachel Bernard, MD, FACP – November 2022
Joel A. Burnet, DO, FACP – November 2022
Andrew D. Calvin, MD, FACP – November 2022
Mohan S. Dhariwal, DO, FACP – November 2022
Abdel Nasser Hosein, MD, PhD, FACP – November 2022
Devin Madenberg, DO, FACP – November 2022
Albert J. Musa, MD, FACP – November 2022
Sarah S. Naik, MD, FACP – November 2022
Katherina Ann Recka, MD, FACP – November 2022
Lawrence J. Sprecher, MD, FACP – November 2022
Asif Surani, MD, FACP – November 2022
---
Health and Public Policy Committee (HPPC) Updates
ACP Wisconsin's Health and Public Policy Committee, led by Chair Dr. Dick Dart and Vice-Chair Dr. Sophie Kramer, has been extremely active over the past 6 months. Major accomplishments include the formation of three new Advocacy Workgroups focused on Reproductive Rights, Gun Violence, and Climate Change. The HPPC along with the Council of Student Members hosted our Chapter's first Advocacy Table at our Annual Meeting. In addition, HPPC drafted a Chapter Statement on Reproductive Rights that was approved by the Governor's Council in August 2022. HPPC is welcoming committee members for the committee and workgroups. If you are interested, please email info@acpwi.org
The ACP-Wisconsin Health and Public Policy Committee is meeting monthly with increased activity on health issues relevant to practice in Wisconsin. Spurred by a new focus from ACP National on state health policy, the HPPC developed several Advocacy Workgroups to encourage activity and developing expertise on issues highly relevant at the state level, using guidance and toolkits from ACP.
Currently, we have four active Advocacy Workgroups, two of which are noted below:
Climate and Health Workgroup: Victoria Gillet, MD, Dick Dart, MD, MACP
Activities:
Developed a statement to the Wisconsin Public Service Commission as commentary on third party financing for solar array installation, a measure that could allow greater uptake of solar by non-profit healthcare organizations.
Plans include ongoing education of chapter members on the impact of climate change on health, supporting sustainable healthcare infrastructure, and collaboration with other healthcare partner organizations.
COVID-19 Policy Workgroup: Ian Gilson, MD, FACP
Activities:
Working with Wisconsin MEB Chair, Dr. Sheldon Wasserman to present on disinformation and misinformation counter measures regarding COVID-19, and issues regarding the 'chaperone' law.
This group will monitor state-level policy regarding mitigation of COVID-19, including issues around immunization practices, use of PPE, and promotion of evidence-based therapeutics.
---
ACP Wisconsin Makes Chapter Statement in Support of Reproductive Rights
In August 2022, the Governor's Council approved a Chapter Statement in support the ACP National's position on Reproductive Rights following the Supreme Court Decision on the Dobbs Amendment.
Please click here to view the ACP-WI Chapter Statement regarding the Dobbs decision.
---
Women's Committee Narrative Medicine Program
The ACP Wisconsin Women's Committee, led by Dr. Abby Bales, continues to work to develop our Chapter's Narrative Medicine program. In 2022 this program included our first ever Narrative Medicine writing workshop featuring Dr. Bruce Campbell from the Medical College of Wisconsin who led participants in an introduction to the history of narrative medicine and a series of interactive sessions with writing prompts, all over Zoom!
ACP-WI's Narrative Medicine Competition, sponsored by the ACP-WI Women's Committee and the Council of Medical Student Members, was a new addition to the 2022 Annual Scientific Meeting! The ACP Wisconsin Chapter recognizes the values of sharing struggles, triumphs, and everyday life as a way to foster a sense of meaning in medical practice. These written works remind us of the reasons we chose Internal Medicine, and why we continue practicing every day. The pieces included in this booklet have been submitted by members across the state, at varying levels of practice, and reviewed by a panel of judges, with $500 in prizes eligible to be awarded. Please join us in congratulating this year's awardees. Stay tuned for more news about ACP Wisconsin Narrative Medicine activities in 2023.
2022 Narrative Medicine Competition - Judged Winners
Students ($150 prize): Shawna Rivedal - "Desiderium"
Students Honorable Mention: Abhishek Janardan - "Ditto"
Residents ($150 prize): Brooke Jennings, MD - "I Will Carry You With Me."
Residents Honorable Mention: James Wu, MD - "Don't Stop Feeling"
Attendings ($50 prize): Brett Linzer, MD, FACP - "An Experience Shared"
Attendings Honorable Mention: Rebecca Elon, MD, FACP - "All's Well that Ends Well"
2022 Narrative Medicine Competition - People's Choice
Winner ($150 prize): Jennifer Woodard, MD - "Laughing in the Face of Death"
Honorable Mention: Matthew Aiken - "Haikus to Say Goodbye"
---
Save the Date!
We invite all of you to join us for Leadership Day 2023 on May 23-24 in Washington D.C., ACP's Internal Medicine Meeting 2023 on April 27-29 in San Diego, CA, and for ACP-WI's 2023 Annual Scientific Meeting on September 8-9 in Wisconsin Dells, WI.