---
---

Kelly A. McGarry, MD, FACP, ACP Governor (2019-2023)
---
Governor's Farewell

Dear Chapter Members:
Happy Spring! We had an incredibly successful Chapter Meeting at Kent Hospital once again. The topics were educational and delivered by many dynamic and engaging speakers. I would like to thank our speakers! And also thank Kent Hospital for being wonderful hosts and providing wonderful food. A special thanks to our co-chairs, Drs. Stephanie Catanese, Alisa Merolli, Drew Nagle, and Jennifer O'Brien for an incredibly successful meeting!

Pre-Operative Assessment
Emily LeVeen MD MSc FACP
Providence VA HCS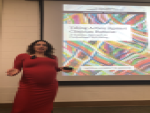 Wellness: Going Beyond Identifying Burnout
Kerri Palamara, MD, MACP
Assistant Professor of Medicine, Harvard Medical School
---
From National ACP
As we celebrate Earth Day on April 22nd, take a moment to learn more about what ACP is doing to help protect the planet and raise awareness around the need for all of us to work together. These efforts are especially important in light of a recent U.N. report that notes the world is at the point where it won't be possible to prevent catastrophic climate change.
ACP has been active in promoting sustainability in our buildings and our annual meeting, decreasing our printed materials, and reducing business travel. We have also been working to educate our members and other physicians about the harm that climate change has had on human health. ACP's member toolkit on Climate Change and Health highlights our advocacy efforts and offers resources for members about how you can help in the fight against climate change. ACP is also a member of the Medical Society Consortium on Climate & Health and has supported a Climate and Health Equity Fellowship through the consortium.
---
Governor Transition
As I reflect on my time as Governor, I wanted to say thank you for allowing me to serve in this role. I have enjoyed trying to advance important ACP initiatives and policies and supporting our community of physicians during this tumultuous time in health care. It wasn't always easy, especially in light of the pandemic which turned our world upside down. I have learned so much from my fellow Governors and from all of the dedicated people working at National ACP. I would be happy to talk to anyone interested in running for Governor in the future. I hope to continue to serve the RI ACP Chapter moving forward, especially in the realm of advocacy efforts. There is so much work to be done to enhance healthcare equity, including reproductive justice and antiracism efforts and working to protect our most precious resource, Earth. We all need to recognize that we have a voice and we need to use it to advance the most important health care issues and crises facing us.
I hope to support Dr. Kwame Dapaah-Afriyie in his transition to Governor. He will do an amazing job in this role and I hope many of you will think about ways you can become active in our Chapter and support his efforts. The role of Governor requires the whole team to make progress!
Be well and take care,
Kelly