---
---
Kwame O. Dapaah-Afriyie, MBchB, FACP, ACP Governor
---
Governor's Welcome
Hello colleagues, I hope you are getting ready to enjoy your summer.
The past few weeks in this new role have been filled with advocacy activities at both state and national levels.
Locally, we worked with the Rhode Island Coalition Against Gun Violence to present ACP's position on this important safety issue at the RI House Judiciary committee meeting on April 14, 2023. Additionally, we collaborated with other physician groups and organizations to ensure passage of bills thereby guaranteeing uninhibited interference in Physician-patient decision-making process in reproductive health.
The ACP annual leadership program was held last month in Washington DC on May 24 and 25. As shown in pictures below our chapter was represented by seven other individuals and I. The other team members were Kelly McGarry, (our immediate past-governor), Alexis Jacobson, Matthew Hadfield, Sagar Patel, Yonathan Daniel, Anais Ovalle, and Ross Hilliard. Our team was led by Ross Hillard whose expertise garnered from his prior engagement in this ACP program was invaluable and appreciated by all of us. After receiving adequate updates and briefing on the first day, we spent the second the day visiting the offices of our four State representatives at the US Senate and House of Representatives to talk about neoteric house and senate bills of interest to ACP. The bills were mainly about funding for resident education (Resident Physician Shortage Act and Resident Education Deferred Interest Act), seeking parity in Medicare and Medicaid payments for services provided, and institution of Medicare Economic Index (MEI) to account for effect of inflation of payments for services provided.
Our visit to Capitol Hill coincided with a crucial time of ongoing discussions to address the federal debt limit which is becoming a Sisyphean task especially as pertains to Medicare expenditure. We were warmly welcomed by the congressional staff and were gratified to have an in-person meeting Seth Magaziner, who represents Rhode Island's second Congressional district. We were notified of his support for the house bills we discussed with him within 24 hours of our meeting. It is however unclear what the effect of the recently passed debt limit bill will have on the house and senate bills.
The description below by Dr Anais Ovalle of the benefits gained from her involvement in ACP Leadership Day program will hopefully generate more interest for next year's program which is scheduled for May 14 and 15.
"As a medical professional, my understanding of advocacy has evolved over the past decade from actively engaging and speaking in community events to utilizing social media to promote evidence-based policies and practices. I recently had the opportunity to take part in legislative advocacy by participating with the Rhode Island Chapter of the American College of Physician's (ACP) during Advocacy Day. Physicians have a crucial role in educating the public about healthcare issues and raising awareness of preventative conditions and overall health. In our profession, effective communication is imperative to ensure our patients make well-informed decisions; we collaborate with various professionals in our field to maintain this standard. Similarly for Advocacy Day, we were tasked with providing our representatives with the necessary information to make informed decisions regarding healthcare policies and their potential consequences.
Engaging in legislative advocacy provided me with a new perspective on the impact we can have on our communities by advocating for our patients on the Hill. My participation in Advocacy Day provided a foundation with insights into the inconspicuous lawmaking processes and outfitted me with a common language to communicate effectively with legislators. This experience allowed me to develop unfamiliar negotiation styles, acclimate to the Washington D.C. environment, and consider various stakeholder perspectives involved in policymaking."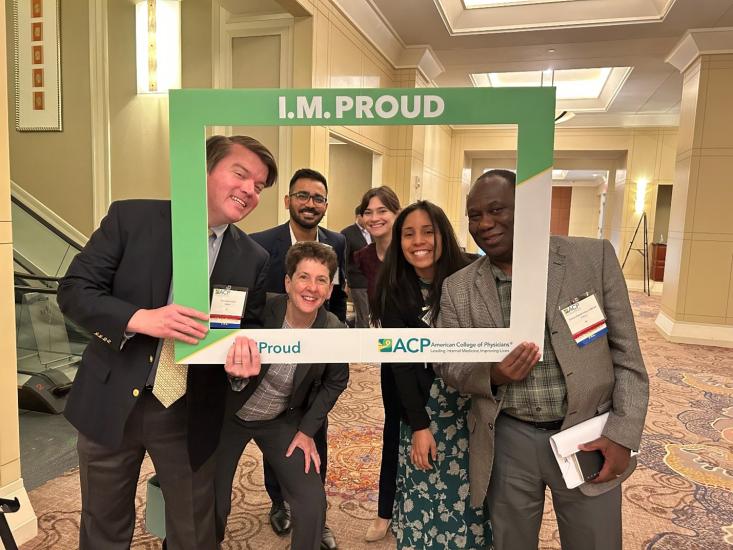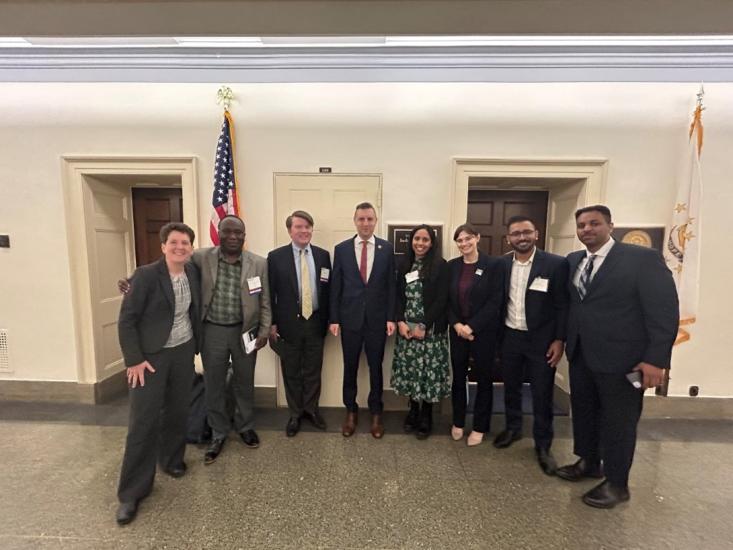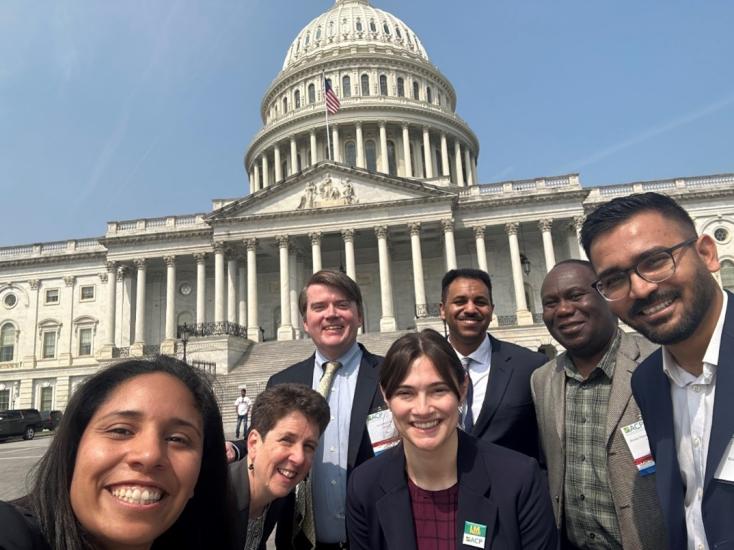 ---
Committee Highlights
Resident/Fellows Committee
The re-organized Resident/Fellow committee under the leadership of Dr. Sandipan Shringi has been off to a great start.
1. The key members of the committee are: Dr. Vishnu Bayanagari is their creative head, Dr. Stephanie Haddad is the mentorship/awareness head, Dr. Aryanna Sousa is their conceptualist, and Dr. Maharshi Raval who works to attract the crowd with his infectious smile
2. "ACP Rule Out": This is our chapter's podcast which Dr. Raad Muhaisen, Dr. Harrison Bai & Dr. Alay Nanavati have created and has become a valuable forum for discussions about a wide range of topics including residency training, and survival, and educational topics with special guests.
3. A meeting was held on 03/22/23. It was dubbed the "fellowship navigation panel" and provided insight about selected fellowship programs. The panelists were fellows from UMass (Dr. Andreas Filippaios-Digital Medicine), Clinical Informatics Program Director, Dr. Craig Norquist from Arizona State University, Dr. Zebar Hashmath, cardiology fellow, as well as GI fellows from Kent hospital, and Pulmonary, Nephrology, Rheumatology, Infectious diseases and Hematology/Oncology fellows from Lifespan-affiliated hospitals.
4. Additional meetings planned for this year will be communicated to the membership. These include a Job fair-related event, a fun event on the lines of a game or day out, financial planning overview with a Certified Financial Planner.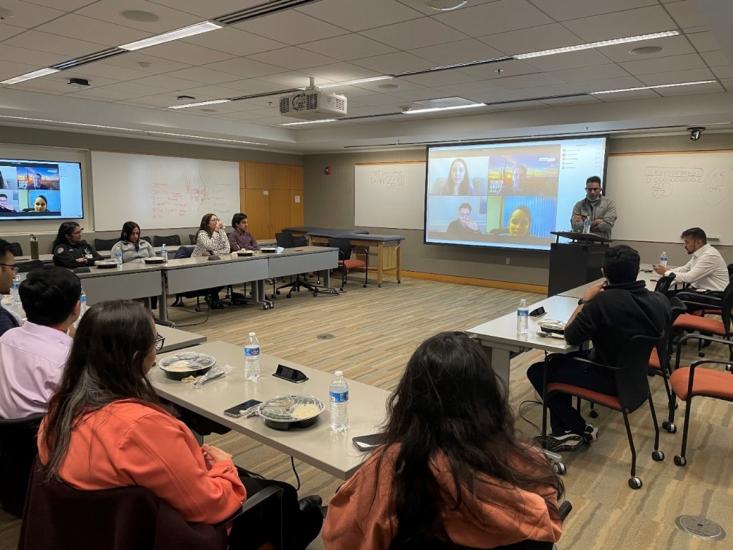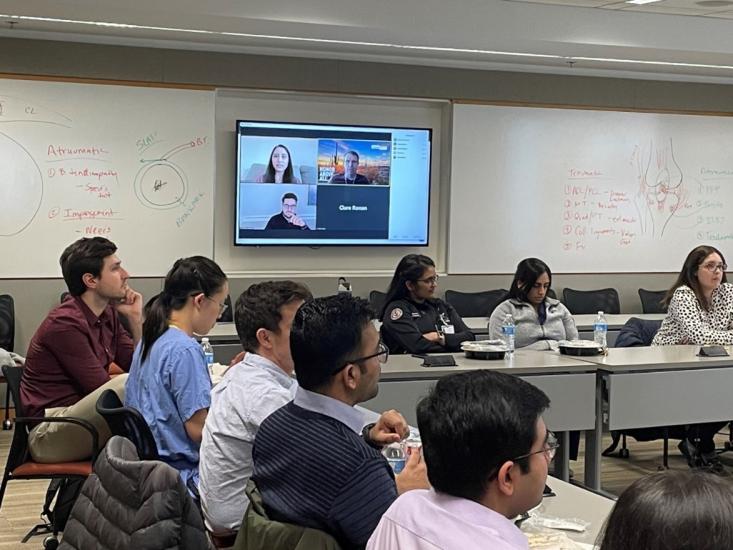 ---
Mentorship Zone
What are we learning? Who are we learning from? Who are we transferring insights to?
Iron sharpens iron, so one person sharpens another. The one who waters will also be watered.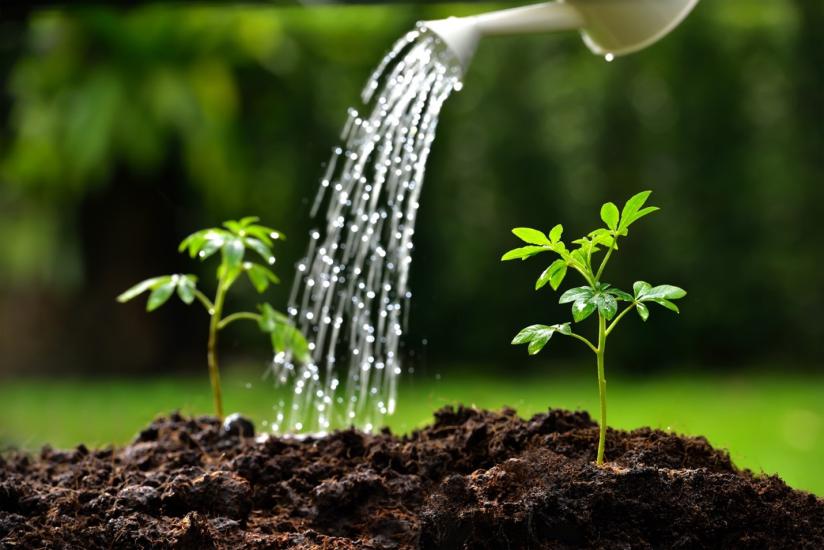 I reached out to some of our experienced colleagues to have them share pertinent insights which will be beneficial to our medical students, residents and Early Career Physicians.
One of our former governors, Dr. Audrey Kupchan agreed to share some insights in this inaugural section.
Brief background: Audrey Kupchan, MD, FACP. Cornell University Medical College 1977-81. Primary Care Internal Medicine Residency at RIH 1981-1984. Primary Care practice since 1984, with RIGHA, HPHC-NE and Coastal Medical(now Lifespan Coastal) Currently working per diem at Lifespan Coastal.
1. Why did you choose to specialize in Internal Medicine?
My father was an old-fashioned GP in NY, so when I was growing up, I was exposed to Primary Care Medicine every day. He was a role model for me, and I found myself drawn to Primary Care Internal Medicine throughout my education.
2. What are the 2-3 major factors that have helped you in this profession?
a. I have had a great deal of support, first from my nuclear family, and then from extended family members, and friends throughout the years.
b. I had a strong education and training which gave me confidence in my abilities.
c. Lastly, I sought out colleagues who helped me with each stage of my career.
3. What has kept you in this profession amid the challenges?
a. I am winding down, but what kept me going previously was the long-term relationships I had with patients. Many began to feel like distant relatives. I knew I was able to positively impact their lives, and I got a great deal of positive reinforcement from them.
b. Even as your take care of patients, make time to take care of yourself. I still spend time going to the gym weekly and plan to continue with time.
---
Council Meeting
My first Governor's council meeting was held on June, 14.
We decided to have a Planning committee meeting next month to start preparing for our Chapter's 2024 Scientific meeting. Information about this meeting has already been communicated via e-mail to all members. A reminder will be sent in the second week of July.
We agreed to ensure that the core principles for enhancing diversity, equity and inclusion are adhered to in all Chapter's activities.
Governor's visits to all the residency programs which was started last year will be continued annually.
---
Chapter Award
Sahar Shahamatdar was awarded the Rhode Island Chapter, American College of Physicians Scholarship for Internal Medicine Prize on 05/26/23.This award is given to a senior medical student planning a career in internal medicine, nominated by the Department of Medicine, based upon a superior performance in the clerkship in medicine, and commitment to seek postgraduate training in internal medicine. Sahar will begin her residency at Massachusetts General Hospital starting June 2023
---
From National ACP
ACP Board of Regents has acted on the 2023 Board of Governors' resolutions. Some of the resolutions have been adopted and referred for implementation, and others have been referred for additional review. Specifically, the resolutions about non-compete clauses in physician contracts has been referred for additional review for evaluation of current ACP policy and the nuances of restrictive clauses between hospitals, private practices, and nonprofit organizations.
DEA REGISTRATION: Beginning on June 27, 2023, the DEA will require one-time attestation of training on management of substance use disorders (SUDs) prior to renewal of a DEA registration. ACP has a number of online resources for members to meet this requirement.
ACP Global Ambassadors Program: The ACP Global Ambassadors Program provides ACP Masters and Fellows as speakers for in-person and virtual chapter meetings and a limited number of international society conferences in order to broaden ACP's outreach and contribute to the exchange of medical knowledge among nations.
Additional information about this program is available online at the ACP website. You can also contact Wendy Rivera-Craig at wrivera@acponline.org