---
---

Kelly A McGarry, MD, FACP, ACP Governor
---
Hello RI ACP Chapter Members
I wanted to send a note along to let you know how excited I am to become Governor of the RI ACP Chapter. I cannot thank Audrey Kupchan enough for her guidance and mentorship over the past year helping me get acclimated with the tasks of becoming Governor. Anyone interested in the job in the future, I am happy to talk to you. The ACP is a fantastic organization, doing some amazing work to improve healthcare in our country and to enhance the lives and well-being of patients and physicians. My aim over the next 4 years is to build on Audrey's many accomplishments and make further headway in the areas of Advocacy, Wellness, and Chapter Engagement at all levels. One advantage we have is our small size. We can make things happen all across our state. Anyone with any ideas of how we can move forward together, please don't hesitate to contact me or our dedicated Executive Director, Roni Phipps.
For those unable to make the Annual Meeting in Philadelphia, I am including the link to the Opening Ceremony Conversation which I thought was riveting and timely.
Looking forward to serving you,
Kelly McGarry
---
HPPC Committee
Members of the RI Chapter attended ACP's National Leadership Day in Washington, DC in May. The contingent included Yul Ejnes, Tom Bledsoe, Pamela Egan, Roy, Sumera Bhukari, and Roy Souaid
In meetings with the offices of Sheldon Whitehouse, Jack Reed, Jim Langevin, and David Cicciline, our members advocated on behalf of several ACP positions, including strengthening the ACA, stemming the rising costs of prescription drugs, and securing funding for GME.
Save the Date for Leadership Day 2020 – May 12-13, 2020. RI Chapter members interested in participating in Leadership Day should contact our Executive Director, Roni Phipps.
On May 9, 2019, the RI Chapter joined members from the Rhode Island Academy of Family Physicians for a RI Advocacy Day where Tom Bledsoe, MD, FACP, briefed the group on items on the ACP National Agenda. Participants also met with two senators on the Judiciary Committee, Josh Miller and Gayle Goldin.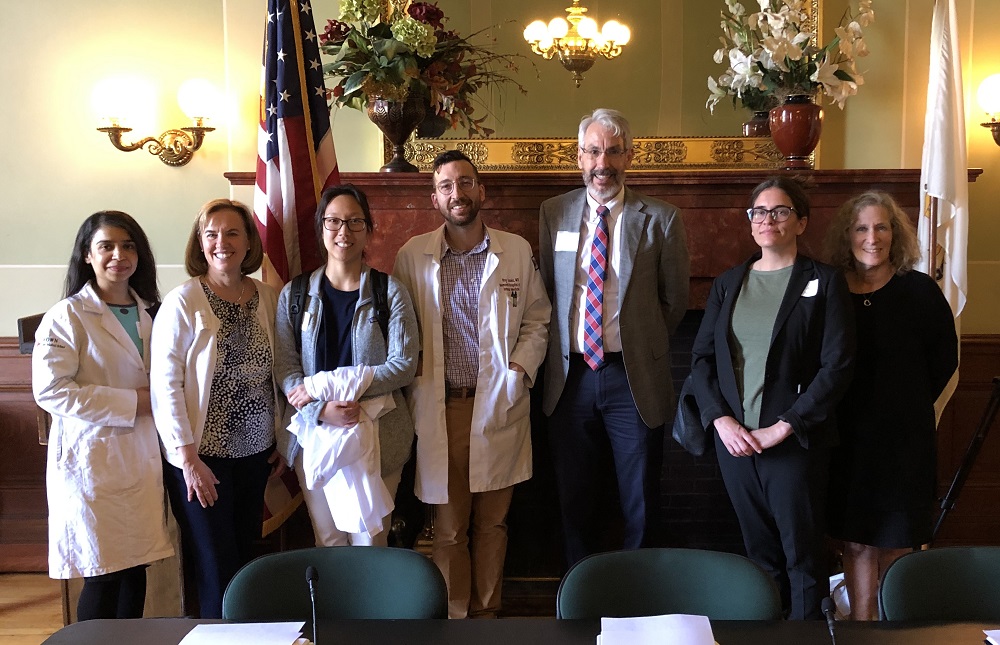 ---
Enroll in the Advocates for Internal Medicine Network (AIMn)
ACP's continued success on Capitol Hill greatly depends upon year-round grassroots support from the College's more than 15,000 members of the Advocates for Internal Medicine Network. Advocates communicate with their members of Congress on issues of importance to medical students, internists and their patients.
Advocates develop relationships and communicate with their members of Congress in numerous ways. As key issues approach the decision-making stage on Capitol Hill, the College e-mails Legislative Alerts, typically posts them on ACP's Facebook page and sends a Tweet via @advocatesIM and Advocates are asked to e-mail, post, Tweet or sometimes call, their members of Congress. Legislative Alerts include all of the necessary information (including sample messages that can be easily personalized) with which to reach out to their members of Congress.
In addition to Legislative Alerts, some Advocates also take the time to write editorials and letters to the editor, attend Town Hall meetings, and/or otherwise seek to engage with their elected officials over the course of the year on federal legislative issues of importance to the College.
Advocates also receive The Capitol Key newsletter, updating them on the advocacy activities of their fellow Advocates. Previous issues of the newsletter can be found at www.acponline.org/advocacy/aimn/capitol_key_newsletter
---
Council of Residents
The Council of Residents held a Doctor's Dilemma competition last November and Drs. Ali Alkhayat, Roshan Shah, Christelle Nzugang from Kent Hospital won. Also pictured is chief resident Dr. Anäis Ovalle where the team competed at the national tournament in Philadelphia.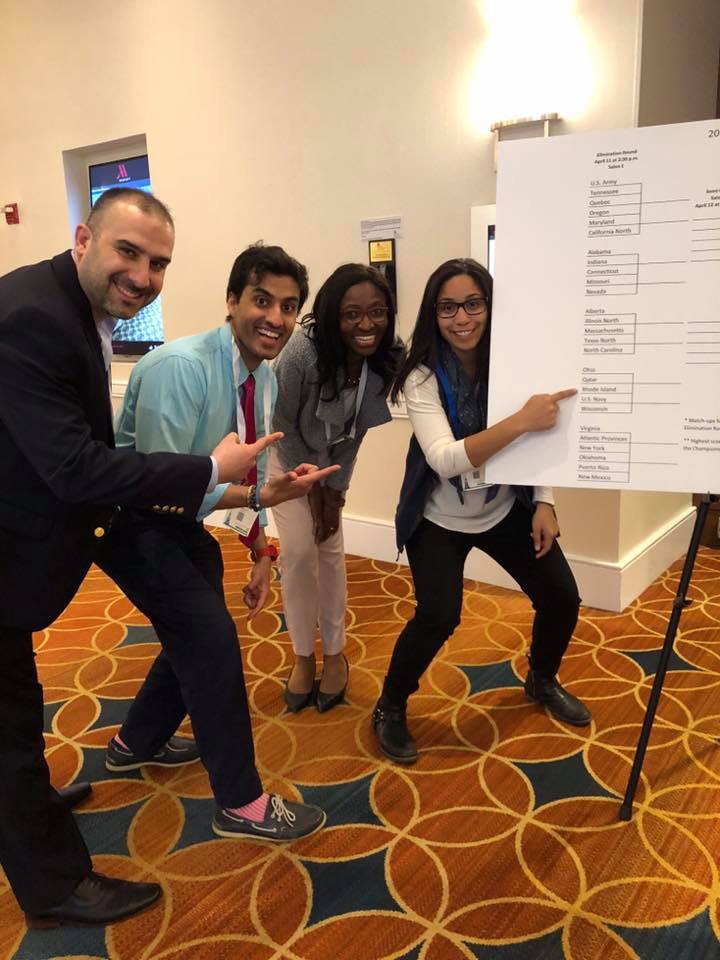 They also hosted a career panel discussion in April where different IM paths were represented. Panelists were: Dr. Ross Hilliard, Dr. Jeff Cumplido, Dr. Deb Banerjee and Dr. James Rudolph.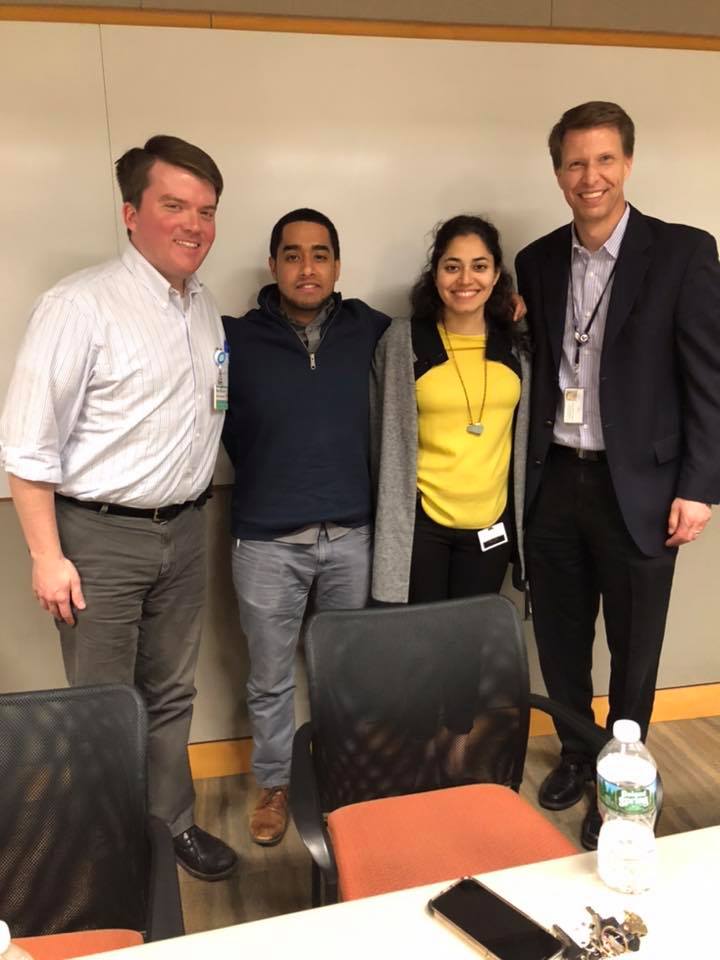 ---
Abstract Presentations at IM 2019
We are so proud of our residents and medical student. You made us so proud at Internal Medicine 2019 in Philadelphia.
Ali Alkhayat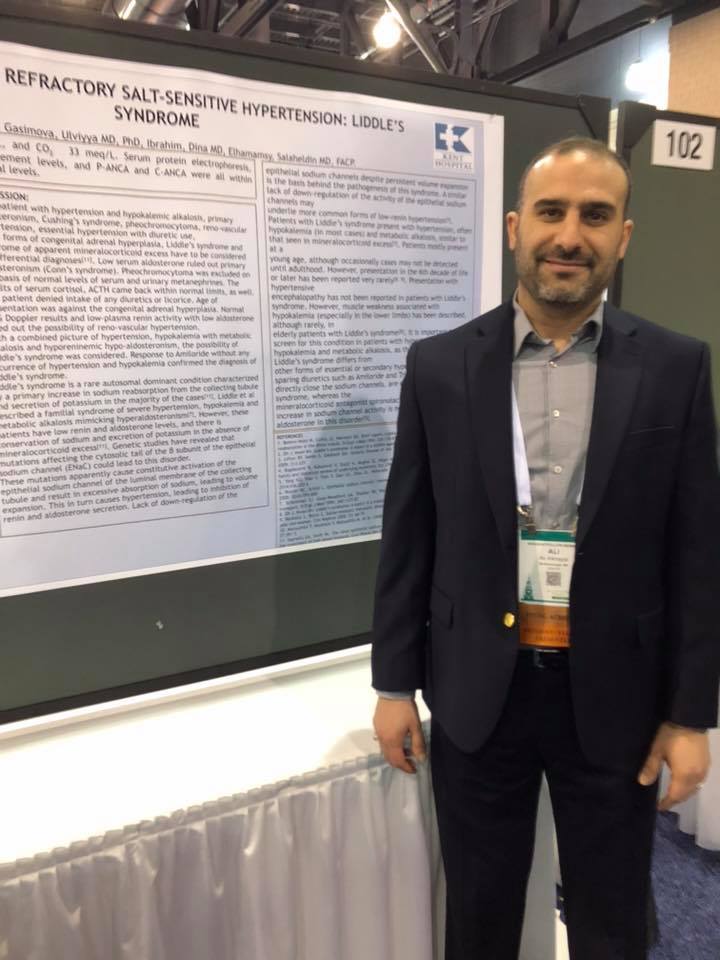 Caroline Burke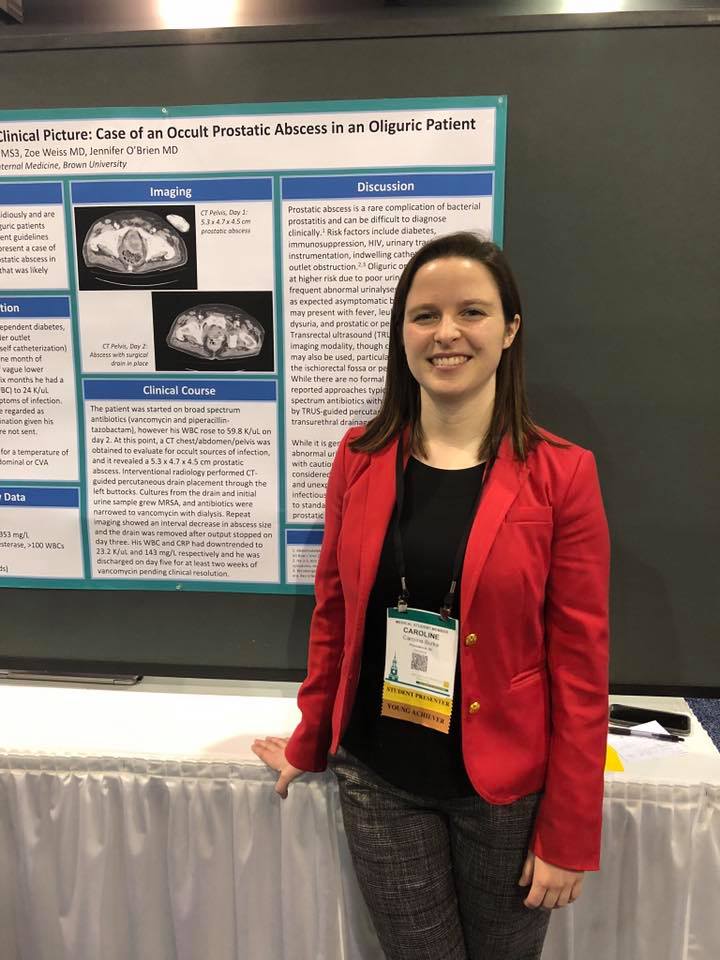 Kevin Jordan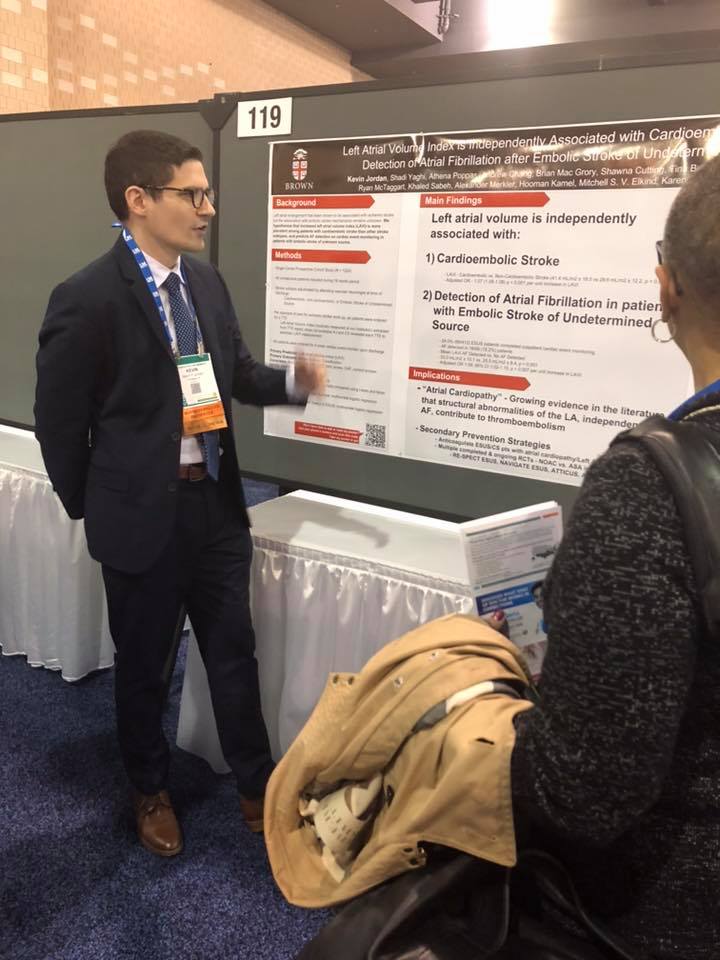 ---
Council of Early Career Physicians
The Council of Early Career Physicians had two recent meetings, one with Dr. Yul Ejnes who shared information about keeping up with CME and MOC. The second meeting was well attended and covered financial planning.
---
Internal Medicine Interest Group
The IMIG had a Specialty Fair in February.
---
Congratulations New Fellows!
Vanessa M Britto, MD MSc FACP
Carol M Dorros, MD FACP
Nancy C Lasson, DO FACP
Hugo M Yamada, MD FACP
Leslie C Mohlman, MD FACP
Laura G Shawhughes, MD FACP
Thomas E Reznik, MD FACP
Subhankar Maitra, MBBS MRCP FACP
Kristina Berglund, MD FACP
Lauren Schlanger, MD FACP
Stephanie A Catanese, MD FACP
Carolina Fonseca Valencia, MD FACP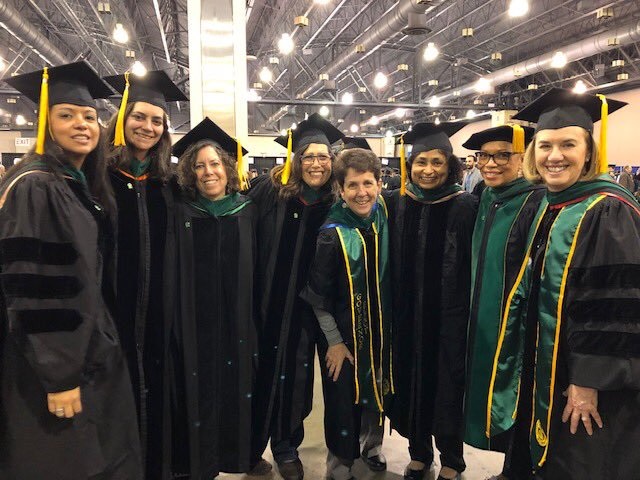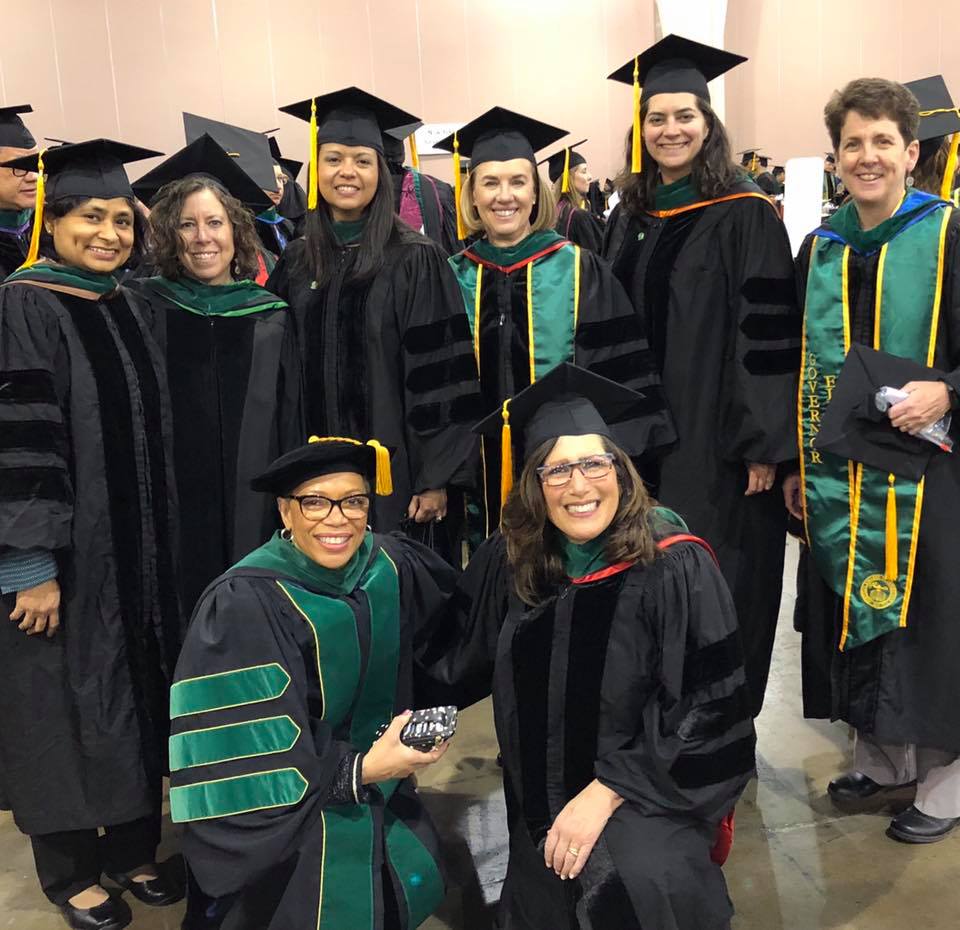 Fellowship is an honor achieved by those recognized by their peers for personal integrity, superior competence in internal medicine, professional accomplishment, and demonstrated scholarship.
Interested in Advancing to Fellowship?
Click here to review requirements and application materials.
---
Upcoming Events
Jennifer Jeremiah and Stephanie Catanese received training as Wellbeing Champions through ACP. The first Wellness Committee meeting will be held at Olga's on Point Street in Providence on June 24th at 7 am to discuss Chapter Wellness Initiatives. All are welcome although we decided for wellness that the next meeting should not be at 7 am!
A hospitalist event is being planned for September. It will be similar to the dinner where Dr. Joseph Li, a nationally recognized expert in hospital medicine, spoke last September. We look to this becoming an annual event. If you are a hospitalist and would like to be included, please contact our Executive Director, Roni Phipps.
---
Latest News from ACP
ACP Releases Paper on Methods for Developing Evidence-Based Clinical Policy Papers
Spring 2019 BOG Resolutions – Resolutions initiated by ACP members and endorsed by a chapter council and the BOG become ACP policy when adopted by the BOR.
New ACP Toolkit Offers Resources on Delivering Patient-Centered End-of-Life Care - Resources for physicians include links to information on advance care planning, team-based care at the end of life, self-care when providing end-of-life care, and responding to a patient request for physician-assisted suicide. The toolkit is exclusive to ACP members and requires a login for access.