---
---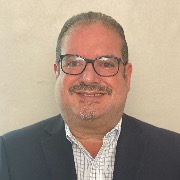 Edwin A. Alicea, MD, FACP, ACP Governor
---
Governor's Message
It is a great honor to address you as the new Governor of the Puerto Rico Chapter of the American College of Physician (ACP). This journey started on April 2022 and will continue throughout the next 4 years. As an introduction, I am from Coamo, PR. Graduated from Jose Felipe Zayas High School and then continued my undergraduate studies in the University of Puerto Rico, Rio Piedras Campus. Furtherly, I was admitted to the University of Puerto Rico School of Medicine, obtaining my MD title in 1992. The University Hospital of the University of Puerto Rico was my home during the 3 years of residency on Internal Medicine and then I finished pulmonary diseases fellowship in the Veterans Hospital in San Juan. Since 2011 I am also certified in Sleep Medicine.
I was president of the "Asociación Puertorriqueña del Pulmón" from 2008 to 2010, a nonprofit organization that provides education about pulmonary diseases, enforces smoking cessation and provides services to patients in Puerto Rico. I have been part of the ACP PR Chapter council from 2002 to 2020 acting as treasurer, then as Governor-elect. Since 1998 to the present time, I have worked as faculty in the Pulmonary and Critical Care and Sleep programs in the VA Caribbean Healthcare System. The Home Oxygen Program has been under my direction for more than 20 years. I have been involved in multiple committees and performance improvement plans in the hospital. As an attending, I am extremely proud to contribute with the education and carrier development of our fellows, they are excellent professionals and are making the difference in their patients and the community.
I want to thank Dr. Miriam Allende and her council. They preceded me with innovation and commitment, even during the COVID Pandemic. ACP goals were attained with virtual meetings and new resources tempered to the new realities. Education to our chapter members was maintained with multiple academic activities despite the adversity of the COVID 19 pandemic and the earthquakes of 2020.
My goals as a Governor can be divided in four major goals:
Membership: Attract more Members and Fellows through our educational, mentorship and leadership programs. Incorporate new initiatives to attract and maintain the interest to the ACP.
Early carrier Physicians: Prepare the futures leaders that will contribute not only to the ACP but to the education of the community.
Educational plan: Expand the offer in medical education. Will continue with clinical aspects but will also incorporate education on office administration, labor relations, human resources, insurance, incapacity and preparation for retirement.
Advocacy: Insert the ACP Chapter in the medical issues in Puerto Rico and support our college members and patients through our policies and statements.
None of these goals can be achieved without the contribution of excellent professionals and staff. The new council is dynamic, their members are in majority early carrier physicians; highly compromised with peers and patients' education.
Congratulations and welcome to our New Chapter Leaders:
Past President: Dr. Miriam Allende
Treasurer: Dr. Alex González
Scientific Committee: Dr. Hilton Franqui
Member Committee: Dr. Nicole Rassi Stella
Nomination and Award Committee: Dr. William Rodríguez
Social Media Committee: Dr. Carlos Cortés
Wellness Committee: Dr. Melba Feliciano/Dr. Lucimar Connaway
Hospitalist Committee: Dr. José Acevedo
Early Carrier Physicians Committee: Dr. Milliete Alvarado
Resident/Fellows Committee: Dr. Katira Andino
Medicine Students Committee: Frances Connor Recio
Secretary and National ACP Liaison: Mrs. Rina Vega
Thank you all for your commitment. This journey barely starts, but I am sure it will be full of excellent experiences and will mark the rest of our life with satisfaction. We will be contributing with the education and development of the best Internists in Puerto Rico.
---
Puerto Rico Chapter at the 2022 Internal Medicine Annual Meeting Highlights
This year the Puerto Rico Chapter had a very active participation in the annual 2022 Internal Medicine Meeting celebrated on April 28-30, 2022 at the McCormick Place Convention Center in Chicago.
Board of Governors Meeting
Dr. Myriam Allende and Dr. Edwin Alicea participated in the 2022 Spring Board of Governors Meeting. The Puerto Rico Chapter was recognized with the Gold Chapter Excellence Award.
Dr. Myriam Allende and Dr. Edwin Alicea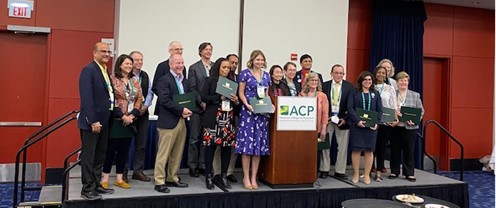 Dr. Myriam Allende Class of 2022 farewell recognition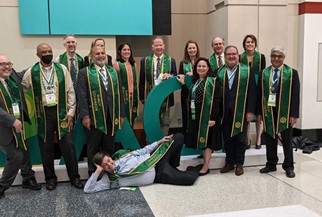 Dr. Edwin Alicea Governors-elect Class of 2026
Convocation Ceremony
The new Fellows of the ACP; Dr. Wilfredo Alonso, Dr. Luis Rivera and Dr. Milton Carrero, our New Master of the ACP; Dr. Jose Cangiano, Dr. Myriam Allende and Dr. Edwin Alicea represented Puerto Rico in the 2022 Convocation Ceremony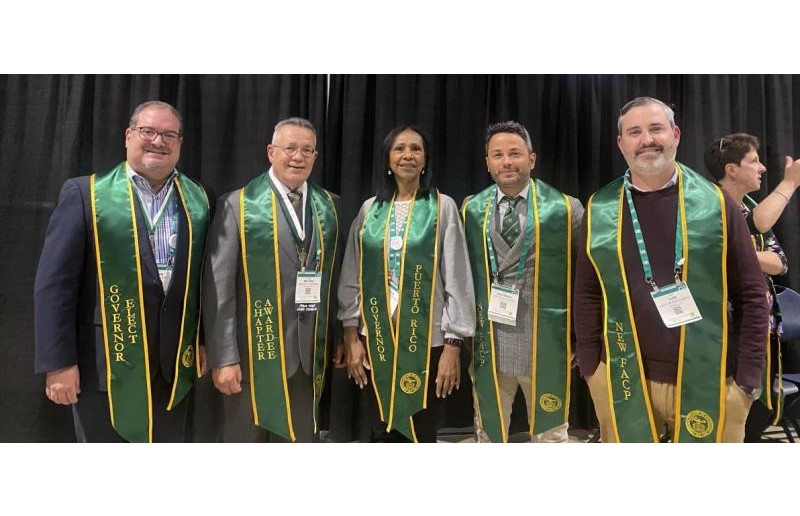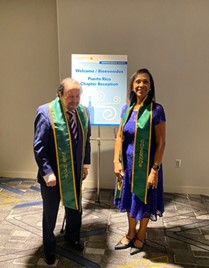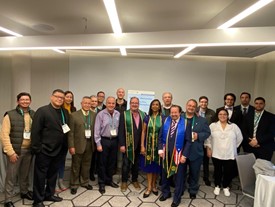 Puerto Rico Chapter Reception at the 2022 Annual Meeting
2022 National Doctor's Dilemma Competition
Congratulations to the San Juan VA Team! For the first time a team representing the ACP Puerto Rico Chapter made it to the finals. They arrived in 4th place out of 50 teams. GREAT JOB!!!!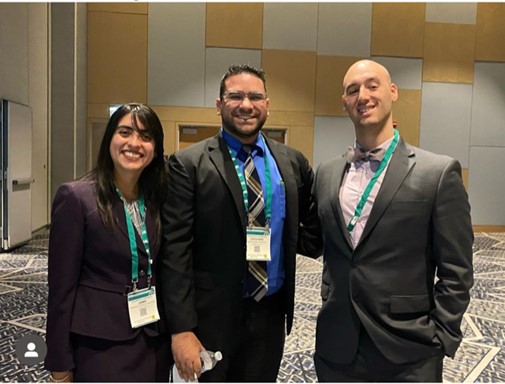 Dr. Jamilesse Segarra, Dr. Giovanni Rivera and Dr. Porfirio Diaz
Poster Presentations
Over 10 posters from our Internal Medicine Residency Programs were presented during the 2022 Poster Presentations.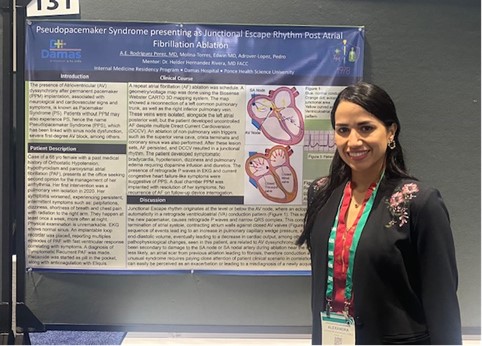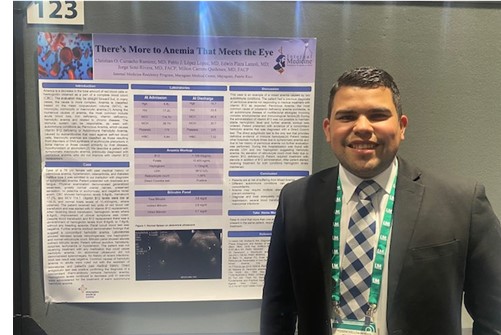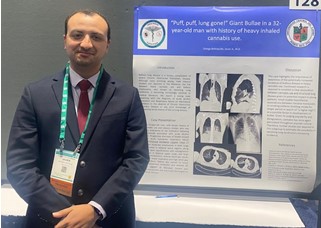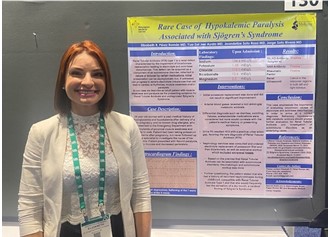 ---
Wellness Corner
Melba Feliciano Emmanuelli MD FACP, FACE
Are you familiar with Overthinking?
Overthinking is the "art" of creating problems that are not even there and is a significant cause of unhappiness. Considering the roots of this behavior, there is sadness, fear, insecurities, anxiety, multiple priorities and lack of organization of our activities and responsibilities.
Overthinking is not a mental illness, but we have to be aware of this behavior and its frequency, and how it affects our personal and professional lives. It can be a symptom of depression, generalized anxiety, worrying excessively about several things, and the duration and frequency of this behavior is important to be identified. The frequency, and duration of this practice for more than 6 months, can affect the brain areas of the hippocampus and the prefrontal cortex, and alter the brain by changing functions and connectivity related to chronic stress, prolonged anxiety and hypercortisolemia. Overthinking can increase the risk of developing neuropsychiatric disorders. Sometimes mental health interventions are needed to deal with overthinking and its impact on general well-being and productivity.
Simple recommendations to calm down if you find yourself frequently involved in this behavior are the following:
Organize your professional and personal agenda weekly on a specific day.
Recognize the trigger emotion, anger and/or anxiety and its roots and release the emotion through deep breathing.
Stop- Breathe-Focus on your breathing for 6-8 seconds.
Change your focus.
Visualize yourself calmed, control rumination, and practice self-compassion.
Spend time in nature as frequent as possible.
Mindfulness practice focused on breathing.
Guided Meditations.
Set a worry period every day and do journaling-write your worries-highlight the ones you can control and brainstorm on solutions.
Find joy, peace and happiness in every day!! What brings you Joy?
Prevent Physician Burnout- Identify the Signs
September 17, 2022 is National Physician's Suicide Awareness Day
SHINE A LIGHT
Join our next Wellness Program activities on the topics of: Compassion, Self-Compassion, Sleep and our Brain. Dates to be announced.
---
Upcoming Events
2022 Internal Medicine Residency Showcases for Medical Students – September 15 & 22, 2022
September 15, 2022, 6:30PM
https://us02web.zoom.us/j/83017234159
San Juan VA Hospital
Damas Hospital, Ponce
La Concepcion Hospital, San German
San Lucas Episcopal Hospital, Ponce
HURRA, Bayamón
September 22, 2022, 6:30 PM
https://us02web.zoom.us/j/84486069426
Auxilio Mutuo Hospital, San Juan
San Juan Municipal Hospital
Mayagüez Medical Center
University Hospital, San Juan
Updates in Women's Cardiovascular Disease, Heart Failure Management, and Approach to Evaluation of Chest Pain 3 CME/MOC – October 15, 2022 La Concha Renaissance
2022 Clinical Vignettes & Research Competition and the 2022 Doctor's Dilemma® Competition – October 15, 2022 La Concha Renaissance
2023 Annual Meeting – March 2-4, 2023, La Concha Renaissance
---
YOUR PARTICIPATION IS IMPORTANT!
Please follow us on:

Editorial Committee:
Edwin Alicea, MD, FACP
Melba Feliciano, MD, FACP, FACE
Mrs. Rina Vega