---
---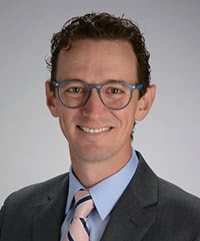 Ky B. Stoltzfus, MD, FACP, ACP Governor
---
Governor's Message
Dear Colleagues,
It's an understatement to say, "these are strange times we're living in." The COVID-19 pandemic has turned our personal and professional lives upside down. And I'd like to begin my first newsletter as Governor by expressing gratitude for the good work all of you are doing.
You're all doing vital work during this pandemic. Internal Medicine specialists, primary care physicians, and hospitalists have an important role to play in the ongoing effort to treat patients with COVID-19 and in routine medical care. We're all quickly adapting to new work flows to provide high-quality patient care in a safe manner.
Thank you to the physicians working on the front lines in the hospital, particularly during early weeks when we were unsure about the degree of virus transmission or whether there would be enough personal protective equipment (PPE) to safely provide care. Thank you to the outpatient physicians who quickly adapted to the "new normal" of tele-medicine. Thank you to the specialists who sometimes had to wait things out until they could return to clinic or the procedural suites to provide needed patient care. And thanks to all of you who have probably spent more time than you ever imagined working from home, teaching your children at home, and sometimes caring for loved ones from afar.
You're all doing great work and ACP is here to support you. I realize that you may receive a flurry of COVID-19 related emails each day. I hope you've had an opportunity to see the resources ACP is offering to assist you. I won't go through all of them but want to highlight just a few that may be helpful to you in the coming months:
ACP Practice Management Resources outlines practical elements of telehealth, payer policies and managing your practice
ACP Online Learning Center has information for keeping updated with current practice and free CME.
ACP continues to advocate on your behalf for federal and state agencies to provide PPE to healthcare personnel, address telehealth payment issues, and ensure safe patient care during the pandemic. Dr Quick has highlighted the link in his message below.
Lastly, it's my honor to begin this four year term as Kansas ACP Governor. Even during turbulent times there's a lot of good work we can do together. I may not be able to kick off my first year with a statewide Kansas tour, but I certainly hope to meet many of you (virtually or in person) over the next few years. If there are additional ways that you feel ACP can help support you and your patients, please don't hesitate to reach out to me directly.
Sincerely,
Ky Stoltzfus, MD, FACP
Kansas ACP Governor
---
Finance Committee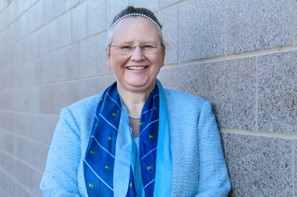 Since our fiscal year began July 1, 2019, our chapter has received dues that match appropriately to our expenses. We have a healthy cash balance for ongoing expenses and initiatives of the chapter. We also maintain long-term investments to be used for a "rainy day" if needed. The chapter continues to meet expectations for fiscal health from the national ACP administration.
Angela M. Meyer, MD, FACP
Finance Committee Chair
---
Membership Committee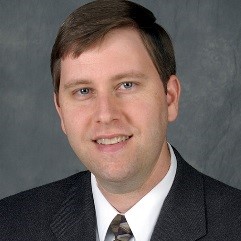 The membership committee has not met recently due to the pandemic. We will plan on meeting in the summer. I do want to pass on two specific thoughts.
ACP Fellowship is eligible to individuals who have been members in good standing of ACP for two years. Advancing individuals to Fellowship is a priority of the College both nationally and in Kansas. Currently there are 157 individuals that are possible candidates for Fellowship in Kansas. I encourage you to consider this if you are not yet a Fellow. See this website for details about fellowship and the criteria for applying.
Please contact myself, Ky Stoltzfus or another member of the membership team if you are considering, have questions about the process, or are in need of a letter of reference.
I would again welcome individuals to serve on the Membership Committee and would especially like to have some of our younger members involved. I would also like to see members that practice in various locations around the state become involved. If you or someone you know would be interested, please contact me at ssmileymd@yahoo.com
Regards,
Scott Smiley MD FACP
Membership Committee Chair
---
Planning Committee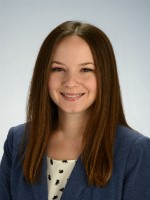 ACP Fall Scientific Meeting
Your planning committee has been working diligently this year to put together another great Annual Scientific Meeting which will be held October 22-23, 2020. We are excited to bring several new learning opportunities to our members. This year, we are featuring a multi-disciplinary panel discussion on the COVID pandemic with local health experts from the State of Kansas. We are also hosting a discussion on local and national health policy updates. We will again offer an Inpatient and Outpatient split track to bring more tailored learning opportunities. Other topics will cover pulmonary, hematology, psychiatry, dermatology, cardiology, endocrinology, infectious disease and telehealth disciplines.
We will also feature a poster competition at the meeting for medical student, resident, and early career physicians bringing interesting case presentations, basic science, and clinical research to our members for review. We are currently recruiting poster judges and would love to have you! If you are interested and planning on attending the meeting, please contact Denise Lantz dlantz@kmsonline.org for more information.
We hope that you are as excited for this year's meeting as we are. We have worked to bring you new topics as well as new modes of interacting with speakers in order to create a truly well-rounded conference experience. See you this fall!
Sincerely,
Melissa Taylor, MD
Planning Committee Chair
---
Health and Public Policy Committee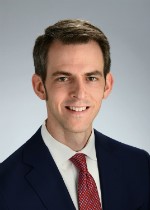 As internists respond to the COVID-19 pandemic, many efforts are needed to ensure we are well equipped to care for our patients and ourselves. ACP continues to provide a unifying voice for our members through advocacy efforts that include proper PPE, financial stability of practices, expanded access to testing, and safe resumption of economic, social, and medical care activities. Complete information on ACP's ongoing COVID-19 related advocacy efforts can be found here.
Prior to the COVID-19 pandemic coming to Kansas, our chapter participated in our annual Kansas ACP Advocacy Day in Topeka. We had an excellent group that included resident and medical student members from both Wichita and Kansas City. It was an important opportunity to discuss our organizational priorities for Kansans including Medicaid expansion and curbing vapes and e-cigarette use. We continue to have a strong partnership with the Kansas Academy of Family Physicians (KAFP), Kansas Chapter, American College of Surgeons (KsACS), and Kansas Chapter, American College of Emergency Physicians (KsACEP) in this event each year.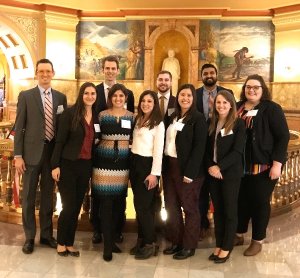 Pictured above: Ky Stoltzfus, MD, Benjamin Quick, MD, Mohinder Vindhyal, MD, Brianna Cline, DO (resident), Katia El Jurdi, MD (resident), Yasmine Hussein Agha, MD (resident), Nikki Miller, MD (resident), Pie Pichetsurnthorn, MD (resident), Jerrica Werner, MD (resident), David Jorgensen (medical student)
Enroll in the Advocates for Internal Medicine Network (AIMn)
Join more than 15,000 colleagues in the AIMn program in advocating for the interests of internal medicine in Washington, D.C. By joining, you will receive legislative updates on key policy issues and engage in outreach to your federal lawmakers. If you are already an AIMn member, you do not need to register again. Sign up here.
Sincerely,
Benjamin Quick, MD, MPH
Health & Public Policy Chair
---
Physician Wellness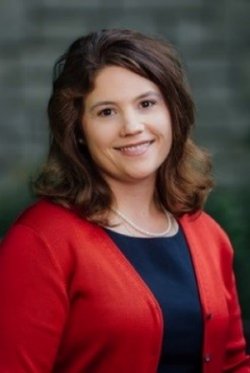 In an already strained healthcare system, with many providers nearing burnout before a global pandemic, the addition of COVID-19 to 2020 has brought an unprecedented amount of stress to the medical system. Whether you are on the front line in the hospital caring for critically ill patients, navigating telemedicine and screening/educating/protecting patients in an outpatient setting, running trials to develop treatments and vaccines, trying to juggle homeschooling your children and childcare with your career, or simply surviving sheltering in place—we are pushed to the max and anxiety is at an all-time high among patients and healthcare workers. These are unprecedented times fighting a novel virus that we continue to learn how to manage day to day and threatens our health as well as the health and wellbeing of our colleagues and families. We have to identify this stress and understand the toll this can have, but we don't have to be victims to it. Know that YOU ARE NOT ALONE and ACP has resources to help. I invite you to visit the Physician Well-being page on ACP's web site.
You will find a variety of tools here that may be helpful for your particular needs. There are links to practical advice and support from the frontlines, positive psychology for times of crisis, resilience, pro bono teletherapy, and a webinar on effectively homeschooling your children during this time. If you have immediate needs, thoughts of harm, or need to speak with someone directly, please reach out to the KS chapter leadership or myself at seschase@gmail.com so we can help. These are trying times, we are in it together. Join us on Twitter at #dontworryalone. Stay well, friends.
Segen E. Smith Chase, MD, FACP
Wellness Champion
---
Early Career Physicians Committee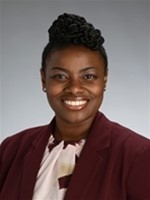 If you are an Early Career Physician (defined as within 16 years of completing medical school), please consider joining our ECP Committee. This committee has been re-engaged, as the input of the ECP Committee members regarding the efforts of the Chapter are very valuable. I am reaching out to all potential members, requesting your service on this committee. Please respond to Denise Lantz at dlantz@kmsonline.org indicating your interest in serving on this committee.
Kimberly Richardson, MD FACP
Early Career Physicians Chair
---
Mark Your Calendar
October 22-23, 2020 – Kansas Chapter, ACP Scientific Meeting
Many of you may be wondering whether we'll have a Kansas Chapter meeting this fall. The conference planning committee is working diligently in the hope that we'll be able to provide a meeting in Overland Park, KS from 10/22-23. However, there is uncertainty about what the coming months will bring and we'll keep you updated if a typical meeting is not possible. We will consider alternative options of a virtual meeting if needed.
Follow us on Twitter: @acpkansas