You are here
News & Meetings
News & Meetings
Iowa Chapter Receives 2020 Chapter Excellence Award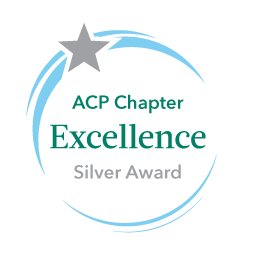 We are pleased to announce that our chapter is in receipt of the Silver Level of the 2020 Chapter Excellence Award! Only 18 chapters received the Silver Award. The award recognizes chapters that achieve excellence in chapter management. In order to achieve the Chapter Excellence Award, chapters must meet twenty-one Bronze criteria and fifteen Silver criteria. Criteria include such activities as undertaking efforts to increase advocacy efforts, collaborating with stakeholders to increase visibility of the ACP, holding competitions for members, providing chapter financial reports to members, having Medical Student and Resident/Fellow members on the Governor's Advisory council, retaining transitional and unpaid members, giving awards to chapter members. I would like to extend a special thanks to those chapter members who assisted us in all of these endeavors! For their hard work and dedication, we received this award.
---
2021 Chapter Scientific Meeting
October 28-29
Graduate Hotel
Iowa City
The Iowa Chapter of the American College of Physicians co-sponsors an excellent scientific meeting in Iowa City every year that offers convenient CME and a place to connect with colleagues. We do this in conjunction with our Annual ACP meeting. We are hopeful that the 2021 meeting will be held live on Thursday, October 28-Friday, October 29 at the 2021 ACP/Progress Meeting at the Graduate Hotel in Iowa City, Iowa. However, we live in uncertain times, and it's possible that we will have to offer this in a virtual format, just as we did last year.
We are still in the planning process. We pledge to keep you informed and will let you know as soon as everything is finalized. Thanks for your understanding, and we hope to see you in Iowa City, whether virtually or in person, this October.
Please contact Jana Mishler with questions.
Governor's Newsletters