---
---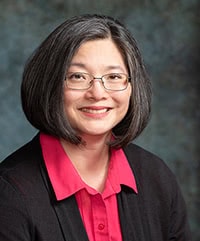 Lisa S. Inouye, MD, MPH, FACP, ACP Governor
---
SAVE-THE-DATE
The Idaho Chapter ACP Meeting will be a virtual meeting again and will be held Thursday, January 13, 2022 (late in the afternoon) through Saturday, January 15, 2022 (ending early in the afternoon). Please try to make arrangements with your schedule as if you were attending an in-person meeting to avoid distractions. The agenda is still pending at this time. We look forward to your attendance.
---
A Short Reminder of Your ACP Benefits
Why join 161,000 of your colleagues as a member of ACP?
Benefits include:
ACP has developed a three-year Guided Fellowship Program which provides a framework toward meeting professional development goals, along with guidance and mentorship, in order to obtain the FACP credential.
The ACP Early Career Abstract Competition offers an ideal opportunity for you to submit your work for national recognition and to build your CV. Members with the highest-ranking abstract in each category will be invited to give an oral presentation at the meeting. Other top scoring abstracts will be invited to compete in an on-site poster competition.
The ACP Member Engagement Program will enable ACP members to contribute to College activities while providing them with meaningful opportunities to use their current skills and knowledge and to gain new ones.
Print and online subscriptions to Annals of Internal Medicine — featuring In the Clinic and ACP Journal Club.
Discounts on MKSAP® 18 — perfect for certification or recertification review, updating your knowledge, and supporting your clinical decisions.
Networking and mentoring opportunities through local chapter activities, national meetings, and online social networks.
Reduced registration for Internal Medicine 2022, offering over 200 educational sessions.
A voice in Washington, DC, and in state capitals, as ACP continues to advocate on your behalf on issues affecting you, your patients, and future internal medicine specialists and subspecialists.
ACP JournalWise — A new mobile-friendly website that helps you stay on top of the medical literature from around the world. You set up your preferences by specialty and clinical topics, and JournalWise alerts you when important new journal articles are reviewed.
DynaMed Plus® provides information in an easy-to-digest format for quick and accurate reference at the point-of-care. This mobile-friendly resource offers precise search, comprehensive specialty content, concise clinical summaries and overviews, evidence-based recommendations, graphics and images, and drug content including dosing and interactions.
---
Volunteer for Your Chapter
You have probably seen the emails requesting volunteers for chapter committees and the governor's council. If you have not responded, please consider doing so. These positions will not require much of your time but are valuable to us.
If you have any interest and any spare time to give to the chapter, please let us know by emailing your chapter Executive Director Kelly Hess If you have an idea of what you would like to do let us know that too.
Also, when you renew your ACP membership please consider doing an additional donation that is an option on the renewal menu. The donation goes to our chapter for support of student and resident activities.
---
Chapter Awards Nominations Request
The Idaho Chapter of the American College of Physicians is still accepting nominations for the following awards to be presented at our next chapter meeting in January 2022. Please try to include a CV if possible when nominating. Send nominations to Kelly Hess
Laureate Award
The Laureate Award honors those Fellows and Masters of the College who have demonstrated by their example and conduct, an abiding commitment to excellence in medical care, education, or research and in service to their community, their Chapter, and the American College of Physicians.
Distinguished Teacher/Mentor Award
This award is given to a College Member or Fellow who has demonstrated outstanding mentorship of students, residents, or colleagues as demonstrated by a sustained commitment to providing personal and professional guidance to other health care professionals.
Distinguished Internist Award
The Distinguished Internist Award recognizes a College Member, Fellow or Master who has provided exceptional contributions to the science and art of Internal Medicine by demonstrating excellence and compassion in patient care, professionalism, humanistic values, and a lifelong dedication to teaching and learning.
Advocacy Award
This award is given to a College Member, Fellow or Master in recognition and appreciation of their many years of tireless service in both the health care and public advocacy realms through continued work in the local, state and national political arenas to support health care issues and concerns. This may reflect service through testifying to legislative committees, serving as a key contact or working with local and state agencies regarding reimbursement policy, updates, coding or any other matter affecting Idaho physicians.
---
Welcome our New Members
Thomas D Erskine, MD – Eagle
Elke M Swakhammer – Boise
Victoria Byrne, AHP – Boise
Laurel S Hascall Dove, MD - Hayden
---
Welcome our New Affiliates
Mel Bingham – Malad City
---
Welcome our New Resident/Fellows
Miles Babb – Boise
Dani Dague – Boise
Ryan Day – Boise
Austin Dopp – Meridian
Ryan Knight – Idaho Falls
Cassandra Knott, MD – Ammon
Annika K Kohlmeier – Boise
Jordan Rymer – Meridian
Taylor Sirrine – Eagle
Casey Willman – Idaho Falls
Julia Winje - Meridian
---
Welcome our New Medical Student Members
Ayana Amaechi, Monika Vloka, Makayla Bussman, Jia Hui Chen, Analiese Coles, Frank Filicetti, Jasper John Garcia, Aaron Goldman-Henley, Katlyn Grootendorst, Stacey Kerr, Myly Le, Alex McLean, Raul Perez, Zachary Fishburn, Mindy Hoang, Hannah Iskandar, Austin Jung, Cameron Radka, and Jonathan Tang
---
Student Debt Refinancing
ACP has worked with SoFi to help you tackle your student debt. If you have federal student loans, you may have been ignoring them for a while. The government paused interest and monthly payments as part of its Coronavirus relief legislation. These benefits expire on 1/31/22. That means your federal student loans will start accruing interest and your monthly payments will return soon. We know that many people's financial lives have changed in the past few years and this news can throw a wrench in your plans (and your budget). We're here to help.
Here's what you can do to prepare for February 2022.
Learn: The attached guide breaks down the expiration of federal student loan relief, how it affects different types of student loans, and outlines some options for your student loans.
Prepare: Now's the time to make a plan. Revisit your loans, make sure your contact and payment information is up-to-date, and make sure you're ready for payments to return in 2022.
Get help: You can speak to a financial planner or a dedicated student loan support team—at no cost with your SoFi at Work benefit.
Want to refinance your student loans today? View your rate at SoFi.com/ACP and receive an exclusive 0.25% rate discount* when you apply. Now's the time to start making a plan for your student debt. Learn More
---
ACP Fellowship
Are you interested in becoming a Fellow of the American College of Physicians? Fellowship in the College is an honor. Being an FACP® is a distinction earned from colleagues who recognize your accomplishments and achievements over and above the practice of medicine. The most important considerations for ACP Fellowship are excellence and contributions made to both medicine and to the broader community in which the internist lives and practices.
ACP Fellowship is primarily achieved through advancement from ACP Membership.* Fellows are authorized to use the letters FACP (Fellow of the American College of Physicians) in connection with their professional activities for as long as their membership remains current. FACP is a federally registered service mark and is defined as providing recognition by way of an honorific. Fellows of the American College of Physicians have the right to vote, hold office, and sponsor applicants for Membership and Fellowship.
For more information or to apply for ACP Fellowship, visit here
---
Idaho Chapter Social Media
Please visit the Idaho Chapter's Facebook page The page currently has over 150 followers from all over the world and is updated regularly with health news, interesting tidbits, and local news. Please feel free to let the Executive Director Kelly Hess know if you have any health care related events you would like mentioned on the page. We also have a Twitter account and Instagram