---
---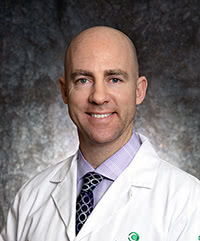 Daniel J. Elliott, MD, FACP, ACP Governor
---
From the Governor
We are certainly in unprecedented times.
When we originally teed this newsletter up we were focused on the upcoming election cycle, and the role that ACP was playing in leading that conversation about how we can optimize our healthcare financing and regulatory framework to build the healthcare system of the future.
I never imagined how things would accelerate over the past few months. As all of our healthcare systems, practices, and society at large have moved fully to address COVID-19, the best and the worst of our healthcare systems and structures have come to the forefront.
Things that we have talked about for years like Telemedicine appeared in a few days, or even in an afternoon in many practices! Things like Rapid-cycle improvement and team-based learning went from things you talked about at retreats to the substance of daily operational survival. But we have also seen the impact of historical inequities visibly displayed through the differential impact of the pandemic on vulnerable populations, and we have felt the strain of imbalance in our own personal and work lives in a way that questions what is sustainable for the long haul.
As we navigate these changes, and seek to establish a new paradigm for care as we emerge from crisis mode, there is no better time to be an ACP Member. As you hopefully know, ACP continues to be a leading voice in identifying a path forward for health care that serves physicians, other clinicians and patients well. ACP advocates for the changes that are needed to build on what we have learned that works, and correct those things that have been exposed as untenable.
In this newsletter we want to point you to some key ACP resources and initiatives, and I welcome your engagement with those in any way that is helpful to you and to the chapter.
I also want to highlight some key activities within our chapter over the past months. My intent is to kindle some appreciation (looking backward) but even more so anticipation (moving forward) of how we can engage as a vibrant Chapter. I am also pleased to announce our Governor's Advisory Council (GAC), whose names are listed below. They have provided the updates in this newsletter, and are eager for feedback from you about how to help the Chapter be more relevant and helpful for you.
Lastly, I wanted to express my thanks to Karla Testa and the Program Planning Committee for an excellent and inspiring Annual Scientific Meeting in February. We will continue to build on that momentum as we engage internists and clinicians across the state, specifically working to unite our hospital-based and ambulatory-based physicians.
Finally, thanks for all you do to care for your patients. It is my goal as Governor to work through ACP to help you have the tools and the environment to continue to provide excellent care for your patients.
Onwards,
Dan
---
Governor's Advisory Council Members
Matthew Burday DO FACP
Robert DeGrazia MD
Joseph Deutsch MD
Himani Divatia DO FACP
Justin Eldridge MD FACP
Jennifer Goldstein MD
Nicholas Jennelly MS
Jenna Laughlin DO
Varun Malayala MD FHM FACP
Selvam Mascarenhas MD FACP
Shilpa Mehta MD FACP
Melissa Morgan-Gouveia MD FACP
John O'Neill DO MACP
Gretchen Rickards MD FACP
Deborah Zarek MD FACP
---
Internists in Action against COVID-19
Thanks to Gretchen Rickards MD FACP, Joe Deutsch MD, and Preetha Kurian MD for leading the local charge to capture our internists and IM residents working (with appropriate PPE, of course!) during the COVID crisis. See some great pics of our teams in action!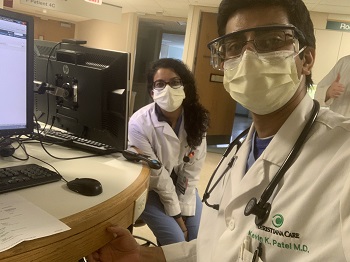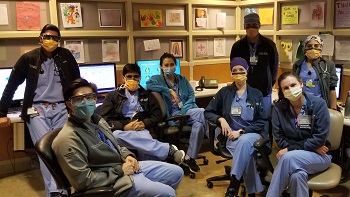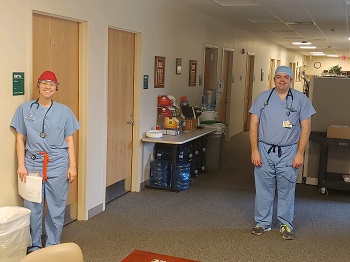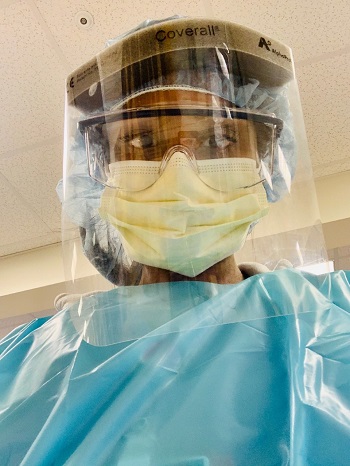 ---
ACP Calls for Comprehensive Reform of U.S. Health in a Series of Papers Offering a New Vision of Health Care
In late 2019 ACP released the vision for Comprehensive Reform of our health care systems. This is a powerful view of practical and operational steps that ACP recommends to legislators and others about how to improve the systems in which we practice. Please visit this page for complete information.
---
ACP Resources for COVID-19:
ACP is a leading voice in establishing clinical care guidance as well as advocating for what we need to provide high quality care. This includes advocating for PPE and supply chain improvements, ensuring the freedom of clinicians to share their experiences, and for updating billing and regulatory systems to allow us to deliver care in appropriate and efficient ways. Please see acponline.org for full information.
---
Committee Updates
Financial Report – John O'Neill DO MACP, Treasurer
We are happy to report that the DE Chapter of ACP is in good financial health! These are financial data from fiscal year 2019, which ended June 30th:
Total Annual Expenditures: $27,583
Big ticket items in the expense category include the costs of our annual meeting in February (7,981 for 2019), the Bakshi International Scholarship ($3,000), Leadership Day ($1,806), resident activities ($1,782), accounting and legal ($1575), and the balance pays for our administrative and support staff, in addition to other minor expenditures.
Total Annual Revenues: $39,037
Includes Chapter dues ($14,500), annual meeting revenues (1$4,575), stipend from ACP National for assistance with support staff ($6,240), ACP chapter excellence award ($2,000).
Chapters are expected to keep reserves of at least 1 year of expenditures on hand, and we have been able to accomplish this.
The Governor, Treasurer and Executive Director of the Chapter develop a budget for the next fiscal year in June, and this is based on last years' experience, as well as projected activities for the upcoming year, with approval by the Governor's Advisory Council at its next quarterly meeting.
2020 Annual Scientific Meeting – Karla Testa MD FACP
Our Annual Delaware Scientific Meeting was held February 8th in Newark at ChristianaCare Ammon Center. It was a great day attended by over 90 participants. There was a wide-diversity in speakers and topics, including "Things We Do for No Reason" by Dr Tim Niessen and a talk on the importance of the physical exam and cognition bias by Dr. Jay Kostman. We were fortunate to have the ACP President, Dr. Robert McLean speak on gout, as well provide updates from the College. We enjoyed hearing resident abstract presentation winners Daniel Hurley DO, Jonathan Li DO and Christopher Canfield DO, as well as our student winner, Blake Shoemaker.. We also celebrated some our Chapter's distinguished members with Dr. Tabassam Salam receiving the Laureate Award, Dr. Rani Singh-Patel receiving the Hospitalist Award and Dr. Ercila Arias receiving the Leonard Lang Award. Most importantly, members were able to connect and network with each other, especially in light of Dr. Lani Zlupko's talk reminding us about the importance of physician well-being with many practical tips on empowering us to be resilient physicians. Please contact myself or Dr. Melissa Morgan-Gouveia if you would like to be involved in next year's planning committee.
2020 Updates in Billing – Deborah Zarek MD FACP
Did you know that you can increase revenue for your practice by doing what you are already doing? Medicare pays primary care practitioners for "Chronic Care Management" (CCM), which works as follows. When any qualified health specialists from your office (such as a nurse or medical assistant, or providers) spend a combined 20 mins per calendar month coordinating care related to 2 or more chronic conditions of a Medicare fee-for-service patient, you can bill 99490 which pays roughly $42. New for 2020 is a code G2058, which reimburses for an additional 20 minutes of clinical staff time per month and pays roughly $37.89. This code may be billed on top of 99490, up to two times per beneficiary per month.
Click here for more information on the program.
Are you a specialist spending a significant time on a patient outside of their visits? New for 2020 is Principle Care Management, which works as follows. When any qualified health specialists from your office (such as a nurse or medical assistant, or providers) spend a combined 30 mins per calendar month coordinating care related to 1 or more chronic conditions of a Medicare fee-for-service patient, you can bill G2065 which pays roughly $40. For more information, click here.
For all of these care management services, if the patient lacks secondary insurance, the patient is responsible for 20% of the billed amount.
Medical Student Update – Nicholas Jennelly MS
Thank you to all the students who participated in this year's abstract/poster competition!
Special congratulations to those students listed below:
Blake Shoemaker MS4 PCOM (Abstract Winner)
Devin Sullivan MS4 PCOM (Abstract 2nd Place)
Nicole Scaramella MS4 SKMC (Poster 1st Place)
Erin Torpey MS4 Rowan (Poster 2nd Place)
The student Abstract Presentations were filled with numerous and engaging poster presentations with topics including rare diseases like Tolosa Hunt Syndrome to public health concerns such as Vape Associated Pulmonary Injury. Additionally, 10 students from Jefferson, PCOM, Rowan, and Touro attended the Annual Meeting the following morning.
Abdulrahman Nazif, WVSOM - Devastating Symptomatic Manifestations of Radiation Necrosis to the Cervical Spine Following Stereotactic Cyber Knife Radiation of an Arteriovenous Malformation
Rina Joshi, TOURO - A Flesh-Eating Monster: E. Coli An Unlikely Cause For Necrotizing Fasciitis
Michelle Kantarovich, SKMC - Potassium in the Wound: A Case of Trimethoprim-Sulfamethoxazole-Induced Hyperkalemia Perpetuated by Heparin-Induced Hypoaldoseronism
Nicole Scaramella, SKMC - A Tale of Two Pathogens
Devin Sullivan, PCOM - A Rare Cause of Painful Ophthalmoplegia: Tolosa Hunt Syndrome
Jessica Beadle, SKMC - A Case of Unilateral Adrenal Hemorrhage in a Patient With No Apparent Risk Factors
Jack Qui, SKMC - Management of Spontaneous MRSA arthritis in a patient with uncontrolled type 2 diabetes mellitus
Martin Dela Torre, PCOM - Riding the Saddle Pulmonary Embolism
Sky Prestowitz, PCOM - EGADS! A Zebra Among Horses
Erin Torpey, Rowan - Much Needed Vape-cation; A VAPI Case Presentation
Abstract Winner – Granulomatosis with Polyangiitis: Early Disease Manifestations with Otologic Findings - Blake Shoemaker MS4 PCOM – 1st place
Abstract 2nd place - A Rare Cause of Painful Ophthalmoplegia: Tolosa Hunt Syndrome – Devin Sullivan, PCOM MS4
1st prize – Poster – A Tale of Two Pathogens – Nicole Scaramella, MS4 SKMC
2nd prize - Poster -Much Needed Vape-cation; A VAPI Case Presentation – Erin Torpey, MS4 Rowan

Resident Poster Competition
The 2020 Resident Poster competition was held on Friday, February 7 at the Ammon Center on the Christiana Care campus. The judges had a very difficult job of choosing the top abstracts. The winners chosen were:
Fazad Mohamed DO – Crashing into a Diagnosis: Neurocysticercosis, A Cause of New-Onset Seizure
Andrew Pajak DO – DRESSed to Kill: When a Red Rash is a Harbinger for Severe Drug Reaction
Jenna Laughlin DO – Partnering with the Community for Diabetes Prevention
At a previous event, oral abstracts were presented. Those winners presented their work at the 2020 Scientific program. They were:
Daniel Hurley DO – Clinical Vignette – Consider Gabapentin Toxicity with Acute Movement Disorders
Jonathan Li MD – Research – Assessing the Impact of a Community Fire on Pediatric-Emergency Department Visits for Respiratory-related Diagnoses: A Preliminary Report
Christopher Canfield DO – QI – Improving Guideline-based Opioid Prescribing Practices in our Resident Continuity Clinic: A Quality Improvement Initiative
Volunteer – Shilpa Mehta MD FACP
Stockings for Soldiers
ACP DE Chapter Members join together to send holiday cheer to support our troops abroad!
In conjunction with the Stockings for Soldiers program organized by hundreds of local Delaware volunteers, a group of ACP DE Chapter members joined at Brandywine Town Center to decorate and stuff Christmas Stockings for our troops in all parts of the world. As part of this local initiative, over 11,500 stockings were sent to troops all over the world. Our ACP members had the opportunity to participate in this thoughtful and humbling opportunity, and demonstrate continued commitment to ACP's values of volunteerism and community engagement. Special thanks to Dr. Shilpa Mehta for organizing this event and for all our chapter members for attending and contributing to a happy holiday season for our soldiers.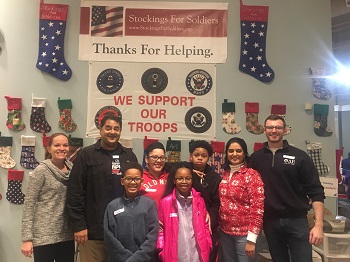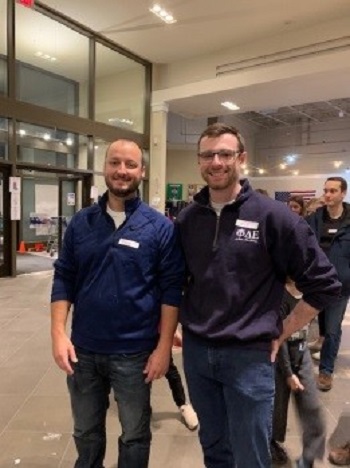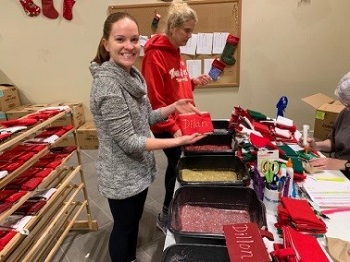 Newark Food Bank of Delaware
On November 5, 2019 volunteers from the Chapter worked at the Newark Food Bank of Delaware in Newark. They assisted with sorting and packing food/meals and bagging produce as well as shelving food.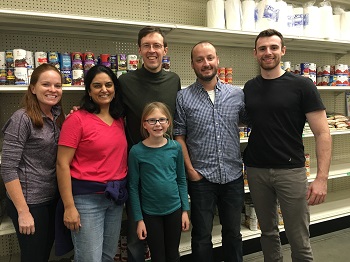 Women in Medicine – Himani Divatia DO FACP
ACP DE Chapter Women in Medicine Committee News – actions and results!
The Women in Medicine committee had the joy and honor of hosting a robust Women in Medicine Panel at ChristianaCare highlighting topics of mentorship, negotiation, leadership development, gender bias, and work-life balance. Panelists shared their experiences and participated in individual table discussions about the challenges that exist for women in medicine and the structural and organizational supports that are necessary to enable women to thrive in their professional and personal lives. They generated a word cloud that represents the words that resonate with successful women in medicine. Another expression of ACP's support for ongoing leadership and professional development of its members!
ACP DE Chapter joins ACP Southeast PA Chapter at the National ACP Headquarters to discuss best practices for Gender Equality in Internal Medicine and Subspecialty Training Programs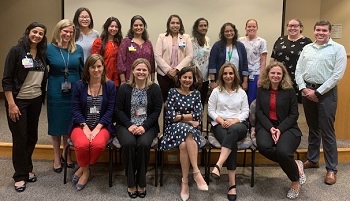 ACP DE Chapter members Dr. Gretchen Rickards, MD, MPH, FACP (Internal Medicine Program Director), Dr. Jenna Laughlin, DO (Internal Medicine Chief Resident), and Dr. Himani Divatia, DO, FACP, FAAP (Associate Program Director, Med-Peds Residency Program) had the opportunity to join several other regional Internal Medicine program leaders and ACP Executive Team leaders to develop a consensus statement on gender equality for students and trainees. Topics discussed included Internal Medicine residency/subspecialty recruitment related gender bias, family friendly policies and gaps for IM trainees, career development related gender bias, and sexual harassment in IM trainees. Be on the lookout for a memorandum of understanding generated from this fascinating, evidence-based discussion.