---
---

Alwinn Steinmann, MD, FACP, ACP Governor
---
Governor's Corner
Summer is officially here, and I hope you all have some plans to get away over the next couple of months. It is important to have some downtime now and then. I also hope that as our nation and health care system recover from COVID, we apply some of the lessons we learned during the pandemic to properly balance our lives to better promote wellness and joy in our lives. Below, please find information on some of our spring activities.
---
ACP National Meeting
It was great to see folks in person after a three-year hiatus! … even if the weather was cool and gray with intermittent rain. Many thanks to our chapter members who made the trip along with our resident and student participants. We had a nice turnout for our joint reception with the New Mexico chapter – our first chapter reception at a national meeting in several years. Also thanks and congratulations to our members who attended and were recognized at the convocation; Deb Parsons (MACP) and Joseph Johnson (FACP).
Next year – San Diego! (Weather should be better!)
---
Missing Something? Reinstate Your Access!
Did you lose access to JournalWise and DynaMed? Your membership renewal might be past due. Renew today with just a few clicks and regain access to valuable resources only available to you through the American College of Physicians. We'll also make sure you stay up-to-date with what's happening in our chapter and you'll receive discounted registration to our annual scientific meeting! https://store.acponline.org/ebiz/acp-pay-dues/paymentcode/MR23LN22
---
Chapter Resident / Fellow Meeting
Our annual Chapter resident and Fellow Meeting took place on May 10th at Saint Joseph Hospital. Drs. Rick Miranda and Matt Applegate did a great job organizing this event. We had a poster competition as well as oral presentations. Congratulations and thanks to all the participants. Below, are the winners for both competitions:
Oral Presentations:
Elizabeth Wittrock, DO (SJH) - Intercostal Arteries: The Only Thing that Doesn't Sag with Age?
Bhavesh Shukla, MD (Sky Ridge) - Epinephrine Infused Tumescent Liposuction Inducing Takotsubo Cardiomyopathy: A Rare Case
Stephen Slade, MD (University) - The Plot - and Skin - Thickens: Clinical Reasoning in a Systemic Sclerosis Overlap Syndrome Case
Poster Presentations:
Anna Bühler, MD (University) - Diabetes, Drinking, and Dirt: A cautionary tale of disseminated nocardiosis
Tanner Norris, MD (Sky Ridge) - Granulicatella Adiacens: A Rare Pathogen, or Just Rarely Noticed?
Samantha Coffer, MD (University) - Cardiac Sarcoidosis Presenting as Syncope due to Complete Heart Block
---
ACP Leadership Day
The ACP held its national Leadership Day in Washington DC on May 17-18. Our chapter had a good contingent this year, including three members of our Health and Public Policy Committee, four residents and two medical students. Our Governor's Council approved 6 scholarships to help residents and students attend this year's session. After a day of briefings, we had visits with Congressional staff. Roughly half were in person and half were virtual. Among the ACPs priority issues were access to care, promotion of telehealth, improved behavioral health services, reduction of administrative burden and GME expansion.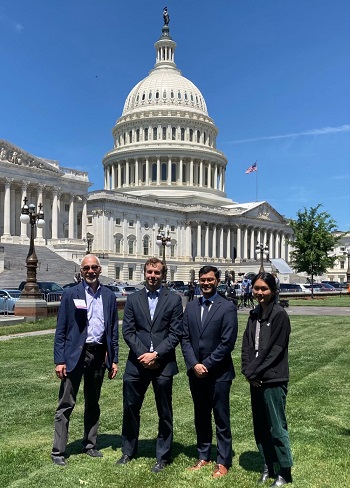 Alwin Steinmann, MD, FACP, Joshua Knol, DO, Karan Rai and Kathy Ding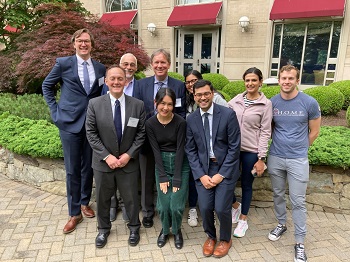 Alwin Steinmann, MD, FACP, Joshua Knol,DO, Karan Rai ( Res/Fel), and Kathy Ding (medical Student), Manisha Dubey (Med Student), Dharmista Chaudary (Res/Fel), Kyle McDaniel (Res/Fel), Carl Barnes.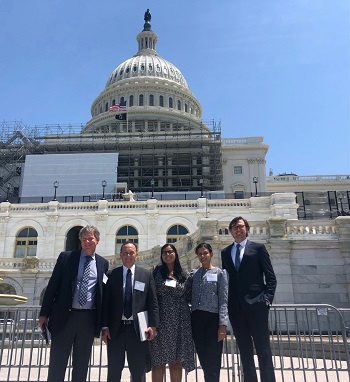 ---
Other Advocacy Issues
The past few weeks have certainly been busy and impactful from a public policy perspective. The first federal gun legislation in a couple of decades was passed as, almost simultaneously, the Supreme Court ruled there were limits on how states can restrict conceal carry permits. Most famously, the Court also overturned the 50-year-old landmark Roe v Wade decision that recognized abortion as a constitutional right. At the end of this newsletter, please find links to some of the national ACP's statements on these issues.
---
Chapter Awards
We will soon be soliciting nominations for our chapter awards. Please begin thinking about members you would like to nominate. We depend on nominations from all of you to recognize the great work that our members do! Below, please find a link to past awardees as well as a list of our chapter awards.
Joel S. Levine, MD, MACP Distinguished Healthcare Advocate:
The nominee must be a Member, Fellow, or Master of the American College of Physicians Colorado Chapter who has demonstrated a steady and strong commitment to promote equitable access to safe, high-quality healthcare for all members of the public along with a devotion to build a better future for medicine.
Robert B. Gibbons, MD, MACP Distinguished Medical Educator:
The nominee must be a Member, Fellow, or Master of the American College of Physicians Colorado Chapter who has demonstrated outstanding teaching and mentorship to students, residents, fellows, or colleagues as evidenced by a sustained commitment to professionalism and excellence in the practice of medicine.
Colorado Early Career Physician:
The award will be given to an outstanding young physician in internal medicine. The physician must be highly respected by his or her colleagues for outstanding clinical skills and for being a role model in the community. This individual should have distinguished himself or herself in service to patients, the physician community, and the community at large. This physician should be an educator to his/her patients or the community. A young physician is someone who is within 16 years of graduating medical school. Ideally the physician would be an ACP member at the time of nomination; if not, the physician must become a member once selected in order to receive the award. Repeat nominations of previous non-winners are welcome.
Laureate Award:
The Laureate Award honors Fellows and Masters of the College who have demonstrated by their example and conduct an abiding commitment to excellence in medical care, education, or research and service to their community, their chapter, and the American College of Physicians. The recipient of this award shall bear the title of Laureate of the Colorado Chapter.
Volunteer Award:
The criteria for the Volunteerism/Community Service Award Call for Nominations is:
Nominees must be Masters, Fellows, Members, or Resident/Fellow Members of ACP and must have provided volunteer service post-training. Self-nominations are not permitted.
The services must have been performed on a voluntary basis and not required for the completion of teaching, training, or position requirements.
Volunteer work must have been done as a physician and be medically related.
---
2023 Chapter Meeting
Our 2023 Colorado Chapter ACP Meeting will be held Feb. 10-11 at the Broadmoor. (SEP modules on Feb. 9). Please mark it on your calendars. Our amazing Meeting Planning Committee is already hard at work to ensure another terrific experience!
---
National ACP Links
ACP statement on the decision to reverse Roe v Wade
The American College of Physicians (ACP) is greatly concerned by the Supreme Court decision that was issued today overturning Roe v. Wade and eliminating the constitutional right for millions of Americans to make their own decisions about their health care.
ACP also collaborated with AAFP, AAP, ACOG, and APA for a joint statement, representing over 400,000 physicians:
Our organizations, representing over 400,000 physicians and medical students, condemn the Supreme Court decision in Dobbs v. Jackson Women's Health Organization, striking down the protections afforded to people in need of abortion care for five decades
Bipartisan Safer Communities Act:
ACP applauds the enactment by Congress of the Bipartisan Safer Communities Act, which President Biden signed into law on Saturday, June 25, 2022. For the first time in decades, Congress acted to reduce the horrendous toll of injuries and deaths from gun violence. By enhancing background checks, eliminating the "boyfriend exception" from background checks for domestic abusers in a recent relationship, providing funding for "red flag" laws and other crisis intervention programs, strengthening penalties for straw purchases, registering more high-volume firearms dealers, and increasing funding for mental health care and training of mental health clinicians, can begin to reduce the toll of injuries and deaths by firearms.