---
---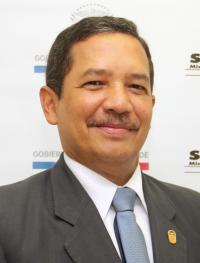 Eric Javier Ulloa Isaza, MD, MMM, FACP, ACP Governor
---
Congreso del Capítulo
No se pierda nuestro congreso anual 25, 26 y 27 de Febrero de 2021, en modalidad virtual. Contaremos con múltiples invitados internacionales y nacionales, con temas tan variados como Falla Cardiaca, Microbiota intestinal, Bienestar del Médico y Excelencia Clínica, Uso de cannabis en Medicina, Hierro intravenoso, Cuidados Paliativos en Nefrología, Disminuyendo el Riesgo Quirúrgico, Cambios en el Currículo de la Escuela de Medicina, trombosis, en cáncer, anticoagulación a largo plazo en COVID, Tuberculosis Drogo-resistente.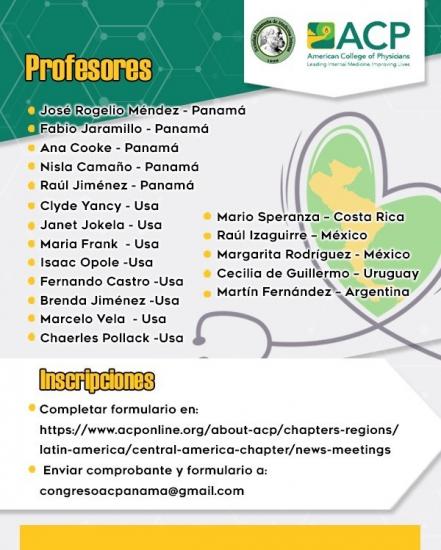 Para mayor información, visite el siguiente link de News & Meetings
---
Gold Excellence Award
Nuevamente nuestro capítulo se hace acreedor al Gold Excellence Award 2020. Este premio muestra el liderazgo del capítulo y sus diferentes comités en áreas como voluntariado, reuniones científicas, desarrollo del plan estratégico y múltiples actividades con los consejos de estudiantes, residentes e internistas jóvenes. El premio será entregado por la Dra Janet Jokela, FACP, regente del colegio y embajadora del ACP para nuestra reunión anual el 27 de febrero a las 11:45 am. Todos están cordialmente invitados a la ceremonia.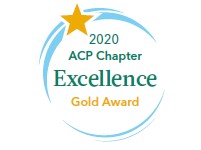 ---
IM 2021, Experiencia Virtual Completa
Separe la fecha Abril 29- Mayo 1, 2021
La reunión anual del Colegio en los Estados Unidos este año también será virtual debido a la epidemia de COVID, Podrán obtener hasta 75 creditos de educación medica continua, y acceder a las charlas hasta por 30 dias más, con una inscripción estándar, con el descuento de miembro.
Mayor información en el siguiente link: ACP Internal Medicine Meeting: Medical Conference 2021
Además si reúnes un grupo de 10, tendrás un descuento especial de grupo. Interesados contactar a la Dra Linda Maria Navarro, al mail: lmnavarromd@gmail.com
Información aquí: https://annualmeeting.acponline.org/registration-travel/international-delegation-rates
---
Laureate Award
EL Laureate Award reconoce a fellow y/o master del capítulo que han demostrado por su ejemplo y conducta un compromiso permanente con la excelencia clínica, educación y servicio. Este año el Capítulo se honra reconociendo al Dr Rolando Binns Halman como Laureado 2020. La ceremonia de premiación se dará en la clausura del Congreso del Capítulo el día 27 de Febrero. Nuestras felicitaciones al Dr Binns y su familia por tan distinguido honor.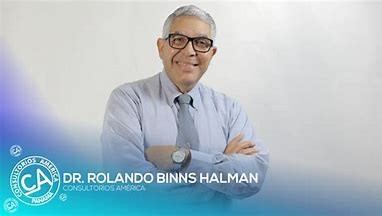 ---
Nueva Sección sobre Recursos Educacionales Globales
El American College of Physicians lanzo recientemente su nueva sección "Global Education Resources" que contiene una serie de publicaciones, programas, guías, y otras herramientas para que el internista aprenda, enseñe y practique la Medicina Interna en forma más efectiva.
El programa cuenta de 4 secciones y se renueva cada cuatro meses: Latest News, Expanding your Medical Knowledge, Refining your Clinical Skills, and Caring for your Patients and Yourself.
Visite la nueva sección aquí: Global Education Resources | ACP Global Engagement | ACP (acponline.org)
Nuevo Fellow del Capitulo
El pasado 1 de diciembre el Dr Alberto Roman Cabezas, de Costa Rica, fue electo nuevo fellow del capítulo. Felicitamos al Dr Roman Cabezas y a nuestros hermanos de Costa Rica por su nuevo fellowship.
---
Panacovid 2020
Las características más comunes clínicas y epidemiológicas de 762 pacientes panameños que desarrollaron COVID-19 de marzo a julio de 2020 y procedentes de Panama, Panamá Este y Oeste, Chiriquí, Coclé, Colón y Los Santos fueron presentados en un estudio (Panacovid 2020) que llevaron a cabo 14 médicos especialistas en siete hospitales públicos del país. El estudio fue dirigido por la Dra Lorena Noriega, FACP y quien es la presidenta del Comité Científico de nuestro próximo congreso del Capítulo del ACP a desarrollarse el 25, 26 y 27 febrero de 2021. El estudio encontró que las principales co-morbilidades que presentaron dichos pacientes fueron hipertensión arterial en 35%, diabetes en 17% y obesidad en 6.5%. Además de la Dra Noriega, participaron la Dra Rocio Arroyo, Dra Lizbeth Lopez y la Dra Elsa Ruedas, miembros del ACP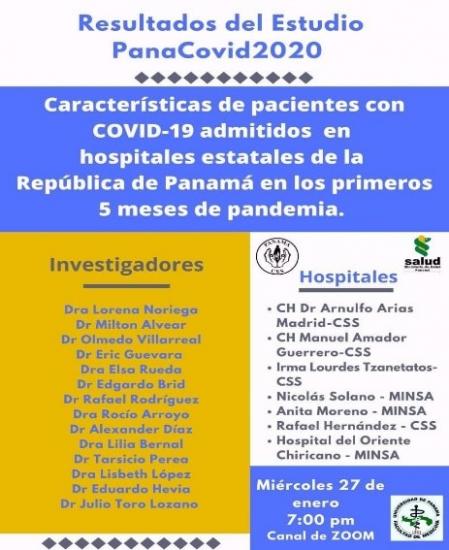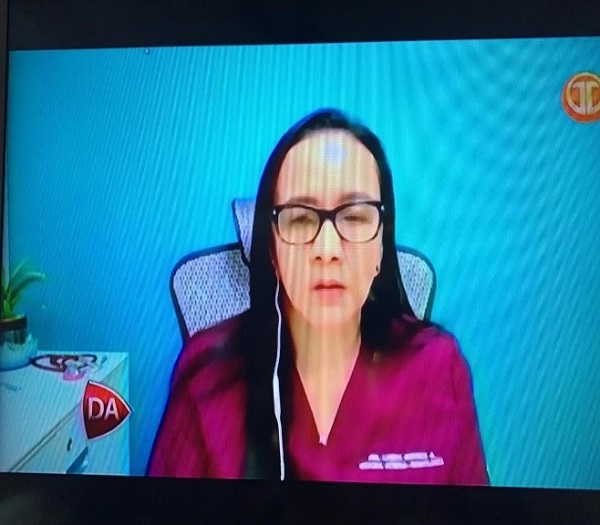 ---
Actividad Comunitaria
El capítulo ha mantenido su actividad comunitaria a pesar de la epidemia de COVID. Con el apoyo del Centro Hemato-Oncológico Panamá, pariticipó en varias charlas de orientación científica a pacientes.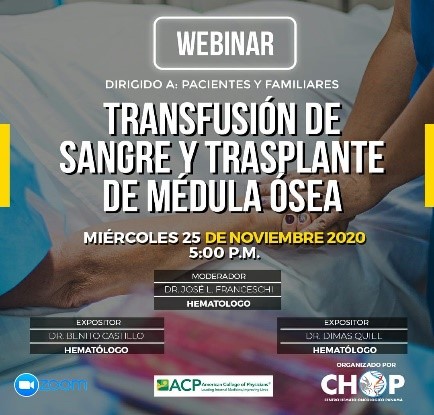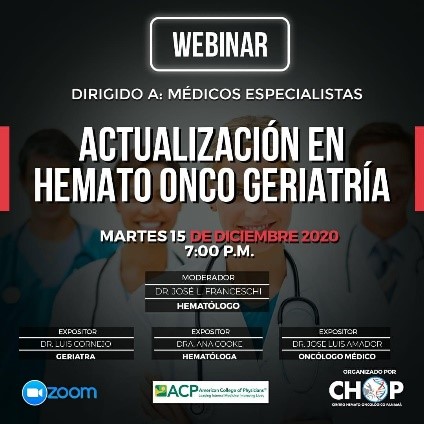 El Consejo de Estudiantes del Capítulo también estuvo muy activo, un programa de donaciones al Hogar Bolívar de Ancianos, Información sobre vacunas para pacientes, y webinar sobre salud sexual y reproductiva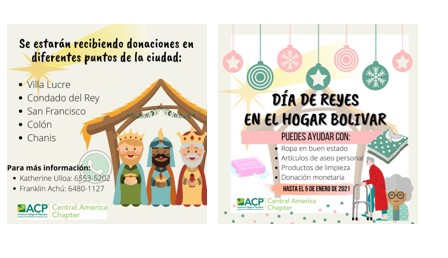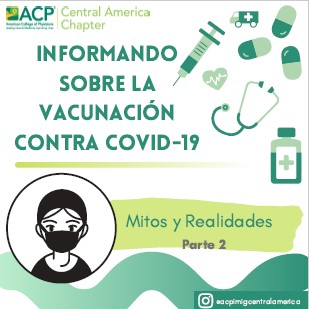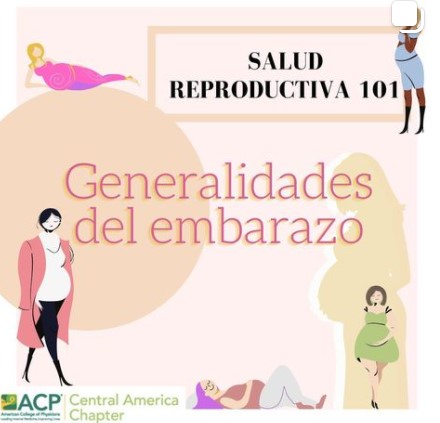 ---
Bienestar del Trabajador de la Salud (Well-being)
Estamos interesados en formar un grupo de bienestar en el capítulo. La Dra Janet Jokela, FACP nos dará una charla sobre Wellness and Professional Fullfillment el sábado 27 de febrero a las 10 am. La Dra Gaby Frank, FACP nos hablara sobre la Excelencia profesional, a continuación. Todos estos temas tienen que ver con el tema de Bienestar de los trabajadores, por los invitamos a no perderse estas charlas. El American College of Physicians tiene varias herramientas para el autocuidado, y para ayudar en sus áreas de trabajo a formar grupos de apoyo.
No se la pierdan, y aquellos que estén interesados en formar parte del grupo del capítulo son bienvenidos.
---
Doctor's Dilemma
El Doctor's Dilemma final del capítulo será entre Costa Rica y Panamá, el día 26 de Febrero a las 12:30 pm. Este año por las limitaciones por el Coronavirus solo estarán los dos equipos y los jueces, pero el torneo será transmitido por streaming via Instagram simultáneamente.
El ganador de dicho certamen tendrá la oportunidad de representarnos en el Doctor's Dilemma final que este año será virtual, y se celebrará el 14 de Mayo.