Are you keeping up with your patients' interests in using mobile health apps to monitor and manage their health? Recent surveys show 35-40% of adults use phone or tablet apps to manage their health.
The top use cases are to track and manage exercise, sleep or weight: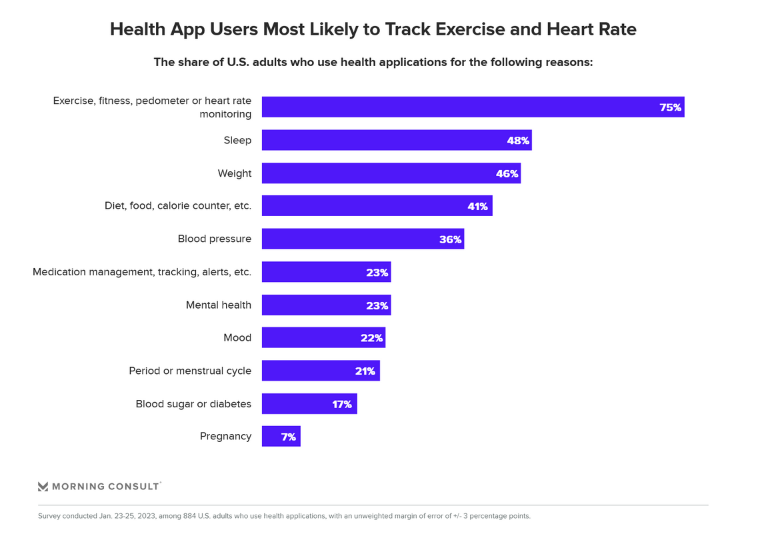 Many apps have solid research which demonstrates their effectiveness, however, the biggest concern for patients and physicians alike is the security of private data entered into apps. The best apps are safe, secure, and effective, and the ACP App Library is designed to help you identify these.
Already registered for an ORCHA Pro Account? Log In here.
To create this resource ACP has collaborated with ORCHA, which conducts the app assessment and hosts this app library. Working for numerous national health services and other organizations around the world, ORCHA has completed over 17,000 assessments on 7,000 apps. Learn more about ORCHA'S assessment process.

The ACP App Library was recently expanded to include apps for:
Weight management
Diabetes management and information
Hypertension
Asthma
COPD
These apps meet and exceed the criteria of the Digital Health Assessment Framework (DHAF), developed jointly by ACP, the American Telemedicine Association and ORCHA. Learn more about the evaluation criteria.
Click on the button below to browse the ACP library. If you want to use the library as a "digital formulary", you'll have the option to sign up for a free "Pro Account" with the following benefits:
Ability to recommend apps to patients electronically
Save a log of your recommendations
List of apps you mark as "favorites"
Try out this new resource, share it with your clinical team members, and tell us what you think. Member feedback will provide input to determine whether to expand this library and offer it as an ongoing resource to ACP members.
Already registered for an ORCHA Pro Account? Log In here.