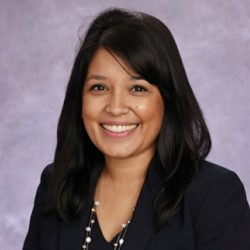 Ankita Sagar, MD, MPH, FACP
System Vice President for Clinical Standards and Variation Reduction, CommonSpirit Health
Associate Clinical Professor of Medicine, Creighton University
1. What is your current professional position?
I am the System Vice President for Clinical Standards and Variation Reduction at CommonSpirit Health and the Associate Clinical Professor of Medicine at Creighton University.
2. Why did you choose internal medicine?
Internal Medicine offers a vast area of specialty. It is the perfect combination of puzzle solving and compassionate whole-person care. I wanted to be a modern-day Sherlock Holmes.
3. What trends are you seeing in your day-to-day practice (with patients, the health care system, or otherwise)?
There are a few trends:
Whole-person care: Physical, behavioral, and emotional health. Patients are turning to their physicians to be more than diagnosticians. They are looking for whole-person care with compassion.
Quality over quantity: Payers including CMS are keenly looking for models of care that deliver exceptional quality of care across the spectrum of care.
Caring for the health care worker: Physicians and especially the next generation are looking at the stark reality of the brokenness of our health care system. This generation is choosing employers that support their growth, well-being, and balance between work and life.
4. What do you want to accomplish professionally within the next five years?
I am proud to be a member and future leader of the Council of Early Career Physicians—the Council is made up of some of the brightest, most dedicated, and most compassionate physicians who have ideas to improve the experience of our fellow physicians. I am looking forward to seeing these ideas and initiatives across the Council begin to take hold and blossom. On a more personal level, I am particularly looking forward to making physician suicide a never event for our industry. Each and every one of our colleagues should be able to receive help for physical, emotional, or behavioral health needs without stigma.
5. Can you share a brief (and anonymous) patient encounter or professional situation that made you proud to be an Internal Medicine physician?
He was 73 years old, brought into the appointment by his wife of more than 50 years. She said, "Doctor, I can't take it anymore. He snores so loudly." I asked, "Have you ever received a diagnosis of sleep apnea?" "Of course," he responded. "But I will not use my CPAP." After a more than 20-minute discussion about how sleep apnea affects sleep quality, induces heart disease, and causes daytime symptoms, and about the machinery behind a CPAP machine, he agreed to an evaluation for CPAP initiation. They returned 4 weeks later—I walked in and the wife said, "Doctor, I can't take it anymore. He won't stop…singing loudly about his new favorite CPAP machine." Saving lives, one internal medicine patient at a time!