You are here
My Kind of Medicine: Real Lives of Practicing Internists:Joshua Grossman Colonel {r} U.S. Army, MD, FACP
My Kind of Medicine: Real Lives of Practicing Internists:Joshua Grossman Colonel {r} U.S. Army, MD, FACP
My Kind of Medicine: Real Lives of Practicing Internists:Joshua Grossman Colonel {r} U.S. Army, MD, FACP
For the purpose of the article, Dr. Joshua Grossman will be referred to by his preferred nickname "Dr. Josh".
Dr. Josh decided that he wanted to become a physician at the age of six when he had his appendix removed. Although the procedure was uncomplicated and he recovered easily, the experience exposed him to "the fundamental value of a timely diagnosis" and inspired him pursue a career in medicine to serve others.
A Rich Resume
Dr. Josh received his undergraduate degree at Johns Hopkins University in Baltimore, Maryland where he was born and raised. He earned his medical degree at the Washington University School of Medicine in Saint Louis, Missouri and then completed his cardiology fellowship at the University of Maryland Hospital System. As to why Dr. Josh chose internal medicine, "I chose internal medicine to provide consultation-liaison with my most highly distinguished colleagues in other fields of medicine." His decision to pursue internal medicine has served him well as demonstrated by his many successful professional and mentoring endeavors throughout his career.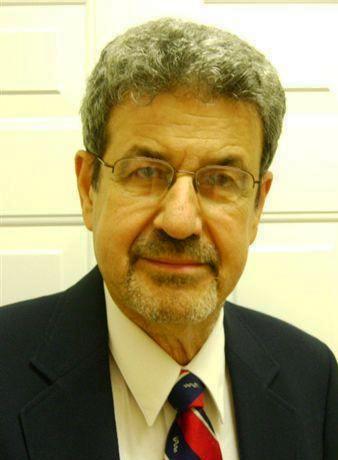 While attending Johns Hopkins University, Dr. Josh met, and ultimately, was mentored by Dr. Alfred Blalock, who had a profound impact on his life and influenced his own decision to become a mentor throughout his medical career. Blalock became famous for developing the Blalock-Taussig shunt, a surgical procedure for babies born with blue baby syndrome which is a heart defect in infants that can be fatal. Dr. Josh had always revered the surgical procedures and research that Blalock had done and is honored to be able to refer to him as a mentor.
After medical school, Dr. Josh had a long and successful career with the United States military in the U.S Army Medical Corps. His father-in-law had served in World War II under General George S. Patton and gifted Dr. Josh with his army uniform when he joined the military. He served as the Critical Care Unit Director at Fort George Meade in Odenton, Maryland and also served as Chief of Medicine during his deployment in South Korea at the 121 Evacuation Hospital. After completing his service in South Korea, Dr. Josh worked at the Charles George Veterans Affairs Medical Center in Ashville, North Carolina while also serving as Section Leader of the 329th Army Reserve in Ashville. He is retired from the military and holds the title of Full Bird Colonel.
Following his service at the VA center, Dr. Josh was assigned to Dwight D. Eisenhower Army Medical Center in Fort Gordon, Georgia where he served as Staff Cardiologist. Although Dr. Josh's placement was chosen without ever meeting the staff at Army Reserve Component Personnel, he felt that the position was a great fit and soon felt like "part of the family." "The representatives told me to go work at Eisenhower Army Medical Center and that I would be very happy there and they were right. I meet a lot of very different and interesting people there." After serving in Georgia, Dr. Josh moved to the Upper East Tennessee area to serve at the James H. Quillen Veterans Administration Hospital in Johnson City, Tennessee.
A Lifelong Commitment to Mentoring
While at Quillen, Dr. Josh worked with a number of international medical graduates who were preparing for the United States Medical Licensure Exam III (U.S.M.L.E III), which all medical school graduates must take in order to become a certified physician. Mentoring has always been a major part of Dr. Josh's life. "Mentoring fulfills my lifelong commitment to learning." He realized that the international medical graduates did not have anyone to guide them through the preparation process for the U.S.M.L.E III exams. "My rule of thumb in life is to find a need and then fill it, and that is what I did for these students." He enjoyed interacting with the medical graduates of different cultural backgrounds and even learned to speak several phrases in Spanish, Russian, and Swahili. While mentoring, Dr. Josh spent his time giving advice and meeting with medical graduates in order to ensure that they were adequately prepared to sit for their exams. He wrote "Detox Diagnostics- Keeping Medicine in Psychiatry" which was published in the January 2003 edition of Psychiatric Times based on his experience tutoring international medical graduates for the U.S.M.LE III exams.
Dr. Josh firmly believes that the benefits of having a mentor are many. He further believes that acting as a mentor provides opportunities for helping students with positive references, which can be critical to their future.
Dr. Josh formed one of his most profound mentoring relationships with Georgia Nannette Feeback, B.S.N., M.S.N., C.C.N.U, who was his supervisor, while training to be an Advanced Cardiac Life Support instructor. "Our mentoring relationship went both ways, I learned a lot both personally and professionally from Ms. Feeback and we still keep in touch." Feeback credits Dr. Josh for teaching her to never take herself too seriously and the importance of keeping the fun in all that she does. "What makes Dr. Josh such a great mentor is that he truly cares about what he is teaching and who is teaching. He makes learning fun, interesting, and relative to work and life." Feeback recently traveled to Tennessee to watch Dr. Josh perform in the in the Jonesborough Repertory Theater production of "Our Town."
Dr. Josh currently serves as a volunteer Advanced Cardiac Life Support instructor at the Bristol Regional Medical Center in Bristol, Tennessee and continues to spend time mentoring medical graduates for the U.S.M.L.E III exam.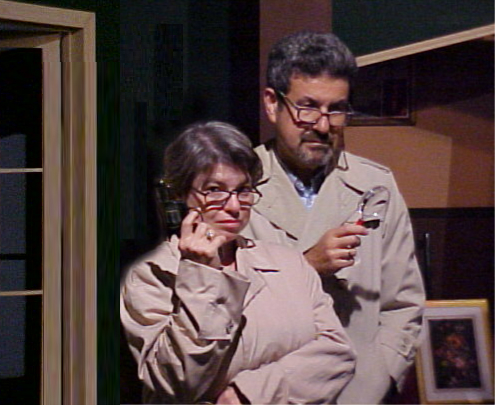 ---
Dr. Josh and his wife, Mickey, performing in the British comedy, "The Real Inspector Hound" at the Johnson City Community Theatre.
---
In his spare time, Dr. Josh and his wife of 47 years, Mickey, enjoy performing with their local community theater, The Johnson City Community Theater. Dr. Josh demonstrated his dedication to the theater when he performed in the role of Chief Sitting Bull three weeks after having surgery for thyroid cancer in the production of "Annie Get Your Gun." He has also played the roles of Gonzales in "Summer and Smoke" and Padre Perez in the "Man of La Mancha." He and his wife most recently performed in the production of "Funeral for a Gangster."
For Dr. Josh's advice on "Finding the Right Mentor", visit: www.acponline.org/medical_students/impact/archives/2010/11/feature/.
Dr. Josh can also be reached for mentoring questions by e-mail: drjosh@embarqmail.com.
Back to September 2011 Issue of IMpact