My Kind of Medicine: Real Lives of Practicing Internists: Mark Richman, MD, FACP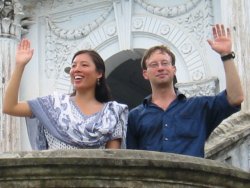 On the first day of school in a lecture hall at the Johns Hopkins School of Public Health, Mark Richman spied a beautiful girl walking across the stage. Like her, he was there picking up forms for the MPH program. "I remember thinking 'Who's that girl?'" he says. "I thought there's no way I could date someone like her." Ten years later the two are married. He's also pleasantly surprised by his career trajectory, one he could never have predicted. He quickly adds however, that the end result, however circuitous, was a product of staying true to his personality and goals. "At a certain point, things stop being a coincidence," he says.
The Lottery Winner
As an internist, emergency physician, Patient Safety Officer, and Clinical Information Technology Officer at Olive View-UCLA Medical Center, Dr. Richman sees and does a little bit of everything: inpatient, outpatient, and Emergency Medicine Department care; teaching and supervising students and residents; creating inpatient clinical pathways and outpatient disease management programs; research; administration; and medical informatics. He calls his job a natural fit and, in his seventh year of employment, he knows Olive View like the back of his hand. He loves it. "No two days are ever the same," he says. "I really thrive on it. I feel like I've won the lottery. I get to work and affect change throughout the hospital. I see my medicine, nursing, and other staff friends and colleagues all the time in the clinics, wards and in meetings. When you really enjoy your work, you never feel like you're going to work."
Growing up in Los Angeles, Dr. Richman thought often about a career in medicine. He looked up to his uncle, a pulmonologist, and knew he wanted to work helping people one-on-one. But he held off on medical school, pursuing an undergraduate degree in English Literature and fulfilling his drive to serve by volunteering as a Special Olympics coach.
After completing a post-baccalaureate pre-medical curriculum at the University of California, Santa Barbara, he travelled Europe and Asia for a year before returning for medical school at University of California, San Francisco. His motivation was to experience the world, but the experience made a bigger impression, prompting him to put his name in a hat for a school-sponsored summer work in Germany. He enjoyed the experience so much that after his fourth year, he went to China for school-sponsored medical work. In these settings, he felt he had hit his stride. "It became important to me-I developed an enjoyment of international health and envisioned myself working in an international capacity in emergency medicine or emergency response."
His time at Johns Hopkins however, proved to be a game-changer. Time spent working on a large public health project in Bangladesh taught Dr. Richman the difficult realities of disaster response, and how things beyond his control could cast a long shadow on even the best of intentions. "I saw that the real key to mitigating any disaster is a functioning infrastructure. I wanted to be proactive rather than reactive... I was a bit lost at that point."
Shakespeare in Love
Unsure where to turn next, Dr. Richman returned to Los Angeles as a part time Emergency Department physician at Olive View. He found that he liked Olive View-a lot. "I noticed how internists and other staff were happy there," he says. "Even admitting at 2a.m. on Saturday nights …and these were the days before the 80-hour rule, too! It wasn't long before I made the life changing decision to become an internist," he explains. "That decision gave me the life I have today." He was soon admitted to Olive View's Internal Medicine residency program.
He carried his desire to change systems and processes through his internal medicine training. This brought him in contact with physician mentors who eventually proved to be his bosses: Chief of Medicine and ACP Southern California Region 1 Governor Dennis Cope; Residency Program Director Soma Wali; and Los Angeles County and Clinical Resource Management Medical Director Jeffrey Guterman. They nurtured his involvement in being an agent of change, teaching him leadership and technical skills and new ways of thinking about projects and problems. "Without great mentorship, I would certainly not have found the niches I enjoy," he says. His wife was also an inspiration, completing her PhD in Public Health/Health Services Research while working for the Office of Planning in the Los Angeles County Department of Public Health. "She understood my personality, values, and goals and supported my unorthodox decision to return for residency training and to remain at Olive View post-residency."
At many of the critical decision points in Dr. Richman's life lay unaffected authenticity and a strong allegiance to ethical standards and practice. He admires those who uphold important ideas for change in the face of criticism and attack because they know it's the right thing to do. He chose English Literature over pre-med at Stanford because he was concerned about the competitive atmosphere and what he felt was a pre-mature decision by many to pursue medicine. His counsel to medical students is simple-"To thine own self, be true." It's this genuine approach that steers his career and other interests, such as recruiting new members for ACP's Chapter Councils of Young Physicians, Associates, and Student Members.
The many facets of Dr. Richman's work life do not overshadow his personal and social life. He's an avid biker and runner, having completed the Los Angeles Marathon in 2000 and the New York Marathon in 2004, both during his internal medicine residency. He and his wife recently adopted a blind dog from a shelter, and he serves on the Board of Directors of the same organization for which he previously coached Special Olympics. For Dr. Richman, the question isn't what to love as much as it is what not to love. But don't hold your breath on that one.
Check out previous articles as physicians share what motivated them to become physicians as well as why they chose their particular type of practice.
Back to September 2010 Issue of IMpact