Osmosis, an online learning tool that helps medical students "learn more, forget less"
ACP has collaborated with Osmosis to make educational content from its Medical Knowledge Self-Assessment Program (MKSAP) for Students program available on the Osmosis Med platform.
In 2011 Shiv Gaglani and Ryan Haynes were first-year medical students at Johns Hopkins who observed that students (themselves included) were learning to pass exams, but were forgetting much of what they learned in the intervals between exams. With their shared interest in neuroscience and technology, the two students embarked on a mission to increase learning efficiency and break the "cram-forget" learning cycle. The result of their collaboration is "Osmosis," an online learning tool that helps students "learn more, forget less."
Gaglani and Haynes began with a crowd-sourcing project, asking fellow medical students to create and share questions related to their studies. As questions flooded in and they began hearing from professors and students from other medical schools, the two students sought to broaden the scope of the project. Their goal was to create a Web platform and a mobile app that would allow them to sync to students' class schedules, send push notifications on topics for upcoming exams, and stream published content to the Osmosis app. The project would require both time and money.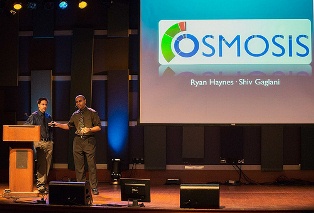 Ryan Haynes (left) and Shiv Gaglani giving a presentation at DreamIt Health Demo Day in Philadelphia, PA. Courtesy of DreamIt Ventures.
Undaunted, Gaglani and Haynes applied for funding, took a year off from medical school, and with $50,000 from DreamIt Health launched Osmosis. Since the launch, they received another $50,000 in prize money from the Milken-Penn Graduate School of Education business-plan competition, $150,000 in grant money from the Robert Wood Johnson Foundation, and hired two engineers and a designer.
In August 2014, Osmosis partnered with ACP to make educational content from its MKSAP for Students 5 Digital - Enhanced with Internal Medicine Essentials program available on the Osmosis Med platform. The Osmosis Med mobile app, available for iOS or Android devices, provides push notifications with questions filled with images, videos, mnemonics, and reference material. Osmosis feeds can be customized based on curriculum, exam schedules, and course documents, and allows users to go head-to-head with classmates by playing the "Osmose with your Friends" game.
For more details and ordering information, go to http://www.acponline.org/pressroom/osmosis.htm.
Back to October 2014 Issue of IMpact