My Kind of Medicine: Real Lives of Practicing Internists: Christopher Moriates, MD
ACP Member:
Christopher Moriates, MD

Current Position:
Assistant Clinical Professor, Division of Hospital Medicine, University of California, San Francisco

Medical School:
University of California, San Diego, School of Medicine

Residency:
University of California, San Francisco
---
In 2000, the students of the University of California, Los Angeles (UCLA) Schools of Public Health and Medicine, as well as the Undergraduate College teamed up with the Greater West Hollywood Food Coalition (GWHFC) to create the UCLA/GWHFC Mobile Clinic, a mobile health care clinic serving the indigent and homeless population of Hollywood, CA.
In the clinic's early years, physician-to-be and future ACP Member, Christopher Moriates, was an undergraduate student volunteer whose responsibilities included driving the van and taking social histories of homeless clients. One of the rewards he discovered was the opportunity to work alongside GWHFC founder Ted Landreth, the CBS newscaster and television producer who founded the GWHFC in 1987.
"My conversations with Ted Landreth had a profound effect on me," says Dr. Moriates, "He taught me that life is not a linear timeline, that it's not a resume. He encouraged me to remain open-minded so I could see possibilities when they appeared, instead of trying to force outcomes."
Heeding the call
Indeed, Dr. Moriates has remained open to possibilities. As an undergraduate majoring in psychobiology and taking pre-med courses, he also loved writing and working as a reporter for UCLA's prestigious daily newspaper, the Daily Bruin. The paper published more than 70 of his articles and often sent him to cover area rock concerts where he would go backstage to meet and interview many of his musical heroes. So how did he reconcile his enthusiasm for journalism with his desire to pursue a medical degree?
Dr. Moriates admits he was conflicted, "I liked science, but I was not the kid who 'always knew he wanted to be a doctor.'" Before taking his MCAT exam he thought it would help if he could get a close-up view of what it was like to be a physician, so he asked a family friend, a practicing gastroenterologist, if he could follow him on his rounds. And the rest, as they say, is history. Dr. Moriates knew from that experience that medicine would be his calling. And, as it turns out, his writing and communication skills did not get sidelined.
Today, as a practicing hospitalist and medical educator, Dr. Moriates spends 50% of his time working on the wards with residents and students, and 50% of his time pursuing his academic interests in high value care and cost awareness issues. "My time is split between seeing patients, teaching, writing, and speaking," says Dr. Moriates, "I'm living my dream."
Seeing the possibilities
The oldest of five children, Dr. Moriates grew up in southern California where he began playing electric guitar at age 11. As a teenager, he spent countless hours listening to music, playing in a local band, and playing roller blade hockey. Access to friends and teammates was never a problem. "Our house was always filled with kids," says Dr. Moriates, "It was the place where all our friends gathered."
Growing up in a child-centric home apparently left its mark. When he enrolled in medical school at the University of California, San Diego, Dr. Moriates had his sights set on becoming a pediatrician. He even worked for a year as a substitute teacher to confirm his interest in working with children, but during his internal medicine rotation, a new "possibility" emerged as he found himself drawn to the seriously ill adult patients and the physicians who were treating them. Doing well-baby exams now paled in comparison to the challenges he saw internists confronting. "I like the way internists think," says Dr. Moriates, "and helping people who were really sick appealed to me."
As a second-year medical resident at the University of California, San Francisco (UCSF), Dr. Moriates was focusing on more than clinical care, he also wanted to design a teaching curriculum for UCSF's medical residency program. As fate would have it, he came across an article written by current ACP President Molly Cooke, MD, FACP, about cost consciousness and medical education. "Dr. Cooke," he says, "made a compelling case that medical educators should be teaching about cost awareness."
After doing more research on the subject, he submitted a proposal to do a lecture at UCSF. Before long, the lecture grew into 3 lectures, then into a regular monthly series. ACP's medical education staff heard about his interest and work in the area of cost awareness, and invited him to join ACP's High Value Care (HVC) Curriculum committee. "The experience the College provided me was invaluable," he says, "it allowed me to work with a group of medical educators from around the country, who had the skills and resources necessary to develop an advanced HVC program, complete with all kinds of tools."
A champion for caring wisely
Dr. Moriates acknowledges there are obstacles to promoting HVC. "HVC represents a big culture shift," he says, "but obstacles are not the end of any conversation." He admits that the clinician's fear of medical malpractice lawsuits for not providing "enough" care is frequently mentioned by those who attend his lectures, but in reality it is not the biggest obstacle. "The truth," he explains, "is that while 50 billion dollars is estimated to be wasted annually on the cost of defensive medicine, it's small in comparison to the 750 billion dollars overall of annual healthcare waste." "The biggest obstacle," he maintains, "is the culture shift needed within the teaching and clinical environment."
Dr. Moriates feels confident the shift is occurring and points to the frequency of articles being published in the New York Times about the harms of overtreatment. "But more importantly," he says, "the bottom line is that physicians want to do what is right by their patients. As more evidence comes out showing the harms of over testing and over treatment, physicians will change the conversations they are having with students and patients and the culture will change."
Dr. Moriates might not view life as a resume, but just one year after completing his residency, the credits on his CV are stacking up. In addition to his contribution to ACP's HVC Curriculum, he has developed numerous teaching aids, contributed to several articles, and attracted media coverage from such outlets as The Huffington Post and Reuters Health. He is also the recipient of the "Young Physician Achievement Award" from the ACP California Chapter, the "Caring Wisely" Award from the UCSF Center for Healthcare Value, and the "Thomas Evans Teaching Award" from the UCSF Department of Medicine. He is also authoring a book, Understanding Value-Based Healthcare, with ACP Members Drs. Neel Shah and Vineet Arora, scheduled for publication by McGraw-Hill in 2014.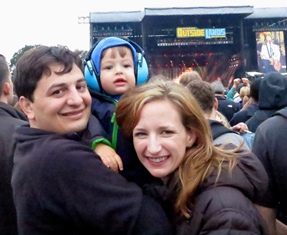 Married, with a two-year-old son, Dr. Moriates spends all of his free time with his family. >They especially like going to the park or the beach, and trips north to the sun-filled Napa Valley area where they can escape the fog of San Francisco. "My Saturday nights have really changed," laughs Dr. Moriates, "instead of being backstage at the Red Hot Chili Peppers concert, now I'm seeing Yo Gabba Gabba live in Santa Barbara." (He happily concedes, however, that he and his wife have front row tickets to an upcoming Pearl Jam concert.)
From journalism to medicine, from Pearl Jam to Yo Gabba Gabba, for Dr. Moriates-a physician who strives to be open-minded and who believes in caring wisely-life is full of possibilities.
Back to October 2013 Issue of IMpact