My Kind of Medicine: Real Lives of Practicing Internists: Rear Admiral Matthew L. Nathan, MC, USN, FACP, FACHE
Dr. Nathan - a Rear Admiral in the United States Navy -decided on a career as a physician because of a personal experience.
"My desire in becoming a physician was cemented when I watched my mother battle a terminal illness. I was in college at the time, and I carefully watched all the physicians who participated in her care. I saw how they artfully weaved together science and compassion to provide my mother with the care she needed. After this experience, I knew that I wanted to become a physician."
Drawn to internal medicine during rotations, Dr. Nathan was inspired by the unique teaching style of the attending staff, many of whom took a tremendous interest in teaching medical students while at a patient's bedside. They impressed upon Dr. Nathan the importance of viewing the whole patient - not just the disease affecting the patient. These experiences solidified his choice to pursue a career in internal medicine. "What I enjoy about internal medicine is that it puts so much emphasis on prevention, as well as the science of treating complicated diseases. I love the importance in keeping patients healthy, but also the ability to really make a difference in someone's life."
Dr. Nathan attended medical school at The Medical College of Georgia through the Health Professions Scholarship Program, which provided tuition assistance in exchange for active duty service. After completing his residency at the University of South Florida and requisite military duty, Dr. Nathan continued to serve actively in the United States Navy, building an impressive career in naval leadership.
Leading Through Change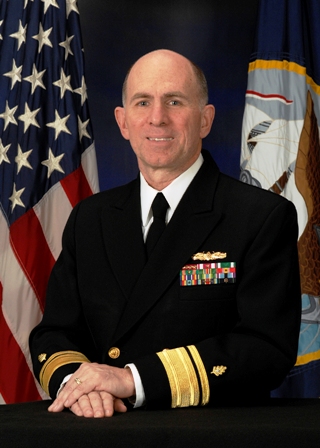 As the commander of the National Naval Medical Center (NNMC) in Bethesda, Maryland, Dr. Nathan played a lead role in merging it with the Walter Reed Army Medical Center. The merger has formed the largest medical center in military history - the Walter Reed National Military Medical Center (WRNMMC) - and Dr. Nathan was appointed as its first commander, a position he compares to being CEO of a major medical center. Managing the integration of these two iconic medical centers into one, and leading that combined organization through both cultural and physical change, has not been without challenges. Creating the new WRNMMC has required a significant amount of construction, and during these renovations, the facility had to function at full capacity as it is responsible for treating the majority of wounded soldiers that return from war , the nation's leaders and other patients who seek care in the broad range of medical specialties.
Throughout it all, Dr. Nathan tried to capitalize on each center's previous traditions and best practices as they melded into one unified facility. "There has been a great spirit of cooperation here and learning from each other has created great synergy on campus," said Dr. Nathan. Always moving forward, Dr. Nathan is now looking for collaborations and partnerships with other medical organizations, such as those at the National Institutes of Health in Bethesda, in hopes of creating a federal medical "mecca."
Dr. Nathan has a history of leadership. On his first command tour, Dr. Nathan led Naval Hospital Pensacola in Florida, in addition to 12 other clinics in four states, all of which were hit by hurricanes during his tenure. Although these experiences were daunting, that tour was defining for Dr. Nathan's career. "What I was most inspired by was the resiliency of the people that I worked for and with. Although many had lost their homes, and the hurricanes had wreaked havoc on their own personal lives, they had an incredible ability to come together. They put others before self and made sure that care was still given to those who needed it."
Dr. Nathan continues to be inspired by the people that he encounters in his current role. "Some of the men and women that we treat at WRNMMC have gone through devastating injuries and challenges," said Dr. Nathan. "I have watched their resiliencies and their undoubting spirits in the face of incredible odds. I have been particularly impressed by young people who have had their lives seriously altered but refuse to give up; instead they come back into mainstream society and still continue to make a difference."
A Global Perspective
Dr. Nathan recognizes his dual role of providing support for our fighting forces and that of deploying care throughout the world in aid of people and counties hit by natural or man-made catastrophes. Navy Medicine may be a worldwide health care network for U.S. forces, but, according to Dr. Nathan, it is also a key component of global public health. Naval medical personnel collaborate with partners from around the world to develop and provide cures for some of our most devastating diseases, including malaria and HIV.
"Our humanitarian assistance missions build trust and cooperation with partner nations, provide medical care to populations in need, and sow the seeds for long-term stability and security in many places around the world," said Dr. Nathan. "The hard work of our men and women in uniform throughout the world to improve public health and improve the lives of many in need demonstrate every day that the Navy is truly a global force for good." Dr. Nathan's global perspective has been shaped by a career that has provided him with unique opportunities to travel and to see different health care systems. He said that his visits to Japan, the United Kingdom, and the Caribbean have given him a better appreciation of the task of treating a world health population.
"Throughout my travels to the far reaches of the planet, I have had the chance to see illnesses that aren't typically encountered in American medicine," said Dr. Nathan. "For an internist, it's an opportunity to see some of the diseases of third world countries that we only read about in American medical textbooks."
As his medical career continues, new opportunities await Dr. Nathan. The United States Secretary of Defense, Leon Panetta, has nominated Dr. Nathan for Surgeon General of the United States Navy. Dr. Nathan stated that he was honored to be nominated for the position, which is subject to confirmation by the Senate, and looks forward to continuing his career with the Navy. In addition to his large set of professional responsibilities, Dr. Nathan enjoys restoring British sports cars and traveling with his family. He and his daughter share a mutual love of playing the guitar.
Back to October 2011 Issue of IMpact