Commentary Corner: High Yield Professional Conference Guide for Students: Lessons Learned from Internal Medicine 2012
Are you interested in attending professional conferences to help further your education or career? Are you a novice to attending professional meetings? ACP Council of Student Members recollected their experience at Internal Medicine 2012 in order to compile helpful tips for future professional conferences. Below you will find some "High Yield" tips to make the most out of your next or even first professional conference.
Search for Funds
Many organizations reserve funds for student expenses at conferences. Check with your school interest groups, student government association, local state chapters, or even national chapters for student funding. Many medical school Departments of Medicine are willing to support student attendance and possibly travel, particularly if you are presenting or participating in other specific activities at the meeting - check with your department office, internal medicine clerkship director or residency program director who may be able tell you if this is an option. Registration for professional conferences can be expensive (over $500 for ACP physicians); however, ACP's Internal Medicine meeting registration is free for ACP Medical Student Members. You can also receive additional funds by submitting research abstracts.
Submit Research
If you submit your abstract and are chosen as a winner, ACP will provide flight, hotel, and a small stipend ($225) to attend the conference. Abstracts are divided into four categories: Clinical Vignette, Basic Research, Clinical Research, and Quality Improvement - Patient Safety. Visit www.acponline.org/abstracts for more information.
Plan a Schedule
During pre-registration or on-site registration you will likely receive complimentary bags, official tags, and numerous papers, pamphlets, and books. The amount of information can be overwhelming. Take some time to prepare a plan of what scientific courses, exhibits, or clinical skills sessions you are most interested in attending. If you are short on time then look for the Council of Student Member's preplanned schedule tailored to medical students. If you do not have your own personalized planner, try using the official ACP Internal Medicine Meeting Planner to help organize your schedule Check back at http://im2013.acponline.org/ for next year's online planner.
Dress for Success
You will probably see a full spectrum of different attires at professional conferences. Attendees will wear formal business clothes, business casual, or t-shirts/jeans. Check with the conference Web site for any specifics, but when in doubt or if you are presenting at the meeting then wear formal business attire.
Take Notes
During sessions some would suggest to take notes. Keeping track of all the information you will hear at the conference can be difficult. Most attendees use the standard paper and pencil, but more students and professionals are using tablet computers, such as the iPad, to record their notes. Please note that laptops may be a burden to carry throughout the conference.
Explore the Exhibit Hall
Go through the exhibit hall at least once during the conference. You can see the latest medical products and technology. Along the way through the exhibits, you can pick up pens, highlighters, hand sanitizers, snacks, and other free promotional gifts. You can also network in the career center.
Visit Poster Sessions
If you are not presenting a poster, stop by the poster sessions even if it is just for a few minutes. You might be interested to see what other medical students are researching.
Utilize Clinical Skills Sessions
One of the most unique and highly acclaimed parts of the Internal Medicine Meeting is the Hebert S. Waxman Clinical Skills Center. Here you can enhance your clinical skills throughout many of the stations. Practice some procedures (advanced airway techniques, arthrocentesis, lumbar punctures or PICC line placement). Learn surgical techniques (toenail removal, suturing skills, skin biopsy, and cryosurgery). You can even get hands-on experience with the physical examination tutorials. In these tutorials, you can perform male urogenital, breast, or pelvic examinations with live actors/teachers. Because each session fills up quickly, reserve your sessions early.
Network! Network! Network!
Take the time to network with physicians and other medical students. Professional conferences will you give many opportunities to network. The ACP Student Mentoring breakfast is a great way to meet physician-mentors at other medical institutions for invaluable advice. You can also attend your local chapter at the Chapter Receptions to meet people from your area. Most physicians will be pleased to discuss their careers with students. To meet with other students stop by the student hospitality suite or attend student socials. Many people now exchange e-mail addresses or Facebook names in order to network; however, to connect with more traditional physicians bring personalized business cards.
Enjoy and Explore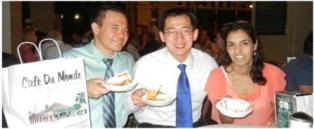 You can easily spend all of your time attending the various functions at professional conferences, but plan to enjoy and explore the city where the conference is being held.
This could be the only time you will be able to visit some historic sites, taste native cuisine, or experience local culture. If you do not want to spend money on travel guide books, try WikiTravel. WikiTravel is a project to create a free and up-to-date worldwide travel guide. Similar to Wikipedia, WikiTravel is continuously being created and updated, so be aware that some content can contain misinformation. Whether you have time to explore the city or not, enjoy your time while you are there and try to make the most of your experience.
Ryan Estaris, MS-2
LSU New Orleans School of Medicine
ACP Council of Student Members 2011-2012

Disclaimer: The Web site links provided do not necessarily constitute endorsement by ACP and/or CSM. Information on Web sites and conference information is subject to change without notice.
Back to May 2012 Issue of IMpact