My Kind of Medicine: Real Lives of Practicing Internists: Major Raul A. Rivera, MC, USA, FACP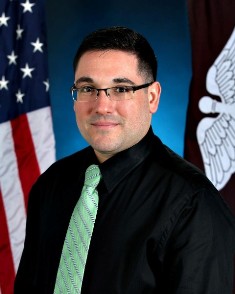 As the first physician in his family, Dr. Raul Rivera's mother proudly tells a story that as a child her son loved to play doctor, handing out prescriptions to family members. By the time he entered college, Dr. Rivera had decided that becoming a physician was what he wanted to do.
Dr. Rivera grew up in Bayamon, Puerto Rico, and attended the University of Puerto Rico, where he earned both a degree in biology and his medical degree. He was accepted into the United States Army's F. Edward Hébert Armed Forces Health Professions Scholarship Program (HPSP). The program provides full scholarships to qualifying students pursuing a medical professional degree. In return, scholarship recipients must complete one year of active duty service for every year that they received the scholarship.
When Dr. Rivera moved to San Antonio, Texas for his residency, and to attend the officer's basic training courses required by the Army, he immediately felt at home in San Antonio because of the city's Hispanic heritage. He was also impressed with the facilities at Brooke Army Medical Center (BAMC), which was his first choice in residency programs.
Although he knew that he always wanted to become a physician, Dr. Rivera did not always know that he wanted to become an internist. When he entered medical school, Dr. Rivera originally wanted to practice ophthalmology. During his third year of medical school, he spent a month working with an internist in private practice who inspired him. This physician provided Dr. Rivera with a lot of autonomy as a medical student. "Having the experience of seeing the day-to- day life of an internist, and the wide range of what kind of care they are responsible for made me want to become an internist," said Rivera. After morning rounds, he would sit down with the attending physician and discuss the patients they had treated that day. This particular internist had a profound effect on Dr. Rivera and his approach to teaching. The attending set aside time with Dr. Rivera to discuss not only the patients that they saw, but also took the time to give him advice on becoming a better physician. Afterward, Dr. Rivera completed a medicine sub-internship at BAMC, which sealed his decision to pursue a career in internal medicine.
In his current role as Chief of the Internal Medicine Clinic, which Dr. Rivera describes as often a "potpourri" of duties and tasks, he supports the providers and staff within the hospital, acts as a patient advocate, as well as sees patients of his own. "The position is a little bit of everything - a little bit administrative, a little bit outpatient clinician, and inpatient attending physician as well."
Recently, Dr. Rivera was instrumental in the large task of bringing the clinic more in alignment with the Patient-Centered Medical Home concept, making the clinic more patient and provider friendly. This required a rearrangement of all the providers and the support staff, as well as the creation of different teams.
"Seeing how the clinic transformed and how it all came together at the end was a major achievement. Seeing the nurses develop a sense of ownership of the team, and seeing how the providers, by working together with the nurses, ultimately improved the patients' level of care gave me a great sense of satisfaction."
Dr. Rivera is an Assistant Professor of Medicine at BAMC. He works with a team of medical students during their internal medicine rotation in the hospital, and gives lectures. BAMC hosts students from the Uniformed Services University of the Health Sciences (USUHS) and the University of Texas Health Sciences Center San Antonio (UTHSCSA). Students from USUHS attend BAMC for both outpatient and inpatient teaching, where Dr. Rivera interacts with them in the internal medicine clinic. He likes to teach in a similar manner to the way he was trained as a physician and student. While studying in the clinic, students are given the opportunity to see patients individually, and then meet with Dr. Rivera to discuss the cases.
One thing that motivated Dr. Rivera to pursue a career in teaching was a bit of guidance from an attending physician during his residency. In a midsession review to discuss his performance, the attending physician gave Dr. Rivera the advice that if he wanted to become a truly successful physician in the United States, then he must improve his English. Dr. Rivera not only took this advice, but also continues to use the same technique of one-on-one sessions with his students.
"The way that I choose to practice and to teach medical students came from this approach of individual meeting sessions with my attending physicians during my residency."
Dr. Rivera encourages many of the medical students that he teaches to pursue a career in internal medicine. "I tell medical students: the opportunity that you get to treat patients throughout many years of their life is an opportunity that you will only find in internal medicine."
Dr. Rivera balances his career as an internist at a teaching institution with his family life. He met his wife, a critical care registered nurse, while working at BAMC. Their two young sons keep them really busy at home. During his free time, Dr. Rivera enjoys playing the guitar and learning about technology, but admits that spending time with his family takes precedence over his hobbies.
Back to May 2011 Issue of IMpact