My Kind of Medicine: Real Lives of Practicing Internists: Timothy Vavra, DO, FACP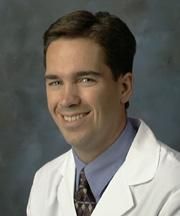 On most nights between April and August, you will find Timothy Vavra, DO, FACP, on the Western Springs baseball field, coaching a little league team. As a dad, he says being involved in sports is a must, and he's happy to oblige, as he doesn't like standing still for very long. It's one of the reasons why the energetic 42-year-old became an internist. As early as high school, he was certain of a few things: he didn't want to sit behind a desk, he wanted to be in control of his career rather than the other way around, and he wanted to work with people. In medical school, he found that internal medicine fit all of these requirements and more. "I knew it was something that I wanted to do for the rest of my life," he says.
Having Fun
Off the field, Dr. Vavra sees patients 36 hours a week at the Loyola Center for Health clinic in Oakbrook Terrace, IL, and two months out of the year he works as a general attending physician at Loyola University Hospital in Maywood. He makes the most of his time at the clinic and calls his work at the hospital "fun." He came close to pursuing a pulmonary fellowship, but knew that ultimately he wouldn't want to be limited to one area. "I love everything about internal medicine," he explains, "you treat everyone, young and old; you get to see a lot of different things. It's fun taking care of younger patients, their parents and their grandparents… It makes you feel good."
Dr. Vavra is naturally upbeat and optimistic and feels that the future is bright for future internists. "Students interested in primary care who may be wary because of the issues currently plaguing the profession need to think long term," he says. He notes how when he was a medical student at the Chicago College of Osteopathic Medicine primary care was a popular choice, and says that the pendulum is swinging back towards it. "Things are only going to get better and the primary care profession is going to look a lot different in five years." He cites job satisfaction as one of the big draws of internal medicine, for dual reasons: quality of life and the work itself. "The great thing about being an internist is being able to do everything that I do. That, and I love taking care of patients for their whole life-there is nothing better than it."
The Coupon Giver
As part of his role at the Loyola University Medical Center Dr. Vavra teaches second year medical students how to perform clinical basics: the physical exam, the chest x-ray, how to take a history. It's an important year, something Dr. Vavra tries to impart on his students. "I tell them how in two years things are going to be drastically different for them. Ninety percent of what they've learned so far they'll forget, but it's the hands-on clinical work that's always going to matter," he says. "The differential diagnosis, getting to know the patient, that's the part that counts." He enjoys watching them grow as professionals. "It's neat to see a student you once taught walking down the hallway in their shirt and tie or a dress underneath the doctor's coat."
Dr. Vavra relies on his own finely tuned clinical skills with every patient. He talks of one patient who came to him with a strange set of symptoms, including amenorrhea. After conducting a history and asking her for old photographs, he correctly diagnosed the condition as acromegaly, a hormonal disorder resulting in the pituitary gland producing excess growth hormone. After a successful treatment, the patient returned after a year and a half to thank Dr. Vavra. Her token of appreciation? A coupon for coffee. Dr. Vavra was sincerely touched. "Normally you don't accept anything of 'value' from patients, but in this case I thought it was ok," he jokes. "I still think about that patient today."
Aside from patient care, teaching and coaching, Dr. Vavra spends time working on quality improvement projects with Loyola and ACP, and he plays golf when he can. He and his wife met in medical school. They married and had their first child while Dr. Vavra was completing his residency at Loyola. Today they have two children, and Dr. Vavra is able to spend plenty of time with them. He says as an internist, he can. He can't think of anything else he'd rather do. "I love the stuff."
Check out previous articles as physicians share what motivated them to become physicians as well as why they chose their particular type of practice.
Back to May 2010 Issue of IMpact