Feature: ACP IMpact Now Optimized for Mobile Viewing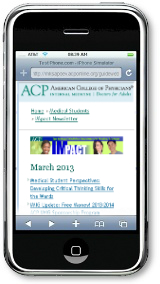 IMpact can now be viewed on your smartphone! The new mobile formatting allows for easier reading on your mobile devices! All new issues, as well as all of the IMpact Archives can be read on your phone.
Don't forget to bookmark IMpact on your smartphone!
Instructions:
iPhone - Safari: Navigate to IMpact page and tap the bookmark symbol (box with arrow) in bottom bar. Select Add to Home Screen. Tap the Add button (if desired, you can change the displayed name before tapping Add).
Android browser: Navigate to IMpact page and Press Menu. Tap Bookmarks and tap Add. Go back to your Bookmarks and tap and hold the existing bookmark. A menu will appear where you can Add shortcut to Home.
Back to March 2013 Issue of IMpact