My Kind of Medicine: Real Lives of Practicing Internists: Lawrence P. Jennings, MD, FACP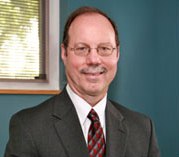 When asked to describe the size of his hometown of Equality, Illinois, Dr. Lawrence Jennings jokes that there is not even a stop light in the county or in the two neighboring counties. A native of southern Illinois, Dr. Jennings is no stranger to small town life. His hometown, with only 750 residents, boasted a high school graduating class size of 16 students and was a great place to call home.
While growing up, Dr. Jennings found that he became sick often and really enjoyed the care he received from several physicians. "Whenever I would go to see a physician when I was sick, I really admired their compassion and the impact that they had on people's lives. Even as a seven-year-old, I thought being a physician would be the ideal job." From that point forward, Dr. Jennings decided that he wanted to practice medicine.
Dr. Jennings received his undergraduate degree from Southern Illinois University in Carbondale and attended the University of Illinois College of Medicine at both the Urbana-Champaign and Peoria campuses. While he felt that every rotation he completed during medical school was fascinating, he was drawn to internal medicine: "When I did my internal medicine rotation, it just blew me away." He enjoyed his experience in medical school and was lucky to have a few very important mentors who helped him along the way.
One of his mentors, Dr. Donald Rager, Chairman of the Department of Internal Medicine at the University of Illinois-College of Medicine Urbana had a profound impact on him. "Dr. Rager was the consummate physician. He was caring and compassionate and had excellent bedside manner. He inspired all of us to work harder." After his positive experience studying internal medicine, Dr. Jennings was accepted at the University of Illinois residency program. During his residency, director Dr. Rick Luetkemeyer and instructor Dr. Gerald McShane were very influential in his choice of general internal medicine. He completed his residency at the University of Illinois, Peoria School of Medicine where he was introduced to another important mentor in his medical career, Dr. Sara Rusch, MACP, former Governor of the ACP Downstate Illinois Region Chapter. Dr. Jennings was first introduced to Dr. Rusch while he was on his internal medicine rotation in his third year of medical school and she was the intern on his rotation. The two worked together again during his first year of residency and when she was the attending physician on his rotation, then again later when she became Regional Dean of University of Illinois College of Medicine at Peoria, their repeated interactions led them to become great friends and they continue to keep in touch and see each other often.
After completing his residency, Dr. Jennings knew that he wanted to work in private practice in a small town and settled in Mt. Carmel, Illinois to be closer to his aging parents. Although living in a small town can be somewhat like "living in a fish bowl", Dr. Jennings enjoys the benefits of working in a small community. He had an experience when he first started working in Mt. Carmel that quickly made him realize what it meant to practice medicine in a small town. While he was on call one night, Dr. Jennings was called into the emergency room to treat a patient with a previous heart condition. "It was at that point that I realized that I was the only person who could take care of this patient and the closest hospital with a cardiac specialist was 60 miles away. The experience taught me that working in a small town means you have to be quick on your feet since there isn't a specialist around the block that can help you out in an emergency."
With the help of his wife, Evelyn who manages the practice, Dr. Jennings has had a successful solo internal medicine practice for the last 28 years. Unlike many other internists in major metropolitan areas, Dr. Jennings does many of his own procedures in his office including skin biopsies, stress tests, and arthrocentesis. He also provides house calls for homebound and terminally ill patients, a service that is rarely seen these days. He sees a wide array of patients and provides a variety of care which makes each day unlike any other. Dr. Jennings jokes that every now and again he will have a patient come into the office with a bleeding finger and needs to be stitched up. "It may throw a wrench in my schedule for that day, but I am happy to do it. It is just part of being a physician in a small town."
Although this kind of practice has its many challenges, Dr. Jennings finds it extremely rewarding. "It has been a tremendous privilege to attend the medical care of my patients for greater than 20 years." Dr. Jennings has formed lasting relationships with his patients and receives several thank you letters from patients each week. Over the past ten years, he has collected each of the thank you letters from patients and has an office drawer full of them.
Dr. Jennings has passed on his love of medicine to his three grown daughters. His oldest, Dr. Kate Lindley is in her cardiology fellowship at Washington University in St. Louis. His daughter, Valerie Jennings, is a fourth year medical student at the University of Illinois in Chicago and will be going into an Obstetrics and Gynecology residency program. His youngest daughter, Emily Underwood, is in her first year of pharmacy school at the University of Illinois in Chicago. When Dr. Jennings is not spending time with his family, he enjoys golf and gardening.
Back to March 2012 Issue of IMpact