My Kind of Medicine: Real Lives of Practicing Internists: Lisa B. Bernstein, MD
Dr. Lisa Bernstein has been fortunate to have been influenced by several mentors over the course of her medical career. She was first inspired to become a doctor by her father, Dr. Arnold Bernstein who had a successful career as a practicing gynecologic oncologist, the Chairman of Obstetrics and Gynecology, and OB-GYN Residency Director at Georgia Baptist Hospital (now Atlanta Medical Center). He exemplified to his daughter how rewarding a career in medicine could be. "As the head of a residency program and a trail blazer in his profession, he showed me that you could care for patients and teach future doctors, all with warmth and a sense of humor."
When Dr. Bernstein entered medical school at the Medical College of Georgia (MCG), she intended to go into pediatrics or obstetrics and gynecology. However, after working with Dr. Rhee Fincher, the Medicine Clerkship Director and Director of the clinical skills course at MCG, she found herself drawn toward internal medicine. Dr. Fincher showed Dr. Bernstein that as an internist she could not only care for patients when they are sick but also focus on prevention. "I love developing long-term relationships with my patients."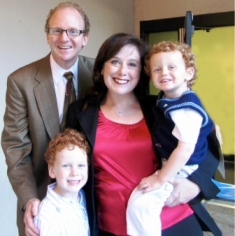 ---
Dr. Bernstein with her husband, Jay Silverman, and their two sons, Aaron, age seven, and Daniel, age three.
---
During her internal medicine residency at the Emory University School of Medicine, Dr. Bernstein was fortunate to have Dr. Joyce Doyle as her advisor. Dr. Doyle was an excellent role model and had a profound impact on Dr. Bernstein's ultimate decision to pursue a career in academic medicine. Dr. Doyle personified the career that Dr. Bernstein aspired to have, one that balanced teaching, patient care and research with time for family. It was Dr. Doyle that first encouraged Dr. Bernstein to continue on at Emory after her residency as a faculty member: "She identified my talent and love for teaching."
After joining the faculty, Dr. Bernstein was honored when Dr. William Branch, the chief of the Emory Division of General Medicine, approached her about teaching the "Clinical Methods" course for the medical students. "He ignited my passion for teaching clinical skills to medical students and residents and set me on the career trajectory I have been fortunate to have thus far."
As an associate professor of medicine, Dr. Bernstein divides her time between teaching and advising medical students at the Emory and seeing patients and teaching residents at Grady Memorial Hospital. When Emory decided to restructure their medical school curriculum, Dr. Bernstein became co-director of the "Becoming a Doctor" curriculum--a cutting-edge umbrella course that begins the moment students enter medical school and finishes at the end of their fourth year. The course is taught initially in a small group setting, and focuses on problem-based learning and acquisition of clinical skills. The students meet twice a week and learn everything from patient-doctor communication and physical examination skills to medical decision-making and ethics. "Being co-director of the course offers me the opportunity to collaborate with both scientists and clinicians on the faculty that I wouldn't get the chance to work with otherwise."
Dr. Bernstein has found her 14-year career in Emory's Department of Medicine to be extremely rewarding and has been recognized by her students and peers for her achievements. Among the many honors and awards that she has received, she was awarded the J. Willis Hurst Bedside Teaching Award from the Georgia Chapter of the American College of Physicians, the Evangeline Papageorge Distinguished Teaching Award from the Emory University School of Medicine, and, most recently, the Herbert S. Waxman Award for Outstanding Student Educator this year from the national ACP.
Just as she has benefitted from the mentorship of many inspirational physicians, Dr. Bernstein is proud to now be an educator and mentor for the next generation of doctors. "Seeing the medical students transform from lay people to confident, compassionate physicians" is one of the greatest parts of her job. She gives medical students who are pursuing a residency in internal medicine the advice to "find an aspect of internal medicine that works for you, because it is a field that has something for everyone." She also stresses the importance of having a work-life balance to the students and residents that she teaches because being a well-rounded person makes them better, more compassionate doctors. In her free time, Dr. Bernstein enjoys spending time with her husband Jay Silverman and their two sons, Aaron, age seven, and Daniel, age three.
Back to June 2012 Issue of IMpact