My Kind of Medicine: Real Lives of Practicing Internists: Barry J. Wu, MD, FACP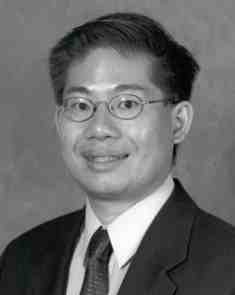 Growing up, Dr. Barry J. Wu was first inspired to become a physician by looking at the plaques in his eye doctor's office. Dr. William C. Caccamise was involved in several medical missions and the various plaques on his office walls inspired Dr. Wu's future decision to pursue medicine. They also inspired him to participate in medical mission trips. Dr. Caccamise showed that being a doctor was not a job but a calling to educate and serve others. Dr. Wu's decision to follow his doctor's dedication to serve others has led him on many adventures across the globe, including medical mission trips to the Dominican Republic, Ecuador, and Panama.
Following his residency, Dr. Wu traveled to the Dominican Republic on Christian medical missionary trips, providing care to residents in need of basic medical care. In 2003 he traveled to Panama to complete another medical mission trip. He had the experience of treating patients in primitive environments and jokes that he and the other physicians on the trip were placed in "MacGyver-like situations" in which they needed to provide care to patients by making use of the limited resources they had at hand."I was amazed by the resilience of the patients that we treated on the mission trips."
Dr. Wu grew up in Rochester, New York and is the second of three children born to Chinese immigrants. He graduated cum laude with a Bachelor of Science in Chemical Engineering from the Rensselaer Polytechnic Institute in Troy, New York, and attended medical school at the University of Rochester. He began his career in medicine at Yale School of Medicine, completed his residency in internal medicine at Yale New Haven Hospital and became Chief Resident. During his role as Chief Resident, Dr. Wu participated in a course offered by ACP on teaching residents how to teach. The course videotaped residents teaching so that they were able to view footage of themselves with the goal of improving their teaching skills. This course offered Dr. Wu his first experience in teaching and was an important step in his decision to teach medicine.
"I thought that I always wanted to teach because the word doctor in Latin means teacher, so as a doctor you are constantly teaching, whether you are teaching patients or families."
Dr. Wu's first job after serving as Chief Resident was as a Clinician Educator at the Hospital of Saint Raphael in New Haven, Connecticut. This was a one-year position before he was to begin an oncology fellowship at Yale-New Haven Hospital. He thoroughly enjoyed that year teaching students, and working with colleagues who were committed to serving the underserved. Dr. Wu decided to remain in general internal medicine rather than pursue oncology. He was appointed Associate Program Director of Internal Medicine at the Hospital of Saint Raphael in 1993. In that capacity, he recruits and interviews applicants for the IM program and is responsible for developing curriculum for the residency program, as well as providing evaluation of residents at their mid- and end-of-year reviews. He also serves as the Director of Medical Students in the Department of Medicine at the Hospital of Saint Raphael. He actively teaches Yale first, second, third, fourth and MD/PhD students and is involved in clinical skills teaching, curricular development and evaluation. He has risen through the ranks to become a Clinical Professor of Medicine at Yale School of Medicine.
Dr. Wu has been involved with the Connecticut Chapter of ACP since 1996 and chairs the Connecticut Chapter Medical Student Activities Committee. In this role, Dr. Wu has planned opportunities to help organize ACP activities at Yale University School of Medicine and University of Connecticut School of Medicine (UConn). He helped establish the Connecticut ACP Internal Medicine award which is given to a graduating medical student from Yale and UConn who demonstrate high scholastic achievement, commitment to volunteering and who have matched to an internal medicine residency in Connecticut. The $500 award is intended as a way of promoting internal medicine in the state of Connecticut.
"Passing information on to the next generation is such a gift. I think medicine is such a mentoring profession, in that you are passing on not just information but skills, behavior, attitude, ethics and professionalism."
Dr. Wu's commitment and dedication to mentoring medical students has not gone unnoticed. In 2001 the ACP Connecticut Chapter received the Evergreen Award for his work with medical students to create engaging programs for ACP that provided instruction in medical knowledge. He has also received the ACP Connecticut Laureate Award and the Herbert S. Waxman Outstanding Medical Student Educator Award from ACP. Dr. Wu has also received numerous awards from Yale University including the prestigious Charles W. Bohmfalk Award and Francis Gilman Blake Yale Teacher of the Year Award.
In continuing his work with medical students, Dr. Wu currently serves as the faculty advisor for the Yale School of Medicine Internal Medicine Interest Group. The Internal Medicine Interest Group (IMIG) is a way of promoting internal medicine to students at Yale and the group holds several conferences to expose first and second year medical students to internal medicine on topics such as advocacy. The group pairs students with mentors and hosts a panel discussion where third-year medical students can connect with fourth-year students who have matched with an internal medicine residency program. This gives younger medical students the chance to talk to senior students about the residency application process and any other questions that they might have about the match process. Students can join Yale's IMIG as first year students and membership with the organization continues throughout the student's time in medical school.
"One of the benefits for students joining a special interest group is getting the educational materials that will help them prepare for the board exam. Students also will have the experience of being exposed to faculty and receive advice on their career paths."
He continues to keep in touch with many of the students that he has taught at Yale, and derives great joy in learning of their accomplishments. For example, Dr. Wu was proud to learn that a former student, Dr. Sunny Ramchandani, who is a member of the Navy, was recently appointed as a Fellow at the White House after his experience setting up a primary care training model in Afghanistan. "It is most rewarding to see your students succeed, even greater than any of the awards that you receive yourself. To see your students' struggle and overcome the difficulties with things like constructive feedback, and then to see them rise from beyond what you could have imagined is extremely rewarding."
Dr. Wu's connection to his Chinese heritage and his Christian faith remains an important part of his life. As a junior in high school, he watched his father lose his eight month battle with cancer. His father remained dedicated to his faith and his family throughout the course of his illness and this experience sparked Dr. Wu's interest in the connection between medicine and faith. He is currently involved with the Yale Health Professionals Christian Group, an organization for physicians who want to integrate faith into their medical practice and is also a member of the Redeemer Presbyterian Church where he met his wife.
For the past four years, Dr. Wu has served on the Board of Directors of the Yale-China Association, a nonprofit organization which partners with a program in Hunan, China to develop a model of residency training for China.
Dr. Wu believes it's important to achieve a work-life balance outside of his career. "I think it's important that you recognize that you are not defined by being a doctor, and it's just one part of you as a whole person. Being able to experience life helps you to relate to people better and ultimately makes you a better doctor."
Back to June 2011 Issue of IMpact