My Kind of Medicine: Real Lives of Practicing Internists: Kim Dixon, MD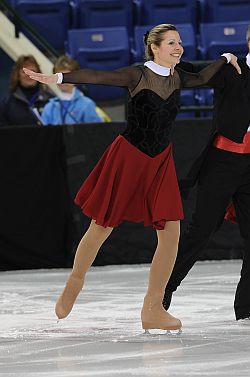 Kim Dixon has an affinity for unexpected timing. After spending several years working as an engineer, she turned everything upside down and went to medical school while in her late 20s. While there, she married and had three children. At the age of 40, she took up figure skating, and last year she joined a competitive synchronized skating team. This innate spontaneity has paid Dr. Dixon great dividend, and so has the decision to be an internist. If given the choice of doing it all over again, would she make the same decisions? Her answer: a resounding 'yes.'
Learning to Fly
In college, Dr. Dixon had the feeling that she wanted to become a physician, but she was already en route to a degree in computer science at Rutgers College in New Jersey. Following graduation, she took a job working as an engineer, but something felt amiss. "I just didn't feel fulfilled as an engineer," she explains. "I wanted to help people more directly."
She enrolled in medical school at Robert Wood Johnson in New Jersey and stayed on for her residency. Internal medicine was an obvious choice. "I realized that as an internist, you're in a really unique position," she explains, "because you're the grand master of your patients' health care. It's such a privilege, the relationships I have with my patients-being able to gain their trust over time."
Dr. Dixon also benefitted from wonderful mentors, women who gave her guidance, and one residency director in particular who influenced her greatly. Dr. Nayan Kothari made a big impression on her and her classmates. "He was just so uniquely wonderful and dedicated," she says. "He taught us what it meant to be an internist-how it is important to always uphold the highest standards of care to patients, and to be committed to life-long learning." After finishing residency, she worked for him for a year as chief resident and then joined him as a faculty member at St. Peter's University Hospital in New Jersey. "I literally wanted to glue myself to him," she says, "he's just one of those people who you want to grow up to be like."
Soon however, Dr. Dixon felt compelled to spend more time with patients, and knew it was time to move on to the next stage of her career. "It was time for me to fly on my own," she explains, "and working in faculty, I felt my patient care was more fragmented than I liked. I wanted to dedicate myself to my patients."
Laughter as Medicine
Dr. Dixon currently works in a private practice in Bedminster, NJ with three other physicians. She and her colleagues have modeled the practice to allow maximum time with patients. "There are features of our practice that I feel are definitely better than most," she says, "We actually answer our phones, we can spend the time we need to with patients, we are conscientious…things don't fall through the cracks."
She treasures her relationships with her patients. "I feel very attached to my patients and I'm proud of that. Although I have had many achievements in my life, what I have with my patients is what I'm most proud of." Every day she says is filled with interesting and meaningful interactions, some of which are humorous. "Medicine is very comical-every day something or someone makes you laugh!" she says.
Dr. Dixon feels that internal medicine as a field is gaining momentum. "Students who choose primary care and internal medicine now will end up being in a better place than in the past; as an internist there is always further opportunity," she explains. "I am absolutely so happy that I chose internal medicine for so many reasons, mainly for the relationships it affords me with patients, but I am also grateful to be well compensated."
The Skater
Like many internists, Dr. Dixon places a high value on work-life balance, and cites it as one of the driving factors behind her decision to pursue internal medicine. She recalls being told in medical school that as an internist, she should never have to miss out on an important event or occasion. Dr. Dixon takes full advantage of her job's flexibility, often spending time with her husband, an electrical engineer, fifteen-year-old son, and thirteen-year old twin daughters. Every year the family travels to a different national park together. Last year, they visited Yellowstone and next year they have their sights set on Yosemite.
And then there is the skating. Although a lifelong exercise enthusiast, Dr. Dixon never found a particular sport that captured her attention, until five years ago, when she discovered her passion for figure skating. She just started her second year as a member of an adult synchronized skating team called "Aged to Perfection." "It's actually a sport!" she says with a laugh. This year, the team won 6th place at the Eastern Sectionals in Lowell, Massachusetts.
Check out previous articles as physicians share what motivated them to become physicians as well as why they chose their particular type of practice.
Back to July 2010 Issue of IMpact