My Kind of Medicine: Real Lives of Practicing Internists: Leslie Saltzman, DO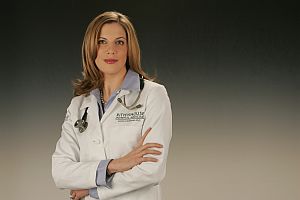 Leslie Saltzman's first job was fairly important for a ten-year-old. She didn't hold an official title-she and her mom didn't think it was necessary-but her help filing the billing and storing the Pap smears for her mother's family practice in West Philadelphia, PA, was greatly appreciated, and young Leslie was glad to do it. She looked up to her mother-who is still practicing and has yet to see a malpractice suit-and says she was the role model she sought to emulate. "My mom's patients love her," she explains. "Having a person like that to look up to meant a lot." Over the next twenty years, Dr. Saltzman would take her mother's inspiration, step outside the world of medicine long enough to live a different life, and then come back full circle to realize her personal vision of being a physician. Today, Dr. Saltzman has her dream job, one that she created all on her own, with a little help from a loving mother, a handsome guy named Bob, and internal medicine.
The French Major
As an undergrad at Wellesley College just outside of Boston, MA, Dr. Saltzman loved science, yearned to do something intellectual, and knew that she wanted to help people. She began as a biology major, but things at home were tough: Dr. Saltzman's father was dying of pancreatic cancer, and she knew deep down that she would not have the mental or emotional strength to pull off pre-med and medical school while going through it. So she switched to French and Economics and studied abroad in Paris before returning to Philadelphia to complete her Post Baccalaureate studies at the University of Pennsylvania. It was then when she knew it was time to return to medicine. "By this time I knew I was going to medical school," she says, "and I knew early on that it would be primary care that I would go into. I wanted to focus on helping people because I had seen how my mother's relationships with her patients were the most rewarding part of her job."
During her training at Bryn Mawr Hospital and Pennsylvania Hospital, she focused on rotations conducive to outpatient care. She was drawn to internal medicine because she felt it was interesting. "The great part about internal medicine is the variety," she says. It was also around this time when Dr. Saltzman met her husband, Bob. "He's had a good influence on me," she says, "and I've tried things because of him, like answering health questions for the local CBS station. I was nervous the first time I did it, but I've found that if you do something you are uncomfortable with, you are no longer afraid of it anymore." They have been married seven years and have a two-year-old little girl. With her training complete, a loving partner by her side, and a beautiful daughter, Dr. Saltzman was ready to begin the next chapter of her life.
Her Baby
As a business planning and marketing consultant, Bob Saltzman was the perfect person to help his wife realize her vision for an internal medicine practice. The two worked hard, researching and planning, and Dr. Saltzman had her hands in everything that went into building the practice, from creating all of the forms to the billing to writing copy for the web site. "The thing that I'm proudest of is the fact that this practice is mine," she says. "There is so much satisfaction in developing something and creating it…and then as time goes by to have people tell you how amazing it is. It's like your baby."
Rittenhouse Internal Medicine of Philadelphia opened in October, 2008. The practice is focused on adult primary care with an emphasis on women's health, as well as evidence-based preventive care and endocrinology. Dr. Saltzman also serves as the medical director of the Rittenhouse Women's Wellness Center, which is part of the practice. At the Wellness Center, women can receive fitness evaluations, stress management support, and nutrition education and planning. It's common for patients to receive several of these services in a half-day visit.
The practice provides personalized, comprehensive care, and since opening has attracted over 1,000 patients and is growing quickly. "The patients here are almost like groupies," says Bob Saltzman, "they've found a place where they get everything they need and where someone will listen to them and they love it. We're already looking for another physician to handle the patient load."
The Onion Peeler
Much of the practice's appeal, as Dr. Saltzman explains, has to do with the fact that she runs it the way she wants to. This is centered on one central component-time spent with patients. "My shortest visit time is 15 minutes and for every new patient, I spend an hour," she explains. She invests a lot of that time practicing preventive care and keeps a keen eye on what is going on in the lives of her patients. "Things like relationships and jobs affect health in a big way," she says. "People come in all the time with something that they think is viral, and it's not, it's anxiety or depression. Treating patients is like peeling an onion; you have to peel one layer back at a time to see what the story is. You have to let patients tell the story."
"Being an internist and working here is so great," she continues, "I treat families, groups of friends…it's like a community right here in my own practice. The thing about financial compensation…sure you might do better in a subspecialty, or in some other specialties, but I just think it comes down to 'why did I become a doctor in the first place?' It's because it's an interesting career and I want to do good things with my life. You can have that as an internist."
Another thing Dr. Saltzman can do as an internist is live a full life. She loves to travel-she and Bob visited Portugal this year-exercise, and spend time with her daughter. She says being an internist lets her do all. "If I want to take an art class with my daughter, I can do that," she explains. "If I want to exercise in the morning, I can do that, too."
Things may have changed since the days when she used to organize Pap smear slides for her mother in West Philadelphia, but one thing that remains in spades for the multi-tasking Dr. Saltzman is the timeless bond between doctor and patient that permeates everything she does. "I love coming to work," she says.
Check out previous articles as physicians share what motivated them to become physicians as well as why they chose their particular type of practice.
Back to February 2010 Issue of IMpact