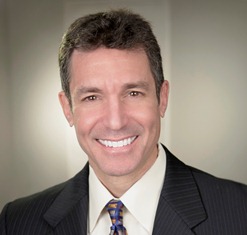 ACP Fellow:
David L. Katz, MD, MPH, FACPM, FACP

Current Occupation:
Director, Yale University Prevention Research Center

Medical Director, Integrative Medicine Center, Griffin Hospital, Derby, CT

Editor-in-Chief, Childhood Obesity

President, American College of Lifestyle Medicine
Residencies:
Norwalk Hospital, Norwalk, CT
Yale University School of Medicine, New Haven, CT
Medical School:
Albert Einstein College of Medicine, Bronx, NY
---
"The idea that 'knowledge is power' is pure fallacy," claims David L. Katz, MD, MPH, FACPM, FACP.
A renowned medical journalist and acclaimed public speaker, Dr. Katz has a knack for saying things that garner attention. But he is also an experienced internist and research director who turns to the evidence to support his claims.
"In 1993," says Dr.Katz, "a clinical study, Actual Causes of Death, (JAMA), concluded that tobacco use and dietary/activity patterns, not heart disease, were the actual leading causes of death." The study's findings about lifestyle he says were repeatedly validated in follow-up trials, including the recent study, Low-Risk Diet and Lifestyle Habits in the Primary Prevention of Myocardial Infarction in Men, published in the Journal of the American College of Cardiology (9/30/14) that found that a healthy lifestyle could prevent four out of five coronary events in men. "The evidence is in," says Dr. Katz, "lifestyle-things we can modify and control-is the leading cause of heart disease and premature death."
The evidence is in, but the number of Americans suffering from chronic disease is staggering and according to the National Institutes of Health, more than 1 in 3 adults and more than 1 in 6 children are obese. According to Dr. Katz, knowledge-without an effective course of action-is just more information. "We have enough data," he maintains, "it's time for action."
Dr. Katz is a man on a mission. He wants to eradicate the risk of chronic disease by 80% by empowering consumers and overhauling the dietary/activity patterns in all sectors of the population. And he wants educators, legislators, members of the medical community, and even religious leaders to be agents of change. To say that he is passionate about the topic of disease prevention and helping others achieve good health would be an understatement.
Lending voice and experience to the science of prevention
Dr. Katz has published, taught, and lectured on the subjects of nutrition, chronic disease prevention, and weight management for more than 20 years. Currently, he is medical director for the Integrative Medicine Center, Griffin Hospital, Derby, CT, where he founded one of the nation's first combined residency training programs in Internal Medicine and Preventive Medicine. He is also Director of Yale University's Prevention Research Center, a clinical research laboratory dedicated to chronic disease prevention; Editor-in-Chief of the journal Childhood Obesity; and President of the American College of Lifestyle Medicine (ACLM).
Dr. Katz has published more than 200 scientific articles and textbook chapters, over 1,000 newspaper articles, and authored or co-authored 15 books to date. He speaks routinely at conferences and meetings throughout the United States and around the world, and has an extensive media portfolio including on-air contributor for ABC News/Good Morning America, writer for the New York Times syndicate, blogger/medical review board member for the Huffington Post, health contributor to US News & World Report, and blogger and columnist for TIME Magazine. Over the years, he has appeared on The Today Show, 20/20, 48 HOURS, PBS, CNN, the BBC & NPR radio, and The History Channel.
The son of an internist/cardiologist, Dr. Katz was drawn to internal medicine because he had an insatiable appetite for learning. "I'm a big picture person who is captivated by the forest. It's hard for me to decide which particular tree I want to spend time with," he quips. "And I revere medicine. I was raised with the Calvinist principles that you work hard and contribute something," he admits, "I wanted to do something that mattered."
Dr. Katz earned his bachelor's degree from Dartmouth College, his medical degree from the Albert Einstein College of Medicine, and his master's in Public Health from the Yale University School of Public Health. He practiced primary care for over 15 years, and early in his career worked part-time as an emergency physician for six years, and served as Director of Medical Studies in Public Health at the Yale University School of Medicine for eight years.
Two heads better than one
While doing his residency in internal medicine, Dr. Katz began wondering how much of the pathology he was witnessing was preventable. The plight of his patients he says motivated him to found the Yale Prevention Research Center in 1998 and led him toward integrative medicine, a field that combines conventional Western medicine with alternative or complementary treatments, such as herbal medicine, acupuncture, massage, biofeedback, and yoga. It is a field making lots of headway. In the past decade, integrative medicine centers have opened in approximately 20% of the nation's hospitals.
Dr. Katz agrees that conventional medicine currently employs more scientific evidence than alternative medicine, but he also believes "two heads are better than one." "In the Griffin clinic," says Dr. Katz, "our patients are seen jointly by a physician trained in conventional medicine and a naturopathic physician. It offers a broad approach and an intimate collaboration between physicians and patients."
"Conventional medicine is great at treating acute illness," says Dr. Katz. "but when it comes to treating chronic disease, as internists we only do so well with it. And we're far less effective in treating "syndromes" that don't conform to our definitions of disease and their treatment models, or patients caught up in degenerating spirals of illness."
He cites the example of the patient who is overweight and as a result suffers from joint pain and sleep deprivation, which in turn make it hard to engage in exercise. "A patient who is feeling tired, cranky, and in pain, will often turn to food," says Dr. Katz, "which further exacerbates the obesity, which further exacerbates the pain and sleep deprivation, and on we go down the rabbit hole."
"We need to reverse engineer that degenerating spiral," says Dr.Katz. "We need to follow an evidence-based approach, but if we can't treat patients effectively, we must ask 'what is the next logical thing to try?' When the evidence runs thin, we should offer options that are safe and might be effective alternatives to drugs."
Sending taste buds to rehab
If the news that lifestyle is a leading cause of death seems bleak, the good news is that it is also the remedy. According to a large and consistent body of evidence, what Katz calls the six cylinders of the "lifestyle is medicine" engine are: 1) tobacco avoidance, 2) dietary pattern, 3) physical activity, 4) quality/quantity of sleep, 5) stress mitigation, and 6) strong social bonds. Dr. Katz's main body of work focuses on the dietary/activity cylinders, but his approach to healthy eating is not about advocating a particular diet. In fact, he believes the debate surrounding low-fat vs. low-carbohydrate diets is counterproductive.
"Healthy eating is about choosing the best foods, the best carbohydrates, the best fats, the best sources of protein, and eliminating foods that have no nutritional value," says Dr. Katz.
"Americans' taste buds have been "corrupted" by the unnecessary processing of the modern food supply," says Dr.Katz, "but that same food supply provides really good options in every category, and if you know which ones those are -you can rehabilitate your taste buds." "Taste buds are malleable little fellas," he says, "they learn to love the foods they're with." By eliminating what he calls "stealth" sugar, i.e., sugar in foods that don't need to be sweet, such as pasta sauce or crackers, in time, our reconditioned taste buds start telling us when something is too sweet. Eventually, we trade up by choice, continuously and without effort.
The perfect marriage: nutritious and delicious
Love and food go together in the Katz family. Dr. Katz's wife Catherine, a neuroscientist he met at Yale when she was doing post-doctoral work, grew up in France among relatives who loved to cook. "Catherine loved food in a different way than I did," admits Dr. Katz, "I was committed to nutrition and was willing to eat tree bark and gravel if it had nutritional value," he laughs, "but Catherine was a foodie."
The two scientists found a way to marry nutrition with taste. Over the years they collaborated on a number of books, most recently Dr. Katz' book, Disease Proof, and have now taken that further, providing free access to the Katz family's favorite recipes, courtesy of Catherine's new website, Cuisinicity.com. As the parents of five children, they also shared a passion for developing tools, recipes, and activities for children and developed a nutrition training program for elementary school students and their parents called "The Nutrition Detectives Program." The Katz children, eager to join their parents in their mission to help children adopt healthy eating habits, helped produce and also perform in two music videos aimed at older children, "Unjunk Yourself," and "Unjunk Yourself: The Process." The third video in the series ("I'm an Animal!") is currently in production.
The Katz children include: Rebecca (26), who attends graduate school in journalism at Boston University; Corinda (25), a graduate of the University of Michigan now living in NYC; Valerie (19), a student at the University of Florida; Natalia (18), a freshman at Elon University; and Gabriel (15), who is still at home enjoying home-cooked meals. The family also includes three beloved canines, Barli, Bramble and Zouzou, and Dr. Katz's horse Troubadour. Dr. Katz works out daily in the home gym so he can pursue his recreational activities-skiing, hiking, and equestrianism. He also enjoys-no surprise-cooking and creative writing.
"Lifestyle is medicine, and culture is the spoon,"
says Dr. Katz, who believes that healthy lifestyles must be promoted at every level of our culture-where we live, learn, shop, work, worship and receive medical care. A pragmatist, he also understands that poverty, corporate profits, and a modern lifestyle that encourages sedentary and socially isolating behaviors pose huge challenges.
Despite the challenges, Dr. Katz insists it is not mission impossible and points to the research being done in the world's Blue Zones, those areas of the world where people live the longest and have the least chronic disease. "The health of these populations is not attributable to superior clinical care," says Dr. Katz, "it is attributable to lifestyle and culture."
"The academic response to any challenge is that 'we need more data,' but what we really need," says Dr. Katz, "are practical strategies for people. I'm an evidence-based medical guy. I've written a medical textbook on evidence-based medicine and I run a clinical research lab, but if my foot were to catch on fire, I would not need a randomized clinical trial to fetch a pail of water."
"We don't always need more data," says Dr. Katz, "Sometimes we just have to use what is already known and fix what is obviously broken."
Back to December 2014 Issue of IMpact