IMIG Update: IMIG of the Month: Texas A&M Health Science Center College of Medicine
The Internal Medicine Interest Group at Texas A&M Health Science Center is one of the largest interest groups on campus that sponsors an array of events from informational gatherings to skills workshops. The goal of the interest group is to create a collegial environment in which students can investigate and further pursue their interests in the different areas of internal medicine.
Throughout the year, our group holds several informational meetings, inviting local physicians to speak to students about their area of expertise and offer guidance for students as they begin their medical careers. Meetings focus on the role of internal medicine has as the foundation for adult primary care and a gateway to other subspecialties. Physicians address disparities in medicine, the needs of our current national medical society, as well as the different settings of practice. This year our interest group also held a doctor panel dinner, with over one hundred students attending that was broadcasted between our two campuses in College Station and Temple, Texas. The panel was composed of a general internist, an oncologist, rheumatologist, pulmonologist, cardiologist, endocrinologist, gastroenterologist, and neurologist. Each physician shared their experiences and reasons for going into internal medicine, and they interacted with the students, answering questions and discussing opportunities for shadowing and research.
The interest group has also emphasized the importance of inter-professional relationships amongst students, local physicians, and other health care professional students. One of our most exciting events this year was the internal medicine skills workshop which offered first and second year students the opportunity to gain insight into skills they will be exposed to on their internal medicine clinical rotations. Our on-campus simulation center, fully equipped with hospital rooms and clinical mannequins, was set up into several stations. A local cardiologist guided students through identifying heart sounds and murmurs on our cardiac mannequin "Harvey," while fourth years taught proper procedures for surgical scrub and gown at the surgical station. Volunteer standardized patients were given scripts to act out for the students to practice their history and physical exam skills, while third and fourth year medical students helped them to create differential diagnoses. Texas A&M nursing students volunteered and helped students perform proper phlebotomy procedures, and showed them how to properly insert nasogastric tubing and foley catheters.
The interest group also holds community fundraisers, to support costs so that more students can attend the national ACP Internal Medicine meeting each year, and encourages students to participate in summer internal medicine programs.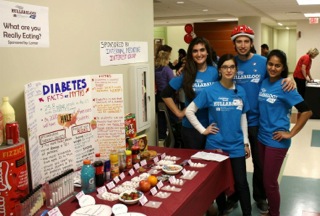 This month our interest group volunteered in our community "health hullabaloo." We sponsored a booth on diabetes, educating the community on myths and facts of diabetes and offering tips for prevention and maintenance. We also offered vouchers for free health screenings and through sugar cubes we displayed the amount of sugar in commonly consumed foods.
Aryanna Amini, M.S.
IMIG President
TAMHSC College of Medicine, Class of 2015
Email: aamini@medicine.tamhsc.edu
Back to March 2013 Issue of IMpact