My Kind of Medicine: Real Lives of Practicing Internists: Scott Manaker, MD, PhD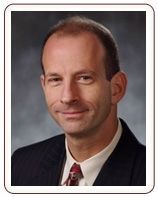 Scott Manaker was walking from the practice one morning in the outpatient building at the Hospital of the University of Pennsylvania when he heard someone call his name. Looking up, he saw a very thin man with dark brown hair whom he did not recognize. But as the man began to speak, Dr. Manaker recalled him-as a patient in the ICU some months ago. At the time, the man had only one lung, was severely afflicted with respiratory failure, and had been so gravely ill that many felt certain he would not survive. Yet here he was, standing in front of him, thanking him for his care. Recalling the encounter, Dr. Manaker says simply, "It was wonderful."
Submarine Duty
As an attending physician in the pulmonary and critical care division at the University of Pennsylvania Hospital in Philadelphia, Dr. Manaker works two months of inpatient two-week rotations, during which he is on call 24 hours a day. He says the ICU duty is both intense and satisfying. "It has been likened to being on a submarine, because you go down for two weeks with no air," he says. "My work there is among my proudest accomplishments though, because of the meaningful relationships you form with the patients and their families. And I love pulmonary medicine because it gives me the opportunity to really help patients."
But in the ICU, where the days are longer and the nights are darker, there are times when Dr. Manaker is unable to help and such times weigh on him heavily. He recalls one man in his thirties whom he had treated in the ICU for refractory leukemia. "I remember his wife, his oncologist and I standing there together and crying after making the decision to let him go," he says. "Our three families each had kids all the same age..."
Medicine and Donuts
Dr. Manaker is a thinker and internal medicine suits him well, engaging his mind in a way that's a necessity for someone who already had several different job options in mind by his fifth birthday. While attending high school in the Bronx, he volunteered in a psychiatry lab and developed an interest in studying the brain. He veered toward psychology and went on to earn an undergraduate degree in neuroscience, but turned to internal medicine while in medical school.
During graduate school, Dr. Manaker worked a 24-hr Saturday shift in the ER once a month to maintain his clinical skills. He soaked up the experience and soon was a favorite with the staff. "I would bring the nurses a box of donuts and I tried to see every patient I possibly could," he recalls. "It was such a tremendous clinical experience for me because it showed me how much I enjoyed taking care of patients." Looking back, he says he knows he made the right choice.
"What I like about internal medicine is the flexibility and the variety that I've been able to enjoy that has gone hand-in-hand with continuing patient care," he says. "Medical students who are trying to figure out which direction to pursue should know that internal medicine offers professional and personal satisfaction at once. The skills gained as an internist give you the flexibility to do a lot and provide a variety of job opportunities. When you couple that with patient care it's an enormous source of satisfaction."
The Quaker
The Quaker is the official mascot of the University of Pennsylvania, where from his first day as an undergrad until now, Dr. Manaker has spent a total of 31 years. His involvement with the university and the hospital runs deep, as evidenced by a dizzying list of faculty, administrative, and teaching appointments. However, his current day-to-day job can be boiled down to two main things: administrative duties as a Vice Chair for the Department of Medicine, and treating patients; he says pursuing internal medicine allows him to do both.
His thirst for knowledge has defined him as a teacher, something he considers to be his most significant contribution outside of patient care. "The milestone in my career that means the most to me was being awarded the Leonard Berwick Memorial Teaching Award at Penn," he says, "because I think that ultimately my work teaching will have the greatest impact." He's been a teacher of students as a lab instructor, seminar leader, and lecturer, in topics ranging from brains and behavior to medical pharmacology to bioethics in research.
He teaches faculty as well, on topics that would make many an eye glaze over-including "critical care documentation" and "evaluation and management coding." But Dr. Manaker has reveled and excelled in these subjects-so much so that he receives regular invitations to teach them in hospitals across the country. It came about by chance in the mid nineties when the U.S. government conducted an investigation of hospital medical charts at Penn. By the time it was over, Dr. Manaker became an expert in chart documentation, coding and billing. He started out teaching Penn staff, but soon gained a reputation and it wasn't long before the job stuck. "It's a unique niche. There aren't many physicians who would want to take on deathly dull subjects and teach them," he jokes, "but I find great value in having the opportunity to educate colleagues."
When he's not thinking about medical coding or intensive pulmonary care, Dr. Manaker winds down with some more thinking during his jogs around center city, Philadelphia. His running style reflects his working habits-there are times when he enjoys a running partner for companionship, and other times when he prefers to be alone, so he can think. He doesn't wear an iPod and benefits from laser surgery he got some years ago after a lifetime spent wearing glasses. The surgery helps with the running, but he really did it for his most important teaching job to date: teaching his sons Jacob and Eli how to swim.
Check out previous articles as physicians share what motivated them to become physicians as well as why they chose their particular type of practice.
Back to April 2010 Issue of IMpact