You are here
Help Your Patients Enroll in Health Insurance
Help Your Patients Enroll in Health Insurance
New Opportunity to Enroll in Affordable Health Coverage
Find out how your patients can save money on their health coverage premiums with ACP's new primer on the American Rescue Plan's health insurance subsidies. ACP has also developed a one-page summary for patients that describes how they can get low-cost, high quality health insurance. The document can be printed out or posted on your practice's website.
A special enrollment period is now available through August 15, 2021 to sign up for coverage. Visit healthcare.gov or call 1-800-318-2596 or more information.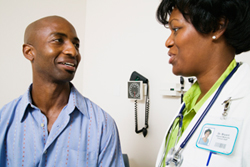 Background
Since opening in 2013, the ACA's health insurance marketplaces have helped millions of people shop for and enroll in health coverage. Many people have also been able to get financial assistance to help them afford the plans offered by the marketplaces. Physicians and their staffs can help get the word out about enrollment opportunities and educate their patients about community-based health insurance enrollment assistance. To help you help your patients make informed health insurance choices, as well as to answer questions that you might have, the American College of Physicians has put together a series of documents to address questions about the changes in healthcare coverage brought about by the marketplaces.
Open enrollment for 2020 starts on November 1, 2020 and ends on December 15, 2020 for states that utilize the federal marketplace. The deadline for states administering their own exchanges may vary slightly from the federal enrollment period; please refer to our state-specific resources to find the exact enrollment period for each state. After the open enrollment period, special enrollment opportunities are available under certain circumstances such as a change in family status (including marriage or birth of a child), residence or income. Health insurance shoppers can visit www.healthcare.gov or call 1-800-318-2596 to see if they qualify for a special enrollment period. Medicaid enrollment is open throughout the year.
Resources
The following documents include general information on resources that are available to you and your patients, and answers to frequently asked questions about insurance enrollment. In addition, ACP has also assembled state-specific resources to tell you more about what is happening in your area and help you provide your patients with accurate contact information.
Affordable Care Act Issues Physicians Need to Know: This document provides practical information to physicians and their patients regarding COVID-19 coverage, provider network adequacy issues, the health insurance appeals process, information about cost sharing, and how physicians can help their patients acquire non-covered drugs.
ACP's State-by-state Guides to Helping Patients Enroll: Find information about how the insurance marketplace will operate in your state and a resource guide you can give to your patients to help them find the appropriate people to answer their questions about health insurance.
Questions and Answers about Health Insurance Marketplaces and the Affordable Care Act
ACP Health Insurance Enrollment Comment Center
Have questions or comments about ACA health insurance marketplaces and enrollment? Contact ACP staff at policy-regs@acponline.org to share your thoughts.
Other Resources