ACP begins year-long centennial celebration
Philadelphia, January 27, 2015 -- When Dr. Heinrich Stern and colleagues founded the American College of Physicians (ACP) in 1915, the objectives and purpose included to "promote the advancement of the science and practice of medicine" and "to further the study and knowledge of biological medicine among its members."
This year, ACP celebrates a century of internal medicine leadership, innovation, and excellence in medical knowledge and information as the largest medical specialty organization and the second-largest physician group in the United States, home to 141,000 internal medicine physician members with 68 U.S. chapters and 16 international chapters.
"In 2015, we are celebrating not just 100 years of ACP but also a century of internal medicine innovation," said Dr. David Fleming, president, ACP. "ACP is proud to have continued to evolve over the years to support and meet the changing needs of our internal medicine physician members, who are diverse in professional focus, but unified by a commitment to excellence."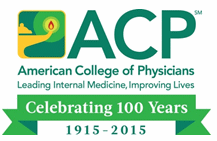 In recognition of its 100th anniversary, ACP developed an online timeline featuring historical facts, images, and anecdotes about the organization in a decade-by-decade format. The organization also will publish a commemorative history book, To Serve Our Patients and Profession: A Centennial History of the American College of Physicians (1915-2015).
A series of events and activities throughout the year will celebrate ACP's values of excellence, compassion, and dedication to patients that have remained constant throughout the organization's first century and will continue to shape its future.
Each issue of ACP Internist will feature an article focusing on each decade of ACP's history. Annals of Internal Medicine will include a historical article in each issue that corresponds to a current topic in the journal, several History of Medicine articles, and photographs of internal medicine physicians on the cover. The Jan. 27 issue of Annals features an editorial by Dr. Steven Weinberger, ACP's CEO and Executive Vice President, about the challenges facing internal medicine as ACP enters its second century.
ACP's 2015 Internal Medicine Meeting from April 30 through May 2 in Boston will feature an art exhibit and several special sessions, including "Defining Internal Medicine: The History of ACP"," History of Politics in American Medicine," "The History of Annals of Internal Medicine and the Future of Medical Journals," and "Award-Winning Innovations in High Value Care."
William Osler (1849-1919), recognized by many as the "Father of Modern Medicine," emphasized the importance of physicians uniting in a professional community:
"You cannot afford to stand aloof from your professional colleagues in any place. Join their associations, mingle in their meetings, giving of the best of your talents, gathering here, scattering there; but everywhere showing that you are at all times faithful students, as willing to teach as to be taught."
"Looking forward, ACP will continue to evolve and advance the science and practice of medicine and will continue to support its diverse membership united by the core values of respect, compassion, professionalism, and responsibility," said Dr. Robert Centor, chair, ACP Board of Regents.
About the American College of Physicians
The American College of Physicians is the largest medical specialty organization and the second-largest physician group in the United States. ACP members include 141,000 internal medicine physicians (internists), related subspecialists, and medical students. Internal medicine physicians are specialists who apply scientific knowledge and clinical expertise to the diagnosis, treatment, and compassionate care of adults across the spectrum from health to complex illness. Follow ACP on Twitter and Facebook.