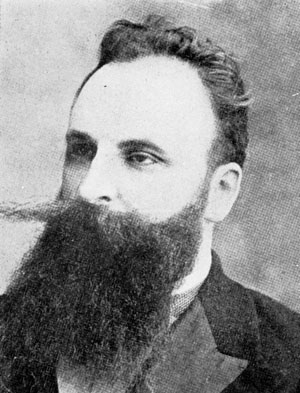 Heinrich Stern was born near Frankfurt, Germany, on January 28, 1868 and immigrated to the United States in 1885. Dr. Stern became passionately devoted to the study of metabolic diseases, gaining a great deal of recognition for an essay he wrote on the etiology of diabetes for the New York County Medical Society in 1901. He was the author of some 300 medical articles and nearly a dozen books on medicine, some of which were published in the German language. Most of Dr. Stern's medical writings were devoted to the diagnosis and treatment metabolic disorders, such as diabetes mellitus.
At various times in his professional career, Dr. Stern was connected with a number of hospitals, medical and charitable organizations in New York. Some of his most important affiliations were with Central Islip and Seney Hospitals, the Institute for Medical Diagnosis, Metropolitan Hospital and Dispensary, Red Cross Philanthropin (which he founded) and St. Mark's Hospital. In 1908, he founded the Archives of Diagnosis, a journal devoted exclusively to the study and the progress of diagnosis and prognosis. As a result of the respect he garnered among his colleagues, it was possible for Dr. Stern to secure articles from luminaries in the diagnosis of diseases.
In 1913, Dr. Heinrich Stern attended the annual meeting of the Royal College of Physicians in London. Dr. Stern saw the need for its counterpart institution in the United States. The state of American medical education and practice prior to the First World War was considered unsatisfactory in comparison to the medical institutions of Europe. He was convinced that an organized group of leading internal medicine physicians was a necessity as a means of raising the standards and ideals of American medicine.
The Creation of ACP
Dr. Stern imagined an organization that would be comparable to both the Royal College of Physicians and the American College of Surgeons, which had been established in 1913. His initial efforts were unsuccessful, but he eventually convinced a small number of associates that such an organization in the United States was not only desirable, but necessary. In his history of the College's forming, George Morris Piersol summed up Dr. Stern's viewpoint, "If internal medicine was to advance and assume its rightful position in medicine, there had to be an American College of Physicians."
The first group of his associates that Dr. Stern succeeded in committing to his project included Drs. Augustus Caille, Joseph H. Byrne, Glentworth Butler, Reynolds Webb Wilcox, Elias H. Bartley, and Frank H. Daniels. This group, which would meet informally in Dr. Stern's office, all lived New York City or its immediate suburbs. These men served as the "founding fathers" of the College, arranging for its incorporation under the laws of the State of Delaware on May 11, 1915. The American College of Physicians was incorporated as a non-profit, scientific organization and Dr. Heinrich Stern was named Secretary-General.
Despite his many varied accomplishments, Heinrich Stern suffered from chronic poor health following the creation of the College. Nevertheless, he would appear nearly indefatigable to his colleagues at the College, serving as the central guiding light and directing the course and the development of the College up to the day of his death, May 23, 1918. At the time of his death, he was visiting physician to St. Mark's Hospital, Methodist Episcopal Home, General Hospital of Boston and several other hospitals in the greater New York area. Dr. Stern possessed a rare insight into the needs of the medical profession, and was infused with a passion for its improvement and for the recognition and expansion of internal medicine. The creation of the American College of Physicians is a lasting monument to his memory and ideals.
---
Sources
Prepared by Eric Greenberg, based on materials from the Archives of the American College of Physicians
Stern, H. (1918). Obituary. The Archives of Diagnosis: A Quarterly Journal Devoted to the Study
Progress of Diagnosis and Prognosis, 10(4), 306-306; New York Times Obituary 8. (1918, January 31). Retrieved August 26, 2014
Moran, William G. The American College of Physicians: Its First Quarter Century. Philadelphia, 1940
Piersol, George M. Gateway of Honor: The American College of Physicians, 1915-1959. Lancaster, PA: Lancaster Press, 1962.