---
---

William E. Fox, MD, FACP, ACP Governor
---
Governor's Letter
Dear Fellow ACP Virginia Chapter Members,
As I begin my final year as Governor of the Virginia Chapter, I wanted to reflect on what we have accomplished together, while also being mindful of work yet to do. It is almost surreal to think that just over three years ago, I started my tenure with great trepidation, nervous that I might not rise to the challenge before me. The four-year term seemed a daunting undertaking. Now that I am close to the finish line, I only lament that there is not enough time to accomplish even more. Like life, the Governor's term is like a roll of toilet paper: it goes faster the closer you get to the end!
In terms of education, we have organized several successful annual CME meetings, with the next one coming up March 13-14, 2020 at the Hotel Roanoke in Roanoke, Virginia. These meetings have boasted some of the highest attendance numbers of any that our chapter has seen and remain a favorite way to refresh one's knowledge and interact with colleagues from all over the state. Offering maintenance of certification (MOC) points at these meetings, in addition to CME, was a big priority of mine and I am happy to report that MOC is now a standard part of our meetings. We continue to hold our annual medical student educational event, as well as our ever-popular resident abstract competition. We introduced several new activities for the residents, including the Images in Clinical Medicine Poster Competition, as well as Pulse Check, a showcase for residents to display their artistic and humanistic endeavors. We hope to expand these activities over the next few years.
Advocacy remains one of our biggest priorities. I am proud that our chapter was a consistent and vocal advocate for Medicaid expansion, which ultimately passed the Virginia legislature in 2018. While this was an historic win, we had to quickly turn our attention to lobbying against Medicaid work requirements. We have continued to push for the issue of reasonable gun safety. We kicked things off back in 2016 with a symposium on gun safety along with the American Bar Association, The Virginia Academy of Pediatrics, and Virginia Association of Chiefs of Police. Since then, we have successfully lobbied the Medical Society of Virginia to embrace gun violence restraining orders (GVRO or "red flag" laws) as a legislative priority, which the MSV then advocated for alongside us at the state legislature. This is clearly unfinished business, but we will keep fighting! Finally, we have worked on scope of practice issues, balance billing, Medicaid reimbursement, climate change, and prior authorization, among many other topics.
While not as visible to the membership, we have worked hard to modernize our bylaws, last amended 15 years ago. We have also incorporated new schools such as Liberty University College of Osteopathic Medicine as well as new residency programs such as Danville and Ballad Health into our chapter activities.
We have initiated a series of activities for Early Career Physicians including holding some half dozen informal socials and financial planning dinners over the past several years. There are more of these to come, so stay tuned! In August, we will hold our first ever ACP Day of Service at the Capital Area Food Bank NOVA Community Marketplace. We have trained several physician "Wellness Champions" who will play a larger role in our chapter over the coming years.
We have recognized several dozen of our colleagues over the past few years with awards for teaching, research, volunteerism, and service to the chapter. These are tremendous honors and well deserved. Remember that you can nominate a colleague at any time for one of our state or national awards.
Finally, I am pleased to report that our membership has grown over the last several years and we have been responsible stewards of your membership dues, running a budget surplus for the past two years. The state of our chapter is strong!
At the national level, I continue to work very hard on coding and payment policy, especially engaging in efforts to improve reimbursement and ease documentation for cognitive E/M services. I am also pleased to report that my fellow Governors have honored me by electing me to serve as the next Chair of the Board of Governors. So I am excited to remain in involved in the activities of the College for a while longer!
As always, I want express my appreciation for your support and thank all those members of the chapter who donate their time and energy to ACP related volunteer activities, such as speaking at our annual meeting, serving as a judge for our abstract competition, or simply attending a meeting. It is truly a privilege to serve as your Governor. At the same time, as I transition the leadership role over to Stuart Henochowicz beginning April 2020, I can confidently say that the chapter will be in excellent hands. I ask that you please stay involved and speak to your colleagues about the important work we are doing. We could not do the things we do without your membership and involvement. As always, please feel free to reach out to me with any issues or concerns at wefox@hotmail.com Have a wonderful summer!
---

Introduction – Governor-Elect Stuart Henochowicz MD, MBA, FACP
I am honored and excited to become Governor of the Virginia chapter in April of next year. I am currently being guided, as Governor- elect, in the teaching process by our Governor, Bill Fox. There is a lot to learn and to get up to speed with, and Bill, as usual, is diligent and extremely helpful in this process. I know that I will continue to learn from him, and from all who have preceded him, when I am Governor.
A little bit about myself- I am in the private practice of Internal Medicine and Allergy in Burke (Fairfax County) Virginia. We have been a teaching practice of Georgetown University Medical School for over 20 years. I have been involved with the ACP since my internal medicine residency in the 1980s. I am a member of the Governor's Council, and a former Chair of the Health and Public Policy Committee.
I have a deep interest in maintaining the professionalism of Internal Medicine, and in recognizing Internal Medicine and primary care as the central components of health care in this country. We need to continue on the success achieved by expanding Medicaid in Virginia, and to continue to pay attention to the health care inequalities in our state. We have to continue to focus on the wellness of our physicians, who need to be allowed to focus on patient's health care needs, and to be respected, both professionally and financially. We are in an era of corporate medicine, where most physicians are employees, and where physician autonomy is being encroached upon. Rural medicine is in a state of crisis, and we need to explore approaches to remedy this crisis.
I intend to learn from, and listen, to the young physicians of the Virginia ACP. Younger physicians are the lifeblood of our organization. We need to continue to encourage their participation, and to act on their concerns. The concerns of our women physicians, from pay parity to professional recognition, will need to continue to be addressed. The overall diversity of ACP needs to continue to be an important goal. And, of course, our patients needs must always be in the forefront of our concerns.
Thank you for giving me the opportunity to serve. I hope to do well by you, and to try to be an effective advocate to our patients and you.
---
Highlights from Resident Abstract Competition
On February 23, our residency programs in Virginia came together for a day of celebration and networking for our 22nd annual Virginia Residents' Day. This year's event was held in Pinn Hall on the UVA Health System Campus in Charlottesville. We had a wonderful day of competition between Internal Medicine residency programs, awards and celebrations.
Throughout the day, attendees from across the Commonwealth were amazed and in awe of the talent and expertise presented in the competition. There were 144 total abstracts submitted for review in the Fall of 2018 and narrowed down to the 35 presenters and posters for this final step of competition.
We had competitions in research, quality improvement, and clinical vignettes. There were both oral and poster presentations. The winners of the research, clinical vignette and quality improvement oral abstract competition will represent our chapter at the national meeting in Los Angeles in 2020.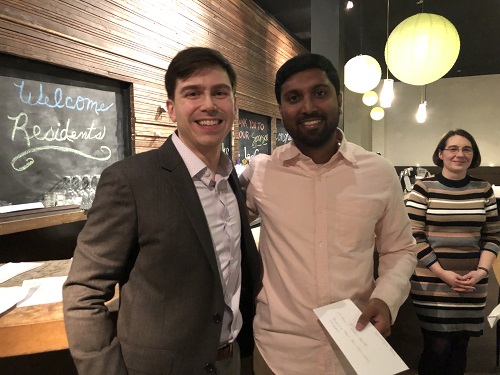 We had judges from across the state who had to make some very difficult decisions in determining our winners for the top prizes. Our judges this year who took time out from their busy schedules were: Matthew Chakan MD, Jeri Lantz MD FACP, W. Benton Lewis MD FACP, Megan McGavern DO FACP, Bahnsen Miller MD, Andrew Parsons MD, Pradeep Pradhan MD FACP, Moira Rafferty MD FACP, Michael Rein MD MACP, Sami Tahhan MD FACP, Rachel Waller MD FACP and Cirle Warren MD.
Our keynote speaker was Thokozeni Lipato MD, Assistant Professor of Medicine in the Internal Medicine Department at VCU. Dr. Lipato spends his clinical time attending on housestaff wards, the primary care clinic, sickle cell clinic, resident clinic and the Multidisciplinary Outpatient Intensive Addiction Treatment (MOTIVATE) clinic. His presentation, "Disparities in Health and Health Care: Being Part of the Solution" was well received by those in attendance.
For the second year, our two newest categories continued. "Pulse Check – Reflections and Humanism in Medicine" reminds us not to panic but to listen to our bodies and tend to our own needs as caregivers. The balance can come through the arts and this category gives opportunity to share personal or related experiences with patients.
The second category was "Visualize Internal Medicine – Clinical Images". Since images are such an important part of what we do and learn in medicine, often a picture is worth 1,000 words. Residents were given an opportunity to submit clinical images that can be used to teach clinical pearls.
The day ended with a celebratory dinner award celebration sponsored by JenCare Senior Care. The Internal Medicine Programs presented their Academic Teaching Faculty awards for 2019 and the winners of the competition were announced.
A huge thank you to Anke Hacker, MD FACP who organized the program with assistance from John McConnell MD FACP, Danielle Johnson MD (VCU) and Abhi Shenoy MD (UVA), the Resident representatives on our Governor's Council, moderated and kept the presenters on time. All put in hard work in making this a successful and fun day for our residents. The winners for the competition were as follows:
Posters
1st – Ian Crane MD – UVA – Rabies Encephalitis with Myocarditis: A STEMI Mimic
2nd – Samuel Oliver MD – UVA – Ipilimumab and Nivolumab Induced Stevens Johnson Syndrome/Toxic Epidermal Necrolysis: A Rare Complication of Checkpoint Inhibitor
3rd – Meredith Olsen MD – Naval Medical Center Portsmouth – Waves of Withdrawal: A Complicated Case of Multi-Pharmacy Toxidromes
Oral Research
1st – Maria Nicolais MD – UVA – Venous Thromboembolism Events an Prophylaxis in Acute Myeloid Leukemia Patients
2nd – John Odackal MD – UVA – Circulating Fibrocytes as Biomarkers of Disease Activity Among Patients with Autoimmune Forms of Interstitial Lung Disease
3rd – Alexandra Einhorn MD – VCU – Discovering Barriers to Filter Use for Potable Water in Rural Honduras
Oral Clinical Vignette
1st – Amir Modarres MD – VCU – A Case of Euglycemic Diabetic Ketoacidosis in the Setting of Sodium Glucose Transporter Inhibitor Use and a Lowe Carbohydrate Diet
2nd –Christopher Hernandez MD – Virginia Tech Carilion – Ehrlichiosis-Induced Hemophagocytic Lymphohistiocytosis
3rd – James Mendoza MD – EVMS – May I "Top Off" Your Kappa Jo? Multiple Myeloma Presenting as a Pancoast Tumor
Quality Improvement
1st – Ram Kommaraju DO – Ballad – Reducing Chest Pain Observation Utilization
2nd – Indira Bhavasar MD – UVA – eConsultations to Hepatologists Reduce Patient Wait Time for Clinical Visits and Improve Provider Communication
3rd – Helen Lin MD – VCU – Making a Difference: Standardizing the Discharge Process
---
Virginia Chapter Members Honored
We recently had the exciting opportunity to recognize several well-deserving Chapter members. Each year we present academic teaching awards. These are special in that the recipient is chosen by their students. For the last few years, we have asked members of each residency program to provide names of a faculty member they would like to have recognized with this honor. The award is presented by a resident from each program. The Academic Teaching Awardees for 2019 are:
EVMS – Matthew Chakan MD
Inova – Kenneth Roach MD PhD
Johnston Memorial – Karen Elmore MD
Lewis Gale – Nelson Greene MD
Naval Medical Center Portsmouth – Benjamin Vipler MD FACP
UVA – Taison Bell MD
VA Tech-Carilion – Jon Sweet MD FACP
VCU – George Feldman MD
On Friday, March 8, our Chapter awards were presented during our annual awards reception. This year the awards went to:
Laureate Award – Lisa Ellis MD MACP
Community Teaching – Matthew Cusano MD
Early Career Physician – Jody Boggs MD FACP
Paul Florentino Volunteerism Award – Vivian Bruzzese MD FACP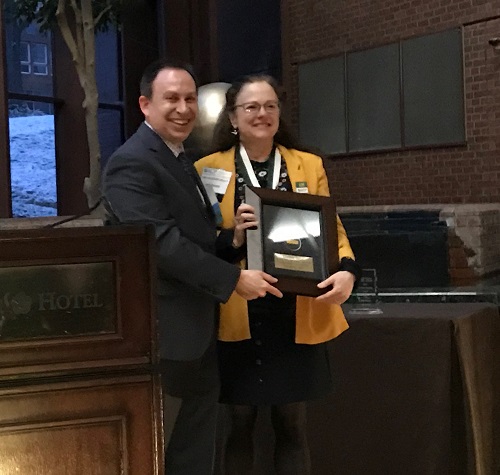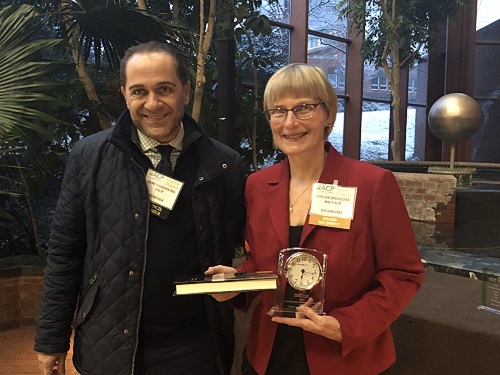 Lastly, during Internal Medicine 2019, the College presented its national awards. This year, a Mastership in the College was bestowed upon David Johnson MD MACP from EVMS.
---
The American Medical Women's Association Recognizes ACP Members with Exceptional Mentor Awards
Recently, six female ACP members, including ACP Executive Vice President and CEO Darilyn V. Moyer, MD, FACP, have been selected as recipients of American Medical Women's Association (AMWA) Exceptional Mentor Award. The award celebrates those who have made an impact on the lives of students in medicine.
AMWA is the oldest multispecialty organization dedicated to advancing women in medicine and improving women's health. According to the AMWA, an exceptional mentor goes above and beyond what is required and actively reaches out to those around her to help guide them in their career path.
One of those selected by the AMWA was ACP member, chosen from both current and former governance leaders within ACP, was Lisa L. Ellis, MD, MACP, executive director, Patient and Provider Experience and Associate Professor of Internal Medicine-Women's Health and Ob/Gyn at Medical College of Virginia, Virginia Commonwealth University and immediate past Governor of ACP's Virginia Chapter.
We congratulate each of the awardees!
---
Health and Public Policy Committee
Chair: John Paul Verderese MD FACP
The Health and Public Policy Committee of the Virginia Chapter ACP continues to be at the forefront of advocacy for issues affecting patients and physicians on the state and national level.
This past January, we participated in the Medical Society of Virginia's Lobby Day and met with, along with other physician groups, our state delegates and senators to discuss a variety of critical issues. We advocated against balance billing for emergency services, an issue that has gained a fair amount of attention across the country on a state and local level. Unfortunately, this year's efforts were thwarted by the insurance lobby, but we are hopeful that relief will come soon given the mounting pressure and other widespread advocacy efforts. We also pushed for further improvements to the ever- burdensome prior authorization and step therapy process which successfully passed, and we advocated for fair reimbursement for primary care services provided for Medicaid patients, especially in the wake of the welcomed Medicaid expansion in our state this past year.
Our Chapter, as usual, had a formidable showing this past May for ACP Leadership Day in Washington, D.C. Our delegation included students, residents and both private practice and employed physicians from across the state. Those who attended were: William Fox MD FACP, Stuart Henochowicz MD FACP, John Paul Verderese MD FACP, Zahra Rehman MD, Omar Shabib MD, Samuel Lazoff DO, Pradeep Pradhan MBBS FACP, William Blackman MD FACP, Elspeth Springsted MD, Patrick Fadden MD, Renée Carter MD FACP, Haroon Rashid MBBS FACP, Homan Wai MD FACP, Logan Rhea DO, Anya Cope DO, Arthur Pemberton MD FACP, Rakesh Biswas MD and Frances Feng MD. Our advocacy slate was robust and included promoting transparency in healthcare costs and prescription drug pricing, promoting efforts to reduce injury and death due to firearm violence and funding for firearm violence as a public health issue, reducing unnecessary administrating burdens on physicians, improving Medicare reimbursement, promoting paid family and medical leave as well as protecting against any threats to title X regulations, and supporting the ACA and efforts to stabilize the insurance market through mechanisms such as reinsurance.
Our Chapter will play a key role in state advocacy this upcoming legislative year. We have a seat on the MSV Advocacy Committee and will play a critical role in shaping the society's legislative agenda. Additionally, we have also put forth resolutions to promote worker heat protections, legal protection for physicians when interactions are recorded, and expanding Medicare's primary care exception rule to Virginia Medicaid patients.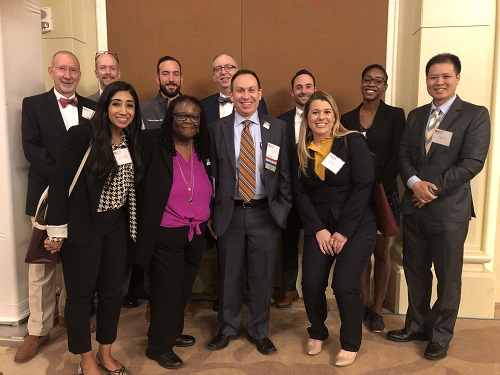 Back Row: William Blackman MD FACP, Arthur Pemberton MD FACP, Patrick Fadden MD, Stuart Henochowicz MD FACP, John Paul Verderese MD FACP , Aisha Lott (medical student)., Homan Wai MD FACP.
Front Row: Zahra Rehman MD, Renee Carter MD FACP, William Fox MD FACP and Elspeth Springsted MD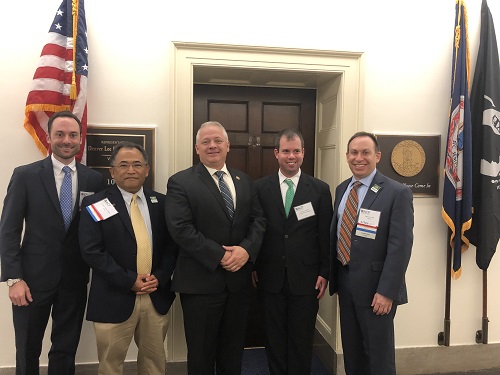 John Paul Verderese MD FACP, Pradeep Pradhan MBBS FACP, Cong. Denver Riggleman, Samuel Lazoff DO and William Fox MD FACP
---
AIMn
Do you want to stay up to date on health care issues that impact you and your patients? Do you want to make sure your voice is heard in Washington?
Join more than 15,000 colleagues in the Advocates for Internal Medicine Network (AIMn) in advocating for the interests of internal medicine in Washington, D.C. The AIMn program is for ACP members interested in participating in federal advocacy. It is designed to help members engage with their federal lawmakers on policy issues important to ACP and internal medicine.
It is easy. We will alert you when an important health care issue is being debated or voted on and give you the opportunity and the easy to use tools to tell your congressman and senators how you feel about the issue. To be included in AIMn efforts, go to: https://cqrcengage.com/acplac/app/register?0&m=13815&_ga=2.177891873.504331707.1559827607-799445270.155224204.
---
How You Can Become More Involved in The Virginia ACP Chapter
Our Chapter is what we make it!
Work with our Residents
Review abstracts or volunteer as a judge at our Resident Abstract Competition
Advocacy
Participate in our state advocacy day, "White Coats on Call" in Richmond each year
Come to Leadership Day in Washington DC, held each year usually in May
Serve on our Governor's Council
Elections are held annually. You get to work with fantastic doctors from across the state
Awards
Nominate a colleague for a deserving award. Award descriptions are found at www.acponline.org and enter "awards" in the search bar.
Early Career Networking
Organize a social of early career physicians in your neck of the woods
Contact Ann Tennett, Executive Director, at astacp@hotmail.com or Bill Fox, Governor, at wefox@hotmail.com for details.
---
ACP Partners With Core IM Podcast to Offer CME-Accredited Podcast Series
ACP has partnered with Core IM to offer a new CME-eligible podcast series featuring clinically relevant and internal medicine-specific information for physicians of all levels and backgrounds. Core IM features four categories of podcasts:
5 Pearls: The hosts solidify five applicable, relevant pearls on an internal medicine topic.
Hoofbeats: Experienced clinicians are challenged to solve diagnostically difficult cases with listeners in real time.
Mind the Gap: The hosts explore the evidence – or lack thereof – for common internal medicine practices to tackle knowledge gaps and challenge dogma.
At the Bedside: Discusses humanities topics that reach beyond traditional evidence based medicine and delves into the ethics and emotions that come with practicing today.
The first ACP CME-granting Core IM podcast, "Coronary CTA: 5 Pearls" will be available July 10, 2019 on the ACP podcast landing page. After listening to each episode, ACP members can log in to the Online Learning Center to claim CME credit and MOC points.
Contact Laura Baldwin with any questions at lbaldwin@acponline.org
Virginia Governor's Newsletter July 2019