---
---

William E. Fox, MD, FACP, ACP Governor
---
From the Governor:
Dear Fellow ACP Virginia Chapter Members:
At the midpoint of my term as Governor of the Virginia Chapter, I wanted to again express my appreciation for your support and thank all those members of the chapter who donate their time and energy to ACP related volunteer activities, such as speaking at our annual meeting, serving as a judge for our abstract competition, or attending a meeting.
We have had a very busy and successful year. We held our first state advocacy event independent of the Medical Society of Virginia, focusing on issues of importance to our membership, such as fighting for Medicaid expansion, gun violence restraining orders, and for the appropriate scope of practice for nurse practitioners. As you all know, our many years of advocating for Medicaid expansion finally paid off. Unfortunately, our intense efforts to maintain health care teams, with the physician as the leader of that team, were not as successful. The law will now allow nurse practitioners to practice independently after five years of oversight. We are working with the Medical Society of Virginia to ensure tough standards are put in place during a nurse practitioner's transition to independence.
We held another highly attended annual clinical update meeting in Richmond in March. Thank you to those who attended for CME and MOC credit. This was our most highly attended conference to date, with 245 attendees. Highlights included a 2 hour symposium on opioids required for state licensing requirements, update on atrial fibrillation and common GI issues, a review of hair and nail disorders, and the perennial favorite best inpatient and outpatient journal articles of the year. I hope you attend our next meeting, March 8 and 9, 2019, in Charlottesville.
At the national level, I have been honored to be named as the Vice-Chair of the Medical Practice and Quality Committee, a key policy making committee of the College. We have been working on such issues as promoting transparency and alignment in Medicare Advantage programs, easing documentation guidelines, advocating for ways to reduce the cost of prescription drugs, shining light on the black box of pharmacy benefit managers, and lessening the burden of prior authorizations and step therapy, among many other topics. As part of this work, I had the honor of representing the College before the Health Subcommittee of the House Ways and Means Committee at its Red Tape Relief roundtable. There, I focused my remarks on reducing duplicative forms with which we are faced every day, modernizing the outdated and onerous E/M documentation guidelines, and creating alignment in Medicare Advantage programs. Read more about this effort here.
On a less sexy topic, I and my Governor's Council have been working hard on making much needed budget modifications for our Chapter. Now after two years of implementation, these changes are strengthening our Chapter's financial position. I am happy to report to you that the state of our Chapter is strong.
Once again, it is a privilege to serve as your Governor. I ask that you please stay involved and speak to your colleagues about the important work we are doing. We could not do the things we do without your membership and involvement. As always, please feel free to reach out to me with any issues or concerns. Have a wonderful summer!
Sincerely,
William "Bill" Fox MD FACP
---
Highlights from Resident Abstract Competition
On March 15th, our residency programs in Virginia came together for a day of celebration and networking for our21st annual Virginia Residents' Day. This year's event was held in Richmond VA at the Hermes Kontos Building at Virginia Commonwealth University. We had a wonderful day of competition between Internal Medicine residency programs, awards and celebrations.
Throughout the day attendees from across the Commonwealth were amazed and in awe of the talent and expertise presented in the competition. There were 154 total abstracts submitted for review in the Fall of 2017 and narrowed down to the presenters and posters for this final step of competition. We had competitions in research, quality improvement, and clinical vignettes. There were both oral and poster presentations. The winners of the research, clinical vignette and quality improvement oral abstract competition will represent our chapter at the national meeting in Philadelphia in 2019.
We had judges from across the state that had to make some very difficult decisions in determining our winners for the top prizes. Our judges this year who took time out from their busy schedules were: Sidney Barritt III MD FACP, Michael Bradley MD, Renee' Carter MD FACP, Kyong Chong MD FACP, Lien Dame MD FACP, Nagesh Gollahalli MD, Stuart Henochowicz MD MBA FACP, Megan McGavern DO FACP, Moira Rafferty MD FACP, John Paul Verderese MD FACP, Eileen West MD FACP and Darren Witte MD FACP.
Our keynote speaker was Carolyn Engelhard MD, who directs the Health Policy Program at the Department of Public Health Sciences at UVA School of Medicine, presented "Why Would Residents Care About Health Care Policy?"
This year we added two new categories. "Pulse Check – Reflections and Humanism in Medicine" reminds us not to panic but to listen to our bodies and tend to our own needs as caregivers. The balance can come through the arts and this category gives opportunity to share personal or related experiences with patients.
The second new category was "Visualize Internal Medicine – Clinical Images". Since images are such an important part of what we do and learn in medicine, often a picture is worth 1,000 words. Residents were given an opportunity to submit clinical images that can be used to teach clinical pearls.
The day ended with a celebratory dinner award celebration sponsored by JenCare Senior Care. The Internal Medicine Programs presented their Academic Teaching Faculty awards for 2018 and the winners of the competition were announced.
A huge thank you to Anke Hacker, MD FACP who organized the program with assistance from Sami Tahhan MD FACP, Logan Rhea DO (Inova) and Danielle Johnson MD (VCU), the Resident representatives on our Governor's Council, moderated and kept the presenters on time. All put in hard work in making this a successful and fun day for our residents. The winners for the competition were as follows:
Posters
1st – Harrison Smith MD - VCU – A Diagnosis of Echinococcus Presenting as Abdominal Pain and Scleral Icterus (will represent the Chapter at the IM 2019 meeting in Philadelphia)
2nd – Ishan Shah MD - UVA – Sudden Cardiac Death Following Emotional Stress – Catetcholaminergic Polymorphic Ventricular Tachycardia and Long QT Syndrome
3rd – Justin Rodebaugh MD - EVMS - Still Febrile and Still Coughing
Oral Research
1st – Diedre Axell-House MD - UVA – Fibrocytes in Human Pulmonary Fibrosis: Double-Blind Placebo-Controlled Crossover: Pilot Study of Sirolimus in IPF
2nd – Manu Mysore MD - UVA – Right Atrial to Left Atrial Volume Index Ratio is Associated with Mortality in Patients with Pulmonary Hypertension
3rd – Amy Ogurick MD – UVA - Broad-Spectrum Empiric Antibiotic Therapy for Skin and Soft Tissue Infections in Patients with Cirrhosis is Associated with Improved Outcomes
Oral Clinical Vignette
1st – Benjamin Martin MD - UVA – Suspected DILI Masquerading as Biliary Stricture (will represent the Chapter at the IM 2019 meeting in Philadelphia)
2nd –Alexandra Lambert MD - VCU – A Walk in the Woods Leads to a Rare Case of Lyme Neuroborreliosis and SIADH
3rd – Roy Pennington MD – Naval Medical Center Portsmouth - A Growing Trend in Drug Misuse: A Case Report and Literature Review
Quality Improvement
1st – Anjali Bal MD - UVA - Clostridium Difficile Infection in Acute Myeloid Leukemia Patients (will represent the Chapter at the IM 2019 meeting in Philadelphia)
2nd – Danielle Johnson MD - VCU - Improving Intensive Care Unit Hand-offs: A Quality Improvement Project
---
Virginia Chapter Members Honored
We recently had the exciting opportunity to recognize several well-deserving Chapter members. Each year we present academic teaching awards. These are special in that the recipient is chosen by their students. For the last few years, we have asked members of each residency program to provide names of a faculty member they would like to have recognized with this honor. The award is presented by a resident from each program. The Academic Teaching Awardees for 2018 are:
EVMS – Mary Yuracheck MD
Inova – Gigi Gaudiano MD
Naval Medical Center Portsmouth – Michael Kavanaugh MD
UVA – Andrew Wolf MD FACP
VA Tech-Carilion – Neil Dorsey MD FACP
VCU – Michael Grinnan MD PhD FACP
On Friday, March 16, our Chapter awards were presented. This year the awards went to: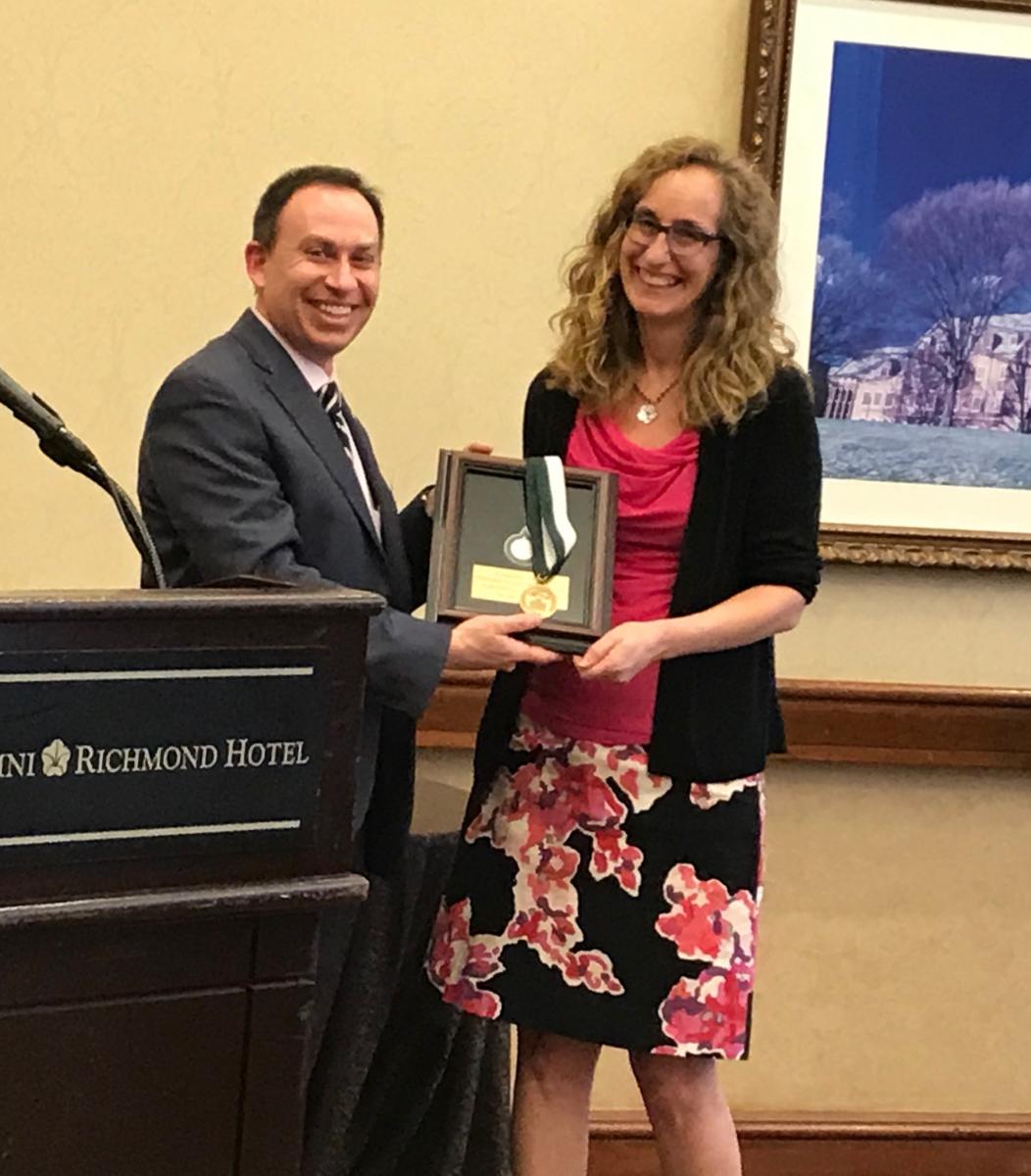 Laureate Award – Stephanie Call MD MPH FACP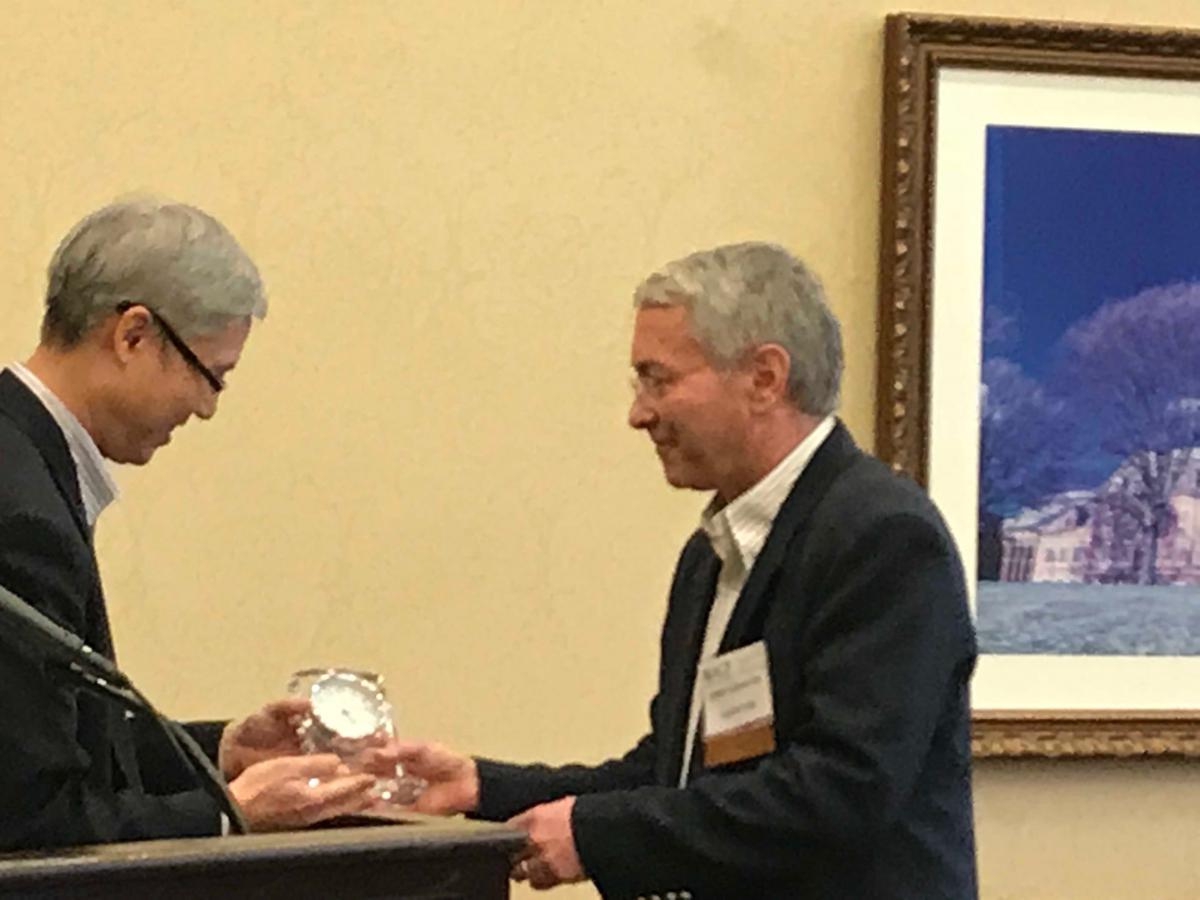 Community Teaching – James Crews MD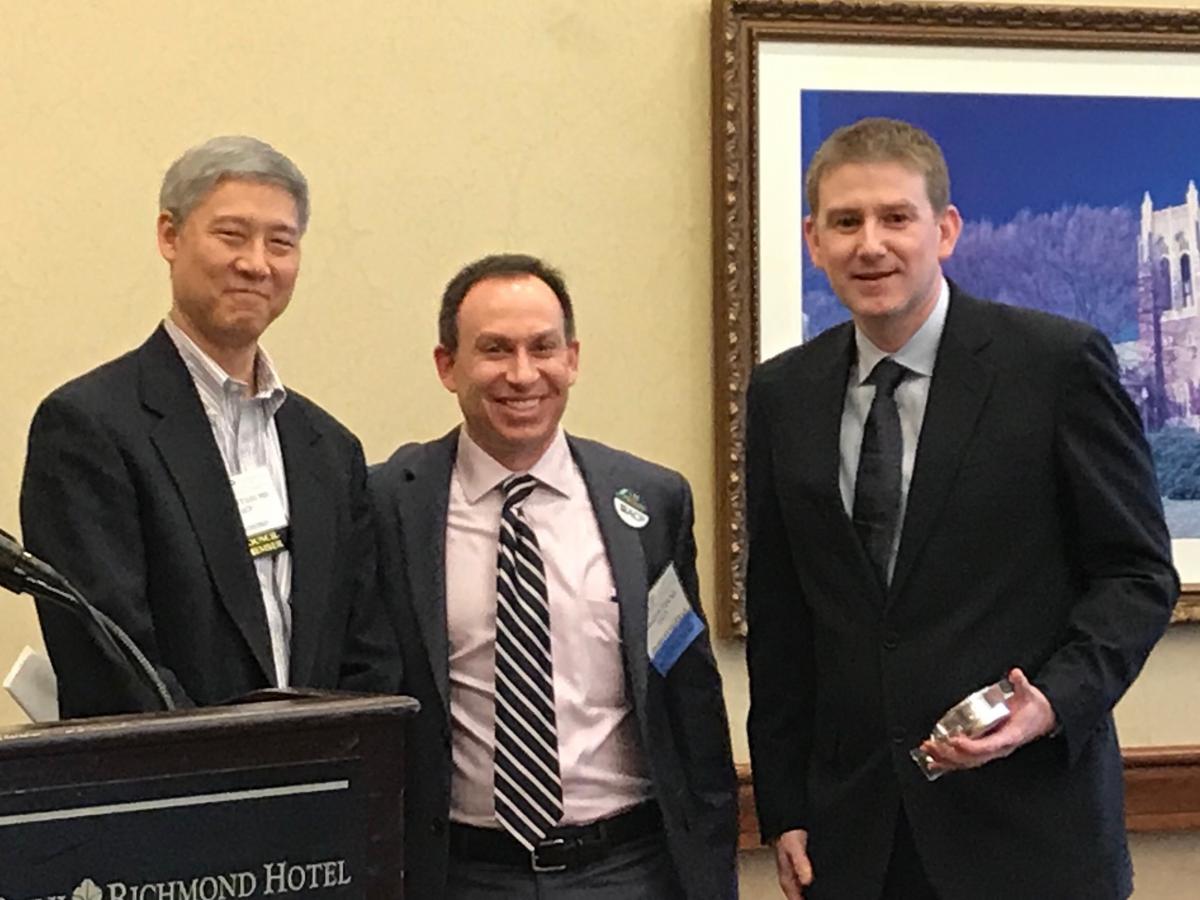 Early Career Physician – Christopher Hourigan MD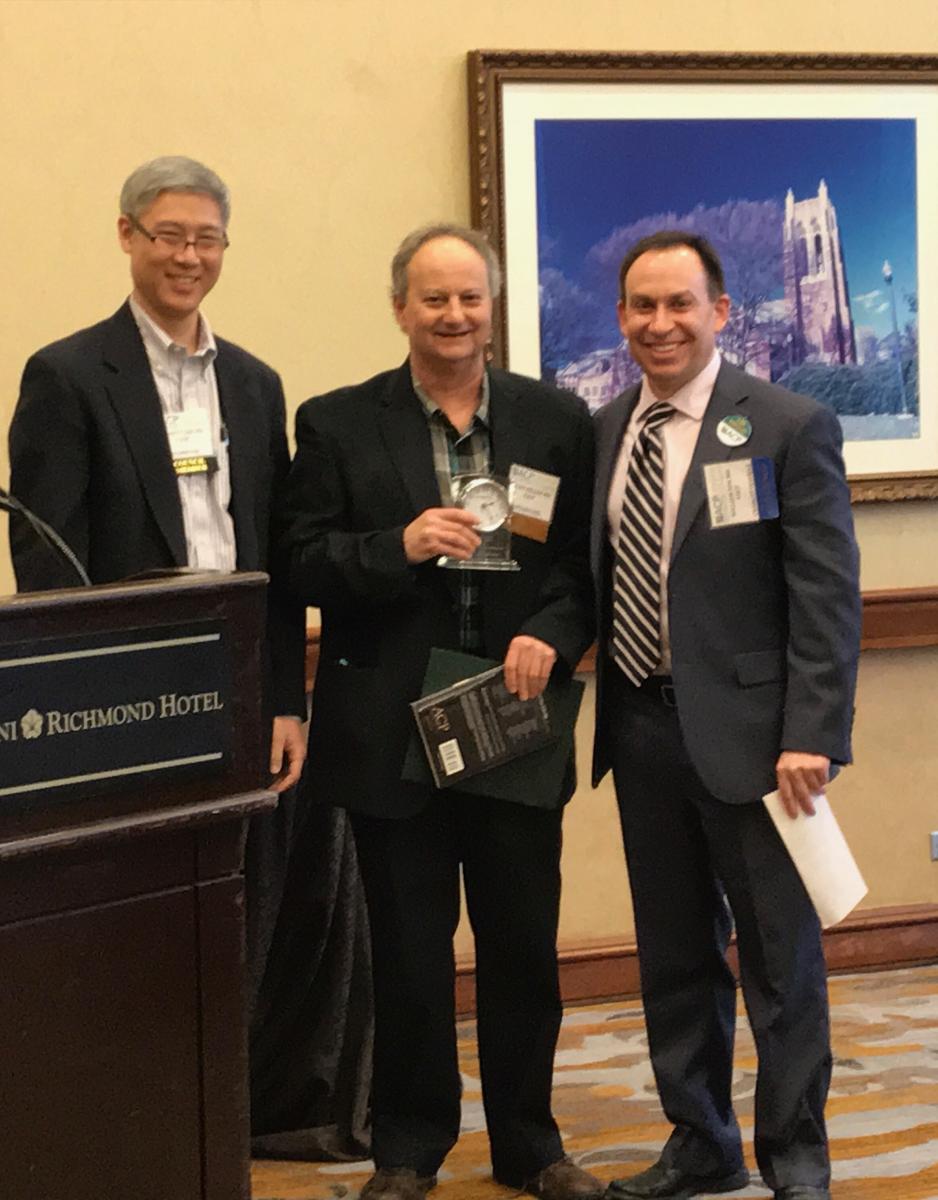 Paul Florentino Volunteerism Award – Julius Miller MD FACP
Lastly, during Internal Medicine 2018, the College presented its national awards. This year, masterships in the College were bestowed upon Lisa Ellis MD MACP from VCU. In addition, Susan Wolver MD FACP from VCU received the 2018 ACP Award for Distinguished Contributions to Behavioral Medicine.
We congratulate each of the awardees!
If you would like to nominate a colleague for a national award, full information can be accessed here or by sending your nomination to me. Most national award nominations are due to national by July 1 each year. We also will soon be soliciting nominations for chapter awards to include the Laureate, Early Career Physician (16 years of less out of medical school), Volunteerism and Community Teaching for presentation at our 2019 annual meeting which will be held at Omni Hotel in Charlottesville, March 8-9, 2019. Mark your calendars now!
---
Advocacy Report
This has been an eventful year for the Health and Public Policy Committee (HPPC). White Coats on Call Day (WCOC), held at the State Capitol in Richmond, on January 25th, was unique. Virginia ACP, which typically lobbies under the auspices of the Medical Society of Virginia (MSV), held its own WCOC day along the Virginia Clinicians for Climate Action. In attendance were Drs. Bill Fox, Stuart Henochowicz, John Paul Verderese, Renee' Carter, Krupal Shah, Homan Wai and Patricia Cook. We lobbied for Medicaid Expansion, Gun Violence Restraining Orders, and against Independent Practice for Nurse Practitioners (HB793), along with our colleagues at the MSV. Gun Violence Restraining Order legislation did not pass committee and will have to wait for another year. HB793 was passed with modifications for physician involvement in the process. Importantly, Medicaid Expansion, which includes work requirements, passed the legislature and was signed by Governor Northam into law. A recent court decision deemed Kentucky's work requirement for Medicaid expansion unconstitutional, so stay tuned.
ACP Leadership Days on May 22nd and 23rd brought Drs. Bill Fox, Stuart Henochowicz, John Paul Verderese, William Blackman and Patricia Cook together again, along with Drs. Art Pemberton, Mariam Assi and Catherine Brisland. We lobbied Congress on a variety of issues, which included:
Expanding Coverage and Stabilizing the Insurance Market- establishing reinsurance programs and blocking programs that limit enrollees with pre-existing conditions.
Reducing Firearms-related Injury and Death- asking legislators to cosponsor Assault Weapons Ban of 2018 (S. 2095/H.R. 5077) which bans assault rifles and bump stocks, and Stop Straw Purchases Act (H.R. 5134), which would stiffen penalties for persons illegally purchasing guns for others.
Making Graduate Medical Education (GME) Funding More Effective- lobbying for Resident Physician Shortage Reduction Act of 2017 (S. 1301/H.R. 2267), which would increase GME slots to primary care physicians.
HPPC had a vigorous discussion of MSV resolutions proposed at their Advocacy Council for the Virginia legislative session of 2019 on May 31st. HPPC stood in support of the following resolutions, as written by Dr. Verderese, the Vice- Chair of HPPC:
Reduce Firearm Risk- By way of Gun Violence Restraining Orders
Limit Sale of Assault Weapons
Commonwealth of Virginia Health Insurance Protection Act: Establishment of a Reinsurance Program- to maintain the viability and to curb costs of Affordable Care Act Plans by insuring insurance companies against high cost patients with chronic illnesses (as in the Congressional proposal)
We stood against Amending current which would move physician assistants closer to independent practice.
We stood for modifying Prohibit Maintenance of Certification (MOC) in Virginia to reflect ACP policy that MOC not be used as the sole criteria for acceptance into hospital staffs, have hospital privileges, or be employed by licensed health care facilities.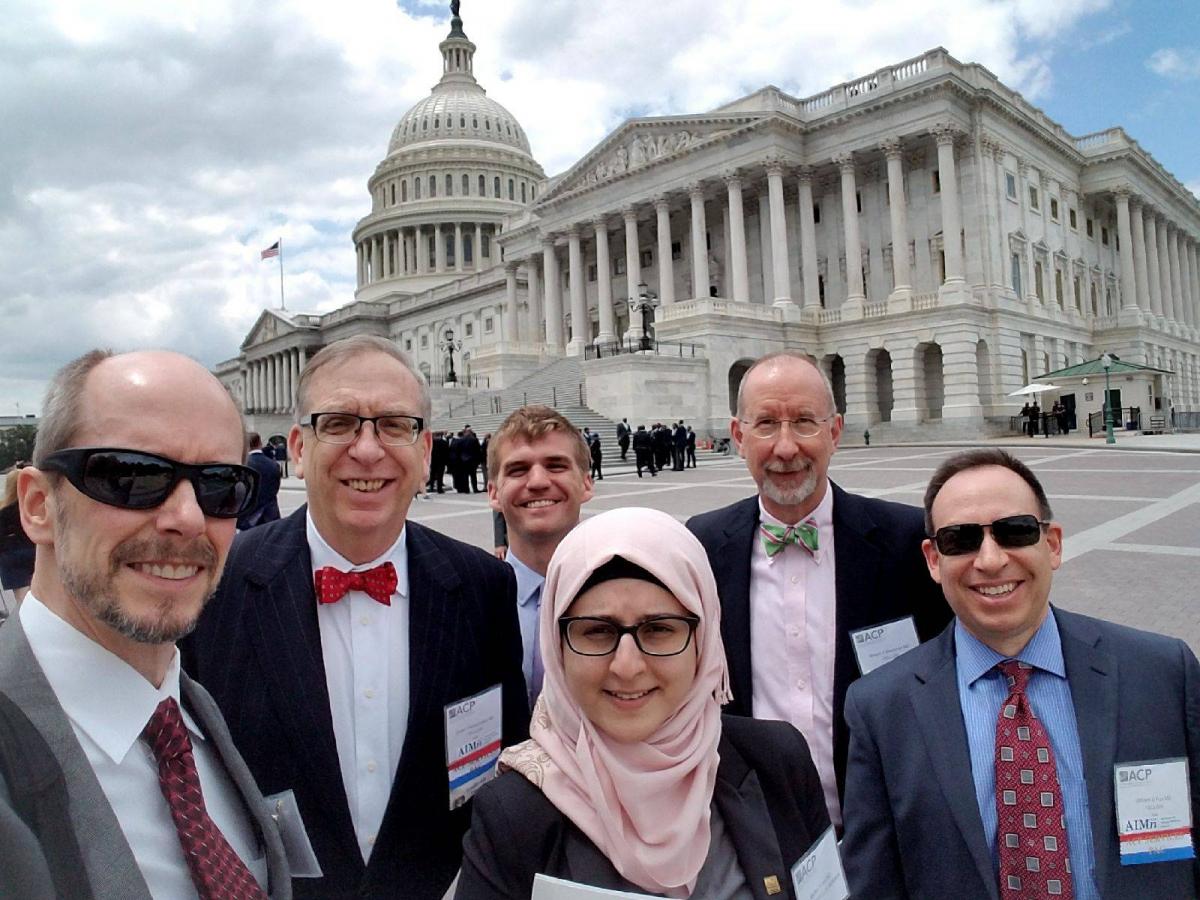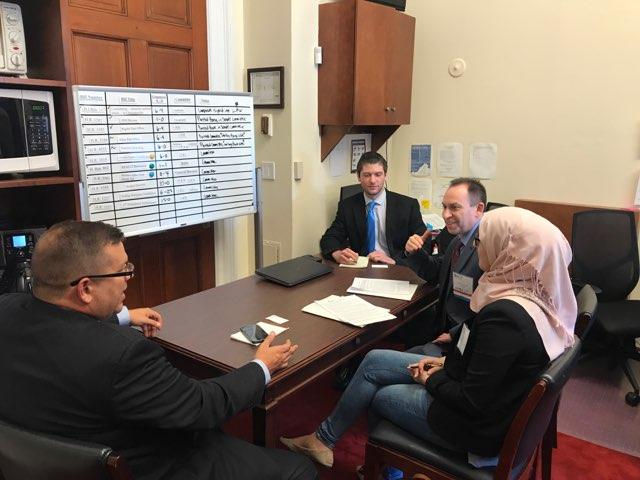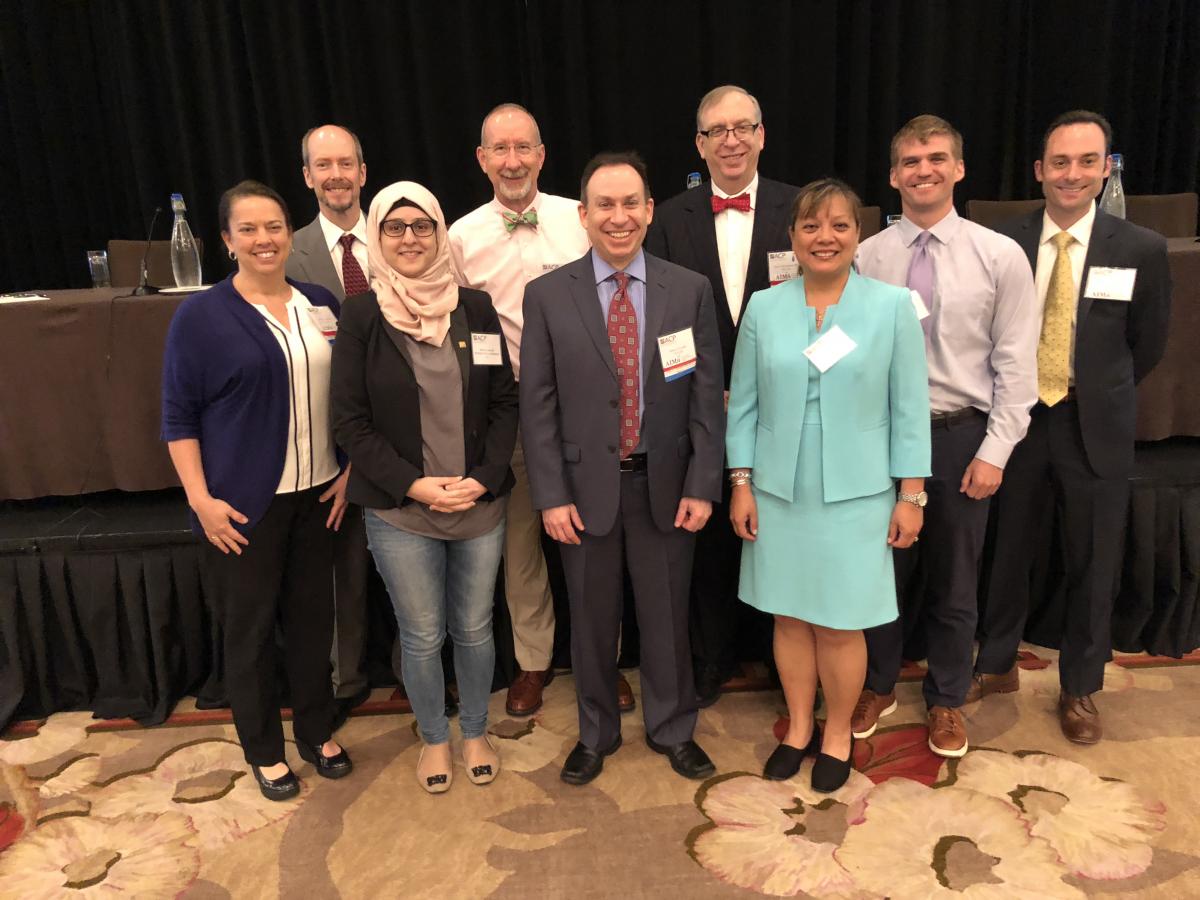 ---
Start Earning CME Credits Today with Dynamed Plus
DynaMed Plus provides a convenient means for obtaining CME credits. Simply sign in to your DynaMed Plus personal account or create one. As you read DynaMed Plus topics, the system tracks your activity and credits are added to your CME tab at the top of the DynaMed Plus page.
When you are ready to submit, click the CME tab in the toolbar and the "Prepare for Submission" link. Certificates are stored for easy access.
---
Seeking Members Interested in Chapter Leadership Opportunities
Are you a self-starter interested in developing educational opportunities, policy-setting at the state level, and collaborating with colleagues to address the professional needs of internists? Do you want more leadership experience to prepare you for future endeavors? Contact us to learn more and get involved!
Opportunities can range from one-time tasks to committee involvement or leadership roles and empower you to utilize your passion, expertise, and skills all while advancing the mission of ACP. I invite you to connect with our chapter.
We are looking for interested, committed, passionate leaders who are willing to contribute towards a vibrant and diverse chapter serving the needs of our members. The process is easy!
First, log into ACP Online to complete to chapter volunteer interest form. This will streamline the submission process by pre-populating your membership information.
Second, complete the interest form.
Third, we will follow-up with you directly within 2 weeks.
Chapter Volunteer Interest Form
---
ACP Point-of-Care Ultrasound Educational Resources Available
Developed with the American Institute of Ultrasound in Medicine (AIUM) and the Society for Ultrasound in Medical Education (SUSME), ACP is hosting an upcoming webinar:
"A 3-Year Course: Implementation of POCUS Training within Internal Medicine Residency Programs"
Thursday, August 16, 2018, 1:00 PM – 2:00 PM EDT
At the conclusion of this webinar participants should be able to understand:
-the value of a longitudinal, residency-based POCUS training curriculum for Internal Medicine residents;
-the logistics of program implementation;
-and basic methods for resident and faculty training.
Additional point-of-care ultrasound webinars are available on-demand through ACP's online learning center.