---
---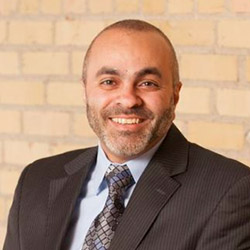 Fadel Nammour, MD, FACP, ACP Governor
---
Member attendance at Internal Medicine Meeting 2022 in Chicago, IL
The North Dakota Chapter had 17 members registered for the IM 2022 annual meeting in Chicago.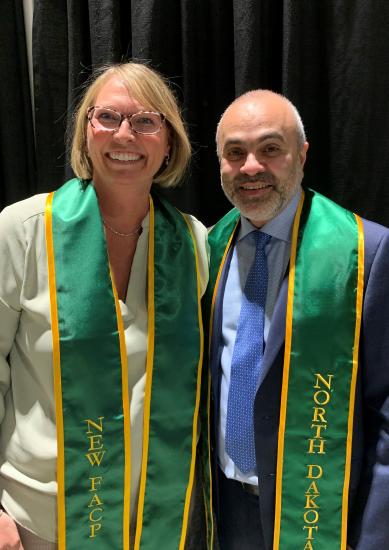 Dr. Katie O'Brien Paradis participated in the Convocation Ceremony with Dr. Fadel Nammour - Governor and Dr. Josh Ranum - Governor Elect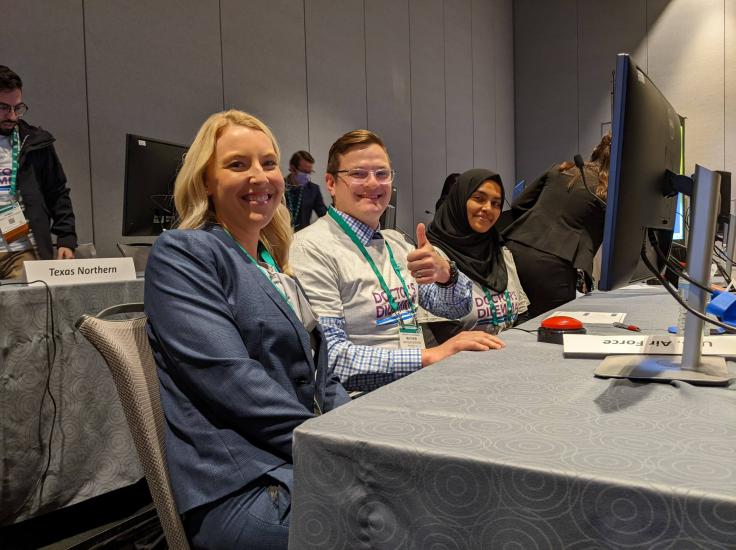 A team of three residents represented North Dakota for Doctor's Dilemma - Dr. Jenna Gassman, Dr. Umama Zareen, and Dr. Mathew Gerving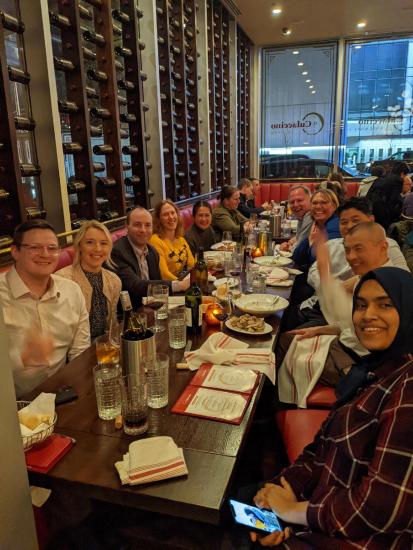 The Chapter hosted a dinner at Il Culaccino
Winners from our local poster competition presented at the national meeting:
Dr. Katrina Lybeck, PGY2, presented her poster "Giant Cell Arteritis and Mesenteric Ischemia".
Stacy Ploom, MS2, presented her poster "Asymptomatic Preoperative COVID-19 Screening: A Single Center Study".
Nadia Toumeh, MS3, presented her poster "Fatal Case of Liver and Brain Abscesses due to Fusobacterium nucleatum".
Thanks to everyone that participated at IM 2022!
---
New Fellows
Congratulations to the following new Fellows who were approved by the Credentials Committee for election in the past year.
Misty Anderson, DO, FACP – Valley City, ND
Peter Kurniali, MD, FACP – Bismarck, ND
Laura Nichols, MD, FACP – Fargo, ND
Amit Panwalkar, MBBS, FACP – Fargo, ND
Siddharth Singhal, MD, FACP – Fargo, ND
---
Welcome to the new class of Internal Medicine Residents!
Congratulations to our new first year internal medicine residents on starting your intern year! We are grateful for your hard work and dedication to the field of internal medicine. We are excited to work alongside you as colleagues helping care for our patients in North Dakota and the surrounding area. As we continue to treat our patients through the pandemic we hope that as chief residents we can be a source of support and can lead by example in serving our community firsthand. Congratulations again!
Dr. Larae Beth, Dr. Shannon Chamberlain, and Dr. Alexander Spacek
Chief Residents, UND Internal Medicine Residency Program
---
Save the Date! 2022 North Dakota Chapter Annual Scientific Meeting
The 2022 North Dakota Chapter Annual Scientific meeting will be in Fargo on October 7. The poster competition and Doctor's Dilemma competition will be on Wednesday, October 5 and Thursday, October 6. We plan to join the North Dakota Medical Association for their meeting and luncheon. We will partner with the Society of Hospital Medicine (SHM) for the afternoon sessions on Friday. Register Today!
If you are interested in volunteering as a poster judge, please sign up here.
---
Call for Awards Nominations
Do you have a mentor, colleague, or peer deserving recognition?
The North Dakota Chapter Awards Committee would appreciate your assistance in recognizing our chapter members that have made outstanding contributions in the practice of medicine, research, public service, leadership, and medical volunteerism.
The recipients will be honored during the North Dakota Chapter Scientific Meeting, October 7, 2022.
Please review the list of chapter awards below and submit your nomination to Carla Mosser Chapter Staff. If possible, please include the nominee's CV.
Laureate Award
The Laureate Award is designed to honor those Fellows and Masters of the College who have demonstrated, by their example and conduct, an abiding commitment to excellence in medical care, education, and research, and service to their community, their chapter, and the ACP.
Fostering Diversity Award
The award is given to an individual with outstanding accomplishments in advancing diversity in clinical medicine or research, and/or access to care in relation to diverse populations. "Diverse populations" are understood to include: 1) economically or socially disadvantaged patient populations, for example, minorities, immigrant groups, or the homeless; and 2) groups underrepresented in the healthcare workforce.
Volunteerism & Community Service Award
The award is given to an individual who has distinguished themselves in voluntary service in the area of medicine. Recipients of this award have distinguished themselves as true humanitarians to be honored for their voluntary contributions in medicine. Nominees could be non-physicians.
Woman Physician of the Year
Honors an outstanding woman physician with a distinguished career in areas of exceptional patient care, medical education and/or research.
---
ACP's Ongoing Advocacy on Reproductive Health
With the announcement of the Supreme Court decision to repeal Roe v. Wade and end federal protections for access to abortion in the U.S., ACP has sounded the alarm about the harm that this decision will have on access to health care and the threat that it poses to a wide range of other issues. In immediate reaction to the decision, ACP updated our existing organizational policy about women's health, issued a statement to the media, and joined other physician organizations in condemning the decision.
The Supreme Court decision has not only led to interference in access to health care services in several states, but also allows for government interference in the patient-physician relationship. In some states the provision of, or counseling about, evidence-based medical care could now subject physicians or other health care professionals to criminal charges. Additionally, there is concern that the decision could be used as a basis to threaten other constitutional protections that are currently in place, including protections for contraception, same-sex marriage, or rights for LGBTQ+ persons.
Over the coming months, ACP plans to work with and assist our chapters in advocacy in their states to attempt to mitigate the restrictions on abortion access that are being put into place, protect the patient-physician relationship, and support the ability of our members to continue to provide evidence-based care. ACP also wants to support and encourage those states that are instituting protections to abortion access, as well as to the physicians engaged providing reproductive health care services and counseling. For more information you can find an informational toolkit on the Advocacy section of ACP's website with information about what is happening federally and in the states.
Stay tuned for additional news about what ACP is doing to restore these rights and protect from further restrictions.
---
Climate Change Toolkit: Physician Resources to Reduce Energy Use and Greenhouse Gas Emissions
Physicians can play a substantial role in addressing climate change by advocating for climate change adaptation and mitigation policies, and educating themselves about climate change and how it affects public and individual health, and the potential health threats it may pose to their community.
To learn more about how climate change affects health, see Climate Change and Health: A Position Paper of the American College of Physicians. The paper lays out the evidence of how our changing planet has impacted, is impacting and will continue to impact human health.
ACP has developed a Climate Change and Health Action Plan so you can take action today.