---
---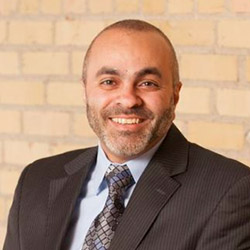 Fadel Nammour, MD, FACP, ACP Governor
---
Message from the Governor
Dear Colleagues,
With the election and its results behind us let me start with a quote from John F. Kennedy:
"Let us not despair but act. Let us not seek the Republican answer or the Democratic answer but the right answer. Let us not seek to fix the blame for the past - let us accept our own responsibility for the future."
Despite all the odds and in the midst of worsening pandemic numbers we were able to proceed with all our chapter activities last month and celebrate our winners. A big thanks to everyone involved in the planning from ACP and SHM staff to our judges, presenters, and committee members. We couldn't have done it without you.
Also, a special thanks to the medical students and residents who presented their research, clinical vignettes, and participated in our Doctor's Dilemma competition.
This was our first virtual meeting with a record high number of participants, and we hope to be able to stream our in-person meetings in the future to improve attendance.
I will share my presentation slides ND ACP Chapter: State of the State which I was unable to present during the meeting due to time constraints. Briefly, we are doing well financially (since there were no meetings expenses). We need to work harder on communication and reach out to our members in more than one way. We need to increase our membership numbers and engage our members in ACP activities. We made it to Silver for the 2020 ACP Chapter Excellence Award and established the ND ACP Chapter Woman Physician of the Year Award. You will also find some information about the new E/M codes for clinical visits, the ACP priorities for 2021 and of course a reminder of our pledge not to use the word "provider" when referring to physicians.
We were also pleased that Dr. Julie Blehm received ACP Mastership. She is the third Master in North Dakota. Her nomination and letters of support were from Dr. Jim Brosseau, Dr. Jennifer Raum, and Dr. William Newman.
Dr. Brosseau shares:
Everyone would like to have Dr. Blehm as their physician. She is knowledgeable, ethical, and thorough in her patient evaluations. She is also engaging and polite. But in addition to her work as a clinician, she has been active in teaching and very involved in leadership positions in her profession and her community. It has been an honor for me to know and to work with her over the years. It has also been a great honor for me to nominate her for Mastership in the American College of Physicians. She exemplifies the very best in the medical profession.
---
Request to support the American Cancer Society research funds
The American Cancer Society gave a brief presentation at our meeting. Navigating a pandemic and reckoning with racial injustice is deeply impacting people from all walks of life. But threats to health, financial losses, and emotional distress are taking an especially hard toll on cancer patients, their families and caregivers. 80% of cancer patients have seen a delay in their healthcare. Months of limited screenings and treatments mean less early detection and the risk of more deaths in the future. The American Cancer Society is the largest private, nonprofit funder of cancer research in the United States. Each year, your American Cancer Society invests $100 million in new research.
For the first time since the research program began the American Cancer Society research budget is in jeopardy. Deep cuts in research funding could mean a generation of cancer research lost. Because of the budget shortfall in 2020, we are at risk of cutting cancer research funding by 50 percent this year – this would represent the lowest investment in this century.
For cancer patients this could be devastating and life threatening. They need us right now. ACS is hosting a virtual Holiday FIR Hope in Fargo this November where all dollars raised will benefit this fund. The fund will go towards funding a donor selected research project in the American Cancer Society's Northern Region.
Visit the ACS website for additional information and to donate.
---
2020 Annual Meeting recording
We had four speakers for our afternoon meeting.
Dr. Avish Nagpal is Infectious Disease Physician and Medical Director for Infection Prevention and Control at Sanford Health. He shared a Review of Recent Infectious Disease Outbreaks
Dr. Joshua Wynne is the UND Vice President for Health Affairs and Dean, School of Medicine & Health Sciences and Chief Health Strategist, North Dakota Department of Health. He talked to us about COVID-19 in North Dakota.
Dr. David Theige is Medical Director of Graduate Medical Education at Sanford Health in Fargo. He shared about Medical Education, Patient Safety, and Diagnostic Errors.
Brittany Montecuollo, DNP, RN, is Vice President of Operations at Sanford Health, Fargo. She informed us about Quality and Safety in Healthcare: The Role of the Internist.
The meeting recording is available here
---
2020 ND Chapter Poster Competition Winners
We had a successful poster competition for UND medical students and residents on October 15, 2020. There were a total of 50 posters presented! Thanks to all judges and participants for making this event a success.
Thanks to our judges for volunteering their time and expertise!
Dr. Misty Anderson
Dr. Supha Arthurs
Dr. Kim Hammer
Dr. Amit Kaushal
Dr. Paul Mariani
Dr. Laura Nichols
Dr. Gopikrishna Paladugu
Dr. Siddharth Singhal
Poster competition winners will compete at the 2021 Internal Medicine meeting in the spring.
Congratulations to all!
ACP Research
Winner – Assessing the relationship of ambulatory antibiotic prescribing patterns among upper respiratory tract infections, 2017-2018
Connor J. Schweitzer and Austin J. Hewitt MS4
Runner-Up – Suicide-Related Over-the-Counter Analgesic Exposures Reported to United States Poison Control Centers, 2000–2018
Alexandra G. Hopkins MS3
View posters here
ACP Clinical Vignette Residents
Winner – A rare case of spontaneous splenic rupture in cat-bite induced tularemia
Emmanuel Fohle, PGY2
Runner-Up – Diabetes Insipidus, a Rare Complication of Sarcoidosis
Spencer Campbell PGY3
View posters here
ACP Clinical Vignette Medical Students
Winner – Reactive Arthritis: An Unusual Presentation of Acute Clostridium difficile
Anna Reinholz MS3
Runner-Up – Porphyria Cutanea Tarda: A Rare Presentation of Hemochromatosis
Michael Storandt MS4
View posters here
SHM Clinical Vignette
Winner – Don't forget the drugs! A case of severe mycophenolate mofetil induced colitis with hemorrhage requiring hemicolectomy
Stephanie Melquist PGY3
Runner-Up – Uncommon DKA presentation: low on sugars but, high on acids.
Suchita Kotnala MD PGY3, Anuj Mogla MD PGY2
View posters here
2020 ND Chapter Doctor's Dilemma Winners
The UND Internal Medicine and Transitional Year residents participated in our local Doctor's Dilemma competition. The winning team will advance to the national Doctor's Dilemma competition at the Internal Medicine 2021 Meeting. The annual ACP Doctor's Dilemma® competition is a hallmark program for the College. Held each year at the annual Internal Medicine Meeting, it brings together some of the brightest residents from around the world in a friendly but highly competitive environment. The competition tests the medical knowledge of up to 60 teams, each representing an ACP chapter. After three days of competition, the winning team is awarded the coveted "Osler Cup" and is granted a place in ACP history.
Special thanks to Dr. Riley Clark for hosting and Dr. Stephanie Melquist for organizing the competition!
The winning team is:
Dr. Stephanie Melquist - PGY3 Internal Medicine
Dr. Umama Zareen - PGY2 Internal Medicine
Dr. Mathew Gerving - PGY1 Internal Medicine
Congratulations to the winners and thanks to all participants!
---
2020 Chapter Awards
Volunteerism and Community Service Award
We recognize the North Dakota Department of Health Section of Disease Control and the Section of Laboratory Services for Community Service to North Dakota.
The Laboratory Services Section expanded from 19 employees in February to 135 employees in August in order to meet the demands for COVID-19 testing. In February there were zero tests being done for COVID-19. By the end of August the lab was doing 8000 tests per day!
The Disease Control Section went from 30 employees in February to 160 employees at the end of August. This section of the NDDOH does disease surveillance, contact tracing, and data collection for COVID-19.
The North Dakota Chapter of the American College of Physicians commends the ND Department of Health for their Herculean efforts during the coronavirus pandemic.
The Volunteerism and Community Service Award was initiated to honor members or associates of the North Dakota Chapter who have distinguished themselves in voluntary service in the area of medicine. Recipients of this award have distinguished themselves as true humanitarians to be honored for their voluntary contributions in medicine.
Fostering Diversity in Medicine Award
We recognize Dr. Donald Warne for Fostering Diversity in Medicine.
The Indians into Medicine (INMED) Program has been perhaps the most important and successful program in the country in training practicing physicians of Native American heritage. This program has thrived under the leadership of Dr. Warne. He also serves as Director of UND's Master of Public Health Program and has recently developed a PhD program in Indigenous Health.
America's native people are the most underserved in the country, but with leaders like Dr. Warne, there is hope for the future. The American College of Physicians is proud to recognize Dr. Warne for his great and ongoing contributions to American health care.
The award is given to a physician with outstanding accomplishments in advancing diversity in clinical medicine or research, and/or access to care in relation to diverse populations.
Woman Physician of the Year Award
We recognize Dr. Laura Nichols as the 2020 Woman Physician of the Year. Dr. Nichols is a ND native and completed residency training at Medical College of Wisconsin in Milwaukee, WI. She has been practicing at Sanford Health since 2015. She was nominated by Dr. Jean Marie McGowan. Dr. McGowan's nomination states:
Laura Nichols is a phenomenal educator. She teaches in both hospital and clinic settings. She is the Fargo Campus Clerkship Director at UND.
As part of the Internal Medicine department, Dr. Nichols is not only a beloved primary care physician, but she is a great person to have on your team. She looks for ways to make our careers more meaningful and our day more efficient.
Dr. Nichols also works hard to ensure patients have easier access, especially when they may have more complicated health issues. She tirelessly planned Sanford's LINK clinic for many months, and it came to fruition this spring of 2020. This clinic schedules post-hospital follow-up appointments for patients that do not have a regular provider. With the LINK clinic, more patients are getting proper follow up care, are less likely to be readmitted to the hospital, and now have established providers for continuity.
She is an advocate for her students, patients, colleagues and this community. Laura Nichols is someone who will support you and you would want to support her.
This award honors an outstanding woman physician with a distinguished career in areas of exceptional patient care, medical education and/or research.
Laureate Award
We recognize Dr. Neville Alberto for the Laureate Award.
Neville M Alberto, MBBS MD FACP is Professor of Clinical Medicine and the Chair of the Council of Transitional Year Program Directors (CTYPD), AHME. He is the Program Director, Transitional Year Residency & Associate Program Director, Internal Medicine Residency Program, University of North Dakota. Dr Alberto is Board Certified in Internal Medicine, Hospice and Palliative Medicine and teaches Hospital Medicine at the Sanford Health System. He remains passionate about teaching learners to help patients feel heard and while teaching the use of Point of Care Ultrasound in further defining their care needs. He served as the Governor of the American College of Physicians, North Dakota Chapter from 2014-19 and remains involved in the educational, research and policy activities of the College.
The Laureate Award honors Fellows and Masters of the College who have demonstrated by their example and conduct an abiding commitment to excellence in medical care, education, or research and in service to their community, their Chapter, and the American College of Physicians. The recipient of this award shall bear the title Laureate of the North Dakota Chapter.
2020 Chapter Excellence Award-Silver Level Winner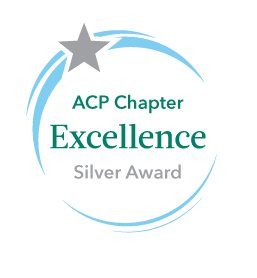 I am pleased to announce that our chapter is in receipt of the Silver Level of the 2020 Chapter Excellence Award! Only 17 chapters received the Silver Award. The award recognizes chapters that achieve excellence in chapter management. To achieve the Chapter Excellence Award, chapters must meet twenty-one Bronze criteria and fourteen Silver criteria. Criteria include such activities as undertaking efforts to increase advocacy efforts, collaborating with stakeholders to increase visibility of the ACP, holding competitions for members, providing chapter financial reports to members, having Medical Student and Resident/Fellow members on the Governor's Advisory council, retaining transitional and unpaid members, giving awards to chapter members. I would like to extend a special thanks to those chapter members who assisted us in all these endeavors! For their hard work and dedication, we received this award.