---
---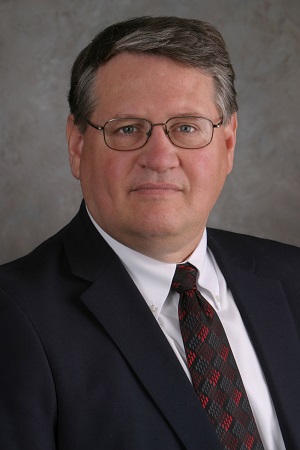 William J Yost, MD, FACP, ACP Governor
---
A Word from the Governor
I'm back. Wait a minute, you may be asking yourself – where exactly has he been? Well, first and foremost, I am recently returned from the American College of Physicians Board of Governors meeting in Tucson, Arizona. Unfortunately, that meant that I missed the Progress 2019 meeting in Iowa City, and our own Chapter meeting. It was unavoidable, I'm afraid, as the two meetings exactly coincided, and I have an obligation to represent our Chapter at the Board of Governors meeting. I understand, however, that Progress 2019 was a great success, thanks in large part to Dr. Scott Vogelgesang, and the Chapter meeting and Council dinner was ably presided over by Dr. Joe Szot. Thank you to all of you that made all of that happen.
The Board of Governors meeting was excellent in every respect. The chief order of business was the discussion of the resolutions written and submitted by different chapters or groups within ACP. There were 19 resolutions altogether, 16 of which were new resolutions. The resolutions have essentially one unifying element: nearly all are written with the intention of improving the health and lives of our patients, or improving the environment in which we as physicians practice. There is, however, often disagreement, sometimes profound, with respect to whether the resolution will actually accomplish its intended goal. You may be interested to know that there is substantial debate that takes place among the Governors online before the meeting actually occurs, and the debate continues at the meeting in a highly protocol-driven format, one that employs Davis' Rules of Order, and results in an eventual vote by the assembly. The assembled Governors may affirm the resolution, often in an amended form, refer the resolution for further study, or vote it down altogether. The vote is not binding, either; instead, each eventual vote constitutes a recommendation to the Board of Regents, and it is the Regents who are responsible for the outcome of the resolution, including implementation as ACP policy if the Board of Regents should so determine. The Board of Governors is merely an advisory body.
One of the most interesting things I've observed as a new Governor is the passionate intensity that often accompanies the debate of each resolution. As I mentioned, there are often disagreements, sometimes based upon philosophical divisions, and sometimes for more pragmatic reasons. However, regardless of the degree of disagreement (and it can be substantial), I have observed that the dialogue is always respectful and usually warmly collegial. It seems to me that everyone comes away better informed on the issue, regardless of outcome. Our Congress could take a lesson from the ACP Board of Governors!
One of my goals is to develop a system whereby I can share with you, the membership, the proposed resolutions in advance and give you an opportunity to provide me feedback before I represent our Chapter at the next Governor's meeting. Look for more in the near future.
---
Doctor's Dilemma®: Back to Back Champions!
Hearty congratulations to the Doctor's Dilemma team of residents from the University of Iowa, who won the state-wide competition for the second year in a row! The team included Amanda Heuszel, MD; Nick Arnold, MD; and Desmond Barber, MD. The team from Iowa swept to victory in a convincing fashion, while Mercy One Des Moines placed second and the team from the University of Iowa-Des Moines finished third.
I've forwarded these results to ACP and we hope to be selected for competition at the Annual ACP Internal Medicine Meeting in Los Angeles in April 2020. I'll keep you all informed, and again, congratulations to the winning team from the University of Iowa – well done!
---
Congratulations!
The Chapter Laureate Awards this year were conferred upon Dr. Jeydith Guttierez Perez, FACP, and Dr. Tyler Schwiesow, FACP. The Laureate Award is given annually in recognition of consistent demonstration, through example and conduct, of commitment to excellence in patient care, medical education, scholarship, and in service to their community, the Chapter, and the American College of Physicians.
Dr. Jeydith Guttierez Perez is a hospital medicine specialist at the University of Iowa. She completed her medical education in Venezuela and found an early passion for research, teaching, and social justice, particularly in health care. She came to the United States and trained in internal medicine at Temple University in Philadelphia. An Assistant Professor of Internal Medicine at the University of Iowa, Dr. Gutierrez Perez and her husband, Chris, are the proud parents of 4 ½ month old Joanna. Her parents reside in Florida. A member of the Council of Early Career Physicians in our Chapter, she has distinguished herself through her thoughtful and passionate contributions to our Chapter as well as her commitment to both teaching the art of medicine and advocating for social justice. A highly respected educator and clinician at the University of Iowa, she has been very appropriately recognized as a recipient of the Laureate Award.
Dr. Tyler Schwiesow is a general internist and specialist in hospitalist medicine with UnityPoint Clinics. A graduate of Drake University, he matriculated into, and graduated from, the Carver College of Medicine at the University of Iowa. Elected to Alpha Omega Alpha as a junior, he graduated from medical school in 2003 and entered residency training in internal medicine at the University of Iowa-Des Moines Internal Medicine Residency Program. Upon completion of his residency training, he entered the practice of internal medicine in Des Moines, first as a generalist and then as a hospitalist. He joined the clinical faculty of the residency program in which he trained and became the Program Director in December 2016. He and his wife, Emily, have two children, Joe and Eliza. A highly respected educator, clinician and active contributor to our Chapter, Dr. Schwiesow has also been named as one of the recipients of the Laureate Award.
In addition to the Laureate Awards, ACP chapters may recognize distinguished senior physicians with the Excellence Award. This award is presented to a senior physician who has made major contributions to internal medicine in the state of Iowa. I'm pleased to announce that Dr. Craig Shadur, Des Moines, is the recipient of the Excellence Award this year. A native of Des Moines, Dr. Shadur completed his undergraduate and graduate studies at Northwestern University, followed by medical school at the University of Iowa. He then ventured east, and completed his internal medicine residency and fellowship in nephrology at the Harvard Medical School and Peter Bent Brigham Hospital (now Brigham and Women's Hospital). He returned to Des Moines in 1980, and has practiced nephrology and taught medical students and residents for the past forty years. A superb diagnostician blessed with a dry wit and a keen sense of humor, Dr. Shadur is truly the "doctor's doctor." In addition to his substantial contributions to medicine and education, Dr. Shadur is an active member and supporter of the Des Moines Art Center, the Des Moines Metropolitan Opera, and the Nature Conservancy, in addition to other environmental, cultural, and social welfare organizations.
I know you join me in wishing all three award winners our most sincere congratulations!
---
ACP Clinical Vignette Competition Results
Once again, the annual Iowa Chapter meeting included an ACP Clinical Vignette Competition in which all of the internal medicine residency programs in the state competed. This is always a very popular event, one in which a resident from each program presents his or her "great case" and invariably provides the key teaching points from these memorable cases. The residents who present at the state level have already competed and won their intramural residency competitions – we truly see the "best of the best" and the presentations are both fascinating and polished.
I'm pleased to tell you that this year's winner of the statewide competition was John Rieth, MD, from the University of Iowa Internal Medicine Residency Program. His presentation was entitled, "Do You Want to Build a Snowman?" and involved a case of tenosynovitis caused by Histoplasma capsulatum – another great case and case presentation. Dr. Rieth's faculty mentor was Dr. Manish Suneja. Dr. Rieth will have the opportunity to present his abstract and poster at the clinical vignette competition at the Annual ACP Internal Medicine Meeting in Los Angeles in 2020.
In second place this year was Casey Wang, MD, from the University of Iowa-Des Moines program, whose case was entitled, "Hold Me Tight – Or Don't." The case involved a rare case of a patient with sickle cell trait and an exceedingly rare hemoglobin variant known as Hemoglobin McKees Rocks. The combination has never been reported before in the literature and resulted in polycythemia. Her faculty mentor was Dr. Zeeshan Jawa.
Thank you to all who contributed and those who competed – great work!
---
Chapter Receives Silver Recognition!
The Chapter has achieved Chapter Excellence Award Silver Level for 2018-2019. The award guides chapters to reach basic expectations in chapter management and inspires chapters through a tiered reward system to achieve excellence. This is truly a result of a team effort, and reflects the hard work of several individuals. Thank you in particular to Denise Floerchinger, Jana Mishler, and Dr. Scott Vogelgesang.
Thanks, everyone.
---
New DynaMed Release Provides Seamless Access for ACP Members
ACP members now have seamless access to the completely redesigned DynaMed® clinical decision support tool.
A Free Member Benefit
DynaMed is a benefit of ACP membership that ensures confidence in clinical decision making. It complements and clarifies the evidence and includes key takeaways, synopses, and clearly defined recommendations.
DynaMed content is updated daily and includes thousands of graphics and images.
A rigorous editorial process uses a seven-step, evidence-based methodology, and includes systematic literature surveillance. Plus, the free DynaMed mobile app provides clinicians convenient, on-the-go access.
Easy to Use
Simply log in to your ACP online account when you visit acponline.org/dynamed, or open the mobile app and use your ACP online account credentials.
CME and MOC Credits
The new release delivers a highly personalized experience that enables users to follow relevant content and tracks usage for CME and MOC credits.
For more information, please contact Susan McKeown, Senior Marketing Associate, at smckeown@acponline.org or 215-351-2563.
William J. Yost, MD, FACP
Governor, ACP Iowa Chapter