---
---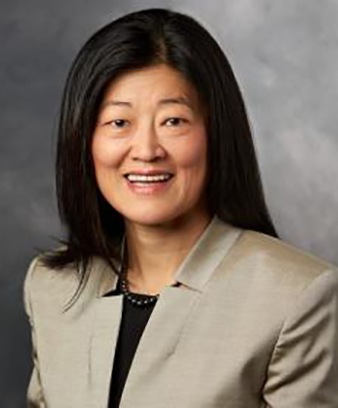 Chwen-Yuen Angie Chen, MD, FACP, ACP Governor
---
What's On Your Mind?
The feedback we have been getting is that everyone is turned upside down and exhausted from COVID, but what we saw that was rejuvenating, was getting together, safely, in person. We just had a successful open air abstracts competition that was enjoyed by all (see photos below). At CANO, we want to hear about what's happening to you and how we can be there for you and with you. What is on your mind, and how can ACP support your practice?
---
Residents and Students Abstract Competition and Doctor's Dilemma
Saturday, October 15, 2022
After 2 years of virtual competitions, we were thankful to hold our Resident and Student Day live on the beautiful Stanford Campus in the Frances C. Arrillaga Alumni Center. Many thanks to all that helped make this event happen – Carmelina Raffetto, our Executive Director and her crew of helpers, Lorna Cooper, Anita Watson, and Angie DeHart. A special thanks to Loto Reed from the Department of Internal Medicine at Stanford who was able to work with the Stanford Event Services and Alumni Center to host this event for our CANO chapter.
With over 190 abstracts submitted we are so thankful to all our volunteer judges - over 32 faculty reviewed and judged written abstracts and advanced 93 abstracts to present live at this event. With COVID we tried to be mindful of space and were fortunate with weather allowing us to set up poster boards outside in the beautiful Ford Gardens.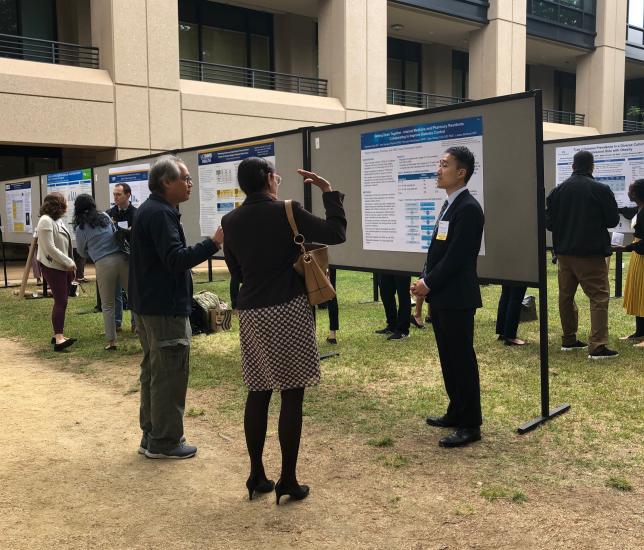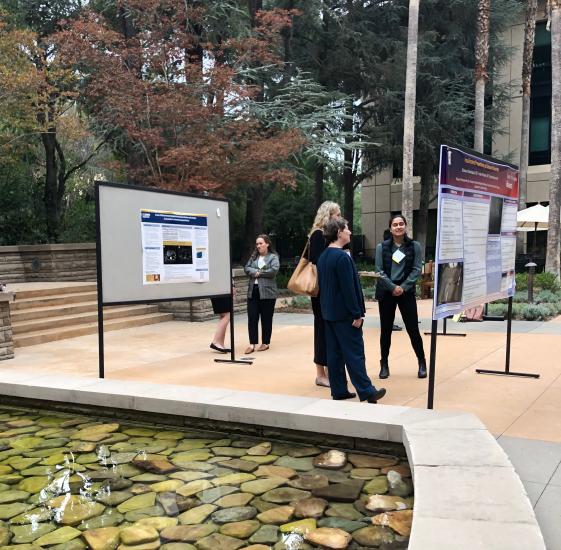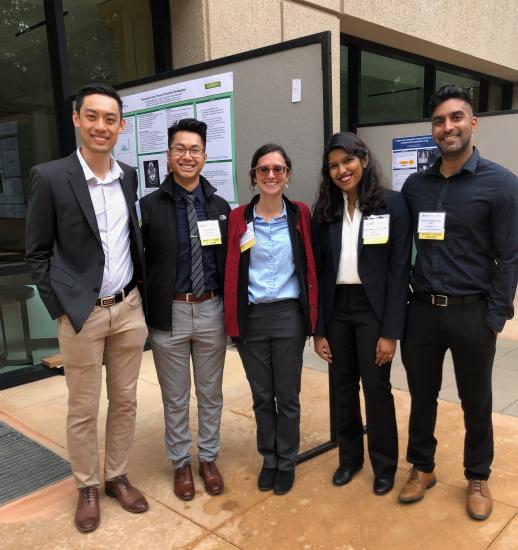 Congratulations to the following winners:
Resident Winners
Quality Improvement: 1st Place – Madison Calder, MD UC Davis – "Improving Electronic Health Record Documentation Efficiency To Reduce Internal Medicine Resident Work Hours"
Research: 1st Place – Ryan Chiang, MD, Stanford University Program "Impact of new trainees on inpatient outcomes at a large tertiary academic institution"
Research: 2nd Place – Nicolas Tom, MD, Kaiser Permanente – Oakland "Smoking Prevalence among Chinese Men Differs by Preferred Language in a Northern California Health Plan"
Clinical Vignette: 1st Place – Lindsay Valente, UC Davis – "Cryptogenic Pneumonia: The Great Mimic"
Clinical Vignette: 2nd Place – Toby Bradford, Alameda County – "A Case of Mistaken Identity: Nitrofurantoin Induced Autoimmune Hepatitis"
Clinical Vignette: 3rd Place – Katherine Farley, Alameda County – "More Than Meets the Eye – a case of rhino-orbito-cerebral mucormycosis in a patient with ESRD and Sickle Cell Disease"
Medical Student Winners
Quality Improvement: 1st Place – Noreen Mansuri – UC Davis SOM – "Medical Improv: Closing the Gaps in Clinical Skills Training During the COVID-19 Pandemic"
Research: 1st Place – Jonathan Lu – Stanford SOM – "Considerations in the Reliability and Fairness Audits of Predictive Models for Advance Care Planning"
Clinical Vignette: 1st Place – Samya Faiq – UC Davis SOM – "A Painful Lump: Secondary Syphilis Presenting as Erythema Nodosum
Clinical Vignette: 2nd Place – Pooja Patel – UC Davis SOM – "Adult-Onset Autoimmune Enteropathy"
All first-place winners will present their posters at the annual ACP Internal Medicine Meeting 2023 session in San Diego April 27-29, 2023.
---
Doctor's Dilemma® Competition
Congratulations to the team from California Pacific Medical Center who will be representing us at the national Doctor's Dilemma competition April 27–29 in San Diego.
The three residents who will be representing our chapter are: Thomas Mednick, Griffin Milan, and Megan Reddy.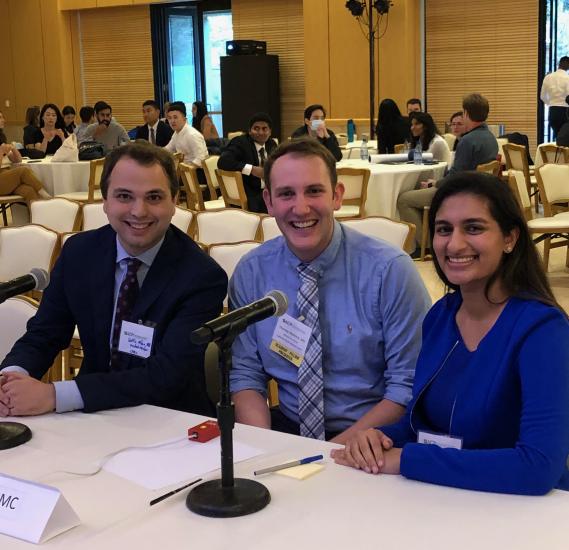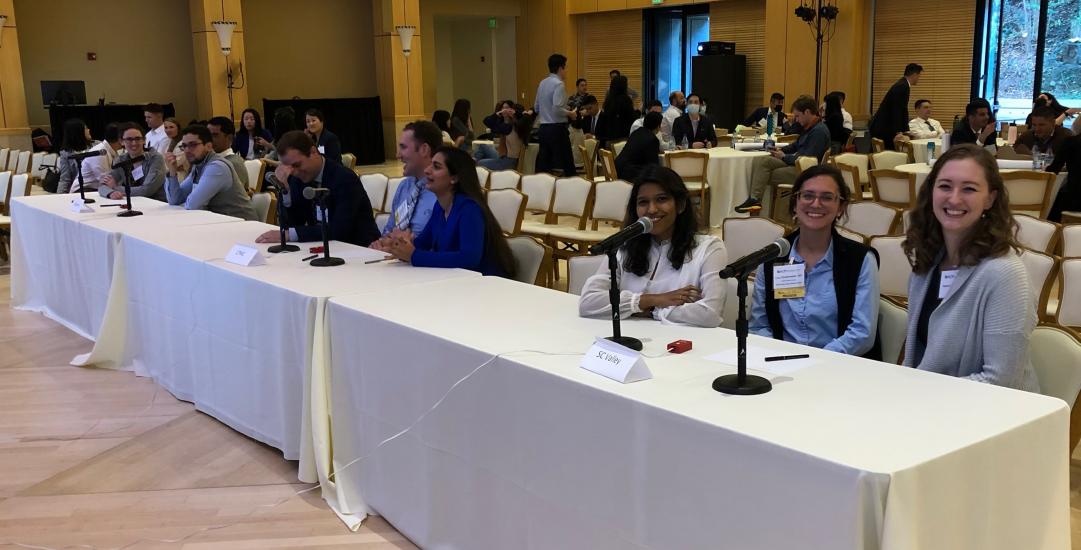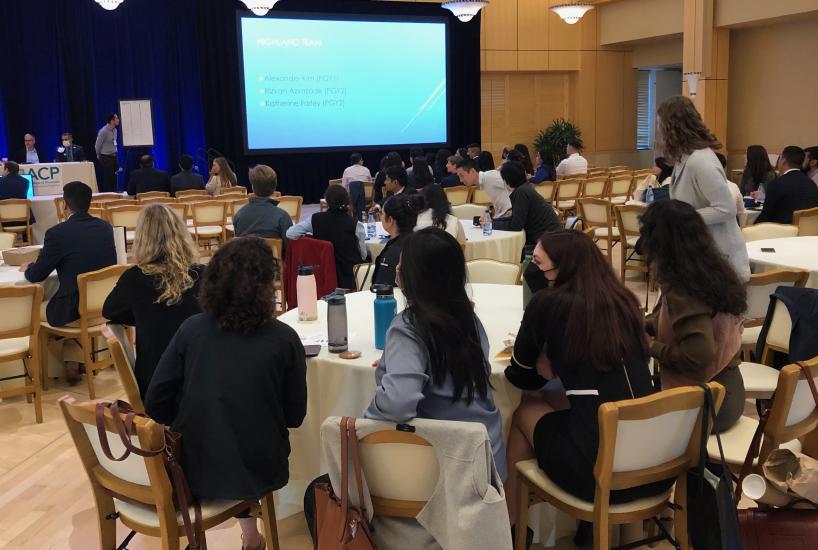 ---
POCUS – Point of Care Ultrasound
A special thanks to Dr. Isaure Hostetter, chair of our Residents Council who planned and organized a great session from start to finish.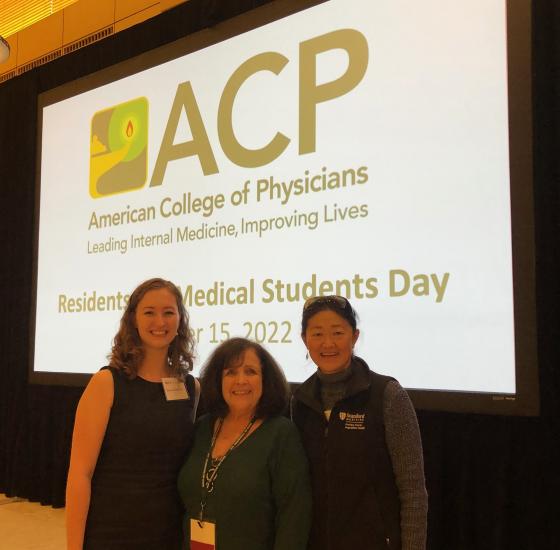 Malathi Srinivasan, MD FACP presented "How to Present when You are Presenting." It was a well-received topic.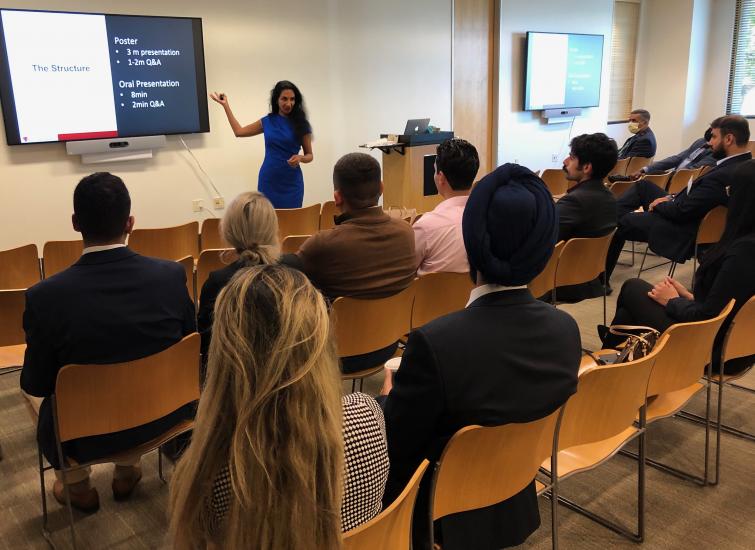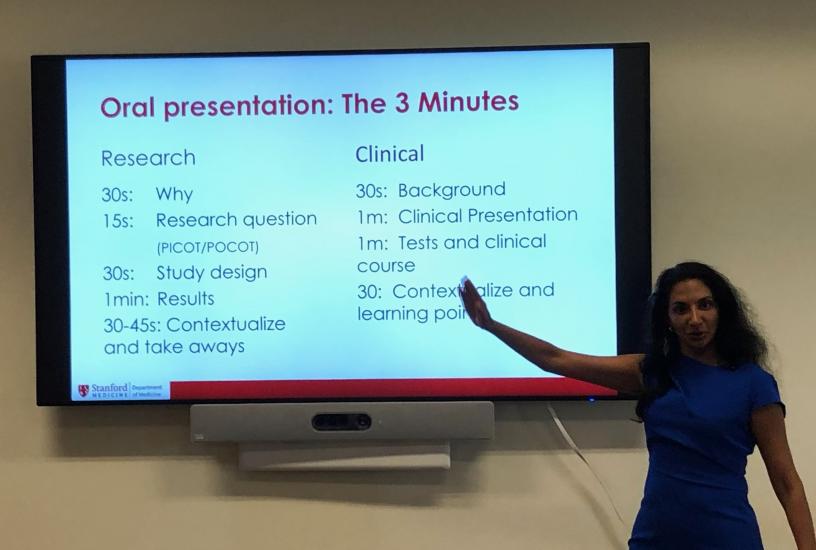 Again, special thanks to those behind the scenes, i.e., program directors, judges, etc.
Dr. Raminder Gill moderated the two ABIM SEP modules for all California chapter meeting attendees on Friday, October 28.
---
All California Chapters Virtual Scientific Meeting
"Moving Forward Together: New Tools and New Directions"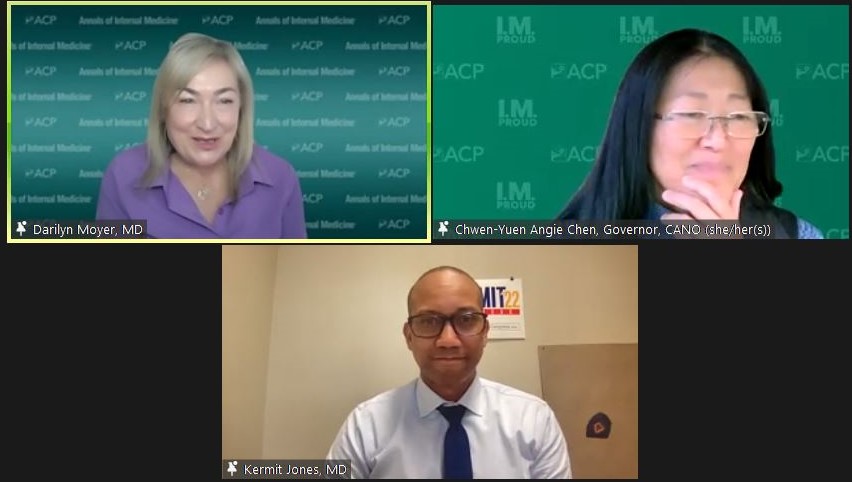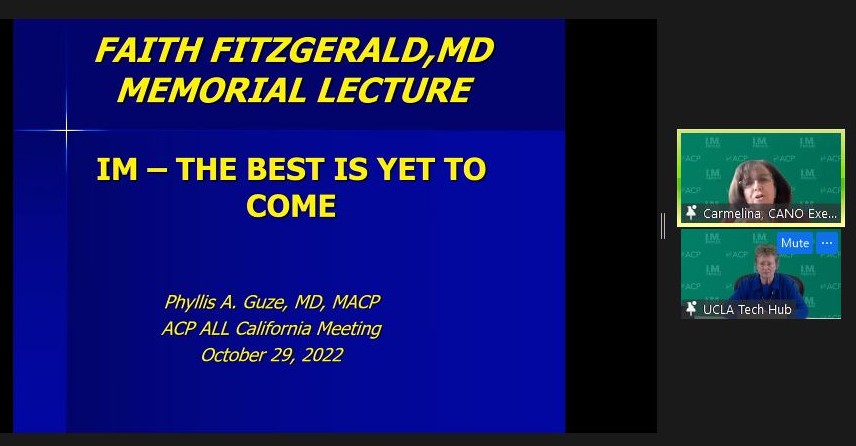 The meeting was recorded, and hopefully will be available to view for those who registered and were unavailable to participate. For those members who missed the virtual meeting, there is still an opportunity to purchase the meeting and obtain CME credits/MOC points. We will send an email once the recordings become available.
The All CA Conference Planning Committee consisted of the following Governors and Executive Directors. It was a pleasure working with all to provide such a well-received meeting.
Chwen-Yuen Angie Chen, MD, FACP, FASAM, CANO Governor
Carmelina Raffetto, CANO Executive Director
Michael Lazarus, MBBCh, FACP, SoCal Region I Governor
Gus Chavez, Region I Executive Director
Daniel I. Kim, MD, MBA, FACP, SoCal Region II Governor
Teresa Roth, SoCal Region II Executive Director
Tammy Lin, MD, MPH, FACP, SoCal Region Region III Governor
Emily Chong, Morgan Torres and Debra Kuhl, SoCal Region Region III
Julie Lake, Consultant – Executive Director, Alaska Chapter
---
Meeting Recap by Chwen-Yuen Angie Chen, MD, FACP, CANO Governor
It was a tremendous privilege to co-host this well-received, energetic, inspiring all California virtual event that brought together our own ACP CEO Dr. Darilyn Moyer and recent House of Representative candidate Dr. Kermit Jones (who is also a CANO ACP member, lawyer, and former White House Fellow under President Obama) in a frank conversation on Health Equity. We also heard from CANO member and Stanford Assistant Professor, Dr. Jonathan Chen, on AI and Machine Learning, who gave us a glimpse of how technology can be used to our advantage so we can return to what we do best, connecting with our patients and being less encumbered by the EMR. To close out our event, we were treated to a heartfelt question and answer session between ACP Student and Resident members and Dr. Eric Topol. A running theme was a call to action and to get involved. Dr. Topol talked about the overarching goal to give back the "gift of time" to our practices. Perhaps this could be accomplished by leveraging AI? This virtual conference also paid tribute to the late and great Dr. Faith Fitzgerald with an inaugural talk given by Dr. Phyllis Guze, and hearing about the values embodied by Dr. Fitzgerald dovetailed with Dr. Topol's comments about the most important part of the patient encounter is listening to their story, and how we cannot do this with shortened visits. As we all know, Dr. Fitzgerald always emphasized the importance of getting to know our patients. Dr. Jones asked "how do we frameshift" the way we practice medicine, moving away from silos, especially in light of how the pandemic revealed and accentuated the social determinants of medicine. Dr. Moyer highlighted ACP's work along these lines of promoting health equity. Our speakers showed us how our profession and work contribute to and benefit society. Our work as Internal Medicine physicians and Primary Care physicians is invaluable. We must connect with our self-worth as a profession, because I also heard "how did we get here?" – with the burnout, with the burdens of EMR, with the cost of healthcare? We must get involved, to advocate, to inspire the next generation to be leaders, so that where we go next is somewhere we want to be.
---
Awards
Congratulation to the following two CANO members: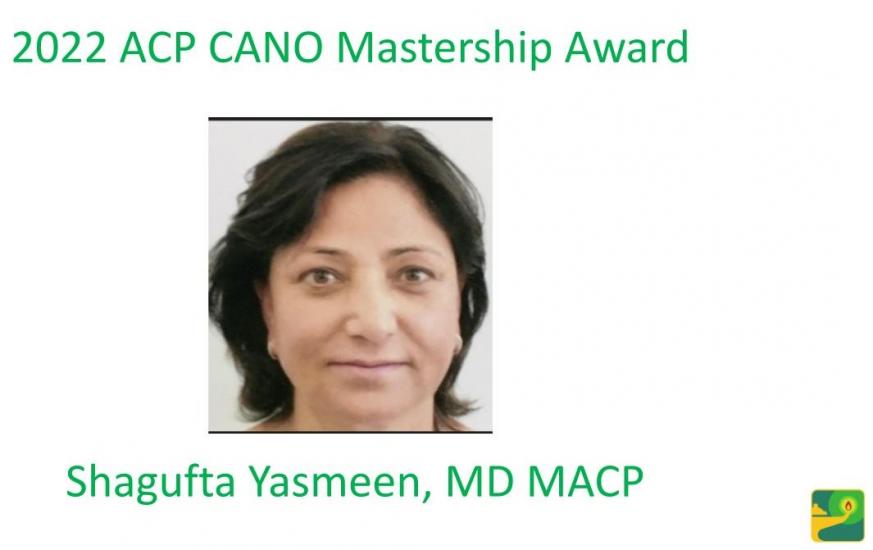 Shagufta Yasmeen, MD, MACP was chosen to receive the prestigious honor and title of Mastership from the American College of Physicians.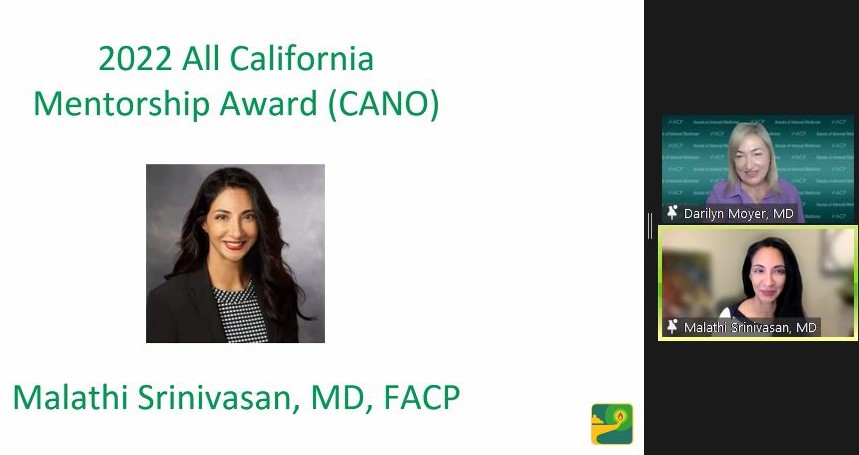 Malathi Srinivasan, MD, FACP received the All California Outstanding Mentorship Award
---
Council of Resident/Fellow Members
ACP's California Council of Resident Members hit the ground running this year, allowing for local residents to bring their priorities and their voices to ACP decision-making. The group wrote a policy resolution — "Reduction of Carbon Emissions in Healthcare Settings" — which our Northern California region has co-sponsored, and which is now being circulated for sponsorship among other states. The group is currently led by CANO member Isaure Hostetter, MD (SCVMC) and from the CANO region comprises residents Dr. Leslie Wu (Highland), Dr. Aish Yeneppalli (SCVMC), Dr. Edison Xu and Dr. Teva Brender (UCSF), Dr. Ali Duffens and Dr. Samira Samant (KP), Dr. Mona Raphael (St. Mary's) as well as medical student Sara Tolouie (CNSU) from the California Council of Student Members.
If interested in joining CCRM, please email acpcano@gmail.com including any subcommittee interest (policy/advocacy or membership/outreach.
---
California Council of Student Members (CCSM)
The ACP's California Council of Student Members is the liaison between the Internal Medicine Interest Groups (IMIGs) and the California ACP Chapters. If interested in more involvement in the CCSM, please reach out to Carmelina Raffetto at acpcano@gmail.com
---
Council of International Medical Graduates
The CANO IMG Council is looking to foster a sense of community, giving back to their communities through volunteer activities, supporting MIGs in various stages of their career path including the residency application process through mentorship and guidance. Current IMG members are: Jagmohan S. Jandu, Juliana G. Marwell, Kwabena Adubofour, Ashok Daftary, Mohammed G. , Elhassan, Josh Ronen, Hamid Safdar Syed, Xin-nong Li, Aria Rahem, Amy Matecki, Bhavyasri Merugu, and Neeladri Misra.
---
Council of Early Career Physicians (CECP)
It is the goal of the chapter's ECP to be a professional home for both career and personal growth and to work with National's Council of Early Career Physicians in this mission. Working to develop pathways to leadership, addressing the needs of the ECPs in multiple settings and practice types. CANO's Early Career Physicians' co-chairs Drs. Neeladri Misra, Pooja Jaeel, Julianna Marwell and Megha Garg are looking to restructure and develop new ideas for our ECP members. If interested, please contact Carmelina Raffetto at acpcano@gmail.com
---
Getting Involved: Let us know what's on your mind
Want to be more involved in our chapter? We can use your talents in our various committees, ie., membership, awards, diversity, advocacy, and more. If interested, please reach out to Carmelina Raffetto at acpcano@gmail.com
Interested in Peer Mentoring? ACP is holding free peer mentoring sessions in January. For more information and to register, visit Peer Mentoring/Registration.
---
Upcoming Events
ACP Internal Medicine Meeting 2023, San Diego
Meeting: April 27-29, 2023
Pre-courses: April 25-26, 2023
Pricing and Registration
Sacramento Leadership Day: Stay tuned, probably the third or fourth week in February.
Leadership Day, Washington, DC
May 23 & 24, 2023
Leadership Day Information