---
---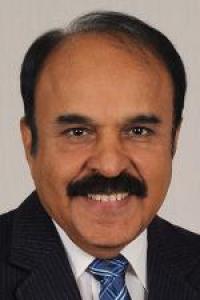 B.A. Muruganathan, MD, FACP, ACP Governor
---
FROM THE DESK OF THE GOVERNOR
I am very happy to connect with you through this newsletter. I am really very happy to know that many ACP members are actively involved in various academic and service activities.
There are many more avenues where you can do more service in ACP. Kindly watch for our circulars and you can also apply for some recognition award and motivational award from ACP. This year also ACP India Chapter is actively involved in conducting webinars, live CMEs, Medical Dilemma, and Whatsapp CME. You are requested to contact the zone advisory council member for any assistance.
Last year we had conducted online webinars, online modules and CMEs. Please organize regional CMEs and CMEs at medical colleges. Kindly visit our chapter website: www.acpindiachapter.org for the future programmes.
Please enroll, recruit more members and induct junior doctors in to ACP. Each one Reach one. For the last two years our ACP India Chapter is getting Chapter Excellence Award with all your support and cooperation. With the help of the Chapter Development Fund the advisory council members has done lot of educational activities in various medical colleges, small towns and helped chapter development. Whoever does some good educational activities, research activities, service activities and also membership development will be honoured and recognised suitably. Please send your action photographs with invitation.
Internal Medicine Meeting 2020 is in Los Angeles, CA, April 23-25. Now is the time to reserve our chapter's place in the national Doctor's Dilemma competition.
Last year, over 50 teams vied for the coveted Osler Cup in this popular competition. We anticipate that 60 available positions will be filled for the 2020 competition. Competition slots will be reserved on a first-come, first-served basis, based upon the date/time Reservation Forms are submitted. We will receive a confirmation via e-mail of our team's placement in the competition. Once all slots are filled, a waiting list will be created.
Communicate directly with team members and leaders after we receive their information.
For additional information or any questions, please contact Melanie Wallace via email or by phone at 215-351-2697.
I take this opportunity to thank Dr. K. Mugundhan (Secretary), Dr. R. Rajasekar (Treasurer), Dr. Jyotirmoy Pal (Vice President) and all the Advisory Council Members for their support and cooperation.
---
2019 Governor-elect Election Biographical Sketch and Candidate Statement - India
The ballots for the current Governors-elect election have been mailed. The voting membership (Masters, Fellows, Members, and Resident/Fellow Members with an elect date of 9/1/2017 or earlier) can vote online or mail-in ballot.
You will need your mailed ballot or election email containing your ACP Member Number and Election Passcode in order to vote. Below are the bios and statements of the candidates that are running in this election. Online voting begins on September 20, 2019 and will end on November 8, 2019 at 11:59 PM Eastern. Please be sure to vote!
For replacement ballots and election customer service, e-mail support@directvote.net or call toll-free 1-866-909-3549, Monday-Friday, 8:00 AM – 5:00 PM Central. For general information, you may email Julie Sinkoff, Coordinator, Board of Governor Relations, or call her at 215-351-2699.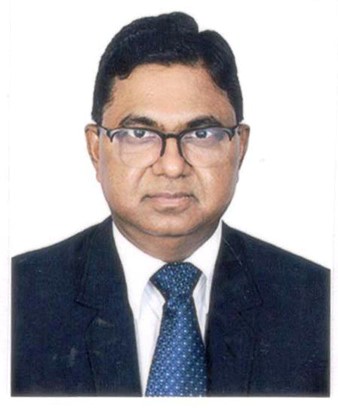 Sekhar Chakraborty, MD, FACP
Medical School Education: Medical College, Calcutta, India
Post-Doctoral Training: The University College of Medicine, Calcutta; R.G. Kar Medical College, Calcutta, India.
Certification: University of Calcutta, India.
Present Position: Medical Director, Kins Care & Research Foundation, Siliguri, India
ACP Chapter and Leadership Activities:
Promoted and encouraged at least 100 undergraduates and post-graduates to become ACP Members in last 3 years; Conductor, Academic Sessions 2016-2019; Encouraged delegates attendance, Annual Conference 2018; Faculty Lecturer, Annual Conference 2017; Joint Secretary, Annual Conference 2019; Chairman, Financial Committee, Annual Conference 2019 (to raise funds and promote activities of ACP).
ACP National Activities:
Fellowship 2016
Other Appointments/Activities:
Awareness Programme, Diabetes & Hypertension; Free medical camp for workers of tea gardens; Child Health Programme; Medical services for earthquakes in North Bengal; Health Awareness Talk, Radio/TV; Observation of World Diabetes Day, Physicians Day, and Doctors Day (providing free medical and blood donation camp for patients, and free vaccination for doctors); Consultant Physician and Diabetologist, Neotia Getwel Hospital, Siliguri; Secretary IMA, Siliguri Branch
Areas of Professional Interest and Expertise:
Internal Medicine and Diabetology; Critical Care Medicine; Regional Faculty, Public Health Foundation of India (train undergraduates and post-graduates)
Candidate Statement:
As a governor of ACP, India Chapter – Wish to coordinate loco-regional members and fellows with National body and International committees; Conduct regular CMEs to disseminate knowledge and to elevate the standard of clinical practice; To elevate the standard of medical teaching by conducting master classes; To promote medical research in the accordance with ACP guidelines; Conduct Annual & Regional Conferences and to raise funds to promote & strengthen the activities of ACP; To promote new Memberships & Fellowships; To encourage all to attend the Annual conference of ACP, USA; To promote ACP awards & scholarships. Board of Governors should be – Comprised of highly educated astute clinicians having managerial skills; elected representative from different zones of India should be the members; execute the aims & objectives of ACP, by implementing highest standards of clinical practice. As a Governor, I would remain dedicated to implement & monitor all the activities of ACP.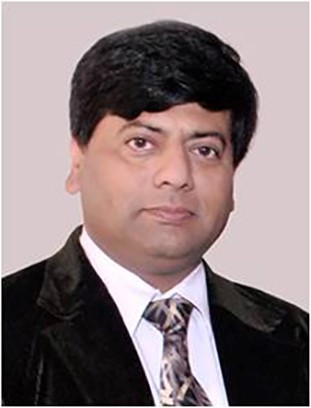 Anuj Maheshwari, MD, FACP
Medical School Education: MBBS, MD
Post-Doctoral Training: General Medicine & Diabetes
Certification: King George's Medical University
Present Position: Professor/Head, General Medicine, Babu Banarasi Das University
ACP Chapter and Leadership Activities:
Invited Speaker, Acute Metabolic Complications in Diabetes, Medicine Update, Era's Lucknow Medical College 2017; Organiser, Annual Conference 2018 (more than 1000 doctors participated); Invited Speaker, Art & Science of Insulin Therapy: Role of Insulin Co-formulations, Annual Conference; Invited Guest Speaker, BSMCON, ACP Bangladesh 2018; Invited Guest Speaker, Annual Conference, ACP Japan 2019; Invited Lecturer, Practicing Wellness to Beat Diabetes, ACPCON, Midterm Conference 2019; Invited Faculty, Annual Conference 2019
ACP National Activities:
Fellowship 2015; Well-being Champion, Internal Medicine Meeting 2018; Volunteer/Invited Teacher, Mini but Mighty: Skills for Well-being, Internal Medicine Meeting 2019; Speaker, Well-being Briefing Session, Internal Medicine Meeting 2019
Other Appointments/Activities:
30 research projects as PI; 275 Guest Lectures; RJ Wegmann Oration, Indian Society of Hypertension; BC Bansal Oration, Indian Academy of Clinical Medicine 2016; VG Nadgouda Lecture, Research Society for the Study of Diabetes in India (RSSDI) 2016; PR Prasad Oration, Jharkhand, RSSDI 2018; RM Shah Oration, Gujarat, RSSDI 2018; Health Icon Award 2017, 2019; Marvelous Personality of the Year 2017; Organiser, multiple conferences; Contributor, 1.5 million+ data, May Measurement Month Project, ISH; Initiated Diabetes & GDM Prevalence Study
Areas of Professional Interest and Expertise:
Diabetes; Hypertension; Practicing Well-being
Candidate Statement:
It is my firm belief that American College of Physicians is an innovative forum which is working across the world to update physicians, improving their skills and reducing work related pressure and stress through well-being CMEs and Program. As a Well-being Champion of ACP, I have realised Indian physicians need to bring out of this burn out much more than any other country of the world. I am intending to create a well-being database of Indian and to help them finding the solution. Medical students and residents should also be involved in this campaign. Apart from this I am also of the idea to develop a systematic faculty exchange program among various chapters across the world. This will not only help our physicians improving their skills but to adopt innovative methods of other chapters for a better standard of health care. I wish to promote collaboration among various chapters at all levels, if I get elected Governor.
---
ACP Internal Medicine Meeting - April 23 - 25, 2020 in Los Angeles, CA

American College of Physicians (ACP) Internal Medicine Meeting will be held on Apr 23-25, 2020 at Los Angeles, CA, USA. We look forward to seeing you in Los Angeles.
Every spring, internists from around the world gather for ACP's Internal Medicine Meeting. From scientific sessions to abstract competitions to Convocation, ACP's Internal Medicine Meeting is a dynamic event that is attended by thousands of physicians. In this section, you will be able to read recently posted Hot Topics articles related to upcoming meeting-related deadlines, as well as access the link to the Internal Medicine Meeting 2020 website.
Visit https://annualmeeting.acponline.org/ to learn more.
Please note that discounted rates are only available to ACP Members. You will need to log in with your ACP username and password when you register for the meeting.
Attending the Congress is an excellent way to update your medical education and staying abreast of global best practices and trends. If you need any help please contact the secretariat. You can choose your own travel agent and make your own arrangements.
Guidelines for Internal Medicine 2020 Group Registration Discount
Receive a registration discount for groups of 10 or more. The guidelines require that one person organize the group, provide the registration forms, and submit one payment by check or credit card for the entire group. Not all participants in group delegations are required to be ACP members.
1. Only delegates from outside the U.S. are eligible for this Group registration discount.
2. Groups must establish a primary contact who will submit the registration template above and total payment.
3. Primary contact should provide name, unique individual e-mail address, and individual address on delegate list template above.
4. Full payment for all delegates in the group should be submitted by the primary contact. Payment will be accepted by credit card (provide details on attached Credit Card Payment sheet) or by wire, personal or cashiers/bank check in US$ and drawn on a US Bank for all delegates/guests in the group.
5. Delegate list and payment should be submitted to Nubia Rivera before March 31, 2020. Note: pre-courses and workshops sell out quickly and are on a first come, first served basis. To increase your chances of registering for these reserved sessions, please submit your delegate list and payment by October 31, 2019.
6. No group registrations will be accepted on-site.
Nubia Rivera
American College of Physicians
Member & Product Support
190 North Independence Mall West
Philadelphia, PA US - 19106-1572
nrivera@acponline.org
+1-215-351-2854
---
ACP INDIA CHAPTER ANNUAL INTERNAL MEDICINE CONGRESS 2019
The 4th ACP India Chapter Congress – Medicine 2019, was held successfully on August 30, 31st, 1st - September 2019, Hotel Hyatt Regency at Kolkata. The theme of the conference "Happy Physicians - Happy Patients". My Appreciation & Applauds to S. B. Ganguly, MD, FACP as Chairman and Dr.Karmakar MD, FACP as Secretary with the support of Eminent and Erudite Jy otirmoy Pal, Apurva Mukrejee, Sekhar Chakraborty., MD, FACP and the entire team of the Organising Committee for conducting the conference commendably!
The 4th Chapter Congress brought together renowned International faculties like Dr. Andrew Dunn, Immediate Past Chair, ACP Board of Regents, ACP Arizona Chapter Governor Dr. Priya Radhakrishnan, Dr. Alpesh Amin (Governor, ACP Southern California Region II), Brazil Governor Dr. Jose Bonamigo, ACP Japan Governor Dr. Kenji Maeda, ACP Bangladesh Governor Dr. H. A. M. Nazmul Ahasan, Dr. Trini Mathew (USA), Dr. Moiz M. Kasubhai (USA), Dr. Athi Ponnusamy (London), Dr. Sweta Prakash Adatia (Dubai), Dr. Toshihiko Hata (Japan), Dr. Quazi Tarikul Islam (Past Governor Bangladesh ACP Chapter, Dr. Sally Aman Nasution (President of Indonesian Society of Internal Medicine) and many others from across the country to share their knowledge in internal medicine practice.
The two-day conference was designed for general internists, hospitalists, subspecialists in internal medicine, family physicians, general practitioners, and residents. The conference had sessions and panel discussions with eminent speakers, experts in their field, who shared their insights on The Role of Hospitalist and the Advantages and Opportunities, Problems and Solutions for Prolonged Air Travel, Mental Stress is it for the Patients or for Treating Physicians, Newer Anti-Coagulants – Case Based Discussion, Young Physicians Career Hack, Disaster Medicine, Antibiotic resistance, antimicrobial stewardship as well as infection control, Management of STEMI in Referral Hospital in Indonesia, What is new in Lipidology, and Endocrinology in 2019, Tropical Fevers and other important topics in internal medicine.
Pan Indian Participants got a great platform to present to senior physicians their abstracts and poster presentations. Medical Dilemma "was very successful and well appreciated.
Our ACP India chapter had been busy for last few months, Effective running of 4th Annual Conference in Sep 2019, announcement of next Conference to our 2403 members vide mailers, inviting pharma to sponsor for a stall or to fund research activities! Remainders sent to unpaid members to renew and revive the membership benefits!
This year ACP India Chapter 5th Annual Internal Medicine Congress will be held on 21st – 23rd August 2020 at Hotel Grand Hyatt-Lulu Bolgatty International Convention Center, Kochi, Kerala under the Dynamic team
Governor and Scientific Chairman – Dr. A. Muruganathan,
Organising Chairman – Dr. K. Hari,
Organising Vice Chairman – Dr. Sujith Vasudevan, Dr. Srinivasa Kamath & Dr. Dr. Abraham Ittyyachan. M
Organising Secretary – Dr. Anita Nambiar,
Org. Joint Secretaries – Dr. Sajesh Ashokan & Dr. Sabitha Krishnamoorthy
Treaurer – Dr. G. R. Subbu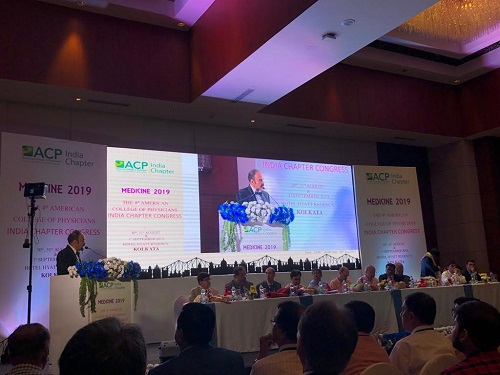 During the ACPCON 2019 Inauguration at Kolkata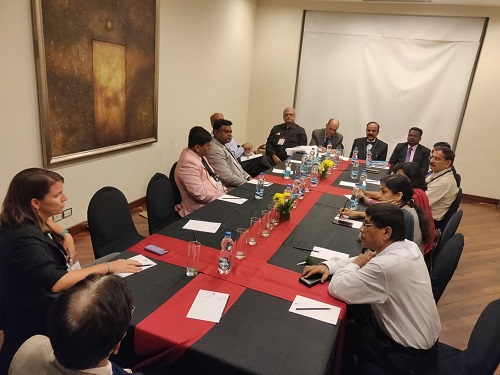 Advisory Council Meeting during 4th ACP India Chapter Annual Conference 2019 at Kolkata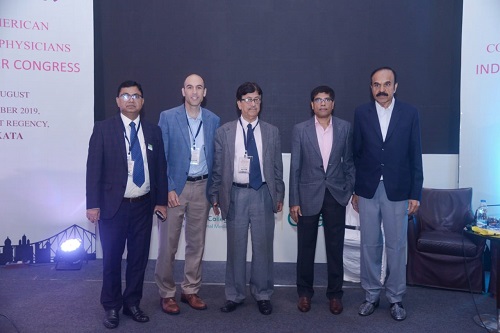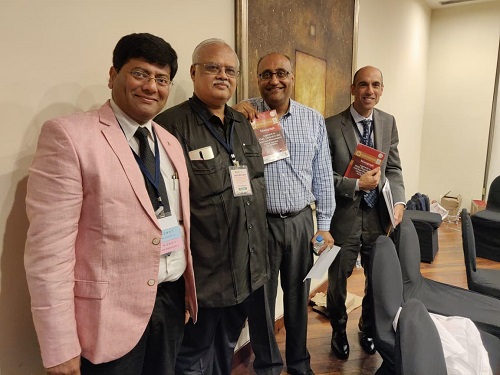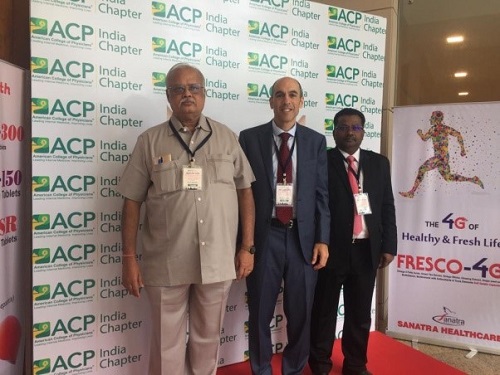 ---
ACPCON 2019 – Few of the Appreciation Messages from Faculties and Delegates
Dear Dr. Muruganathan,
Thank you for the invitation and the kind words. Mona and I greatly enjoyed our trip. I thought your conference was excellent. I was especially impressed by the wide variety of topics, from core clinical medicine (CHF) to out-of-the box important topics, such as Dr. Google. My only suggestion is to continue to work to have more women represented in Chapter leadership and in the meeting planning committee. I know you have already made great strides and that next year's meeting char is a woman physician. I'm sure you and your chapter will continue to make these advances. See you in Los Angeles.
Andrew Dunn, MD, MPH, SFHM, MACP
Immediate Past-Chair, ACP Board of Regents
Professor of Medicine
USA
---
Dear Dr. Muruganathan,
Thank you very much for your warm welcome!
We enjoyed India very much!
I attached some of the photos I and Dr. Hata took during the congress herewith. In some of the photos, you look like a movie star (Rajinikanth?
Thank you anyway and hope to see you soon in Arizona.
Kenji Maeda, MD, FACP
Governor
ACP Japan Chapter
---
Thank you Dr Muruganathan,
The venue was great. All your team were very supportive. Helpful staff in the audio visual team.
Your leadership and hospitality was outstanding.
Thank you for the opportunity and much appreciated.
Dr. Athi Ponnusamy, London
---
Hi Dr. Muruganathan,
Thank you so much for inviting me to the wonderful ACPCON 2019. The event was wonderful. You and your team did an outstanding job. I will be happy to come next year and in future years if you like. Best wishes and please keep in touch.
Alpesh Amin, MD, MBA, MACP, SFHM, FACC, FRCP (Lond)
Professor of Medicine, Business, Public Health, Nursing Science, & Biomedical Engineering
Executive Director, Hospitalist Program, University of California, Irvine
Governor, American College of Physicians (ACP) Southern California Region II
---
Thanks you very much Dr. Muruganathan.
It was an absolute pleasure to be there. Your kindness has touched all of us.
We will definitely pursue Hospitalist to be an established force in India with your blessings.
Once I reach home I will send an amended presentation to you and Dr. Sheth.
Take care,
Moiz Kasubhai, USA
---
Dear Muruganathan,
Overall it was a great show. You and your team doing an excellent job. Only a few of the International Chapters is capable to do this. Credit goes to you. For historic, Social, cultural reasons India and Bangladesh share many similarities. For professional reasons, we can also share and exchange our experiences .During your and my tenure, we can try to strengthen it more in coming years. Our ACP platform has given this opportunity.
Your Kolkata, Congress this year was a wonderful one. A lot of enthusiasm was remarkable. I am surprised, how you could assemble such local, regional and International Faculties. Topic selection was excellent.
Participation from Bangladesh, this year was remarkable. More than 10 senior more Faculties Registered and about to come. Unfortunately, due to local Dengue outbreak in Bangladesh, they failed. I guess and expect, if you invite us and during our tenure, more Faculties and participants from Bangladesh will attend in future.
Please convey my best wishes and regards to all Organizers of ACP India Chapter and Kolkata Congress for showing such hospitality to our team and spouses.
I invite you to attend our future conferences in Bangladesh and visit Bangladesh.
Hope to see you soon.
Regards,
Professor H.A.M. Nazmul Ahasan, Professor of Medicine, PMC
Governor, ACP Chapter Bangladesh
---
Dear Dr. Muruganathan,
Thank you for the opportunity and congratulations on a very successful event.
Dr. Priya Radhakrishnan,
Governor ACP Tucson Chapter
---
Dear Sir,
I am highly delighted after attending the 4th ACP India Chapter conference at Kolkata 2 days ago. It was wonderful, well arranged and the topics of the conference were highly appreciated.
I really enjoyed a lot also learned a lot. I specially appreciate your leadership and organizing capacity.
Hope to see you in your next conference in the next year.
Kindest Regards
Professor Quazi Tarikul Islam
Professor, Department of Medicine, Popular Medical College, Dhaka, Bangladesh
Past Governor – ACP Bangladesh Chapter
---
Sir,
Thank you for your mail. It was a joyous experience for me attending your congress. I found it well organized and impeccably coordinated. I was deeply impressed by the knowledge-rich speeches of your adept speakers in different sessions. I believe all the participants came to learn a lot from these sessions. Moreover, the session I chaired, was an excellent one. I must congratulate you for this successful endeavor.
I felt honored with your amicable hospitality. I enjoyed the food and the cultural parts also.
I hope ACP India Chapter will continue collaborating with us in the future. Together we will work in the global context and take our cooperation a step ahead.
I wish the best for you and your family.
Regards
Prof. Khan Abul Kalam Azad, FCPS, MD, FACP
Professor of Medicine
Principal, Dhaka Medical College
---
Dear Dr Muruganathan, Greetings!
I thank you for the invitation to the conference
All sessions were highly enlightening and very well-chosen. I enjoyed my stay also.
Hope to meet you soon and often.
You are an inspiration for us youngsters
Thanks and regards,
Dr. Sweta, MBBS, MD, DNB(Neurology)
Fellow in Stroke (Canada)
NBI Master Practitioner & Trainer
---
Thanks sir,
It's a great honour to be a part of this prestigious conference and thanks a lot for giving me the opportunity.
Regards to Madam
Dr. K. K. Pareek
President – Association of Physicians of India
---
Dear Dr. Muruganathan,
I wish to congratulate you and all the organisers for a wonderful meeting of the 4th ACP India Chapter Annual Internal Congress. The meeting was of a very high standard. Thank you also for the kind words that you spoke about me.
With regards & best wishes,
Dr. V. MOHAN MD, MACP (Master ACP)
Dr. Mohan's Diabetes Specialties Centre, Chennai
---
Dear Sir,
It was an honour and a pleasure to be part of the academic feast. Thank you for considering me as a guest faculty.
Look forward to the next meet at Kochi
Dr. Bidita Khandelwal,(M.D)FICP, FIACM, FACP(USA)
Associate Dean-Research
Professor of Medicine
Sikkim Manipal Institute of Medical Sciences, Sikkim Manipal University
Sikkim
---
No thanks for that sir
I just obliged your order. I felt honoured in joining the party.
Waiting for another order from you,
Dr.V.Chandrasekhar, MD
Prof. & HOD of Medicine & Cardiology, MGMH
Former Principal (Adm), Kakatiya Medical College
---
Sir,
Thanks a lot for your kind words. In fact, it's my pleasure & honour to work under your dynamic leadership. This conference was a grand success in terms of rich scientific contents, great arrangements & warm hospitality.
The Kolkata team of Professors Jyotirmoy, Karmakar, S Ghosh, Dr Shekhar & others did remarkable work in organising this grandeur conference.
Kudos to ACP team under your vibrant leadership for making ACP a formidable association in India.
Regards,
Dr Sudhir Mehta, MD
Senior Professor of Medicine & Unit Head
SMS Medical College & Attached Hospitals, Jaipur
---
Dear Dr. Muruganathan,
Thank you for your email and kind words of appreciation for my contribution to 4th ACPCON 2019.
I must say "KUDOS AND CONGRATULATIONS" for the splendid job of yours.
The conference gave me the opportunity to get in touch with the top leaders of the ACP.
When and where the ACPCON 2020 will be held? I would love to make a presentation in the upcoming ACPCON.
Kindly provide me the opportunity.
Kind Regards
Dr. Nagesh G. Kavi, Bangalore
---
Dear Sir,
Thanks & regards
Much obliged for everything and a great experience and Organization.
Dr. Ravinder Kaur
Director Professor and head in Dept. of Microbiology, Lady Harding medical college, Delhi
---
Dear Sir
I am very thankful to you for making me a part of ACPCON 2019. You have done amazing work for the ACP in last several years. My salute to your dedication and hard work sir.
Warm Regards,
DR AMIT GUPTA, MBBS, DNB (Gen. Medicine)
Communication Director - American Diabetes Association (Diabetes in Primary Care)
---
Respected Sir, Greetings,
Thanks a lot for acknowledging my small contribution towards the conference. My heartiest congratulations for the grand success of the conference. It was my great pleasure & honour to be a part of it & I hope in future also I shall keep on doing my part.
Thanks & regards
Dr. (Professor) Divya (Director)
M.B.B.S., M.D.
HOD-Department of Diabetes & Critical Care -Tulip Multispecialty Hospital, Sonepat
Director, Tulip Multispecialty Hospital, Sonepat, Delhi
---
Respected sir,
It was really an awesome academic feast. Topic selection, speakers, was really good. It was even better than APICON which is like a Mela. Thank you so much.
Looking forward for the next ACPCON.
Warm regards,
Dr. V. Padma, ME.FRCP.FIMSA
Professor of Medicine
Sree Balaji Medical College and Hospital, Chennai
---
Dear Sir,
It was an honour to be a Faculty in the prestigious ACPCON at Kolkata, especially under your dynamic leadership.
I'm always available for you.
With regards.
Dr. Anil Kumar Virmani
Jamshedpur
---
Thanks sir for the excellent conference and great hospitality.
Dr. Sanjay Tandon, Lucknow
---
ACP INDIA CHAPTER MID-TERM CONFERENCE April 2019
ACP India Chapter Mid-term conference was organised in Aero city, New Delhi at ATRIO JUSTA RESORTS on 27th & 28th April 2019.
It was a very well attended conference. We have done more than 650 registrations from all over India. It was really heartening to see jam packed hall till end of the day. The scientific committee Chairman Dr. V. K. Katyal and Secretary Dr. Rajesh Rajpoot tried their level best to create an impressive scientific program. It was structured, keeping in mind the need of every physician's brain.
We were honoured to have renowned speakers of National & international fame with us. ACPCON organising committee is really thankful to all the faculties from each nook & corner of our country.
We are highly obliged & thankful to ACP INDIA CHAPTER Governor, honourable Dr. A. Muruganathan Sir for showing confidence in us and giving us this great opportunity. We are really lucky enough to get his kind guidance and support throughout, without which it couldn't have been possible.
Hoping for achieving more such endeavours in future also
Dr. Diva Saxena (Organising Chairperson)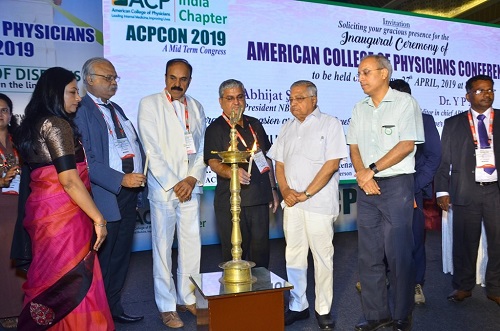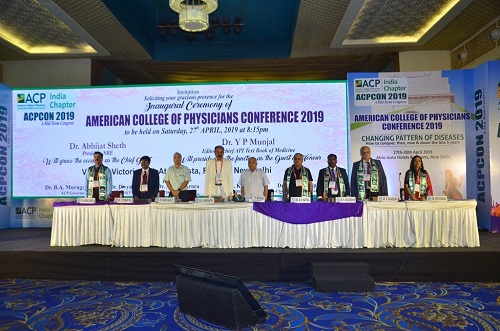 ---
EDUCATIONAL AND SCIENTIFIC COMMITTEE ACTIVITIES
CME programs under the banner of ACP India Chapter:
ACP encourages you to host your CME programs under the banner of the American College of Physicians and partner for a great outreach of your CME program. CME programs are helpful in gathering hands on knowledge on useful topics related to medicine. ACP has always promoted CME programs and you earn CME credits when you attend any CME program. This also helps you advance to the next level in your ACP membership.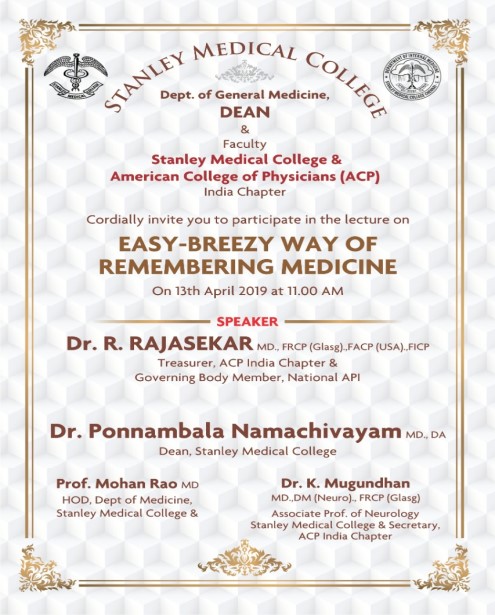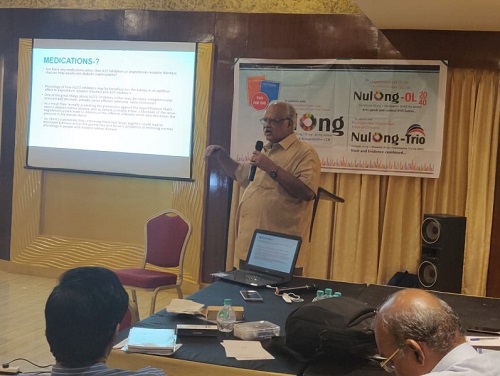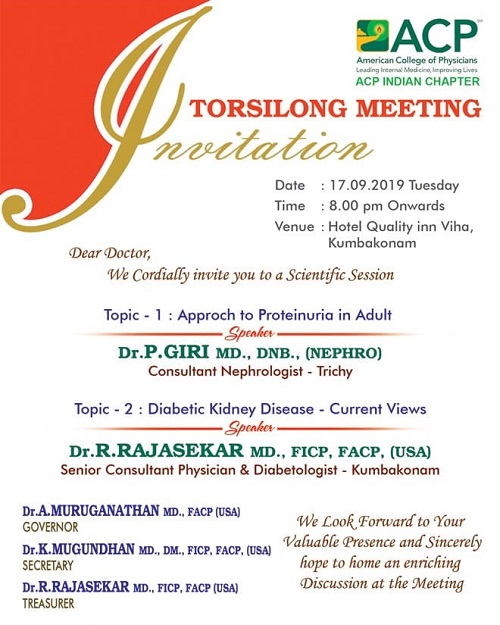 ---
QUIZ Programme
ACP India Chapter is planning to conduct nationwide QUIZ programme for Post Graduates. Each Zone will select two persons and thereafter there will be a quarter final, semifinal and final. The selected candidates would be sent to ACP conference to participate in the medical dilemma (USA) on behalf of ACP India Chapter. The details will be intimated soon.
The Organisers for the QUIZ:
North Zone: Dr. Anuj Maheshwari, Dr. Narasing Varma, Dr. Jatinder K. Mokta and Dr. Divya Saxena
East Zone: Dr. Jyotirmoy Pal, Dr. Partha S. Karmakar, Dr. Sekhar Chakraborty, Dr. Dwijen Das and Dr. Jayant K Panda
West Zone: Dr. Mangesh Tiwaskar, Dr. Meenakshi Bhattacharya, Dr. Sunil Gupta and Dr. Amit Saraf
South Zone: Dr. R. Rajasekar, Dr. K. Mugundhan, Dr. Basavagowdappa, Dr. Sangram Biradar
Central Zone: Dr. Sudhir Mehta, Dr. Minal Mohit, Dr. Sudhir Bhandari, Dr. K. K. Pareek
---
CMEs under ACP India Chapter
The ACP India Chapter can partially fund the CMEs. The CMEs can be arranged at local, regional level and also at Medical colleges. Kindly try to get Medical Council Accreditation.
Kindly organise some CMEs under the ACP India Chapter as one day / half day CMEs in your places. Please conduct Resident / Fellow Member Activities (Meetings, Competitions), Medical Student Activities (Meetings, Competitions) and Early Career Physicians Activities.
Kindly send your plans and proposals.
Kindly do some research activities and observe world medical days like World Hypertension Day, World Diabetes Day and etc. with suitable programmes.
Kindly enroll more ACP members and include all medical students.
Please call me if you need any clarification – 98430 60666 / 98941 45678.
---
Last Chance: Dues Delinquent Members
I recently learned that some of your membership in the American College of Physicians will expire because your dues are not current. As Governor of your local ACP India chapter, I urge you to remain an active member of our community of internists and renew your membership online.
Membership in the College offers a network of 152,000 internists, world-class educational resources, highly regarded scientific programs, and comprehensive publications like Annals of Internal Medicine that help you to provide the best possible care for your patients.
In addition, our India Chapter holds an excellent scientific meeting offering convenient CME credit and a place to connect with your colleagues. We also have active committees to involve chapter members in planning the meeting and other programs. For more information, visit Web site at https://www.acponline.org/about-acp/chapters-regions and clicking on the link for India Chapter.
Please remain a member of ACP. You can easily renew your membership online call Customer Service at 800-ACP-1915 (M-F, 9 a.m.–5 p.m. ET) and pay the current year's dues. Your unpaid dues for the prior year will be waived.
I hope that you will remain a member of ACP and our India Chapter.
OUR CHAPTER COMMITTEES WELCOME FRESH IDEAS
We are all better and stronger together than apart! We have shown progress in our membership, day in, day out increasing by 125%, since June 2018.
As on June 2018 Membership strength - 1017
As on October 2019 Membership strength – 2284