---
---
Governor's Message
Dear Colleagues,
Welcome to the first newsletter published by the ACP Caribbean Chapter. The purpose of this newsletter is to share innovative and new programs conducted by the chapter, circulate resources that may be beneficial to you, and uplift fellow ACP members. Internists in our chapter are joined in the Caribbean Chapter, to speak for Internal Medicine in our country and to reflect the interests and concerns of our specialty.
As Governor, I have the responsibility of representing our Chapter to the national organization; encouraging internists in our country to become members and members to advance to Fellowship; recognizing members; encouraging input and action on national and local political issues effecting the environment of internal medicine; hosting local scientific meetings and CME events; and encouraging medical student members and Associates (i.e., residents) to participate in local and national College activities. Any suggestions you might have for how the ACP Caribbean Chapter might help make us better physicians and improve the quality of the professional life of internists is welcomed.
Sincerely,
Everard N. Barton, MD, FACP, ACP Governor
---
New Appointments
Governor Advisory Council
The Caribbean Chapter welcomed Prof. Everard Barton, MD FACP of Jamaica as the Chapter Governor. Prof. Barton is Professor of Medicine and Nephrology at the University of the West Indies, Founder and Chair, Caribbean Renal Registry; Founder and Director, Caribbean Institute of Nephrology; and Consultant for Renal Outreach Clinics, St. Ann and Manchester.
Prof. Barton is joined on the Governor Advisory Council by:
Candis A Gomez-Akan, MBBS
Lesley A Roberts, MBBS
Jenaye Burrows
Elan Harewood-Forde
Nelson C Iheonunekwu, MBBS FACP
Christine E Chin, MBBS FACP
Ronan G Ali, MBBS FACP
Mike O Mills, MBBS DM FACP
Ian A Thomas, MBBS
Purcel D Anderson, MD FACP
Althea M Aquart-Stewart, MD FACP
Kenneth L Connell, MBBS PhD FACP
New Fellows
Sharon Cordner, MD FACP
Roslyn Alfred-Demas, MBBS, FACP
Tounesha La Rosa, MBBS FACP
Candise Price, MBBS FACP
Fellowship in the College is an honor. Being an FACP is a distinction earned from colleagues who recognize your accomplishments and achievements over and above the practice of medicine. The most important considerations for ACP Fellowship are excellence and contributions made to both medicine and to the broader community in which the internist lives and practices.
New and Reactivated Members
Rosel Evilla, MD Member
Francene Gayle, MdD Member
Michael Hawking, MD Member
Lesley A Roberts, MBBS Member
Raymonde Rohan-Moving Member
Roger N Smith, MBBS MD Member
Keniel A Chrysostom, MBBS Resident/Fellow Member
Melissa N Ince, MD Resident/Fellow Member
Kristyn Kirton Resident/Fellow Member
Keddy Moise, MD Resident/Fellow Member
Ravin R Sooklall, MBBS Resident/Fellow Member
Delroy Thomas, MD Resident/Fellow Member
---
Caribbean Internal Medicine Day
The Caribbean Chapter of the American College of Physicians observed its 1st Caribbean Internal Medicine Day — coinciding with the ACP's National Internal Medicine Day — on October 28.
The Chapter marked the day with a Joint Grand Round with the Department of Medicine, University of the West Indies (Bahamas, Trinidad and Tobago, Barbados, and Jamaica). This included special presentations by Internal Medicine Residents. Chapter Governor, Prof. Everard Barton, gave a special address to members, fellows, residents, and students across the region.
There were also tributes to two outstanding Caribbean clinicians — Prof. George Nicholson, FACP and Prof. the Honorable Owen Morgan MACP.
The Chapter invited students to celebrate Internal Medicine Day by sharing social media posts highlighting the reasons for their interest in Internal Medicine. Prizes were awarded to the most outstanding posts.
---
2022 Internal Medicine Meeting
The ACP Internal Medicine Meeting is the premier scientific meeting in internal medicine. Join us April 28-30, 2022 in Chicago, IL.
Registrants for Internal Medicine Meeting 2022 will enjoy:
The best national faculty
A broad array of clinical and practice topics
Interactive and hands-on sessions
Together, we'll reconvene to update knowledge and skills, discuss timely topics, share ideas, and exchange information alongside our internal medicine colleagues. Expert faculty will present over 200 scientific and practice-related sessions that invite you to discover new ways to improve your own techniques and patient care. And, as always, the annual meeting will help you meet your learning objectives as you earn CME credits.
Can't make the live meeting?
Virtual access is available for those who can't attend the meeting in person and will provide access to select streamed and recorded sessions, the opportunity to learn from expert faculty, and the opportunity to ear the same amount of CME credits.
Visit here annualmeeting.acponline.org/rates to learn more and see all registration options.
---
Health Screening Program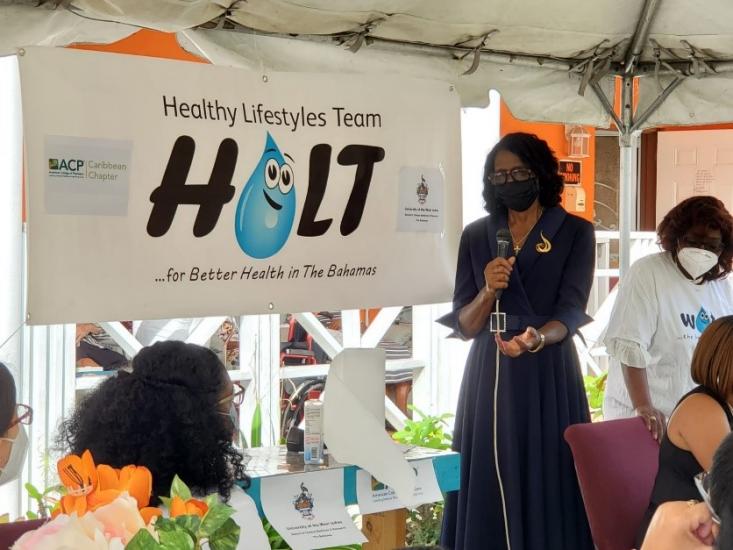 The Caribbean Chapter of the ACP organized an outreach program with Pat's Senior Citizens' Home in Nassau, Bahamas. Fourteen ACP student members from the University of the West Indies School of Clinical Medicine and Research in Nassau led by Dr. Christine Chin, FACP, Healthy Lifestyles Team (HaLT) leader. They screened 41 residents and guests for hypertension, diabetes, and overweight/obesity and provided advice on healthy living.
The 14 students were Aaryanna Brown, Raegeene Brown, Jenaye Burrows, Greganique Cooper, Shelleta Ferguson, Shannelle Gayle, Khristian Johnson, Ianthie Kemp, Christa Lyons, Jana Moncur, Mykayah Nixon, Charlea Smith, Micheala Stubbs, and Gabrielle White.
Chapter members in the Bahamas also conducted health screenings for members of the undocumented Haitian community. Screenings included blood pressure, glucose, height, and weight. Members also delivered presentations on healthy lifestyles.
---
Well-Being Champions and Resources
The Caribbean Chapter has nominated Dr. Candis Gomez Akan and Dr Patrice Francis-Emmanuel as its Well-being Champions. Dr. Akan and Dr. Francis-Emmanuel will lead the Chapter's efforts to promote physician wellness and professional fulfillment in the region. These efforts include formulation of a policy calling for meditation areas and lactation rooms in hospitals across the Caribbean.
Taking care of ourselves and encouraging others to practice self-care sustains our ability to care for those in need.
Here are some tools we can use to help protect our health and well-being:
---
Annals of Internal Medicine: Clinical Cases
ACP's newly launched journal, Annals of Internal Medicine: Clinical Cases (AIMCC) , is now accepting manuscript submissions. AIMCC is a peer-reviewed, open access journal that publishes case reports, case series, and image/video cases across the spectrum of medicine. AIMCC is a joint publication of the American College of Physicians and the American Heart Association.
AIMCC will consider original case report manuscripts and provide expert peer review, timely online publication, and immediate global open access. Cases published in the journal will serve as an educational resource for clinicians and promote critical thinking around the prevention, diagnosis, and management of challenging clinical situations. The new journal will cultivate awareness of new or unique clinical entities by disseminating real clinical cases encountered by physicians and other medical professionals. It will also serve as a source to generate hypotheses and advance knowledge.
To learn more or submit, visit the journal page and review the Annals of Internal Medicine: Clinical Cases Information for Authors age.
---
Connect with us!
To help you stay informed on what is happening in our area, please visit our chapter's website, read our chapter newsletter, and follow us on social media. Everyone is encouraged to send contributions in the newsletter on a regular basis, for its success is the collective responsibility of the entire chapter.
In addition with the newsletter, visit, like and follow the chapter's official Facebook, Instagram, and Twitter page!
Caribbean Governor's Newsletter January 2022