---
Register Now for Internal Medicine 2014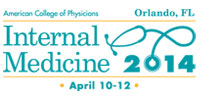 Join ACP and thousands of your colleagues in Orlando, Florida, from April 10 - 12 and transform the way you practice medicine. Internal Medicine 2014 will allow you multiple opportunities to refresh your internal medicine knowledge, sharpen your practice management skills, network with colleagues from around the world in a beautiful location.
Education - Internal Medicine 2014 combines clinical skills workshops with over 200 scientific sessions to update your knowledge in all facets of internal medicine and the subspecialties. Learn all about the newest treatments, innovative technology, and disease management from top educators in the field.
Networking - A reception for international attendees, interactive learning sessions, and more make Internal Medicine 2014 an event with multiple opportunities to network with the best and brightest physicians from all over the world.
Location - Orlando, Florida is known for its family friendly atmosphere, wonderful weather, action packed theme parks, and convenient transportation making it an ideal destination for international attendees.
Discounts - Substantial registration discounts are available for international delegations (groups of 10 or more). The guidelines require that one person organize the group, provide the registration forms, and submit one payment by check or credit card for the entire group. Not all participants in group delegations are required to be ACP members, though an additional discount will be given to each full dues paying ACP member. Contact Pamela Carey at pcarey@acponline.org for more details.
Please click here to download the Group Registration Guidelines and Form.
Don't miss out on this wonderful learning opportunity. Visit im2014.acponline.org/for-meeting-attendees/international-attendees for more information. Hope to see you in Orlando!
---
Update Your Knowledge with MKSAP 16 Q & A
The new Medical Knowledge Self-Assessment Program® (MKSAP® 16) provides you with the most current and critical information in the core of internal medicine and its subspecialties so you can stay aware of what you need to know as a practicing physician in internal medicine today.
For more information on MKSAP 16, or to order your copy, visit http://www.acponline.org/products_services/mksap/16/
MKSAP 16 Q & A
A 66-year-old woman is evaluated for several months of a "whistling" or "swishing" sound in her right ear. She notes that it gets faster and louder when she exercises and thinks it is timed to her heartbeat. She does not notice any hearing loss, dizziness, or vertigo.
On physical examination, temperature is 37.4 °C (99.3 °F), blood pressure is 138/84 mm Hg, and pulse rate is 84/min. Auditory acuity to normal conversation appears normal, and otoscopic examination is unremarkable bilaterally. Neurologic examination is normal.
Which of the following is the most appropriate next step in the management of this patient?
A. Audiometry
B. Auscultation over the right ear, eye, and neck
C. Trial of a sound-masking device
D. Trial of a nasal corticosteroid spray
Click here for the answer and critique.
---
Update on ACP International Membership Growth
As of June 30, 2013, ACP has over 11,000 members outside of the United States. This represents a growth of 9% in international membership over the previous year. The most significant growth in the past year has been among the International Physician Affiliate class, Resident/Fellow members, and Medical Student members. International Physician Affiliate members, a category of membership introduced in 2012, more than doubled from 18 in 2012 to 39 in 2013. Three ACP chapters (Brazil, Chile, and Central America, each grew their full Member classes by over 34%.
The chart below shows ACP's international membership growth over the past six years. The College has consistently seen an increase in membership. ACP is grateful to all of our international members for their loyalty to the College and for making this growth possible. In recent years, ACP has also seen an increase in chapters outside the United States. In 2010, an ACP chapter was created in Saudi Arabia; in 2012, there was the addition of a chapter in Colombia; and, most recently, in 2013, ACP saw the creation of a new chapter in Southeast Asia. We expect to add new chapters in the future.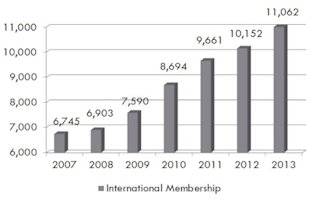 ---
International Meetings Update
ACP Brazil Chapter Annual Meeting
August 14, 2013
The Annual Meeting of the ACP Brazil Chapter was held in association with the Congresso Medico Universitario do ABC (COMU ABC) on August 14, 2013 in San Andre, Brazil. There were approximately 150 attendees at the meeting. Molly Cooke, MD, FACP, ACP President, served as the ACP Leadership Liaison to the meeting.
Latin American Society of Internal Medicine (SOLAMI) Meeting
August 27-30, 2013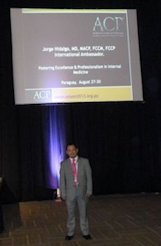 The VIII Latin American Society of Internal Medicine (SOLAMI) meeting was held in conjunction with the XII Paraguay Congress of Internal Medicine from August 27-30, 2013 in Asuncion, Paraguay. There were around 1,500 attendees at the meeting from all over Latin America. Jorge L. Hidalgo, MD, MACP (pictured at left) was invited to serve as the ACP Ambassador at the meeting by Maria Cristina Jimenez, MD, FACP, President of the Latin American Society of Internal Medicine and Angel Jose Ortellado, MD, President of the XII Paraguay Congress of Internal Medicine. Dr. Hidalgo made several scientific presentations and also gave a presentation on ACP membership. The meeting was dedicated to Carlos Esteban Arbo Sosa, MD, FACP, a Paraguayan internist who contributed greatly to the internal medicine community in Paraguay. ACP also had an exhibit booth at this meeting.
The next SOLAMI meeting will be held in conjunction with the Dominican Republic Society of Internal Medicine in Punta Cana, Dominican Republic, May 6-10, 2015.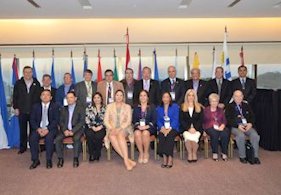 Pictured at left are representatives from each country that is part of the Latin American Society of Internal Medicine
---
New International Fellows
ACP is pleased to announce the following newly elected International Fellows, who were recommended by the Credentials Committee and approved for election by the Board of Regents as of September 1, 2013. They are listed by current location and may have been credentialed through a different Chapter.
Canada
Turki A. Al Ameel, MBBS, FACP - Edmonton

Sameer Elsayed, MD, FACP - London
Munish Khosla, MD, FACP - Calgary
Richard Z. Lewanczuk, MD, FACP - Edmonton
Shailendra Prasad, MD, FACP - Kamloops

Samantha Segal, MD, FACP - Trail
Chile
Antonio Vukusich Covacic, MD, FACP - Santiago
Colombia
Monique Rose Chalem Choueka, MD, FACP - Bogota

Carmen C. Gomez, MD, FACP - Bogota

Alfredo Pinzon Junca, MD, FACP - Bogota
Costa Rica
Cecilia Monge, MD, FACP - Santa Ana

Miguel A. Srur, MD, FACP - San Jose
Germany
Ahmed Abdel Samie, MD, FACP - Konigsbach-Stein
Italy
Carmelo Scarpignato, MD, FACP - Parma
Jamaica
Audene P. Garrison, MBBS, FACP - Kingston
Mexico
Nelson Lechuga Varela, MD, FACP - Ciudad Juarez

Jose Juan Lozano Nuevo, MD, FACP - Mexico DF

Jose Sifuentes-Osornio, MD, FACP - Delegacion Tlalpan
Pakistan
Muhammad Ayub Khan, MBBS, FACP - Mirpur Mathelo
Panama
Arturo Wong Reyes, MD, FACP - Panama
Romania
Camelia Cristina Diaconu, MD, PhD - Bucharest
Saudi Arabia
Faisal A. Abaalkhail, MD, FACP - Riyadh

Arwa N. Abdelhameed, MBBS, FACP - Jeddah
Hind I. Fallatah, MBChB, FACP - Jeddah

Ayman Badr Krayem, MBChB, FACP - Jeddah
Sri Lanka
Thilak Jayalath, MBBS, MD, FRCP - Kandy
---
Future Worldwide Internal Medicine Meetings
Upcoming meetings will be held in Colombia, the Czech Republic, and Canada.
A complete list of other Future Worldwide Internal Medicine Meetings is available here.
---
Highlights from ACP Internist and
ACP Hospitalist
ACP Internist September 2013
ACP Hospitalist August 2013
---
College Corner
ACP Honors outstanding chapter activities with 2013 John Tooker Evergreen Awards
At this year's Internal Medicine Meeting, ACP presented seven John Tooker Evergreen Awards and four Special Recognition Awards to honor chapters that created new programs that strengthened the chapter and increased member communication and involvement. One of the chapters awarded Special Recognition was an International chapter. Here is a brief description of the International chapter's efforts.
Japan for English Version of Governor's Newsletter
The Japan Chapter feels that the new activities of its Public Relations Committee, specifically having the Governor's newsletter available in two languages, will promote information exchanges between Japanese and American ACP members and will also serve as a membership recruitment tool.
We celebrate all the chapters who submitted nominations, illustrating great programs and activities that actively engaged our members in advocacy, educational opportunities, and other College activities.
ACP Recognizes Japan and Venezuela Chapters as Evergreen All-Stars

In 1993, the Evergreen Awards Program was started as a way to recognize outstanding chapter efforts and innovation. As a way to celebrate the 20th anniversary of the program, the Chapters Subcommittee and staff looked for a way to recognize chapters who have demonstrated a long-term engagement with the program. The criteria included that a chapter must have submitted at least 5 nominations, had at least 2 winners, and had a nominated program running for at least 3 years. Two international chapters, Japan and Venezuela, met these criteria. These chapters have contributed to the growth of all chapters through their commitment to sharing successful best practices through the Evergreen program and have been recognized as an Evergreen All-Star for their achievements.
---
MKSAP 16 Answer & Critique
Answer: B, Auscultation over the right ear, eye, and neck
Educational Objective: Evaluate pulsatile tinnitus.
Critique: Tinnitus that is timed with the patient's pulse (pulsatile tinnitus) is concerning for an intracranial vascular anomaly, such as stenosis, arteriovenous malformation, or glomus tumor, although patients with middle ear congestion may report a pulsatile sensation as part of their symptom complex. It is valuable to listen over the patient's ears, eyes, and neck, because if a vascular abnormality is present, the bruit causing tinnitus may sometimes be detected externally (objective tinnitus). If a bruit is present, or there is other significant concern for a vascular cause of tinnitus, imaging of the cranial vasculature (Doppler ultrasonography or magnetic resonance angiography) is the definitive study to rule out these diagnoses.
Audiometry would be appropriate if the patient had decreased auditory acuity, but this patient's physical examination findings do not suggest hearing loss.
External noise generators to mask the sound of tinnitus are helpful for some patients and may be reasonable to consider in this patient if no reversible cause is found. Evidence supporting their efficacy is sparse, however. The mainstay of therapy for tinnitus is neurocognitive interventions to help patients cope with the problem and diminish dysfunctional cognitive processes associated with the experience of tinnitus.
Nasal corticosteroid sprays can be helpful in patients with eustachian tube dysfunction, although this is an uncommon cause of tinnitus associated with conductive hearing loss. This patient does not demonstrate conductive hearing loss and has no evidence of middle ear congestion on examination. Thus, nasal corticosteroids are not indicated as the next step in management.
Key Point: Patients with pulsatile tinnitus should be evaluated for the possible presence of an intracranial vascular anomaly, such as stenosis, arteriovenous malformation, or glomus tumor as a cause of their symptoms.
Bibliography:
Liyanage SH, Singh A, Savundra P, Kalan A. Pulsatile tinnitus. J Laryngol Otol. 2006;120(2):93-97. [PMID: 16359136]