January 2012
---
.
ACP Leaders on the Road: Brazil
Tanveer Mir, MD, MACP
with commentary from Virginia Hood, MBBS, MPH, FACP, ACP President and Auro del Giglio, MD, FACP, Governor, ACP Brazil Chapter
Traditionally, the word "Brazil" comes from brazilwood, a timber tree that many sailors traded from Brazilian regions to Europe in the 16th century. In Portuguese brazilwood is called pau-brasil, with the word brasil, "red like an ember", being formed from Latin brasa ("ember") and -il (from -iculum or -ilium). The month of October is actually spring in Brazil. It is in these beautiful surroundings and in the sunny spring Brazilian weather that the combined ACP Chapter meeting and Brazil Congress of Clinical Medicine was held in Curitiba on October 26-29th, 2011. As the ACP Ambassadors, we enjoyed the Brazilian hospitality, the formal and informal discussions with different groups, and the enthusiastic interactions and presence of medical students.
Brazil is the largest national economy in Latin America, the world's seventh largest economy at market exchange rates and the eighth largest in purchasing power parity , according to the International Monetary Fund and the World Bank. Brazil has a mixed economy with abundant natural resources. The Brazilian economy has been predicted to become one of the five largest in the world in the decades to come. It is strong and supports a high level of interest and intellectual curiosity in medical matters ranging from education to medical practice.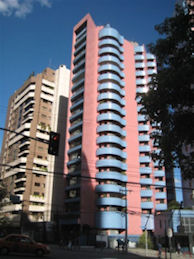 A traditional building in Curitiba
According to the Readers Digest, Curitiba is the best place to live in Brazil. Curitiba is a beautiful city, the buildings are covered in striking colors in mosaic tiles and the walkways exhibit fascinating tile-work and design. A beautiful Japanese Garden complete with water elements and Koi ponds was just adjacent to our hotel and offered a great site for walks. Curitiba is one of the largest cities in the prosperous Southern region, and its population is largely descended from German, Ukrainian, Russian, Italian, Japanese and Polish immigrants. The city is known to urban planners worldwide for its innovative public transit system. The famous architecture of the Oscar Niemeyer Museum is distinct. This eye-museum is shaped as a lenticular eye tower and gallery space with a ramp leading to it, reflecting the pond below, and rectangular galleries behind. The beautiful Botanical Garden in downtown is also a significant tourist attraction in Curitiba. The world-famous train trip that runs between Curitiba and Paranagua passes through the majestic Serra do Mar Coast mountains and is a designated UNESCO Biosphere Reserve. The Serra Verde express took 9000 men and 5 years to complete in 1885, an attestation to the strength and power of the people of Brazil in overcoming challenges.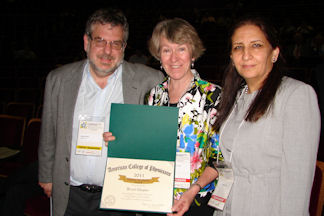 From left: Dr. del Giglio, Dr. Hood, and Dr. Mir
Brazil is one of the thirteen International chapters of the American College of Physicians. Dr. Auro Del Giglio is the current Governor of the Chapter and was a wonderful and attentive host. Dr. Antonio Carlos Lopes, President of the Congress, presided this meeting. Dr. Virginia Hood, President of the ACP, and I were the ACP Ambassadors attending this meeting. The total attendance of the meeting was a record 5,500. The audience was comprised of physicians in practice and academia, residents, medical students and emergency department physicians. In addition, ACP Brazil Chapter members were present as well.
Dr. Virginia Hood and I were able to meet with Dr. Cesar Alfredo Pusch Kubiak, Chairman of the Congress, President of the Congress Dr. Lopes, prominent internal medicine and specialist physicians from Brazil, and some from the neighbouring countries of Argentina and Colombia. Both Dr. Hood and I had a prominent place in the program. Dr. Hood presented an overview of ACP and its educational resources. We presented a total of 4 lectures and 2 panel sessions. ACP visibility was significant on the program brochure, at the inauguration ceremony, and at all prominent events. Each session had over 300 attendees with standing room only in some of the sessions. The conference was held at the Expo Conference Center adjacent to the Positivo Medical School. The auditoria and audio-visual and technical support were excellent. Simultaneous translation in Portugese was available during all the English sessions.
Several issues related to ACP including membership issues, advancement to fellowship, special groups like student and associate membership and attendance at Internal Medicine 2012 in New Orleans were discussed with internal medicine leaders, faculty and other physicians, residents and medical students. All expressed a strong interest in ACP and looked forward to future collaboration and strengthening of the relationship and ACP presence in Brazil. MKSAP review and all aspects of medical education were considered extremely important.
The hospitality was outstanding. Every morning we would be greeted at breakfast by the local medical students, faculty, and their families with smiles. We were efficiently transported to the convention center and then presented our lectures and engaged in discussions with faculty and students. We spent one afternoon visiting the Positivo Medical school, a local tertiary hospital and a large urgi-center. Students, residents, and faculty were present at all sites and showed us around. This allowed us to exchange ideas, discuss practice patterns and understand more about delivery models of care in Brazil. Their remarkable interest and enthusiasm in medicine and College activities specifically was invigorating.
The presence of two ambassadors allowed us to offer a large number of lectures and panel discussions and provide high visibility. The physician work-force was keen on expanding the relationship with the ACP. The high degree of interest in medical education, research, self-improvement and ACP activities was extraordinary at all levels. This visit was a wonderful learning and personal experience in networking with students, residents, and faculty. Interactions like this strengthen communications and help us to meet the needs of our membership, locally and internationally.
---
.
ACP Leaders on the Road: China
Steven Weinberger, MD, FACP, ACP Executive Vice President and CEO
with commentary from Virginia Hood, MBBS, MPH, FACP, ACP President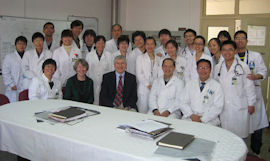 Dr. Hood and Dr. Weinberger with faculty, residents, and medical students from Peking Union Medical College
Virginia Hood (the current ACP President) and I traveled to China in early November 2011 at the invitation of the Chinese Society of Internal Medicine to speak at the society's annual meeting in Xi'an. Our official activities in China were expanded by additional invitations to speak at Peking Union Medical College in Beijing and to visit other hospitals in both Beijing and Xi'an. Because it was the first trip to China for both of us, we allowed additional time to tour both Beijing and Xi'an and to travel to Shanghai, and my wife accompanied us on the trip.
Upon arrival in Beijing on a Friday evening after a direct flight from Chicago, we had an enjoyable introductory dinner with several faculty members from Peking Union Medical College. We had no official activities over the weekend, so we used the time to see the sights of Beijing, including Tiananmen Square, the Forbidden City, the Temple of Heaven, and the Summer Palace. We also went to the Great Wall, which we accessed from Mutianyu, which is not far from Beijing.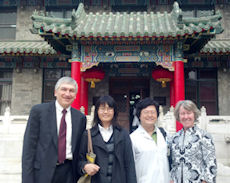 Dr. Weinberger, medical resident Dr. Ma Ya, a faculty member of Peking Union Medical College, and Dr. Hood in front of one of the College's buildings.
We started our official activities on Monday by meeting with several faculty and physician leaders at Peking Union Medical College (PUMC), including the Vice President of the hospital, who is an orthopedic surgeon. Our discussion centered around the Chinese government's interest in providing better trained general physicians to meet the health care needs of the community. Based on this interest, PUMC would like to expand and improve its training of general internists, and the faculty members were interested in hearing about training models in the United States. We then took a guided tour of a lovely exhibit presenting the history of PUMC, followed by two sets of clinical teaching rounds on the wards of PUMC - Virginia was on Nephrology rounds while I was on Pulmonary rounds. The cases were presented in Chinese, but printed English summaries had kindly been prepared for us. Later in the day, I gave a lecture on trends and challenges in medical education in the U.S., which was followed by questions and a discussion with the attendees, who included faculty, residents, and medical students.
On Tuesday, we were taken to Peking University First Hospital, another leading Beijing teaching hospital, which is not affiliated with PUMC. We again met with a group of faculty members, including educational leaders, and discussed medical education in the U.S. and in China. Virginia was then taken on a tour of the Nephrology service, while I was taken on a tour of the Pulmonary service, including the intensive care unit. On Tuesday evening, Virginia joined a group of about 20 medical students from PUMC who regularly meet to discuss cases in English. She enjoyed discussing lupus nephritis and was impressed by the students' enthusiasm.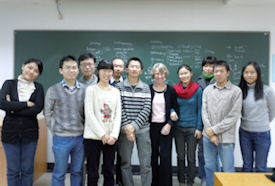 Dr. Hood with students at Peking Union Medical College
On Wednesday, we again spent time at PUMC, first meeting with several faculty members, including Dr. Xuejun Zeng, Chief of the Division of General Medicine and Vice Chair of the Department of Medicine, who organized and served as the "point person" for much of our trip. We then attended a clinical teaching conference at which two interesting cases were presented for discussion. In the afternoon, Virginia gave a well-received talk on professionalism, which was followed by the hospital's formal Grand Rounds, where an interesting case of pulmonary amyloidosis was extensively discussed by faculty from a variety of disciplines.
We then flew from Beijing to Xi'an for the Chinese Society of Internal Medicine meeting. We were most graciously hosted during our stay in Xi'an by Dr. Dexin Zhang, a gastroenterologist based at Xijing Hospital. Our first full day in Xi'an consisted of visiting the most well-known attraction in Xi'an - the terracotta warriors. On the second day in Xi'an, we attended the meeting of the Chinese Society of Internal Medicine, where Virginia and I each gave the same talks we had presented in Beijing, on medical professionalism and on trends and challenges in medical education, respectively. Although difficult to know how many physicians were at the meeting, we estimated that approximately 500 physicians were at our talks. We then were taken to Xijing GI Hospital, a 370 bed hospital that is devoted exclusively to GI, pancreatic, and hepatobiliary disease, but is part of a larger 3000 bed hospital (it's far from the largest hospital in China, which we were told has approximately 10,000 beds!). That evening we were taken to a very festive dinner for some of the meeting attendees. We had no official activities on the next day, when we toured Xi'an, which had been an ancient capital of China.
We concluded the trip by flying to Shanghai to see how "modern China" has developed. We had no official activities in Shanghai, so our time was spent touring around the city, which is stunning in so many ways - the architecture, the beautiful Yu Garden, the Confucian temple, and the Shanghai Museum were particular highlights. The trip concluded with a direct flight from Shanghai to Chicago.
It was a wonderful trip, not only for what we accomplished and the people we met, but also as a starting point for future interactions and collaborations with our Chinese colleagues.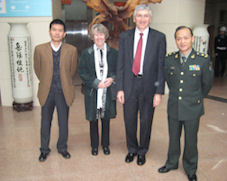 From left: Dr. Dexin Chang, Dr. Virginia Hood, Dr. Steven Weinberger, and Dr. Kaichun Wu at Xijing Hospital in Xi'an
---
.
Update Your Knowledge with MKSAP 15 Q & A
A 78-year-old woman who resides in a nursing home is seen for management of her diabetes mellitus. The patient's blood glucose log shows levels ranging between 40 and 400 mg/dL (2.2 and 22.2 mmol/L). She otherwise feels well. She has been on insulin for more than 25 years after first taking oral agents for several years following her initial diagnosis. The patient has hypothyroidism treated with levothyroxine and remote history of Graves disease treated with radioactive iodine. Her diabetes is currently treated with neutral protamine Hagedorn (NPH) insulin, 25 units twice daily; the dosage has been gradually increased over the past 3 weeks.
The only pertinent finding on physical examination is her lean body habitus (BMI of 19.3).
Results of routine laboratory studies are all within the normal range. An anti-glutamic acid decarboxylase antibody titer is positive.
Which of the following is the most likely diagnosis?
A. Late-onset autoimmune diabetes of adulthood
B. Maturity-onset diabetes of the young
C. Type 1 diabetes mellitus
D. Type 2 diabetes mellitus

Click here for the answer and critique.
---
.
Internal Medicine 2012 - New Orleans, Louisiana
April 19-21, 2012
Internal Medicine 2012 Welcomes International Attendees
Click here for more information.
Join us for these international activities at Internal Medicine 2012
International Reception
Thursday, April 19, 2012
8:00 - 9:30 p.m.
HQ, Salons A-E

This reception is open to all international attendees and their guests, as well as other attendees who are interested in meeting with leaders from ACP and internal medicine societies from around the world. Light hors d' oeuvres will be served.
International Courses
Amerindian Contributions to Modern Medicine - MTP 109
Saturday, April 21, 2012
8:15-9:15 a.m.

Faculty: Jorge Hidalgo, MD, FACP, FCCM, FCCP

This Meet the Professor course will discuss the historical contributions of ancient Amerindian medicine to modern medicine. It will combine not only history, much of which is little known to many physicians, as well as fascinating medical/historical facts.

This workshop is the fourth in a planned multi-year series presented under the sponsorship of the International Council, on "Contributions of Multiple Global Cultures to Modern Medicine".
Challenges to Professionalism in 2012 - PN 020
Friday, April 20, 2012
11:15-12:45 p.m.

Moderator: Jock Murray, MD, MACP
Panelists: Werner O. Bauer, MD, FACP, FRCP
Kesavan Kutty, MD, MACP

This panel of international faculty will address internal and external pressures on professionalism that pose challenges to the practicing physician and discuss strategies to maintain professionalism in the face of challenges.
Airfare Discounts
ACP has partnered with three major airlines to provide additional discounts off lowest applicable airfares. Receive up to 5% off applicable classes of service for tickets purchased more than 30 days prior to the meeting. Restrictions apply and not all classes of service apply for the 5% discount. 5% off applicable classes of service for tickets purchased prior to the meeting.
American Airlines
7342BI
800-433-1790
www.aa.com
Click on "More Flight Options"
Enter promo code 7342BI
These discounts apply for travel 4/14/12-4/21/12 (New Orleans) Some restrictions may apply. Service fees apply to ticketed reservations. You may also call your own agency or the vendors directly and refer to the following ID numbers.
Hotel Discounts
Book early for the best rates on hotels in New Orleans during Internal Medicine 2012. Great, wallet-friendly hotels for under $200 available to only Internal Medicine 2012 attendees. Click here for a complete list of hotels.
Discounted Registration Rates for International Delegations
Receive a substantial registration discount for groups of 10 or more. The guidelines require that one person organize the group, provide the registration forms, and submit one payment by check or credit card for the entire group. Not all participants in group delegations are required to be ACP members.
Please click here to download the Group Registration Guidelines and Form.
| | Internal Medicine 2012 Registration Rates (Non-Member) | Internal Medicine 2012 Registration Rates (Member) | Groups of 10-19 delegates | Groups of 20 or more delegates |
| --- | --- | --- | --- | --- |
| Scientific Program | $829 pp | $579 pp | $495 pp | $470 pp |
| Pre-Session 1-day Course** | $389 pp | $229 pp | $199 pp | $179 pp |
| Pre-Session 2-day Course** | $778 pp | $458 pp | $399 pp | $369 pp |
| Pre-Session 1/2-day Course** | $920 pp | $575 pp | N/A | N/A |
pp = per person fee.
* Discount not applicable to the half-day Courses or to the Ultrasound Course with a higher fee due to close faculty/student interaction and special equipment.
Please submit completed registrations by January 28, 2012.
Submit to:
Pamela Carey
Director, Customer Service
190 N. Independence Mall West
Philadelphia, PA 19106

For further information, contact Pamela Carey at +1-215-351-2792 or pcarey@acponline.org.
---
.
International Meetings Update
Annual Meeting of the Peruvian Society of Internal Medicine
October 27-30, 2011
The 33rd Annual Meeting of the Peruvian Society of Internal Medicine was held from October 27-30, 2011 in Lima, Peru. Dr. William J. Hall, MACP, served as the ACP International Ambassador to the meeting. Dr. Hall was hosted by the President of the Society, Dr. Amador Carcelen Bustamante. The four-day conference attracted around 1,000 internists and medical students from Peru and neighboring countries.
Dr. Hall gave two plenary sessions, one entitled "Geriatrics Update" and another session on "Successful Aging".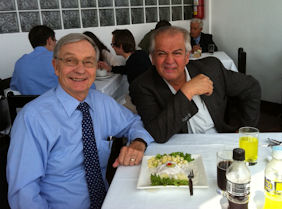 Dr. Hall dining with Peru's only ACP Master, Dr. Miguel Campos.
National Congress of the Mexican College of Internal Medicine
November 16-19, 2011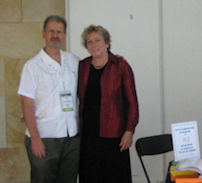 Dr. Nellen, ACP Governor, stands with ACP Ambassador, Dr. Sweet.
The 34th National Congress of the Mexican College of Internal Medicine was held from November 16-19, 2011 in Acapulco, Mexico. Dr. Donna Sweet, MACP, was invited to serve as the ACP International Ambassador to the meeting by Dr. Haiko Nellen Hummel, FACP, Governor, ACP Mexico Chapter. Dr. Sweet spoke on two topics: "High Value Cost-Conscious Health Care" and "HIV".
Around 1,600 physicians, residents, and medical students attended the meeting. An ACP exhibit booth was present at this meeting.
Annual Meeting of the Taiwan Society of Internal Medicine
November 26-27, 2011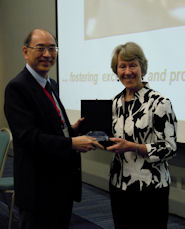 Dr. Pei Ming Yang, PhD, FACP, President of the Taiwan Society of Internal Medicine, presents a gift to ACP President Dr. Virginia Hood at the meeting.
The 25th Annual Meeting of the Taiwan Society of Internal Medicine was held November 26-27, 2011 in Taipei, Taiwan. Dr. Virginia Hood, MBBS, MPH, FACP, ACP President, served as the ACP International Ambassador to the meeting. About 8,000 physicians, both generalists and subspecialists, from all over Taiwan attended the conference.
Dr. Hood gave a special lecture entitled "Can a physician refuse to treat a patient: a framework for the obligation to care".
---
.
Future Worldwide Internal Medicine Meetings
The current list of Future Worldwide Internal Medicine Meetings is available here. Upcoming meetings will be taking place in India, Panama, and Bangladesh.
---
.
New International Fellows
ACP is pleased to announce the following newly elected International Fellows, who were recommended by the Credentials Committee and approved for election by the Board of Regents as of November 1, 2011. They are listed by current location and may have been credentialed through a different Chapter.
Australia
Iman Mohasseb, MD, FACP - Australia
Bangladesh
Md Abdul Alim, MD, FACP - Rajshahi

Abdul Hasnat M. Firoz, MD, FACP - Bangladesh
Md Azharul Hoque, MD, FACP - Dhaka
Md Sayadur Rahman, MD, FACP - Bangladesh

Devendra Nath Sarkar, MD, FACP - Dhaka
Canada
Khalid H. Alghamdi, MD, FACP - London, ON

Muhammad U. Chaudhry, MD, FACP - Waterloo, ON
Ronald Dandurand, MD, FACP - Beaconsfield, QC
Catherine J. Moltzan, MD, FACP - Winnipeg, MB

Zahi N. Touma, MD, FACP - Toronto, ON
Cayman Islands
Olayinka A. Adedayo, MD, FACP - Georgetown
China
Janet C. Zhang, MD, FACP - Shanghai
Greece
Nikolaos Tentolouris, MD, FACP - Athens
Grenada
Dolland W. Noel, MD, FACP - Grenada
India
Ritesh Agarwal, MD, FACP - Chandigarh

Waseem M. Qureshi, MD, FACP - Srinigar
Indonesia
Lucky Aziza Bawazier, MD, FACP - Indonesia
Italy
Lorenzo Dagna, MD, FACP - Milano
Jamaica
Althea M. Aquart-Stewart, MD, FACP - Jamaica

Trevor S. Ferguson, MD, FACP - Liguanea
Japan
Akiko Matsumoto, MD, FACP - Japan

Takahiro Yamauchi, MD, FACP - Japan
Jordan
Rami S. Farraj, MD, FACP - Amman
Mexico
Victor Cordova-Pluma, MD, FACP - Mexico

Jose de Jesus Garcia Mendoza, MD, FACP - Mexico
Panama
Frank Ferro, MD, FACP - Panama

Enrique Jorge Mendoza, MD, FACP - Panama
Saudi Arabia
Abed H. Al-Lehibi, MD, FACP - Riyadh

Abdulrahman M. Almaghamsi, MD, FACP - Riyadh

Mushira Abdulaziz Enani, MD, FACP - Riyadh
Singapore
Nien Yue Koh, MD, FACP - Singapore
Venezuela
Gustavo J. Villasmil Prieto, MD, FACP - Caracas
United Arab Emirates
Halah Ibrahim Hassen, MD, FACP - Abu Dhabi
---
.
Highlights from ACP Internist and
ACP Hospitalist
ACP Internist (formerly ACP Observer) January 2012

Antidepressants no easy fix for primary care
s depression on the rise, or just the prescriptions for it? Primary care is poised to play a bigger role in mental health care, and that puts an educational burden on internists to learn the proper role of medications.

Framing risk, benefits perilous for physicians, patients
A new column debuts, outlining how physicians can properly frame risks and benefits of treatments so patients can make the best medical decisions for themselves. In this column, risk calculators are explained so the "number needed to treat" isn't so murky to a woman considering statins.

ACP Hospitalist December 2011
---
.
College Corner
Reader Submissions
ACP International welcomes submissions from its readers. If you would like to submit an article for consideration for the newsletter, please send it to the ACP International Office mailbox at internationaloffice@acponline.org . Articles submitted for consideration should be formatted in a Microsoft Word document and no longer than one page of 12-point Times New Roman font. Articles about unique health issues routinely treated in your country and humanitarian stories are encouraged.
---
.
MKSAP 15 Answer & Critique
Answer: A, Late-onset autoimmune diabetes of adulthood.
Educational Objective: Diagnose late-onset autoimmune diabetes of adulthood.
Critique: This patient most likely has late-onset autoimmune diabetes of adulthood (LADA). Diabetes mellitus is categorized into several types. Most affected patients have type 2 diabetes, and a minority (5% to 10%) have type 1 diabetes. Patients with type 2 diabetes are usually overweight, if not frankly obese. Type 1 diabetes results from autoimmune destruction of pancreatic beta cells and results in absolute insulin deficiency, whereas type 2 is marked by insulin resistance and relative insulin deficiency. Type 1 diabetes is classically seen in younger patients, usually in children, teens, and young adults. However, type 1 diabetes can be diagnosed at any age. When diagnosed in older persons, especially those in whom hyperglycemia was once controlled with oral agents, this form of diabetes is referred to as LADA. In persons with LADA, beta cell destruction over time leads to the requirement for insulin therapy, as in type 1 diabetes. LADA typically occurs in leaner persons after glycemic control has become more labile and there is clear insulin dependency. Autoimmune markers (anti-islet cell autoantibodies) are present, including anti-glutamic acid decarboxylase antibody, the detection of which can confirm the diagnosis.
Maturity-onset diabetes of the young is typically diagnosed in adolescents or young adults and usually is marked by mild hyperglycemia, often with a strong family history of diabetes.
Key Point: Diabetes mellitus in older, lean patients with anti-islet cell autoantibodies is termed late-onset autoimmune diabetes of adulthood.
Bibliography
Fourlanos S, Perry C, Stein MS, Stankovich J, Harrison LC, Colman PG. A clinical screening tool identifies autoimmune diabetes in adults. Diabetes Care. 2006;29(5):970-975. [PMID:16644622] - See PubMed