All internal medicine physicians share a basic core of training that forms the foundation for whichever discipline within internal medicine they choose to pursue.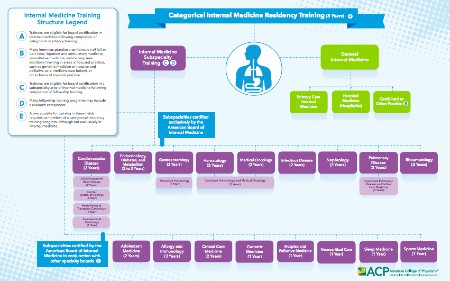 Basic training in internal medicine is three years of residency (termed 'categorical' training) following medical school. Following completion of three years of training, residents are eligible for board certification in internal medicine. About half of the country's internal medicine residents choose to practice General Internal Medicine. General internal medicine physicians are capable of functioning in a number of different roles. For example, many focus on ambulatory practice and may serve as primary care physicians, following patients longitudinally for their ongoing medical care. Others may spend a majority of their time caring for hospitalized patients in the role of hospitalist (over 90% of hospitalists are general internal medicine physicians). However, many general internal medicine physicians care for both ambulatory and hospitalized patients in a very wide variety of practice models.
Others choose to pursue additional training beyond the basic three years of residency training, subspecializing in a particular area of interest within internal medicine. Some of the specific subspecialties of internal medicine and their associated area of interest include:
Additional subspecialties in internal medicine that are also available to those who have completed training in another specialty include:
Internal medicine training may also be combined with training in another specialty, leading to board certification in both fields. These dual training programs are generally structured to be shorter than the time it would take to complete an independent residency in both fields, and graduates of these programs are particularly qualified to care for patients in both areas of focus. Examples include internal medicine and pediatrics, emergency medicine, and psychiatry.
​
Learn more about the unique leadership roles, career pathways and impact of internal medicine physicians. Learn more