You are here
I.M. Emotional Support Hub
I.M. Emotional Support Hub
It's common right now to feel overwhelmed, stressed, or depressed.
Join a live, multimedia presentation, FIVE DAYS TO FRIDAY, on August 21. Free to ACP members, this interactive play examines current challenges to physicians' mental health and strategies for improving well-being. Learn More.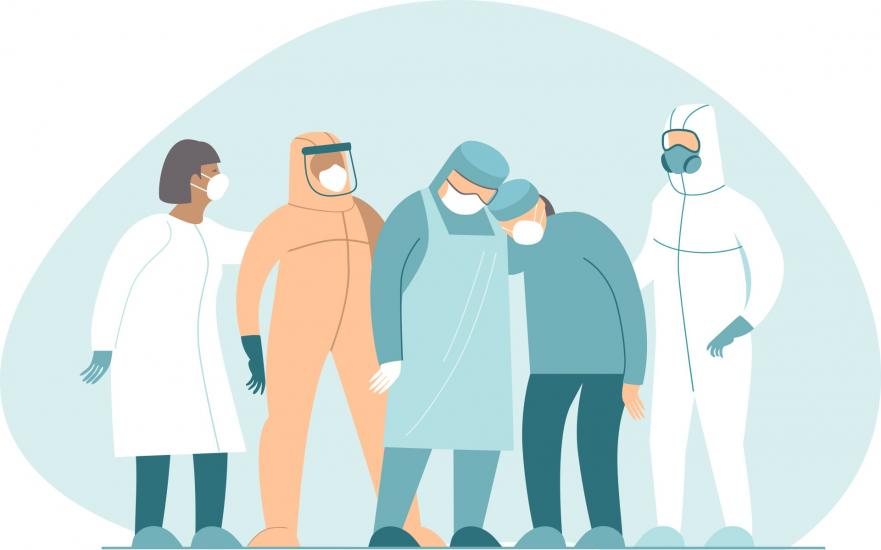 Taking care of ourselves and encouraging others to practice self-care sustains our ability to care for those in need.
Protect your health and well-being by connecting with easily-accessible peer support through the Physician Support Line, and affordable, confidential counseling is available through The Emotional PPE Project and The Therapy Aid Coalition.
​
If you or someone you know is in crisis, help is available 24/7. Text 741741 or call the National Suicide Prevention Lifeline (1-800-273-8255) or Disaster Distress Hotline (1-800-985-5990).
Peer Support
Call the Physician Support Line (1-888-409-0141) for free and confidential just-in-time peer support. Visit their resource page for tips to maintain and enhance your well-being.
Partner with an accountability buddy. Establish formal peer support and use quick check-ins (face-to-face, telephone, text, or e-mail) to provide encouragement and reminders.
Counseling
Protect your mental health and well-being by connecting with affordable, confidential counseling for health care workers through:
Additional Support Resources
For Individuals
ACP Webinars with CME
American Psychological Association (APA) 5 Science-based Tips for Managing Your Stress (posters and videos)
Duke Health Well-being Tools
This list of tools is evidence-based, interactive, and specifically designed for busy healthcare workers. Interventions are 2-20 mins. each and can be completed between 3-15 days. Participants will receive prompts for the tools via email or text message.
Center for Study of Traumatic Stress Resources
Self-compassion Resources
Free and Confidential Mental Health Guardian Mobile Application
Connect Through the Arts
For Organizations and Leadership
ACP Webinars with CME
Peer Support
American Psychiatric Association Resource
Guidance Document: Actions and Activities that a Healthcare Organization Can Take to Support Its Physician Workforce Well-Being During COVID-19 and Beyond
Employer Resources: E-learning and concise downloadable guides to help organizations support employee mental health and well-being.
Center for Study of Traumatic Stress Resources
Fact Sheet: Managing the Stress of Returning to Work after COVID-19: A Guide for Supervisors
Fact Sheet: Supporting Healthcare Professionals in Times of Disaster: Reflections on "At-Risk Employees"
Fact Sheet: Grief Leadership During COVID-19
American Federation for Suicide Prevention Resource
Mental Health Guardian Mobile Application
Heroes Health is a free and confidential mental health mobile application that empowers healthcare organizations to safeguard their healthcare workers' mental health through consistent check-ins.