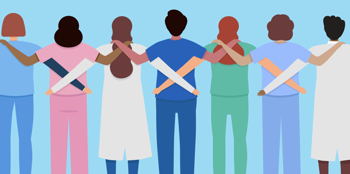 With everything internal medicine physicians have to do on a daily basis, it's common to feel overwhelmed, stressed, or depressed.
Protect your health and well-being during especially stressful times with this collection of peer support, free and low-cost counseling, and support resources for individuals, teams, organizations, and leadership.
You Are Not Alone
24/7 Crisis Lines
*988 Support in English, Spanish and translation to over 150 languages
Video Series—Internists: Take Care of Yourselves, Too
Practical strategies to cope with daily burdens from fellow physicians.
Peer Support
1-888-409-0141 Call the Physician Support Line for free and confidential just-in-time peer support. Visit their resource page for tools to maintain and enhance your well-being.
PeerRxMed™ Establish formal peer support by using the free buddy check reminder system, and use quick check-ins (face-to-face, telephone, text, or e-mail) to provide encouragement and reminders. Learn more about partnering with an accountability buddy.
Private Online Peer Support Community (OPSC) Explore the Disaster Distress Helpline's online peer support for healthcare workers impacted by COVID-19.
Counseling
Protect your mental health and well-being by connecting with affordable, confidential counseling for health care workers through:
The Emotional PPE Project - Connect with licensed mental health professionals who can help. No cost. No insurance. Just a trained professional to talk to.
Therapy Aid Coalition - Free short-term therapy for US Healthcare Professionals and First Responders.
Psychology Today - Find detailed listings for mental health professionals in your country.
Additional Support Resources
ACP Webinars with CME
ACP Microlearning (under 2 mins.)
Promoting Psychological Safety: Psychological safety is an important part of your professional well-being. This quick activity can help you recognize and utilize measures that promote psychological safety in your working and learning environments.
Your Circles of Control and Influence: How do you know what you can control versus what you can influence? Map your spheres of control with this quick exercise to analyze if there are ways you can grow your sphere.
Stand Up to Bias and Harassment: You can help to create a safe work culture. Check out these 12 ways you can stand up to bias and harassment in the face of workplace violence.
American Psychological Association (APA) 5 Science-based Tips for Managing Your Stress (posters and videos)
Duke Health Well-being Tools
This list of tools is evidence-based, interactive, and specifically designed for busy healthcare workers. Interventions are 2-20 mins. each and can be completed between 3-15 days. Participants will receive prompts for the tools via email or text message.
Center for Study of Traumatic Stress Resources
Fact Sheet: Sustaining the Well-Being of Healthcare Personnel during Coronavirus and other Infectious Disease Outbreaks
Fact Sheet: Notifying Families after a COVID-19 Death
Fact Sheet: Fight COVID-19 with Better Sleep Health: A Guide for Hospital Workers
Self-compassion Resources
American Federation for Suicide Prevention Resource
Free and Confidential Mental Health Guardian Mobile Application
Heroes Health is a free and confidential mental health mobile application that empowers healthcare workers to safeguard their mental health through consistent check-ins.
Connect Through the Arts
Healthcare Rescue Package
ACP Webinars with CME
Peer Support
American Psychiatric Association Resource
Center for Study of Traumatic Stress Resources
American Federation for Suicide Prevention Resource
Mental Health Guardian Mobile Application