Patient-centered education about blood clot prevention, risk factors, symptoms, and treatment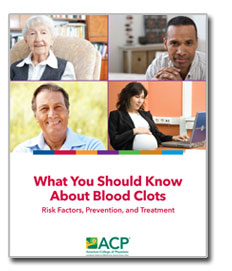 Blood clots claim over 100,000 lives annually in the United States. Many at-risk patients often do not understand or are even aware of blood clot symptoms or their risks for developing blood clots. ACP has developed patient-centered education resources about Deep Venous Thrombosis (DVT) and Pulmonary Embolism (PE) blood clots, including:
A free web-based tool for assessing personal blood clot risks:
Patients can:
Take this quick and easy quiz at home or with their doctor
Answer simple questions to learn about risk factors and ways to reduce them
Print out a final summary of their risk for blood clots to use for patient-doctor discussion
What You Should Know About Blood Clots guidebook, featuring topics such as:
Blood Clot Risk Factors: What factors increase risk for blood clots
Blood Clot Symptoms: Swelling, pain, redness, trouble breathing, chest pain and rapid heart beat
Blood Clot Prevention: Quitting smoking, staying hydrated, and regular movement/exercise
Blood Clot Treatment: Blood thinners, surgery, and other procedures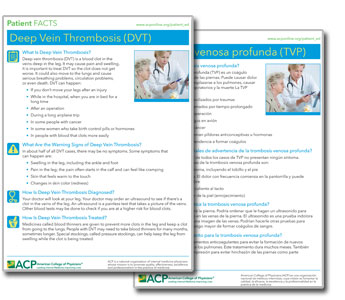 Patient FACTS information sheets about DVT and PE blood clots
Simple, streamlined, patient-tested and easy-to-read 8 ½ x 11 tear-off sheets
Written at or below a 6th-grade reading level
Include information about DVT and PE blood clots including: symptoms, diagnosis, and treatment options
Offer relevant questions that patients can ask to help facilitate communication with their doctor
Office Poster
16"x20" brightly colored poster that encourages patients to "Go With the Flow" and know their risks for blood clots
Instructs patients to speak to their doctor and to visit ACP's free web-based tool to assess personal risk
ACP's blood clot materials are available FREE of charge in both English and Spanish.