You are here
IM Essentials Questions
IM Essentials Questions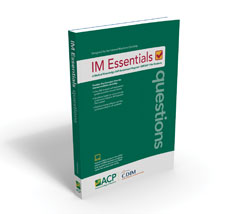 IM Essentials Questions is the next generation of MKSAP for Students, and produced collaboratively between ACP and The Clerkship Directors in Internal Medicine (CDIM).
IM Essentials Questions is a self-assessment question book that uses clinically based, MKSAP-style questions to assess mastery of important internal medicine concepts and identify areas in which additional study is needed. Specific features include the following:
Over 500 MKSAP-style best single answer multiple-choice medical questions
Detailed critiques explaining why options are correct or incorrect
Succinct key points with each question to summarize the important take-home messages
A bibliographic reference for each question for medical students to pursue additional study
With the purchase of IM Essentials Questions, you will receive free access to the online version of IM Essentials, which integrates the content of IM Essentials Text and IM Essentials Questions into an electronic resource and offers several specific features that are particularly useful to clerkship directors and students:
The online version is available for use on multiple devices (desktop, laptop, tablet, smartphone) as a learning resource for students across different sites on distributed clerkships.
Text and self-assessment questions are electronically linked to allow immediate switching from questions and supporting textbook content to facilitate learning.
A custom quiz function allows users to create quizzes using the self-assessment questions within a subspecialty assigned by the clerkship director or for individual study for review or in areas requiring additional study.
A "Document Your Learning" function allows students to report their progress on self-assessment questions to the clerkship director for review.
Students are provided with data concerning their performance on self-assessment questions compared to other users of IM Essentials Online to assess topic areas in which additional focus may be needed.
Includes access to over 1,000 digital flashcards derived from the core content of IM Essentials for students to reinforce key factual content.
IM Essentials was created by over 90 CDIM-member clerkship directors and 5 associate editors specifically for use in the clerkship to help students grasp important internal medicine concepts and apply them clinically. As always, IM Essentials content is based on the CDIM/SGIM core curriculum for the internal medicine clerkship and covers material students will likely encounter on the medicine shelf and USMLE Step 2 examinations.
Order your copy now. Order 10 copies or more and save 10% on your purchase.